Our family recently took a trip to Los Angeles and stayed at the Loews Hollywood Hotel.  Located at the corner of Hollywood and Highland, its boasts views of the hills, the Hollywood sign, is just minutes from the Griffith Conservatory, Universal Studios, Madame Tussauds and the Los Angeles County Museum of Art.
Within walking distance is the TCL Chinese Theatre, formerly Grauman's Chinese Theatre…
…and the Hollywood Walk of Fame.  Loews is perfectly situated in the heart and soul of Hollywood.
I'm a huge old movie buff and my most favorite actors and actress since childhood are from many generations past.  The only one still living, at 91 years of age, is Doris Day (Pillow Talk, Send Me No Flowers and Calamity Jane will always be favorites!).  As for Harrison Ford, we included him because my husband has always been told he looks like him.  Todd's like a cross between Harrison Ford, Ben Stiller and Michael Vartan.  Yep, he's pretty hot!
On a side note, my husband and I are also major music buffs, mostly pre-90's (everything from classical to the jazz standards of the 40's to the oldies but goodies and the classic rock of the 80's).  We always tell people that we don't listen to music from this millenium.  Argue it if you wish, quality music took a major dive after the 80's with only a few truly skilled artists trickling in through the early to mid-90's.  That makes us sound super old, I know.  But though still young in age, we are old souls for sure.
So speaking of great music, just down the street from Loews and the Hollywood Walk of Fame is the Troubador.  Does that ring a bell for anyone?  It's where The Eagles got their start.  That was many years ago but we just saw them in concert a few months ago, their first tour in decades, and I can tell you those guys haven't missed a beat!  They were amazing!
Also a few steps down from the Hollywood Walk of Fame is the Musso & Frank Grill.  Now there's an iconic piece of Hollywood if there ever was one.  As Hollywood's oldest restaurant, it has been the favorite hangout of many a star through the decades.  You may remember I published an article on Musso & Frank.  Truly a unique experience.
We did quite a bit of sightseeing and it was really nice, after being surrounded by the hustle and bustle of Hollywood, to return to the quiet urban oasis that is Loews Hollywood Hotel.
With 628 luxurious guestrooms and 77,000 square feet of indoor function space and a rooftop pool, Loews Hollywood is grand indeed.  Just walking into the massive lobby gives you a sense of just how sweeping it is.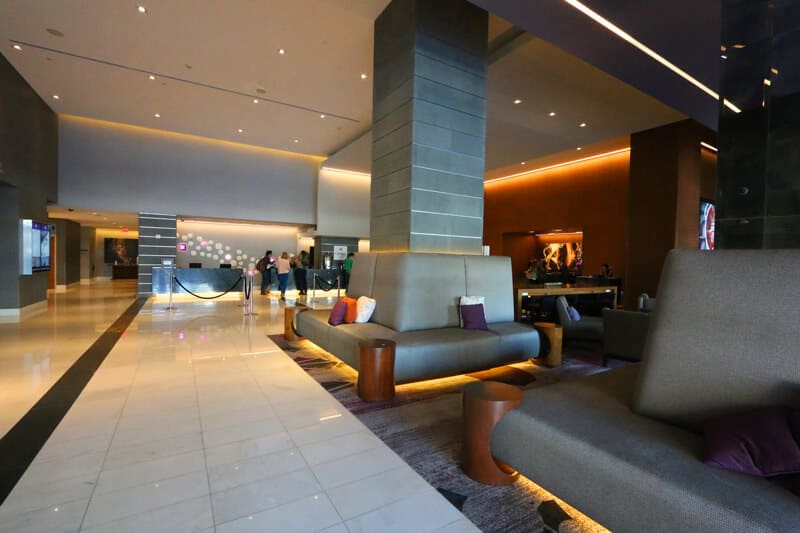 Next to the lobby and off to the right of the front entrance is the H2 Kitchen and Bar which serves drinks and small bites late into the night.
The hotel is tastefully decorated with a nice combination of modern, classic and whimsical.
Concurrent with the urban oasis theme, Loews offers a variety of amenities.  Exhale spa is the place you can go to get pampered.
Loews also has a fully equipped gym.
Outside on the roof is a relaxing pool in the midst of this high-energy urban setting.  The blending of these two worlds in this rooftop setting is awesome.
Just a few steps from the pool overlooking the roof…
Our room was both spacious and comfortable.  Like the rest of the hotel, the room was spotless and tastefully decorated.

Our bed and linens were very comfortable and provided a good night's sleep.
The sitting area included a pull-out sofa for our kids which worked out nicely.
The bathroom was likewise spacious and clean with a door separating the sink from the bathtub and toilet.
Our kids made themselves right at home calling the front desk (sorry about that, guys!) and a family pillow fight soon followed.
The best part about our room though was the view, especially at night.  The city was alive with colorful lights and on the rooftop deck below there was a private party going on.  They were booming music, but at 10pm sharp the hotel made them stop.  From that point on all the noise of the city was hushed by the divide of glass.

We slept well and headed down to Preston's in the morning for breakfast.
A bright and cheerful setting, Preston's, like the rest of the hotel, is huge and we had no trouble finding a table.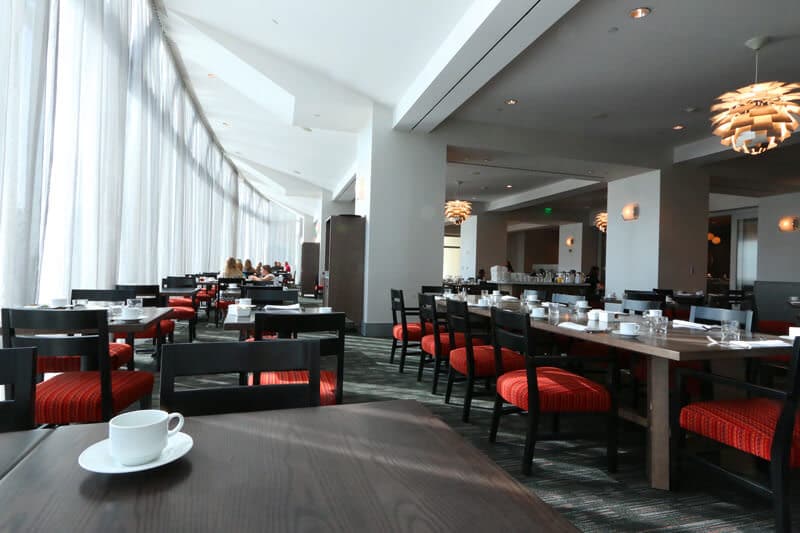 Breakfast buffets are always my preference – being able to pick and choose a little from a variety of foods – and Preston's offers a terrific buffet.
In addition to some of the breakfast standards, we enjoyed an array of smoked salmon, colds cuts, cheese and rolls, pastries, fresh fruit and yogurt…
Hash browns, sausage, eggs, etc, and a fabulous omelet station where you can order a customized omelet that's ready in minutes.
Breakfast at Preston's was the perfect way to start the morning.
We really enjoyed our stay at Loews Hollywood Hotel.  It's a luxury 4-star hotel with great amenities, great food and comfortable rooms, and it's location is simply unbeatable.
For more information, visit their website:  Loews Hollywood Hotel
1755 N Highland Ave
Hollywood, CA, 90028
323-856-1200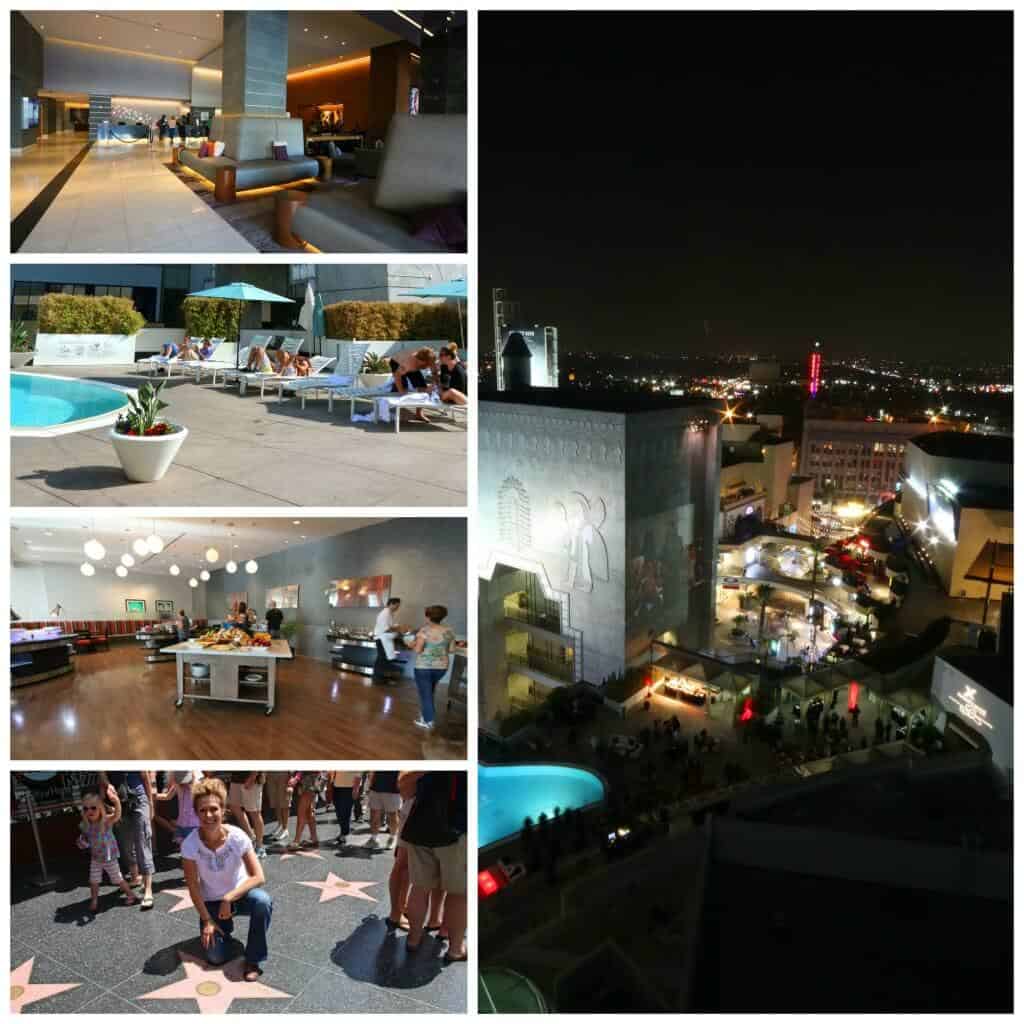 Disclosure:  We enjoyed a complimentary stay at Loews Hollywood Hotel without any obligation to write a positive review.  As always, all opinions are entirely my own.