Whole Wheat Peanut Butter Cookies Recipe  These cookies are absolutely LOADED with healthy ingredients!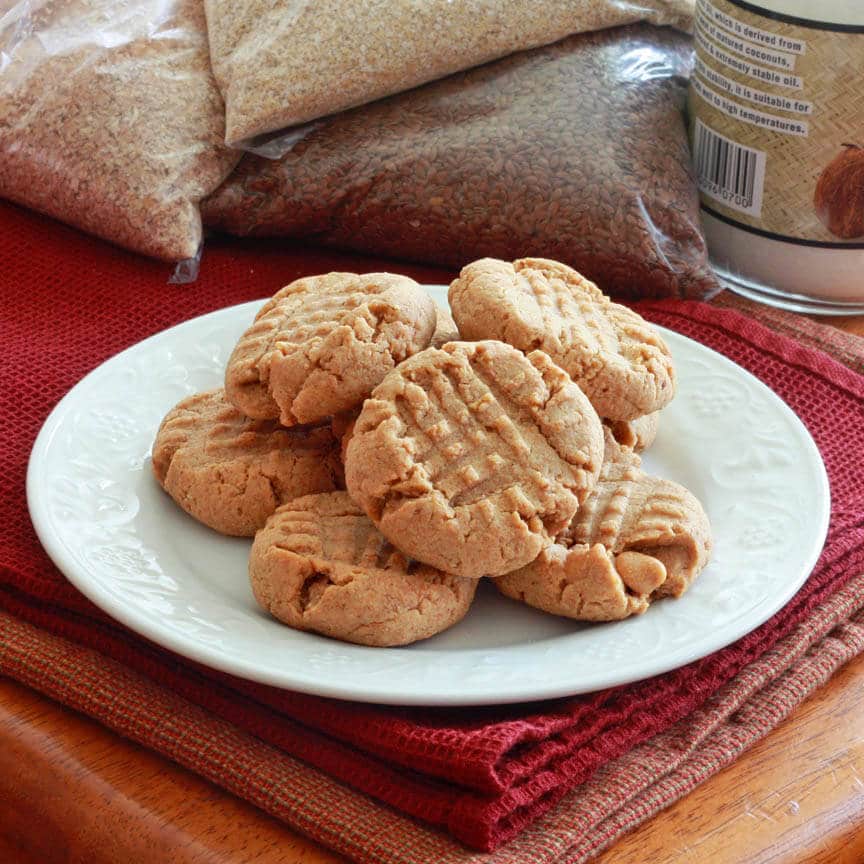 We all need more wheat germ, oat bran, flax seeds, and coconut oil in our lives.  What you would call peanut butter cookies that incorporated all of these?  Yes, I can well imagine some very unflattering names one could come up with based on this description.  But you won't hear any unflattering ones from me because I TASTED THEM!  And let me tell you, not only are these peanut butter cookies mega healthy, they taste fantastic!  Honestly, truly.
I wanted to make some extra healthy cookies for my toddler.  These cookies were totally experimental and I really wasn't sure what the end result was going to be.  I was so happy when I pulled them out of the oven.  And even happier when I tasted them.  Instead of butter or vegetable oil, I used coconut oil.  Wow!  It resulted in a cookie that has an almost melt-in-your-mouth consistency and a freshness that is a.m.a.z.i.n.g..  The wheat germ and wheat bran also helps lighten up the texture, adding a little more "airiness" to the whole wheat.  The flavor of the flax seeds is completely camouflaged by the other flavors but adds lots of healthy omega-3's.  These cookies are low in sugar, contain healthy oils, and are bursting with fiber.  While not overly sweet, the delicious flavor of the coconut oil more than compensates.
For a ridiculously healthy treat that doesn't compromise flavor, this cookie is a winner!
Let's break down the health profile of these cookies even further.
But first, a disclaimer.  1) I am not a doctor.  2) These cookies will not cure you.
Okay, now with any potential liability issues addressed, let's continue on!
Wheat Germ – a powerhouse of nutrients.  It's one of the best sources of folic acid, which has been linked to lowering the risk of heart disease, osteoporosis bone fractures, and dementia.  It also contains a phytonutrient called L-ergothioneine, which is a powerful antioxidant.  And then of course there's the mega doses of fiber which helps in reducing cholesterol, cancer prevention, boosts digestive health, lowers blood sugar, provides relief for those with IBS, helps prevent kidney stones, helps reduce stroke severity and helps with stroke recovery, assists in weight loss, and improves skin health.
Oat Bran – helps with most of the items discussed above but is even more effective in reducing cholesterol, and it also helps prevent constipation (did I just mention the word "constipation" on a food blog?)
So, you have two nutrient powerhouses working on your behalf!
Flax Seeds – flax seeds have been cultivated since 3000 BC.  Containing high amounts of health omega 3 oils, flax seeds are powerful nutrients in promoting a healthy heart.  They have also been shown to reduce the risk of breast, colon and prostate cancer.  Flax seeds also contain lignans, which have both plant estrogen and antioxidant qualities.  Grinding up the flax seeds, as in this recipe, helps release all of these nutrients.
Coconut Oil – not only delicious tasting, coconut oil provides many health benefits.  It has been shown to increase the body's resistance to viruses and bacteria that cause illness.  It also helps fight off yeast, fungus and candida (more great words to include in a post about food!)  It helps regulate and boost thyroid function which improves energy, metabolism, and endurance.  It also helps regulate blood sugar, lower cholesterol, and improves digestion.  It has also been shown to assist in weight loss, specifically tackling abdominal fat.
And then of course there's the whole wheat in these cookies, another good source of fiber, and the honey, which has been extolled by people for centuries for its powerful medicinal, antioxidant, antiseptic, and antibacterial properties.
It's not just that these cookies aren't bad for you (no refined sugar or flour), they're actually very good for you!
Mega Healthy Peanut Butter Cookies that are good for you and taste oh. so. good.!  Eat without the guilt!  How can you say no?
Are you convinced yet?
P.S.  Wheat germ and oat bran can be purchased in small quantities in the bulk sections of stores like Fred Meyer and WinCo.
Okay, before we get to that super-duper-health-delicious peanut butter cookie recipe, please take a moment to "Like" The Daring Gourmet on Facebook so you'll never miss a recipe!
So happy to have you on board!
Let's get started!
Combine all the dry ingredients, except for the peanut butter chips, in a bowl.  Set aside.
Beat the coconut oil, honey and peanut butter until combined.  Then add the eggs and vanilla extract and beat until combined.
Add the flour mixture to the wet mixture and beat just until combined.  Do not over-beat.
Stir in the peanut butter chips.
Put the cookie dough on a nonstick cookie sheet in 1-inch rounds.
Press the cookies down with a fork in criss-cross fashion.
Bake in an oven preheated to 350 degrees for 8-10 minutes or leave in longer for a firmer cookie.
Enjoy!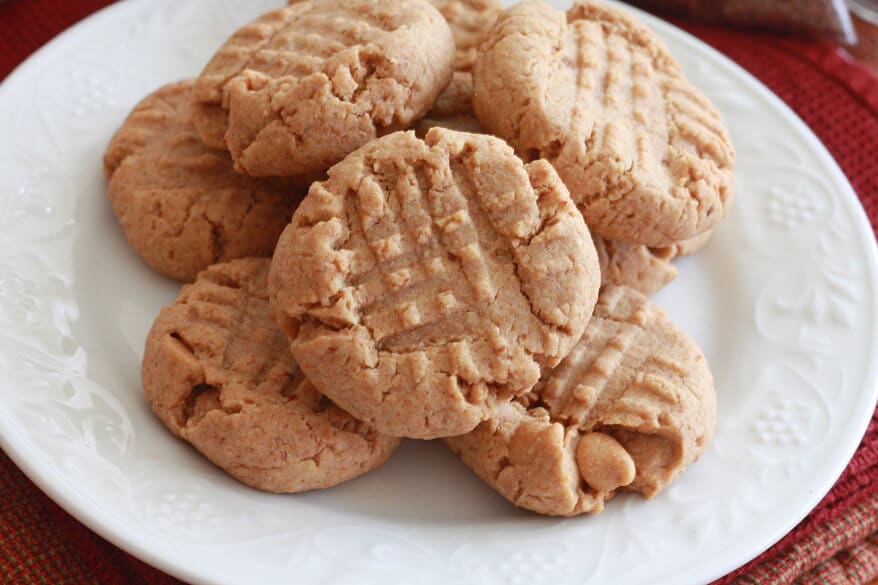 Mega healthy fans, also be sure to try this Mega Healthy Honey Olive Quinoa Cake!  You'll love it!
Mega Healthy Peanut Butter Cookies
These cookies have an almost melt-in-your-mouth quality to them and the flavor of the coconut oil is divine.
:
The Daring Gourmet, www.daringgourmet.com
Ingredients
½ cup solidified coconut oil (do not melt it first!)
⅓ cup honey (you can add a little more if you prefer them sweeter)
½ cup natural, unsweetened peanut butter
1 egg
1 teaspoon pure vanilla extract
1 cup whole wheat flour
¼ teaspoon salt
½ teaspoon baking soda
½ teaspoon baking powder
2 tablespoons wheat germ (keep refrigerated)
2 tablespoons oat bran (keep refrigerated)
1 tablespoon ground flax seeds (keep refrigerated)
½ cup peanut butter or chocolate chips (optional)
Instructions
Preheat the oven to 350 degrees F.
In a medium mixing bowl, cream the solidified coconut oil, honey and peanut butter together until smooth and creamy. Add the egg and vanilla and beat for another minute.
In another bowl, combine the flour, salt, baking soda, and baking powder. Stir in the wheat germ, oat bran, and flax seeds.
Gently stir the flour mixture into the peanut butter mixture, stirring just until combined. If using, stir in the peanut butter or chocolate chips.
Form the dough into 1-inch balls and place them on a cookie sheet about 2 inches apart. Press down on each ball with a fork to create a criss-cross pattern.
Bake for 8-10 minutes. Remove from the oven and allow to cool for 5 minutes before transferring the cookies to a wire rack to cool completely.