The ultimate sweet deception!  Believe it or not, these healthy chocolate cupcakes are 100% whole grain, sweetened with honey and banana, made with coconut oil, and are packed with quinoa and zucchini!  That's right, these deliciously decadent TRIPLE chocolate cupcakes are something you can enjoy without all the guilt!  And if you're trying to sneak in those healthy ingredients without your kids knowing, this Mega Healthy Chocolate Cupcakes recipe is your ticket to success!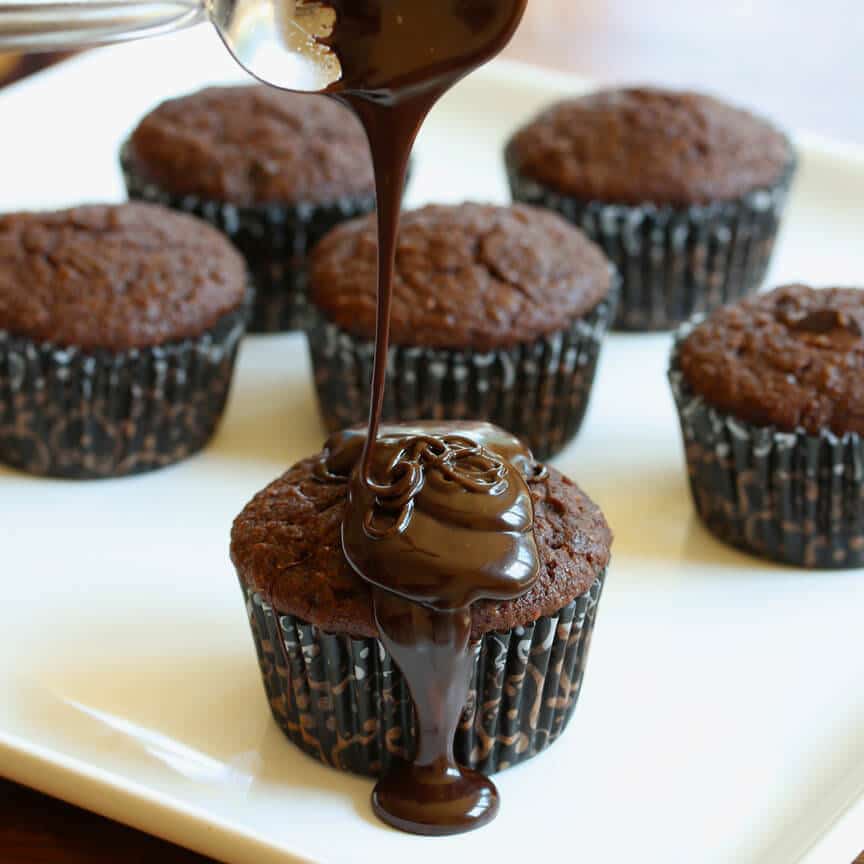 Health-conscious parents, the ultimate sweet deception has arrived.
You already know from previous posts that I regularly deceive my children.  Yes, yes, I know.  But it's all out of love.  I love my family more than anything else in the world and so I like to take good care of them.  Fortunately I don't have to twist my husband's arm to eat healthy, he's fully on board.  My kids on the other hand…yeahhh.  It's a work in progress.  And that's where the deception comes in.
Psssst, come here.  Look at this cupcake.  Soft, tender and moist with a glisteningly decadent, fudgy glaze.  Can you guess what's in it?
Well I'll tell you:  100% whole grain flour, wheat germ (concentrated nutrients and fiber), coconut oil, raw honey (no refined sugar), an entire cup of quinoa (one of the world's healthiest grains), a large potassium-rich banana, and a whole cup of zucchini (vegetables, score!).
If someone were simply to describe this concoction to you, you probably wouldn't feel too excited.  But come here a little closer and let me demonstrate how different these cupcakes are.  (*Chomp*)  Just look at the texture.  Can you detect quinoa or zucchini?  Nope!  And the crumb is irresistibly tender and moist.
And the best part, my kids didn't have a CLUE!
Sweet, sweet deception.
Do you think I watched them devour these with a clear conscience, knowing they were chomping into 100% whole grains, wheat germ, coconut oil, raw honey, bananas, zucchini and getting a mouthful of protein-packed quinoa?   Heck yes!   And as soon as they turned their backs I clasped my fingers together and did my evil villain laugh.
"Muhahahahahaaaa!"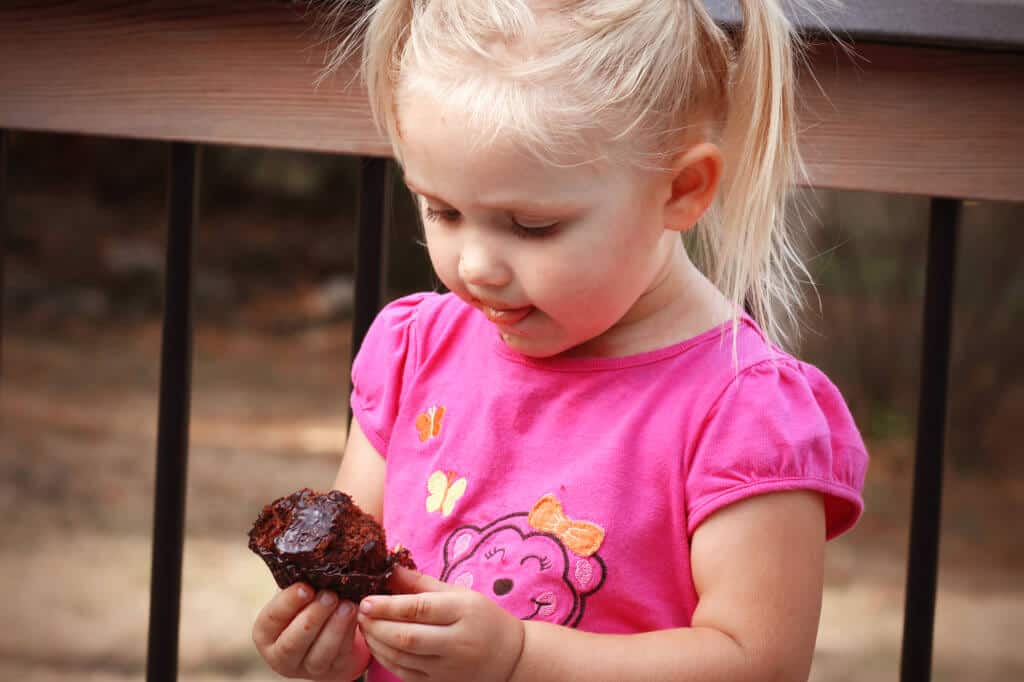 And so, dear parents, here's a healthy treat you can feel good about giving your kids.  Perfect for dessert, snack, or sending with them to school.  Just know their teacher may call you with a voice of alarm, "Mr. and Mrs. Wilson, my parent newsletter said a healthy snack."
Then it's your turn to grin with satisfaction.  "Ms. Mumfrey, they are healthy.  Deceptively healthy.  Deeeeeliciously healthy!"
Then you can add, "And if you're a very good teacher to my child this year, I'll bring you some."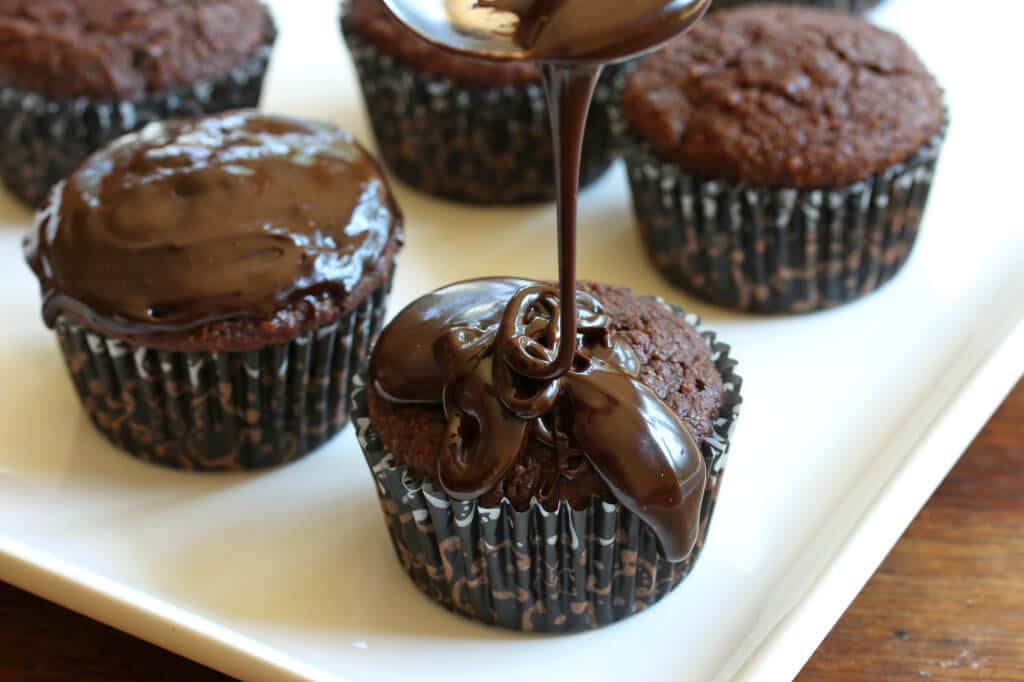 And of course who said these cupcakes were for kids only?  These are for anyone who likes sweets but want to enjoy them without all the guilt.  And so, dear grownups, chomp on!
Healthy Chocolate Cupcakes Recipe
Let's get started!
In a medium-sized bowl, combine the spelt (or whole wheat) flour, wheat germ, baking soda, baking powder, salt and Dutch cocoa powder.
In a separate large mixing bowl, combine the eggs, honey and coconut oil.  If the coconut oil isn't already somewhat liquified at room temperature, microwave it for a few seconds but don't add it to the eggs while hot.  Beat the ingredients until combined.
Add the mashed bananas, vanilla, and chocolate cashew milk and beat until combined.
Add the cooked quinoa and zucchini.
Add the flour mixture and fold with a rubber spatula until combined.  Don't use an electric mixer for this.  Fold just until combined, you don't want to over-stir or the cupcakes won't rise as well and will be dense.
Stir in the chocolate chips.
Your lusciously healthy batter is ready!
Line a cupcake tin with cups and spoon the mixture in 3/4 full.
In an oven preheated to 350 degrees F, bake for 15-18 minutes or until a toothpick inserted into the center of a cupcake comes out clean.
Be careful not to over-bake or the cupcakes will be dry.
Remove the cupcakes from the pan and allow them to cool completely.
To make the glaze, combine the chocolate, honey, and coconut oil and microwave for a few seconds, stirring occasionally, until the chocolate is melted.
Satiny chocolate gorgeousness!  It will be runny at first but firms up quickly.
Spread the glaze on the muffins, working quickly because the glaze will firm up.  If it becomes too firm simply microwave for a few seconds.
If you're making these cupcakes in advance, wait to glaze them just before serving.  If you have any leftover, keep them refrigerated so the glaze stays firm.
Enjoy!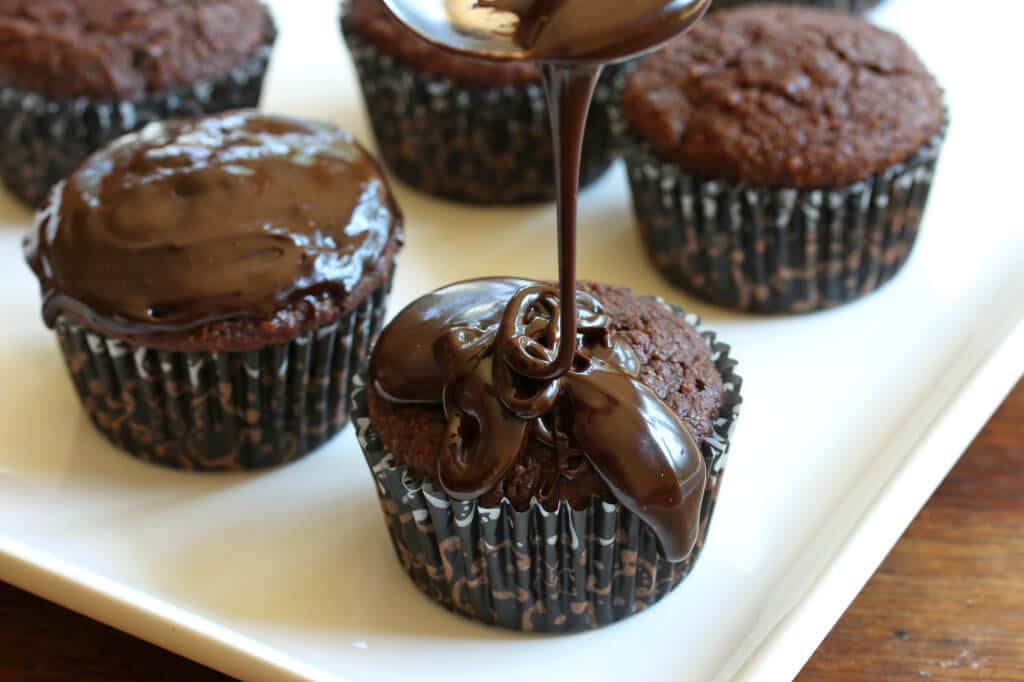 Be sure to also try our healthy Chocolate Deception Cake!
Mega Healthy Chocolate Cupcakes
The ultimate sweet deception, these decadently scrumptious cupcakes are 100% whole grain, are packed with quinoa and zucchini, and are sweetened with honey and banana!
Ingredients
2

cups

spelt flour

(spelt is milder, bakes up softer, and is more easily digested but you can substitute whole wheat flour)

1/4

cup

wheat germ

1/4

cup

Dutch cocoa powder

1

teaspoon

baking powder

1

teaspoon

baking soda

1/2

teaspoon

salt

2

large eggs

(vegan: use liquid egg substitute)

1/2

cup

honey

(vegan: use liquid sweetener of choice such as agave)

1/2

cup

coconut oil

, heat until softened but not hot

2

teaspoons

quality pure vanilla extract

2

teaspoons

white vinegar

1

cup

chocolate cashew milk

(can substitute chocolate almond milk or chocolate rice milk)

1

large ripe banana

, mashed

1

cup

cooked quinoa

(be sure to rinse quinoa thoroughly before cooking to eliminate bitter flavor)

1

cup

shredded zucchini

1/2

cup

chocolate chips

For the Honey Chocolate Glaze:

3

tablespoons

honey

1

tablespoon

coconut oil

3

ounces

semi-sweet or dark chocolate

, chopped
Instructions
Preheat the oven to 350 degrees F. Line two 12-cup standard muffin tins with paper liners (this recipe makes 20 cupcakes).

Combine the first six dry ingredients in a bowl and set aside.

In a large mixing bowl, beat the eggs, honey, and coconut oil until combined. Add the mashed banana, vanilla, vinegar and chocolate milk and beat until combined. Use a rubber spatula to fold the flour mixture into the wet mixture just until combined. Be careful not to over-stir or the muffins won't rise as well and will be dense. Stir in the cooked quinoa and zucchini. Stir in the chocolate chips.

Fill the cupcake liners ¾ full and bake for 15-18 minutes or until a toothpick inserted into the center of a cupcake comes out clean. Let the cupcakes cool completely.

To make the honey chocolate glaze: Place all the ingredients in a bowl and microwave, stirring occasionally, for a few seconds until the chocolate is melted. It will be runny at first but firms up very quickly. Spread on the cooled cupcakes. Work quickly when spreading glaze on cupcakes as the glaze will become firm. If it becomes too firm simply microwave for a few seconds. (Note: If you're making these cupcakes in advance, wait to glaze them just before serving. If you have any leftover, keep them refrigerated so the glaze stays firm.)
Nutrition
Serving:
1
cupcake
|
Calories:
217
kcal
|
Carbohydrates:
29
g
|
Protein:
4
g
|
Fat:
10
g
|
Saturated Fat:
7
g
|
Polyunsaturated Fat:
0.4
g
|
Monounsaturated Fat:
1
g
|
Cholesterol:
17
mg
|
Sodium:
134
mg
|
Potassium:
146
mg
|
Fiber:
3
g
|
Sugar:
14
g
|
Vitamin A:
52
IU
|
Vitamin C:
2
mg
|
Calcium:
25
mg
|
Iron:
2
mg
Originally published on The Daring Gourmet August 31, 2015