Thank you to Tate+Lyle® for sponsoring this post.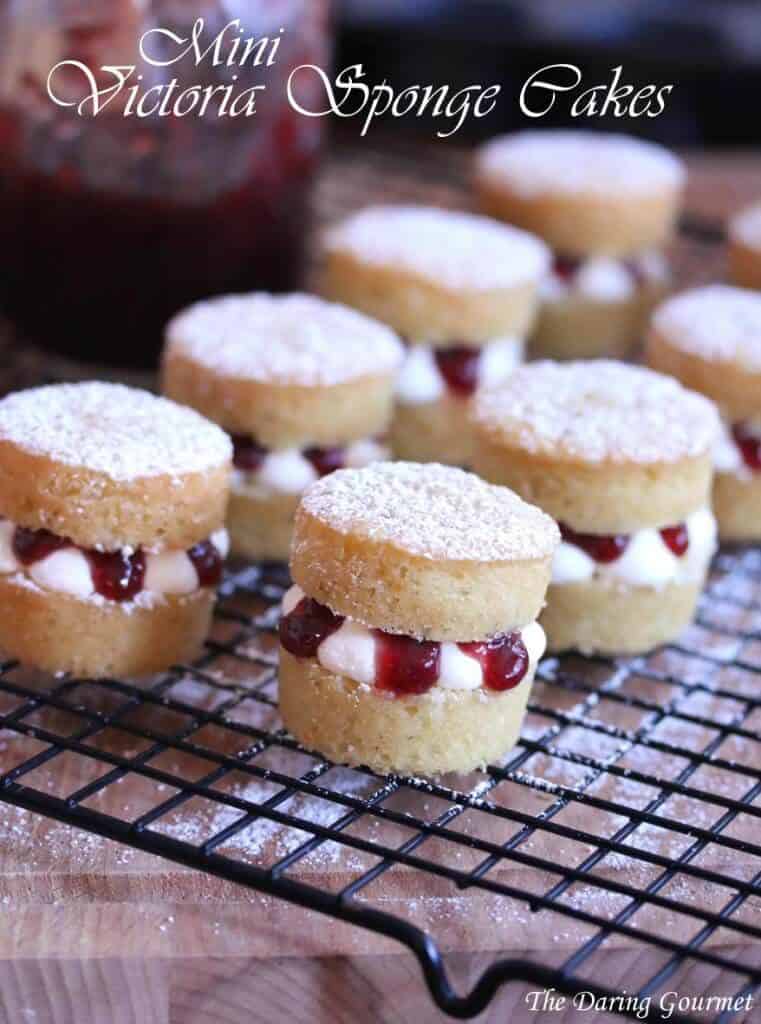 Today I'm sharing a taste of Britain with you, a quintessential dessert that has been enjoyed at tea time for ages.  Exquisitely rich buttercream and jam are sandwiched between two delicately soft and buttery sponge cakes.  This version comes in miniature form of the traditional full-sized cake, allowing you to conveniently pop mini bites of heaven into your mouth over and over…and over.And while we're on the subject of "mini", how about starting with a brief history lesson?
British afternoon tea, a tradition going back many generations.  Its origins trace back to Queen Victoria and Anna the Duchess of Bedford who served as her lady-in-waiting (ie, personal assistant) for 10 years.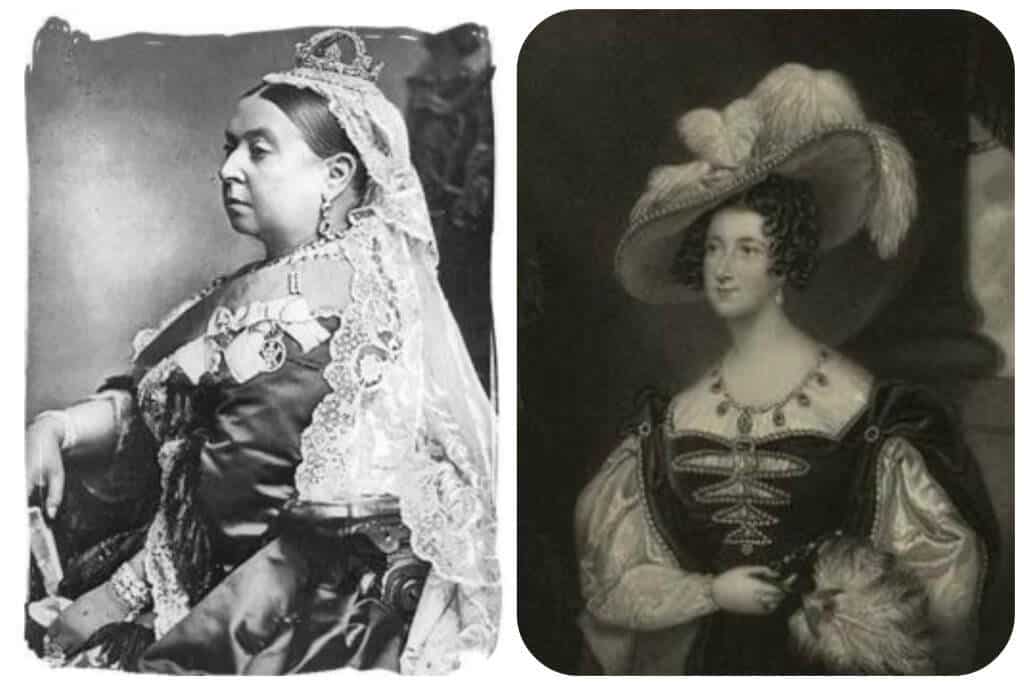 During her service to the Queen, Anna discovered that every day around late afternoon she would experience what we now recognize today as carb cravings.  So she started a personal tradition of setting aside that time of day with her servants to enjoy a cup of tea to help wash down a few sweet indulgences to hold her over until dinner.  The idea gained popularity (no surprise!) and before long she began inviting guests to join her.  Queen Victoria also began hosting lavish tea parties and guests were expected to attend wearing formal attire.   Soon a whole spectrum of tea-time desserts made their way into British food culture.  The cream-jam filled sponge cakes became Queen Victoria's favorites and they were named after her.So what it comes down to, this long-held tradition of afternoon tea is simply the perfect excuse to indulge your sweet tooth in the middle of the day. But indulging in the guise of "afternoon tea" manages to turn what would otherwise be a primal-driven physiological carb-craving response into something refined and…"proper."And that works for me.
Today I'm introducing you to another decadent sweet you can add to your repertoire of tea time indulgences.  We're going to add a modern twist to this very traditional British dessert.  It's Victoria Sponge Cake, in miniature form.
These Mini Victoria Sponge Cakes are perfect for your next chic tea party, bridal shower, birthday or other special occasion.
As this is a British dessert it's only fitting that I've enlisted the help of a British product to make them.  Tate+Lyle® Sugars has graced Britain's finest tables, including those of royalty, making it an integral part of England's epicurean history for over 130 years.  I was first introduced to their products during the 6 years I lived in England.   I'm thrilled to have been reunited with a few of their fine products.
Most people who get into baking sooner or later realize the difference quality ingredients make.  Butter is a prime example.  But when was the last time you stopped to consider the quality of the sugar you're using?  Let's make a comparison to put this into perspective.  Salt.  If you put some regular table salt on your tongue all you'll taste is…salt.  Meaning, it's less an actual flavor than it is merely a sensation.  Next try a few gourmet salts, such as black lava salt with its earthy flavor and smoky top note.  Not only are the receptors on your tongue recognizing the saltiness, your taste buds are also enjoying additional, natural flavors beyond the mere saltiness that add new and exciting flavor dimensions to your food.
The same is true of sugar.  Put a few grains of regular sugar on your tongue.   The receptors on your tongue identify it as sweet, but no flavor.  That changes when you use quality sugar.  I did my own taste test with Tate+Lyle® Organic Pure Cane Sugar and had everyone in my family do the same, comparing table sugar with a top quality sugar.  Beyond merely the "sweet" sensation in your mouth, you'll detect warm, subtle hints of caramel.  The flavor is truly delightful.  And the outcome of your baked goods, your tea, or however you use it, will benefit from quality sugar.
I lived in England as a teenager and young adult with my family and my husband spent a couple of years there as well.  We all get homesick for Britain.  I had my family over a couple of weeks ago and served these Mini Victoria Sponge Cakes.  Everyone's reaction was the same:  "These taste so British!"  And they do.
You're going to love these Mini Victoria Sponge Cakes.  So soft and flavorful with a deliciously rich buttercream and jam filling.
Let's get started!
Traditionally Victoria Sponge Cake uses caster sugar, very finely granulated sugar.  Instead we're going to use organic pure cane sugar with its natural caramel-like flavor and cream it with the butter for several minutes to create a fluffy mixture that will be incorporated into that delicious sponge cake.
Add the pure vanilla extract (use a quality brand).
Add the eggs, one at a time, beating each egg until incorporated.
In a separate bowl, sift the flour, baking powder and salt.
Use a rubber spatula to fold the flour mixture into the wet mixture, stirring just until incorporated.  Be careful not to over-stir or the cakes will be dense.
Use a non-stick mini cheesecake dish and spoon the batter into each cup until halfway full.  I'm using Norpro's Mini Cheesecake Pan.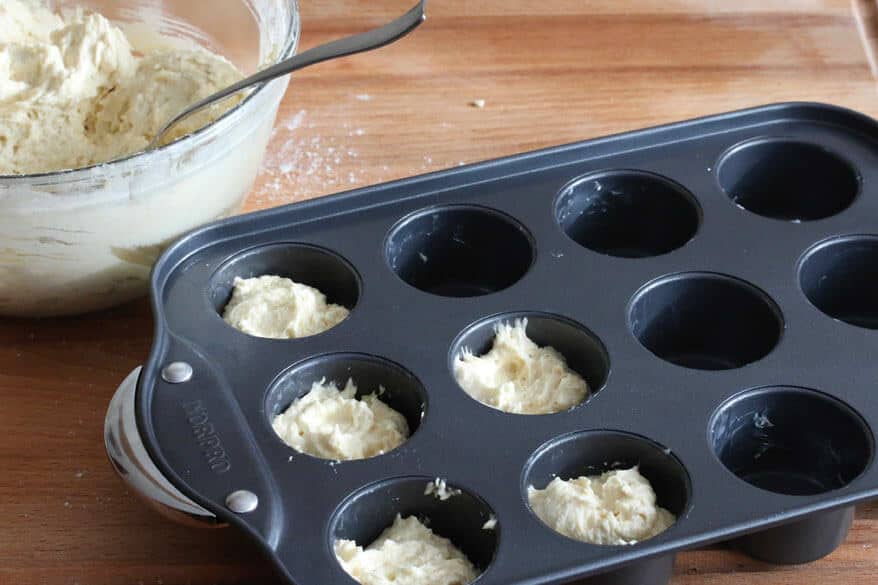 Let the cakes cool completely on a wire rack.
To make the buttercream, beat the butter, powdered sugar and milk until smooth and creamy.  If it's too dry, add a little more milk (careful, a tiny bit goes a long way).  If it's too runny, add some more powdered sugar.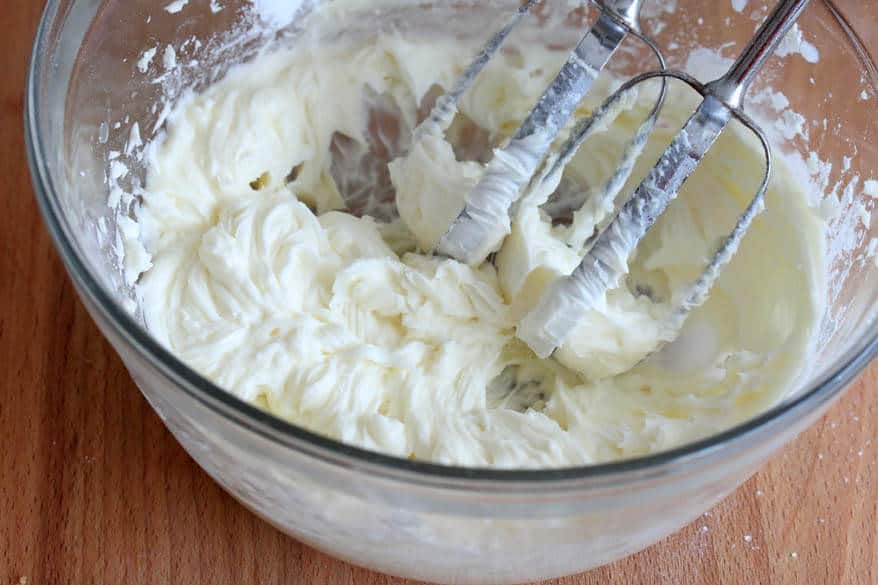 You can simply spread the buttercream onto the cakes with a knife, but for a more decadent look, fill it in a pastry bag with a round tip.
Cut each cake in half.

Pipe the buttercream onto the bottom half.  I piped it in the pattern pictured below to allow the jam to flow down between the dots in a visually nice pattern.
Add a dollop of strawberry (traditional) or raspberry jam.
Place the tops of the cakes in back in place and sift powdered sugar over the tops.
Store any leftovers in an airtight container.
Enjoy!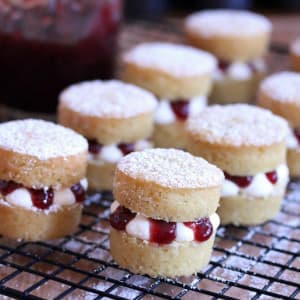 Mini Victoria Sponge Cakes (A Taste of Britain)
A mini version of a famous British classic!
Ingredients
1

cup

sifted all-purpose flour

2

teaspoons

baking powder

1/4

teaspoon

salt

1 1/2

sticks

quality butter

,room temperature

1

cup

Tate+Lyle® Organic Pure Cane Sugar

1

teaspoon

pure vanilla extract

3

large eggs

For the Filling:

1

stick

quality butter

,room temperature

1 1/4

cup

powdered sugar

1

tablespoon

milk

,plus more as needed

Good quality strawberry or raspberry jam
Instructions
Preheat the oven to 350 degrees F. Lightly butter a nonstick mini cheesecake pan.

Sift the flour, baking powder and salt in a medium bowl and set aside.

In a large mixing bowl, cream the butter and sugar for 4-5 minutes. Add the vanilla extract. Add the eggs, one at a time, beating after each until incorporated. Using a rubber spatula, fold the flour mixture into the wet mixture until incorporated. Be careful not to over-stir or the cakes will be dense.

Spoon the batter into the mini cheesecake cups to the halfway point. Bake on the middle oven rack for 12-15 minutes or until a toothpick inserted into the center of a cake comes out clean.

Allow the cakes to sit in the cupcake pan for a couple of minutes before transferring them to a wire rack to cool completely.

To make the buttercream filling, beat together the butter, powdered sugar and milk until smooth. If the buttercream is too stiff, add a tiny amount of milk until a spreadable consistency is reached. If it's too runny, add more powdered sugar. Spoon the buttercream into a piping bag with a medium or large round tip.

Once the cakes have cooled completely, slice them in half.

Pipe a dot in the center of the bottom cake half and pipe 4-5 more dots around the center dot. Spoon some jam on top, carefully helping it to run between the dots for a prettier presentation.

Place the top cake half in position and repeat for the remaining cakes. Sift powdered sugar over the top of the cakes. Store the cakes in an airtight container.
Nutrition
Calories:
225
kcal
|
Carbohydrates:
25
g
|
Protein:
1
g
|
Fat:
13
g
|
Saturated Fat:
8
g
|
Cholesterol:
61
mg
|
Sodium:
155
mg
|
Potassium:
64
mg
|
Sugar:
19
g
|
Vitamin A:
430
IU
|
Calcium:
29
mg
|
Iron:
0.5
mg
Thank you to Tate+Lyle® for sponsoring this post.