I received a copy of Chef Ryan's cookbook for review and all opinions are entirely my own.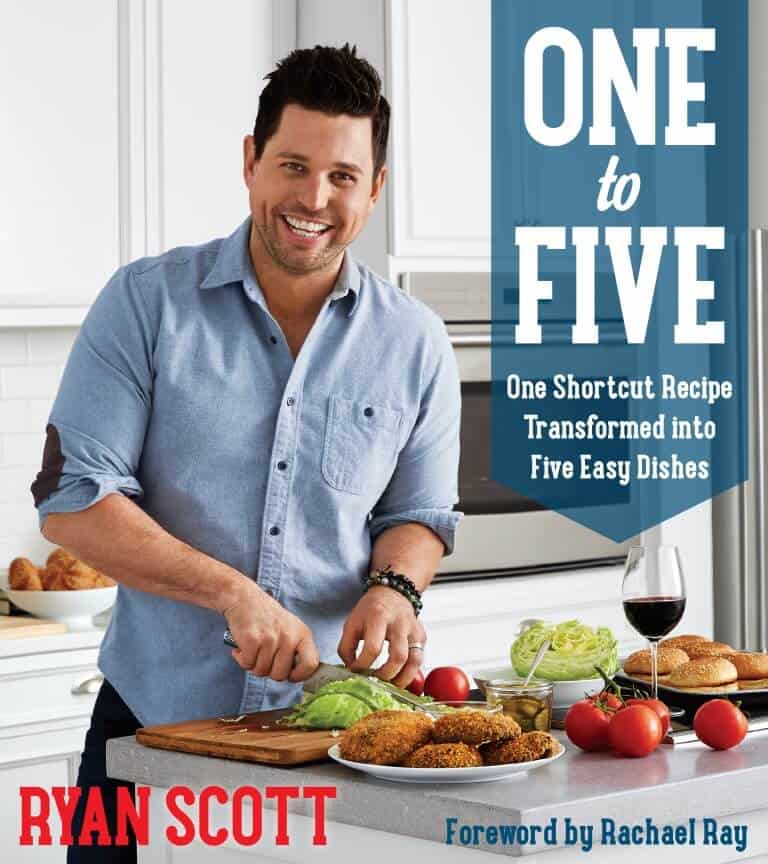 If you like easy, quick, affordable, and crowd-pleasing dishes (I do!) then you should check out this new cookbook from Chef Ryan Scott which has been endorsed by celebrated chefs and TV personalities including Rachael Ray, Sunny Anderson and Carla Hall.
Many of you are already familiar with Emmy-winning Chef Ryan from his regular appearances on national television, including Today and Rachael Ray as well as his weekly radio show, The Ryan Scott Show.  He is also a restaurateur and the owner of Market & Rye and Finn Town in San Fransisco.
"One to Five" is his first cookbook which Kathie Lee Gifford and Hoda Kotb describe as "so fun, so simple, and so Ryan."  In his words:
When it comes to cooking at home, if I can't prep it, cook it, and sit down to eat it in an hour or less, I don't want to do it.  It's just that simple.
With more than 100 recipes, this cookbook is about getting delicious meals on the table with enough time left to sit down together with your loved ones to enjoy them.  "One to Five" revolves around a really cool concept:  A short-cut recipe that's transformed into five others.  All of them easy and all of them drawing from the same 20 ingredients, almost half of which are vegetables.  With these short-cut recipes, Chef Ryan compromises neither health nor flavor.
Food for me has always been about family, friends and memories.  Once you are gathered around the table to share a meal, everything else fades away: the day's worries, work stress, tomorrow's to-do list.  All of these concerns take a backseat to living in the moment, connecting with family and friends who are passing a delicious dish around the table.  That summarizes my whole approach to cooking at home.  Keep it simple, get to the table, and enjoy your meal.
With 20 years of cooking experience to his name, Chef Ryan's cookbook includes recipes that he personally loves to prepare and eat.  In "One to Five" he lists all of his favorite staple ingredients to keep stocked in your fridge, freezer and pantry that will help you economize while simultaneously expanding the diversity of your everyday meals as well as streamline your cooking process.  That's followed by his list of essential kitchen tools.  Then he gets to work taking one ingredient after the other and creating "master recipes" with them from which you can create five additional recipes.
The philosophy behind "One to Five" is so easy you will want to kiss me:  Name a simple ingredient, and I'll give you a quick way to prepare it that can be transformed into five great dishes to serve throughout the week….Think of me as your best cooking friend.
For example, he teaches you how to make fool-proof hard-boiled eggs and then how to create five tasty dishes with them.  Do you have extra broccoli on hand?  Perfect, because Chef Ryan will show you how to prepare steamed-and-shocked broccoli which you can then use to prepare five easy dishes, including Broccoli-almond Pesto, Broccamole and Broc-o-tots.  Sound fun?  It is!
As a cook and foodie myself, and as someone who's getting ready to remodel her historic 104 year old kitchen next year, what also caught my attention is Chef Ryan's new BlueStar kitchen.  He redesigned his home kitchen in San Fransisco to fit his vision of easy home entertaining and simple recipes, and it was also in this kitchen that he developed and tested the recipes for his cookbook.  Check it out in the photo below – it's decked out with BlueStar appliances and everything from his BlueStar range, hood and fridge is just stunning!  And look at the cool knobs on his range.  BlueStar® offers 750 different colors, bringing a whole new new meaning to the word customization.
Chef Ryan is actually one of the first chefs in the country to have a full kitchen of BlueStar appliances, including their new chef-inspired 36″ built-in refrigerator and incredible range (*swoon*).  Says Scott: "I get the high quality results I need with the high 25K BTUs of my rangetop and was able to customize my unit with a side swing door and charbroiler."  His BlueStar range even has a wok station (a wok station!) and charbroiler that allows him to grill indoors. (*Kimberly, calm yourself*)
Having the right equipment is essential to getting restaurant quality results at home… when people come to my house for dinner, they expect restaurant quality food….so I had to figure out how to deliver!
Okay, can I just have your kitchen, Chef Ryan?  We can just lift it up via helicopter and lower it right down here – a little lower…now to the left…yep, right there.  Perfect.
You can see some videos of Chef Ryan preparing select recipes from his cookbook in his kitchen via BlueStar®'s exclusive instructional videos.
Alright, back to reality.  Back to FOOD.  Back to Chef Ryan's new cookbook, "One to Five."
We're giving one away!
To enter simply leave a comment and you'll be entered to win.  This giveaway ends November 30th.  One winner will be chosen and notified via email.  The winner has 48 hours to respond or another winner will be chosen.  This giveaway is open to U.S. residents only.
Ryan Scott's "One to Five" cookbook can be purchased at Barnes & Noble and on Amazon.
Here's one sample recipe from Chef Ryan's cookbook to get your taste buds moving:
Mozzarella-Stuffed Crispy Portobello Burgers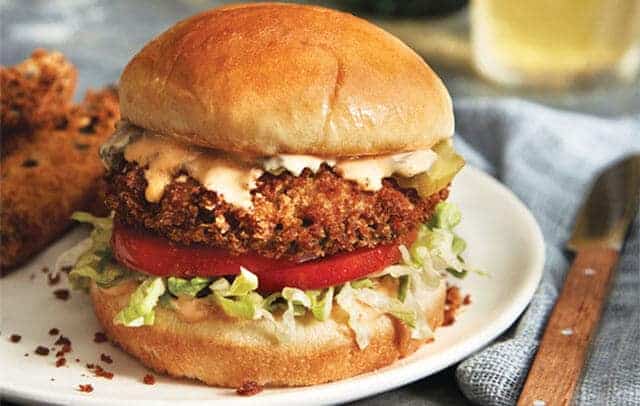 Mozzarella-Stuffed Crispy Portobello Burgers
Even passionate carnivores will fall in love with these!
Ingredients
2

Marinated-and-Roasted Portobellos

1/2

cup

shredded mozzarella cheese

(2 ounces)

3/4

cup

all-purpose flour

1

tablespoon

ranch dressing mix

, such as Hidden Valley

2

large eggs

, beaten

1

cup

panko

Japanese-style breadcrumbs

Neutral-flavored oil

,for frying

3/4

teaspoon

kosher salt

3/8

teaspoon

black pepper

2

hamburger buns of your choice

1/4

cup

Thousand Island Dressing

1/4

cup

dill pickle chips

1

cup

shredded iceberg lettuce

1

medium tomato

,cut in 4 (1/4-inch-thick) slices
Instructions
Cut a slit in a thick side of each mushroom cap to form a pocket. (Do not cut them in half.) Carefully stuff 1/4 cup of mozzarella into each mushroom pocket with your fingers or a spoon, pressing and flattening the cheese as you stuff. (Do not overstuff; see Note.)

Stir together the flour and ranch dressing mix in a small bowl. Put the eggs in a second bowl and the panko in a third bowl. Dip both sides of each mushroom in the flour mixture; then dip in the eggs, and then dredge in the panko. (Make sure the mushrooms are thoroughly coated in the panko.)

Preheat the oven to 375° F. Heat 1/2 inch of the oil in a medium saucepan over medium until splattering. (If a few panko crumbs dropped in the oil turn golden quickly, you're ready to fry.) Fry the mushrooms, flipping them frequently and keeping a close eye on them, until they turn golden and the cheese starts to melt, 4 to 5 minutes. Transfer to an aluminum foil-lined baking sheet, and bake until the cheese is fully melted, about 5 minutes. Transfer to a paper towel-lined plate, and season with 1/2 teaspoon of the salt 1/4 teaspoon of the pepper.

Slather the top and bottom halves of each bun with 1 tablespoon Thousand Island Dressing. Layer each bottom half with the pickles, lettuce, and 2 tomato slices. Sprinkle with the remaining 1/4 teaspoon salt and 1/8 teaspoon pepper. Top with the fried mushrooms and the bun top.
Notes
These burgers can be a little messy. After stuffing the burgers with the mozzarella, chill them for 30 minutes to let them set up.
Nutrition
Serving:
1
burger
|
Calories:
364
kcal
|
Carbohydrates:
47
g
|
Protein:
14
g
|
Fat:
13
g
|
Saturated Fat:
3
g
|
Cholesterol:
96
mg
|
Sodium:
1321
mg
|
Potassium:
412
mg
|
Fiber:
4
g
|
Sugar:
7
g
|
Vitamin A:
650
IU
|
Vitamin C:
5
mg
|
Calcium:
150
mg
|
Iron:
3.8
mg
Recipe from Ryan Scott's cookbook "One to Five"
Burger and marinated portobellos images courtesy Ryan Scott
I received a copy of Chef Ryan's cookbook for review and all opinions are entirely my own.