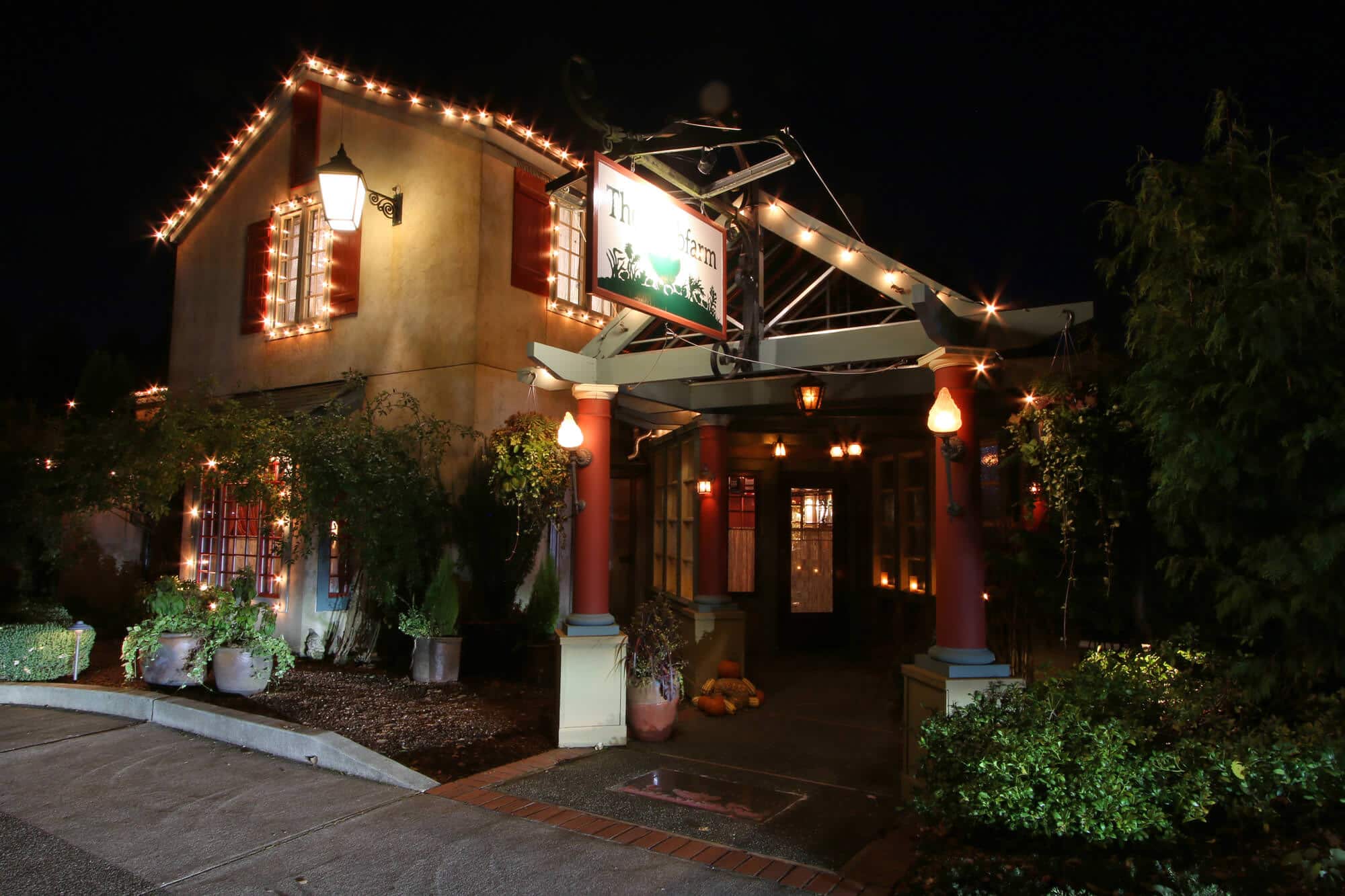 "Our Food Philosophy:  The Herbfarm believes that no dish

can be better than its ingredients,

and that the best ingredients are usually local."
As National Geographic's #1 Destination Restaurant In The World, it was high time we visited The Herbfarm, especially considering it's so close to us.
We deliberately avoided reading much about The Herbfarm before we visited.  We wanted to experience it without any preconceived notions and didn't even look up pictures of it online.  So we really didn't know quite what to expect.  And that was part of the fun.
We did know something of its reputation however including its accolades.  Here are just a few:
America's Top 10 Restaurants – Zagat
Zagat Rated: 29/26/28 for Food/Decor/Service, the highest in the Northwest
Top 50 Restaurants in the World – Travel + Leisure
The highest awards for wine (see wine cellar section below)
James Beard Award for Best American Chef
Admitted into the Fine Dining Hall of Fame by Nation's Restaurant News
And as already mentioned:  #1 Destination Restaurant in the World – National Geographic
The other thing we knew is that most of The Herbfarm's ingredients are locally sourced, many of them from their own kitchen gardens and nearby farm. Indeed, the Herbfarm epitomizes the farm-to-table movement and is among its first visionaries and leading pioneers.
The Herbfarm is co-owned by husband and wife team Carrie Van Dyck and Ron Zimmerman.
Ron's parents owned an herb farm in Fall City, WA and he and Carrie opened up a restaurant on their farm in a little renovated garage.  They named it The Herbfarm.  In the beginning they served 6 course dinners, never had an empty seat and received excellent reviews.  In 1997 The Herbfarm burned from a fire caused by an electrical short and during the course of the next 4 years they continued their restaurant, first in a large tent they built nearby on the farm, then at a local winery.  In 2001 they finished building what is now the current restaurant located in Woodinville.
What began as a small restaurant in a converted garage earned the AAA Five Diamond award in 2002 – and every year since – and remains one of the most renowned and respected restaurants in the world.
The atmosphere of The Herbfarm is warm, romantic and inviting with an eclectic arrangement of mostly antique furniture and decor with accents of wainscoting and stained glass windows.  It's something of a combination of traditional, old world, rustic and contemporary with other influences sprinkled in.  The Herbfarm also offers overnight suites at Willows Lodge for the guests wanting to make a night of the experience.
The menus are seasonal and based around specific themes that change every few weeks.  Each course features different herbs, and I don't mean just as a garnish:  At the Herbfarm the herbs take the stage front and center in the most unique and imaginative ways.  Depending on the availability of local ingredients, the menu can change nightly, even just hours before guests arrive.
Dinner at The Herbfarm is more than a meal – it's an event, a performance, a complete experience.  And it's one you won't forget.
We walked into the restaurant from the freezing cold and were met by a large, century-old glowing fireplace and a friendly staff who offered us some hot chanterelle apple cider that warmed us right up.
With some time on hand before the start of the evening, we took our hot cider mugs in hand (along with the camera, of course) and took a walk around the place.
For large parties or special occasions the Founder's Room, just outside the main dining room, can be reserved.
The wine cellar has a selection of over 4000 wines.  I've heard they even served an 18th century Madeira, one of the oldest drinkable wines in the world.  The Herbfarm has won multiple distinctions for its vast wine selection such as the Best Award of Excellence from Wine Spectator, Ultimate Award of Distinction: America's Finest from Wine Enthusiast Magazine, and now 15 years in a row has earned the Best Northwest Wine List from Wine Press Northwest.
Upstairs is a cozy library with a small table that is available for dinner guests.
The view from this table is stunning.
A few minutes before dinner the guests were invited to gather in the foyer by the fireplace while Carrie introduced us to each herb that would be featured in that evening's meal.  A handful of each herb was passed around to the group for sampling.  Carrie also told us the story of The Herbfarm's origin, its later relocation and the process of building the new structure.
And then it was time to eat.
Ready to go inside the dining room?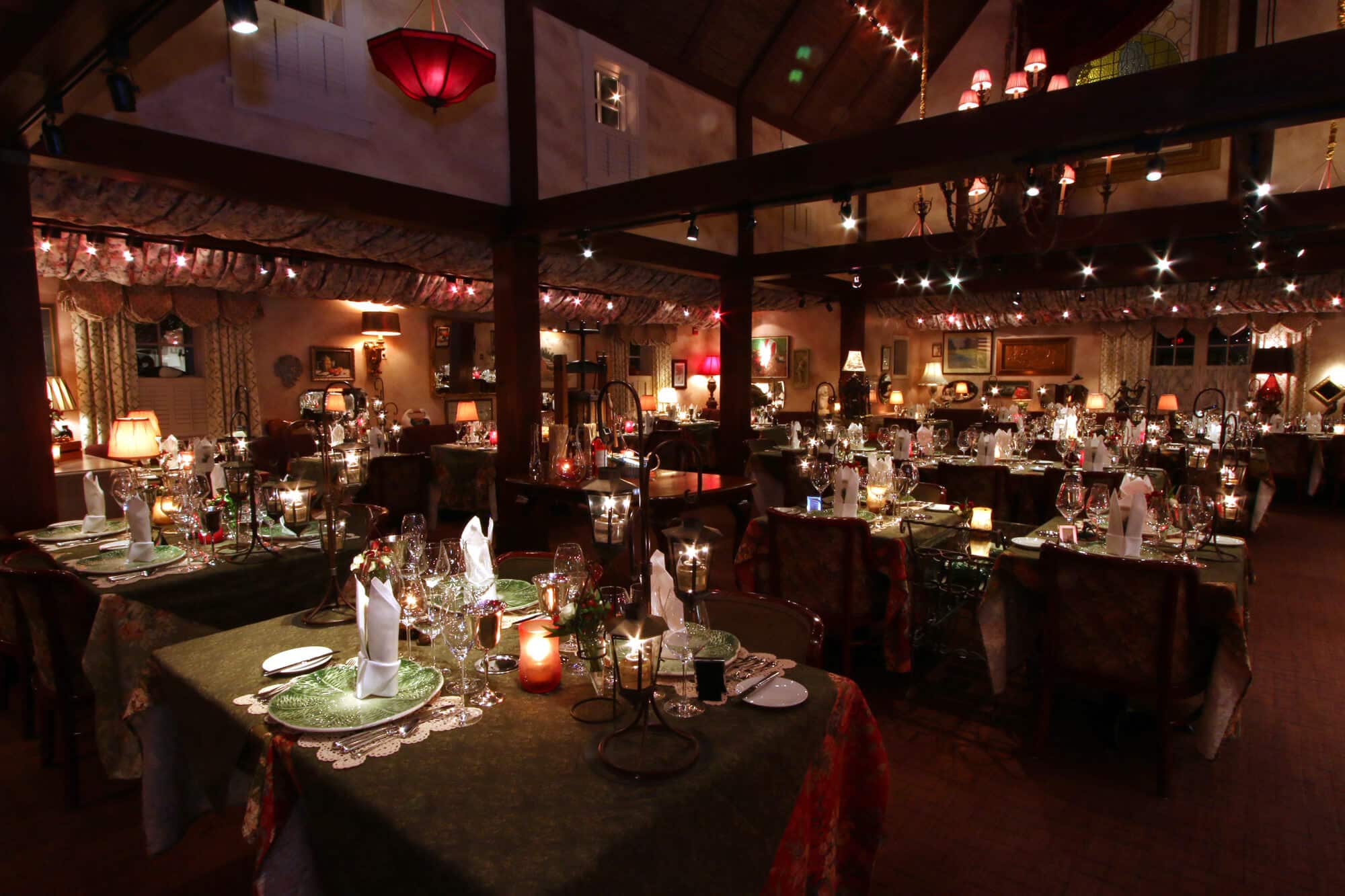 Beautiful soft lighting, carefully set tables, graceful decor and cathedral ceilings with wooden beams.
It was magical.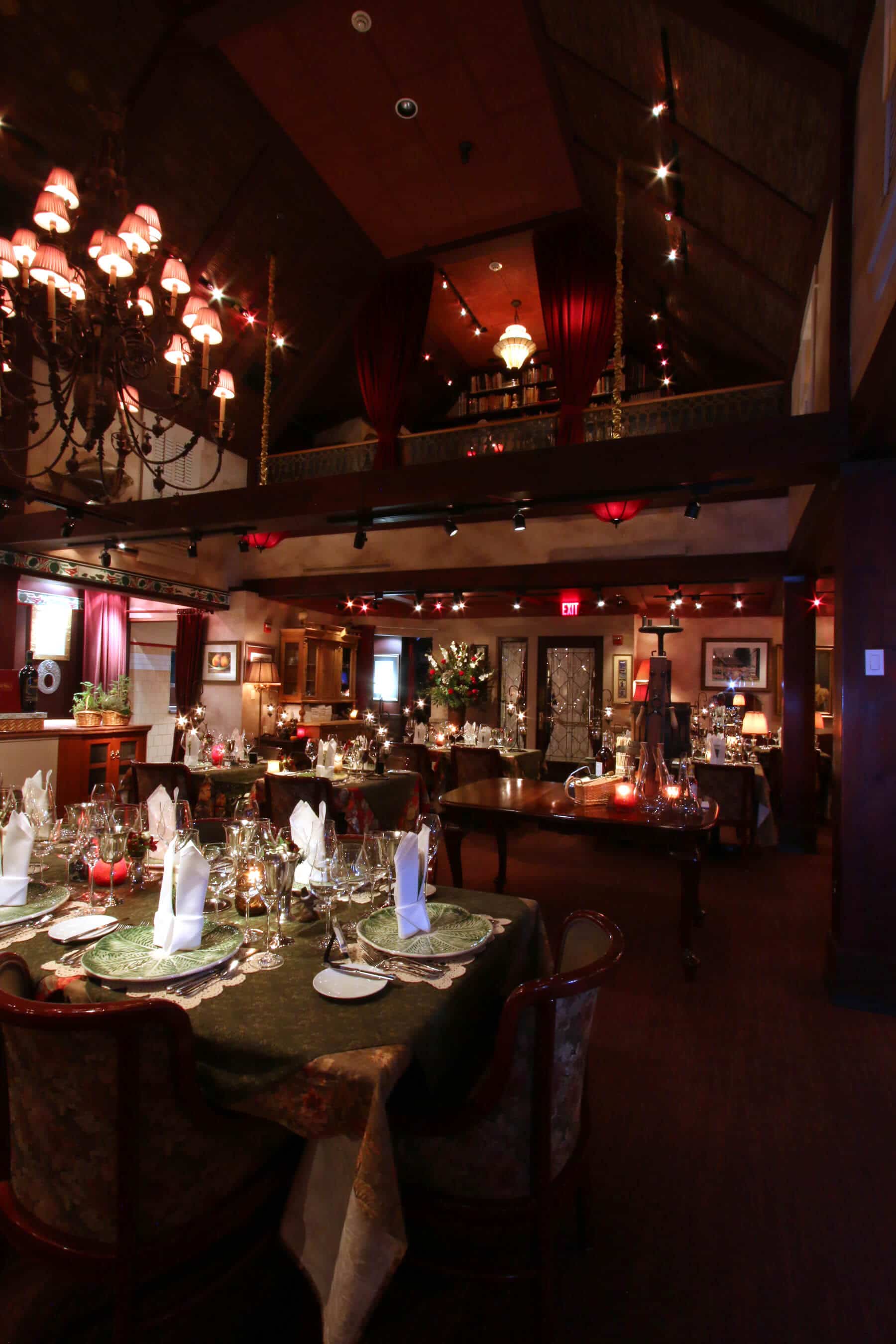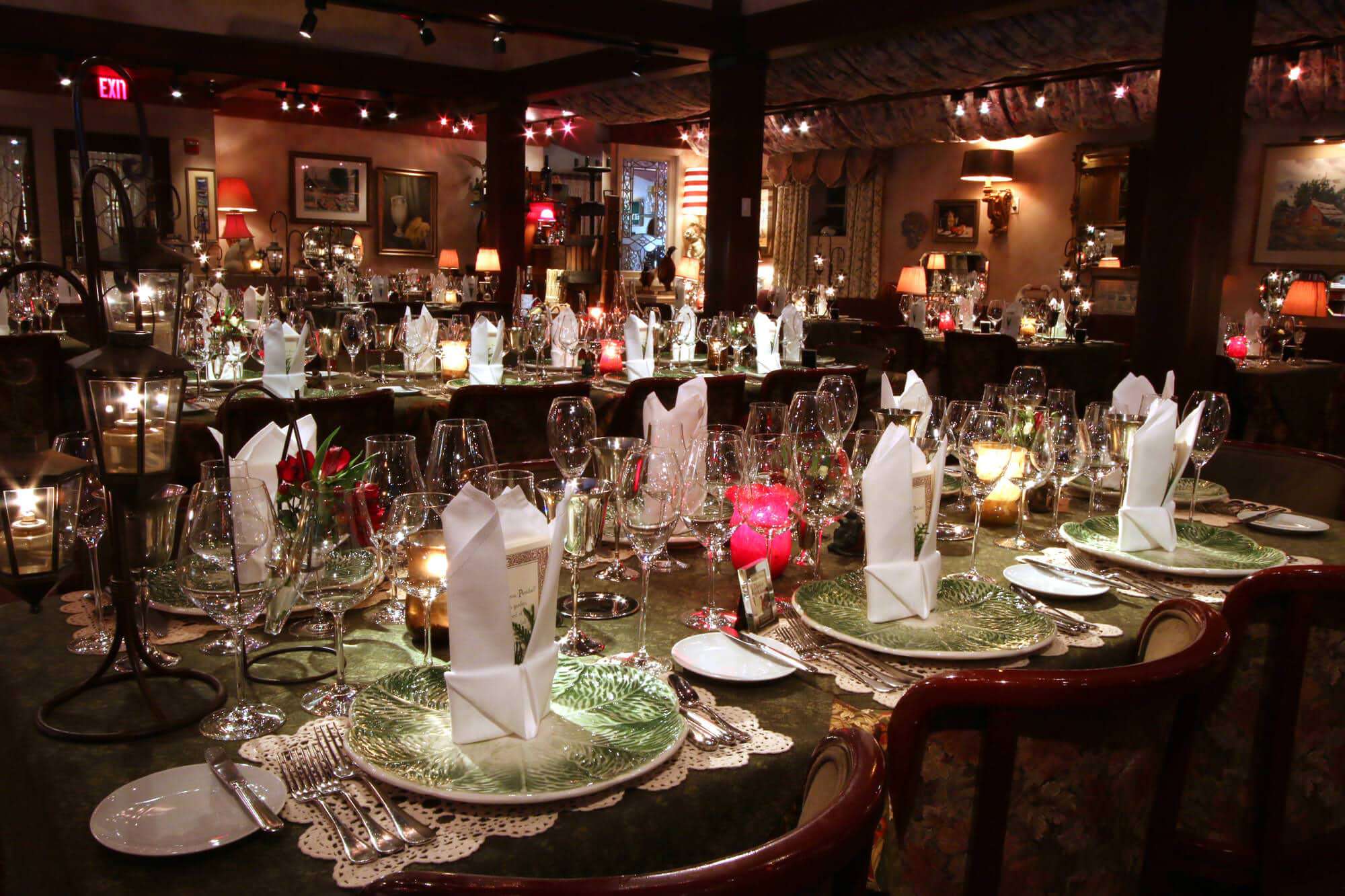 Throughout the evening we were serenaded by a live Spanish classical guitarist who sat in the chair on the small platform to the right.  Our table was all the way to the back left where you see the two paintings on the wall.  We were able to sit a little more removed from the rest where we could enjoy a great vantage point for people watching while enjoying each other's company.
From every table you get a full view of the kitchen and can watch the staff quietly and efficiently go about their preparations for the next course.
The seating is all pre-assigned and we were shown to our table.  Each setting has custom name tokens for the guests, a little souvenir to take home by which to remember the evening.

Awaiting us in advance was the menu for that evening.
Each of the nine courses are detailed along with their wine pairings.  It was fascinating just reading about and imagining the different ingredient combinations in anticipation of actually trying them.
A popular aspect of dining at The Herbfarm is of course the wine.  Six different wines are served throughout the evening, carefully paired with each course.  As non-drinkers, The Herbfarm took equally good care of us.  In our experience the best restaurants take equal thought in the beverage selection for their non-drinking guests (and by that I don't mean bottled Perrier and Orangina).  In this The Herbfarm excelled.
For creativity and flavor, The Herbfarm's hand-crafted non-alcoholic beverages far exceeded our expectations.  They were delightful.
Chef Chris Weber and sommelier Lisa Rongren spent some time introducing the menu, discussing each of the courses including interesting details about them, as well as an introduction of each of the wines.  (We thought Lisa looked really familiar and then we realized that we knew her from John Howie Steak in Bellevue where she worked as the wine director.)
The entire staff also lined up for a formal introduction by Ron Zimmerman.  The staff comes from all around the world with a variety of backgrounds.
The food was intriguing to say the least.  Truly one experience after the other of "I never would have thought of that!"  It was remarkable to see and taste the creative interplay of ingredients, some of which were not particularly enjoyable on their own (for instance the devil's club powder and the pineapple weed cocktail) but in combination with the other ingredients made for a fascinating blend of flavors.
"The Herbfarm believes that chefs who cook with local ingredients—season by season, year after year—develop a more complete understanding of the foods than chefs who do not. This understanding can give rise to greater expressions of the food, its preparation, and enjoyment."
Let me take you through our 9-course menu:
Course 1 (left):  Coming Ashore – King Crab, Sea Urchin Mayo, Oca Root, Fennel, Sorrel Juice.  (We had never even heard of oca root before but it was delicious.)
Course 2 (right):  Sun & Sheep – Sunchoke Mousse, Sunchoke Granola, Sheep Cheese Marshmallow, Dill.  (I love sunchokes and was stunned at the creativity of this dish.)
Course 3 (left):  Caviar & Potato – Vinegar-Mashed La Ratte Potatoes, Fresh-Cured Salmon Roe, Charred Leek, Yeasted Cracker.  (The charred leek was wonderful and those potatoes…I would have been perfectly content with a massive bowl of them to last me through the evening.  They were incredible.)
Course 4 (right):  Deuce of Duck – Lavender-Crusted Leg of Moulard Duck, Smoked Foie Gras, Pellegrini Shelling Peas, New Zealand Spinach.  (A perfectly crispy shell with a juicy, flavorful duck inside.  I asked our server about the foie gras and was happy to hear that they specifically source it from a local farm that practices humane treatment of the birds.)
I know, can you believe there's still more??  And we're only halfway through!
Course 5 (left):  Fallow Fellow – Grilled Oregon Fallow Venison and Matsutake with Devil's Club Powder, Sauce of Huckleberry Vinegar with Cranberries & Elderberry Capers, Oregon Wild Rice.  (Todd and I have both foraged for devil's club when we were on a medicinal herb hunt, but we never would have dreamed of a culinary application.  How does Chef Chris Weber come up with these things??  It's just one of many examples of why he is the youngest chef overseeing any of America's 47 5-Diamond restaurants.  I can see why many of The Herbfarm's patrons are regulars – it's hard not to want to come back to experience each new and unique menu.  Out of fairness to the other participating cooks, it's probably a good thing that Chef Chris has never made an appearance on Chopped.)
Course 6 (right):  Udder Delight – Beet Roasted in a Crust of Salt and Juniper (hiding under the frisée), Apple with Douglas Fir Vinegar, Ancient Heritage Adelle Soft-Ripened Bloomy Sheep Cheese.  (Oh, that cheese…that creamy, oozing cheese…)
By this time we had collected the full selection of our hand-crafted virgin beverages.  Todd had already finished his with the previous courses, but I was hanging onto mine, still slowly savoring each one.
A couple of times throughout the evening our server offered us bread.  I'm a bread fiend anyway, but this bread, cranberry walnut, was exceptional.  I would have gladly eaten more except that I knew several more courses were coming and I was already getting full.
Course 7 (left):  Fruit 'n' Flowers – Pineapple Quince Gel, Anise Hyssop Ice, Pineapple Weed Cocktail.  (This was the perfect interlude with its refreshing flavors and the cold ice.)
Course 8 (right):  Jack Sprat – Pumpkin Packet, Bay Leaf Ice Milk, Caramelized White Chocolate, Bacon-Fat Maple Sauce.  (Those crunchy little clusters are the caramelized white chocolate.  No, not a single one was left.  And that bacon-fat maple sauce officially crowned Chef Chris a genius.)
Prior to the 9th and final course we were given a selection of teas to choose from to sip while our food settled in time for the final course.
Course 9:  Pilgrim's Progress – Barley Drinking Caramel, Hazelnut-Pear & Rosemary Strudel.  (This hot nectar of the gods sealed our evening.  I wanted to take a whole vat of it home with me.  Maybe I could just write them for the recipe?)
Nine courses and 4 hours later it was time to go home.  We're still amazed by how quickly four hours went by.  And we're already looking forward to a return visit to enjoy the magical atmosphere and another inspiring menu.
The Herbfarm is a special place.  It's a place to mingle with those you love on a special occasion while embarking on an incredibly unique culinary adventure.  It's also an evening to make friends and to break bread with others equally passionate about food.  And that, combined with The Herbfarm's masterfully imagined food and excellent service, is what makes for a truly unforgettable evening.
"An unparalleled dining event." – Seattle Times
"You can't help but applaud at the end." – The Financial Times of London
For more information and to make a reservation, visit their website:  The Herbfarm
14590 N.E. 145th Street
Woodinville, WA 98072
425-485-5300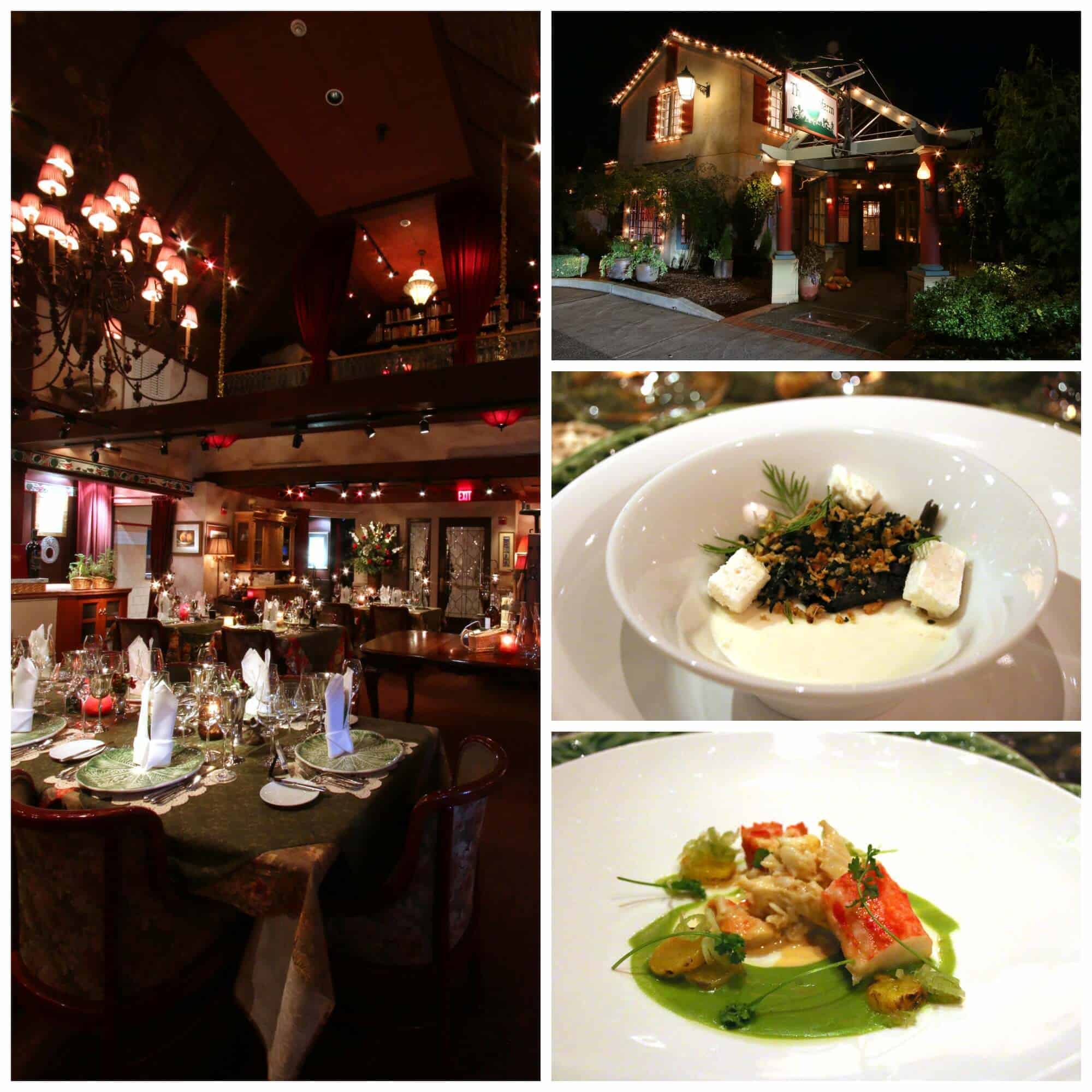 Disclosure:  We were invited to the Herbfarm with no obligation to write a positive review.  As always, all opinions are entirely my own.