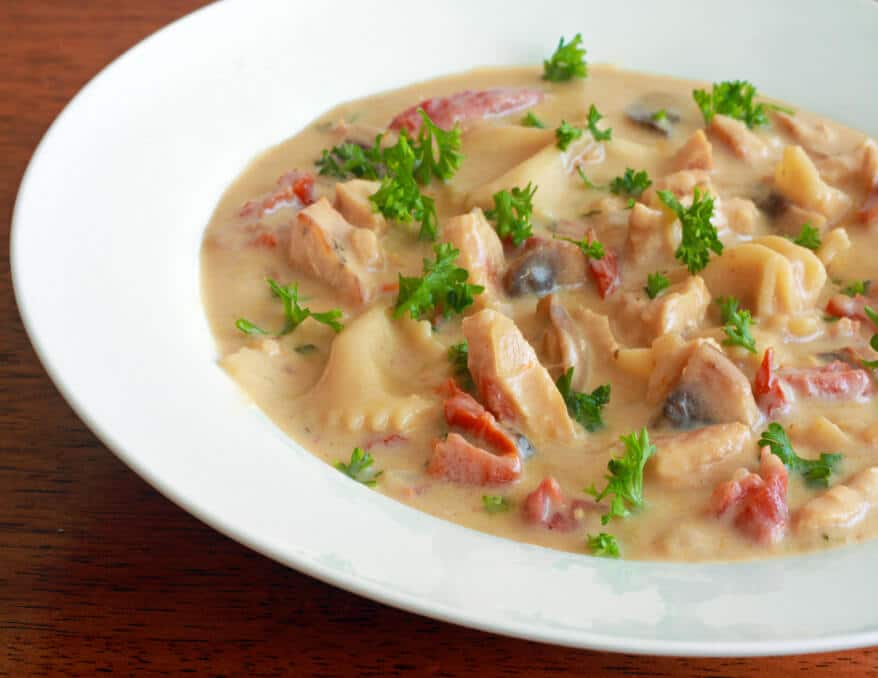 Any Romano's Macaroni Grill restaurant fans out there?  One of my favorites on their menu is the Pasta Milano.  Bow-tie pasta topped with a creamy sauce of grilled chicken, roasted garlic, mushrooms, and sun-dried tomatoes.  As I was thinking about what to cook today (food is something that's almost always on my mind), I saw my jar of sun-dried tomatoes in the fridge and my thoughts took off from there…pasta…pasta with sun-dried tomatoes…roasted garlic…creamy…Pasta Milano…how about a Pasta Milano soup?  The thought was intriguing and so I set about trying to recreate the Pasta Milano taste and prepare it in the form of a rich, creamy and satisfying soup.  The end result was a hit!  And you're going to love it!
Macaroni Grill fans, what do you think?
Pasta Milano Soup
A soup version of Pasta Milano, the popular pasta dish at Romano's Macaroni Grill.
:
The Daring Gourmet, www.daringgourmet.com
Recipe type:
Pasta, Italian
Ingredients
3 tablespoons butter
1 yellow onion, diced
5 cloves garlic, drizzled with olive oil and roasted, skin on, for 30 minutes, or until tender, in the oven preheated to 400 F. Mince the roasted garlic.
8 oz. button mushrooms, sliced
2 tablespoons all-purpose flour
¼ cup white wine
2 cups grilled chicken breast, diced
½ cup sun-dried tomatoes in oil, chopped
2 cups chicken broth
3 cups whole milk
3 cubes chicken or vegetable bouillon (or 3 teaspoons granules)
2 tablespoons fresh parsley, chopped
½ cup grated Parmesan cheese
½ cup heavy cream
2 cups cooked bow-tie pasta, cooked according to package directions
Salt and pepper to taste
Fresh chopped parsley for garnishing
Instructions
Heat butter in a large Dutch oven over medium-high heat. Saute the onions until translucent, about 5 minutes. Add the roasted garlic and stir to combine. Add the mushrooms and cook until tender, another 4 minutes.
Add flour and stir to combine. Add the wine and simmer for 1 minute.
Add the chicken, sun-dried tomatoes and stir to combine. Add the broth, milk, and bouillon cubes. Stir to combine. Bring the soup to a simmer, reduce the heat to low, cover and simmer for 20 minutes, stirring occasionally.
Add the parsley, Parmesan cheese, heavy cream and simmer, covered for another 5 minutes. Add the cooked pasta and stir to combine. Add salt and pepper to taste.
Serve immediately, garnished with fresh chopped parsley.
Alternatively, instead of soup you can add more flour to thicken it into a sauce and serve it over pasta.