I received some pasta from Pappardelle's for review.  All opinions are entirely my own.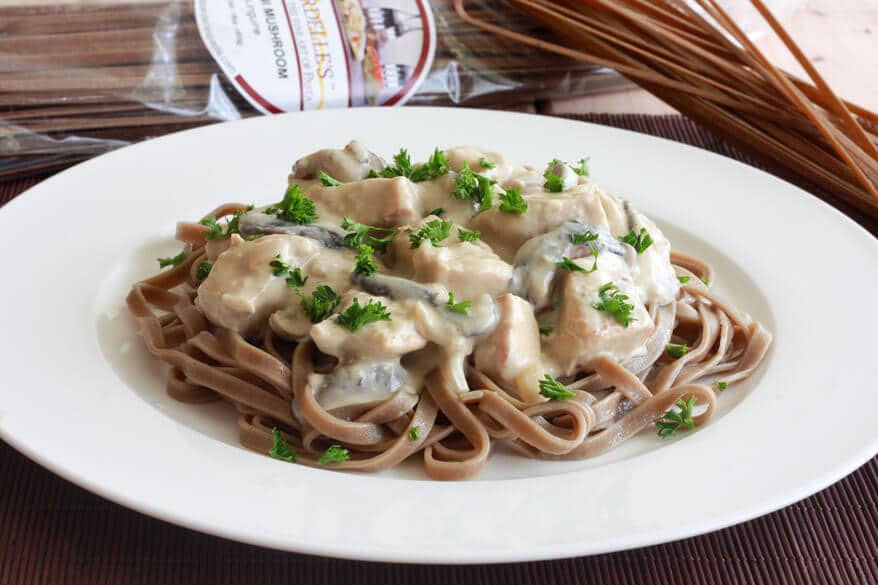 In general, I've become pretty tired of store-bought pasta.  Do you feel the same?  Just a little bit jaded?  Even the "flavored" ones lack flavor.  Either they don't add enough of the flavoring to begin with – be it tomato, roasted red pepper, spinach, or whatever – and simply doctor it up with some natural coloring (red, green, etc) to make you think it's full of some yummy flavor, or the pasta just sat around too long in the manufacturer's warehouse before being shipped off to the stores and so much of the flavor dissipated.  Sure, it's still nice to have "colored" pasta just for visual variety sake, but I would really love to bite into some roasted red bell pepper pasta that actually tastes like roasted red bell pepper.  Just for example.
I had never heard of Pappardelle's until very recently.  The more I looked over their inventory, the more intrigued I became.  They have some amazing and incredibly original flavor varieties!  (Including gluten-free!)  Just go take a look and prepare yourself to be wowed.  In their words:  "We offer over 100 flavors of dried pasta and fresh-frozen ravioli, sauces and pestos, each handcrafted in small batches using every facet of traditional Italian pasta making techniques."
I wondered why I had never heard of them before, the passionate pasta lover that I am.  Then I read their homepage and realized why.  They've traditionally only supplied upscale restaurants, hotels and resorts with their fine goods.  But now there are various locations throughout the U.S., primarily farmer's markets, where their pastas can be purchased, and of course their products can be purchased on their website as well.
I also discovered that Pappardelle's has a stand right up the freeway from us at Seattle's Pike Place Market!   So we went to check them out.  Come join me on a little visual tour.
They had a full array of flavored oils and vinegars and crusty bread for sampling.
Did I sample?  You bet I did.  Delicious!
I would have sampled more…and more…but you know how it is when the employees are watching you and you only dare try one or two pieces.  Of course there are some people who wouldn't stop there, but I lack their courage.  It reminds me of a time I went to the market in Peterborough, England to get some fantastic British cheddar cheese (it's the best!).  They always had samples out.  The man in front of me took one piece…and another…and another…and another…and it continued.  He must have taken at least a dozen pieces before the middle-aged English woman behind the stall shouted in a shrill voice, "You have had enough!"
So yes, I try to be couth when it comes to sampling.
I don't know if they had their full selection of 100 different varieties, but they sure had a lot!  This is just one side of the stall.
The selection was seemingly endless.  I wanted to take some of everything home with me!  Good thing my husband was with me as the voice of reason and to pull me down from the pasta clouds.
I love orzo.  They have several flavor varieties.
The pasta people were giving out samples of pasta.  The thought of chewing on hard, crackly raw pasta didn't exactly appeal to me, but I tried some anyway.  And guess what?  I could taste the flavors!
Here are the Pappardelle's pasta folks handing out samples of pasta.  (To respect their privacy, their faces have been blurred.)
Ah, Papparadelle's!  From now on when I go to Pike Place Market this is one stall I won't pass by without making a purchase or two…or three.
Today's dish features Pappardelle's Porcini Mushroom Linguine.  Why that one?  Well, you already know how I feel about porcini mushrooms.  This is the first of Pappardelle's pasta that I've tried so far and yes –  I could taste the porcini!  Score!  It wasn't overpowering, nor would I want it to be.  But it was a nice subtle flavor and the cooked pasta had the perfect texture.
This creamy chicken sauce of shiitake mushrooms and gorgonzola pairs beautifully with the porcini pasta.
Note:  I am not being paid or otherwise compensated for this post.  Pappardelle's gave me some samples to try and I am sharing my opinion, which is entirely my own, with you.
And now, for the GIVEAWAY!! ***This Giveaway Has Ended***
Shiitake, porcini and pasta lovers – you'll also want to check out my Creamy Fettuccine with Shiitake and Porcini!
Now, let's get started on this yummy-licious recipe!
Cube the chicken.
Melt the butter and olive oil in a skillet and brown the chicken.
Melt the remaining butter in the skillet, add the shiitake mushrooms and saute for about 5 minutes.
Add the onions and saute another 3 minutes.
Add the cream and bring to a boil.
Reduce the heat and stir in the gorgonzola.
Return the chicken to the sauce and heat through.
Portion out the cooked pasta on four plates and divide the sauce on top of the pasta.
Porcini Mushroom Pasta with Chicken, Shiitakes and Gorgonzola
:
The Daring Gourmet, www.daringgourmet.com
Ingredients
1 lb. Pappardelle's Porcini Mushroom Linguine or pasta of choice
1 lb. boneless/skinless chicken breasts, cut into ¾ inch pieces
1 lb. fresh shiitake (or cremini) mushrooms, stems removed (if using shiitake) and cut into ½ inch strips
3 tablespoons butter
1 tablespoon olive oil
1 small onion, finely chopped
1 cup heavy cream or half-and-half
4 oz. Gorgonzola or blue cheese
Garnish: freshly grated Parmesan cheese and Italian flat-leaf parsley, if desired
Instructions
Melt one tablespoon of the butter and the olive oil in a skillet over medium high heat. Add chicken and cook until lightly browned, about 12 minutes, seasoning with salt and pepper. Set the chicken aside.
Melt remaining two tablespoons butter in the same skillet over medium high heat. Add the shiitake mushrooms and saute for about 5 minutes. Add the onions and cook for another 3 minutes. Add cream and bring to a boil for about a minute, stirring regularly. Reduce heat to medium and stir in Gorgonzola. Return the chicken to the skillet, stir to combine, and heat through.
Meanwhile, cook pasta in a pot of rapidly boiling salted water until al dente (about 8-10 minutes). Drain well and rinse with warm water.
Serve the sauce over individual plates of pasta with Parmesan cheese and parsley, if desired.
Adapted from Pappardelle's