Sweet fresh peaches, refreshingly tangy buttermilk and quality cornmeal combine to make one seriously delicious pancake!
Most people who are really into cooking like to make sure they're using the best, quality ingredients.  Why?  Because the difference, just for example, between a cookie made with quality butter versus the run-of-the-mill stuff you find in mass quantity in any grocery store is, to borrow the phrase, a Mercedes vs. Pinto comparison.  And so it's worth it to be a little more selective in which ingredients you buy if you're wanting to make something that tastes extra great.
But when was the last time you gave cornmeal the same kind of consideration?  I'll be honest – I hadn't.  But I just had the opportunity of trying a few different cornmeal blends from New England that I received for review.  I love supporting small American businesses and want to introduce you to the Nitty Gritty Grain Company, a small family-owned farm in Vermont.   Their family has been running farms around the Champlain Valley for seven generations, clear back to the ancestor who fought and died protecting his crops and home in the 1770's Siege of the Shelburne Blockhouse.  His descendants, the Kenyon Family, carry on the seven-generation farming tradition.  In their words:
"Like our ancestors before us, we take great pride in our heritage, land, ingenuity, and products. Through tireless work on the fields in Shelburne and Charlotte, Vermont we produce certified organic grains that are the heart of our local organic grain company….Nitty Gritty minimally processes these locally grown grains, blending them in small batches to preserve the superior fresh flavor and nutrition of our cornmeal, cornmeal mixes, and flours. By producing these grains and turning them into a product you can feel good about eating, we are fulfilling a passion and commitment to the tradition of farming in Vermont and in our family. With each bite we hope you taste the difference that care and hard work can create." (italics added)
I was excited to receive and open my box of their certified organic products.  It's a good feeling to know that each package of flour, wheat berries and cornmeal was carefully, lovingly handled – personally checked over, documented, inventoried.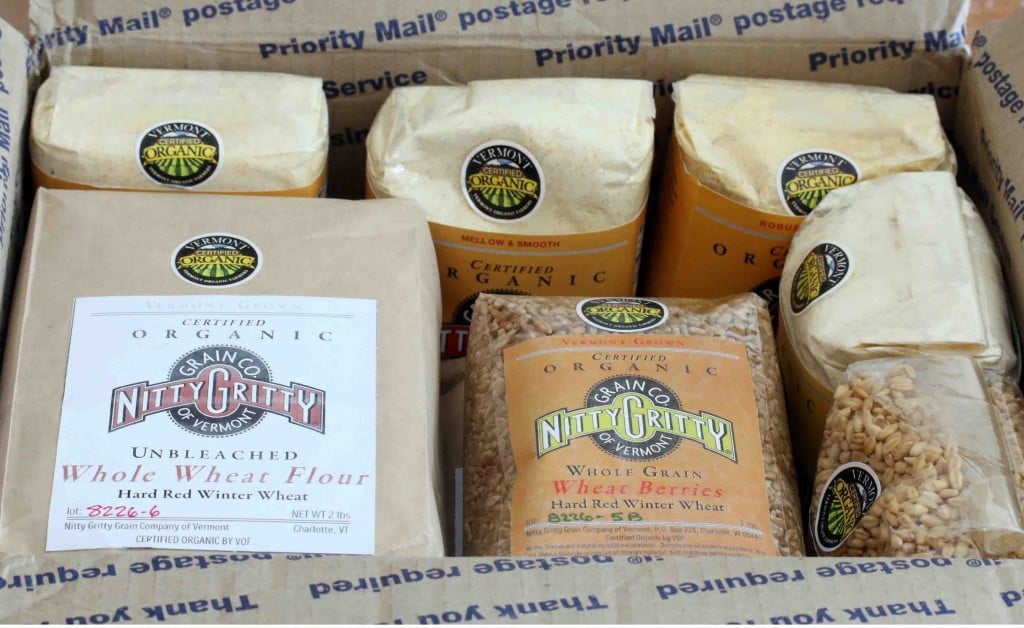 The first thing I wanted to try was their cornmeal.  I never knew cornmeal could come in so many varieties – each with their own distinct characteristics and flavor.
I've been busy cooking and baking with the cornmeal, flours, and wheat berries and have been very pleased with the results (more recipes to come!).
If you're a cornmeal, cornbread, corn-whatever lover, I highly recommend considering a quality product because, after all, you're wanting that deliciously fresh and vibrant corn flavor.  And to get that you need a fresh product – not the stuff that's been sitting packaged in store warehouses for goodness knows how long losing all its flavor and nutritional value.
Let me share one of the recipes with you that I made using Nitty Gritty Grain Company's awesome cornmeal.  Peach Buttermilk Cornmeal Pancakes.  Now does that sound like a match made in heaven or what?  Just enough fresh peach puree to add a delicious fruity undertone of flavor while keeping the pancakes nice and fluffy.
Most recipes for cornmeal pancakes use mostly flour with a token amount of cornmeal.  Not this one.  We want to experience that wonderful corn flavor!  And you'll still get results that are light and fluffy.  My kids devoured these and I enjoyed a second batch for lunch (shhhhhh).
Let's get started!
The first thing we want to do is to get the cornmeal soaking in buttermilk to soften the grains.  After all, we're aiming for pillowy soft pancakes, not a mouth full of sand.
So pour the buttermilk over the cornmeal, give it a stir, and let it soak for a good 45 minutes while you catch up on some other work.
For the peach puree I recommend buying organic.  We don't buy everything organic – from a toxins standpoint that's unnecessary – but we do try to stick to organic for the items that make the "Dirty Dozen" list, and peaches are right at the top of that for having been drenched in pesticides.
Don't worry about peeling them, just wash the peaches, remove the pits and puree them in a food processor until smooth.  Be sure to use very ripe ones for the most flavor.
Add the puree along with the eggs, melted butter, vanilla and honey.  Use an electric mixer to beat until thoroughly combined.
In another bowl, combine the flour, baking powder, baking soda, and salt.
Gradually add the wet mixture to the dry mixture.
Beat just until combined.  For fluffy results it's essential that you don't over-beat.
Preheat the griddle to 350 degrees F and lightly grease it.  Pour 1/4 cup of batter per pancake onto the hot griddle.
Let the pancakes cook for about two minutes, or until lightly browned on the bottom, before carefully flipping them over.
Cook for another 2 minutes or until lightly browned.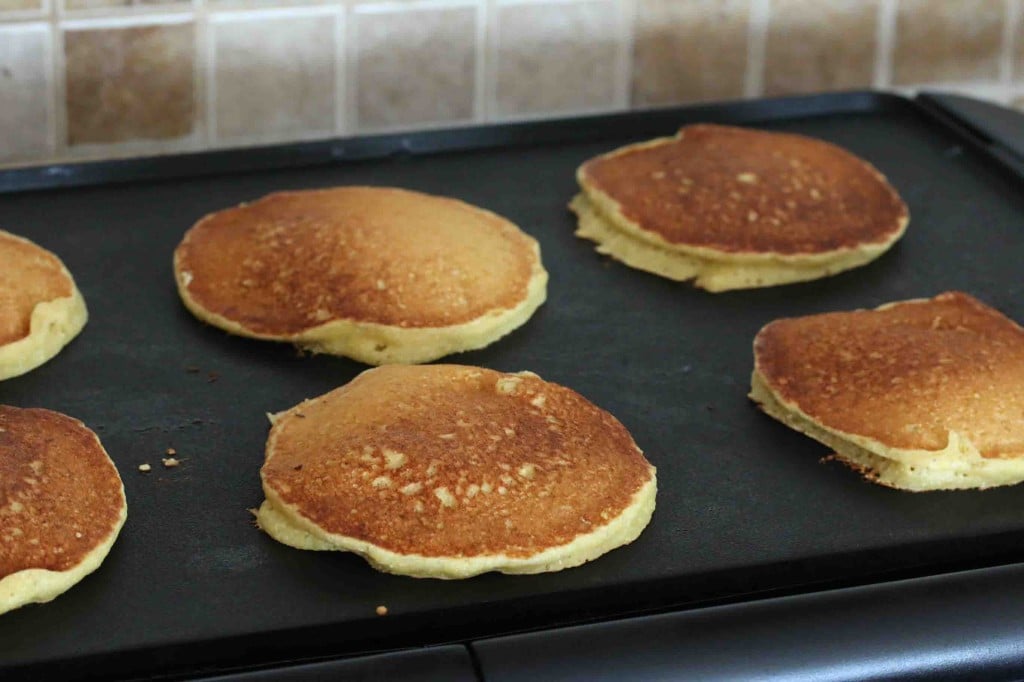 Beautifully light and puffy.
Serve immediately with butter and real maple syrup.
Enjoy!
Peach Buttermilk Cornmeal Pancakes
:
The Daring Gourmet, www.daringgourmet.com
Serves:
Makes about 14 pancakes
Ingredients
1¼ cup cornmeal
1½ cup buttermilk
2 tablespoons melted butter
2 tablespoons honey
1 teaspoon pure vanilla extract
2 large eggs
½ cup fresh peach puree
¾ cup unbleached all-purpose flour
2 teaspoons baking powder
½ teaspoon baking soda
½ teaspoon salt
Instructions
Combine the cornmeal and buttermilk in a bowl and let sit for at least 30 minutes.
In a separate bowl, combine the flour, baking powder, baking soda and salt.
Whisk in the melted butter, honey, vanilla, eggs and peach puree with the cornmeal mixture.
Pour the wet mixture into the dry mixture and stir just until combined. Be careful not to overstir or the pancakes won't be fluffy. Let the batter sit for 10 minutes.
Heat a griddle to 350 degrees F and pour ¼ cup of the batter for each pancake. Cook the pancakes until golden brown, for about 2 minutes, then flip over and cook for another 2 minutes or until golden brown.
Serve immediately with butter and maple syrup.