We live less than an hour from Seattle and it's always been one of our favorite date night destinations.   My husband and I recently took a couples overnight trip and stayed at Seattle's highly acclaimed Inn At the Market which is literally right next to Pike Place Market, its namesake.   The following morning we took a stroll through the market and I grabbed my camera to capture some pictures of this historic market to share with you.  Come join us for a virtual tour of this world famous market and learn a little about its fascinating history.
Pike Place Market is huge and the pictures I've include by no means represent all the vendors.  It's just a snapshot of this world famous market, one of Seattle's most popular tourist attractions.
Before we move on with the tour, let me tell you a little about the market.
Pike Place Market overlooks Seattle's waterfront and is one of the oldest continuously operated public farmers' markets in the United States.  It first opened August 17, 1907 and is rich with history.
A Very Brief Early History of Pike Place Market
From Wikipedia (in discussing the farming business before the creation of Pike Place Market):  "The farmers typically received a percentage of the final sale price for their goods. They would sell to the middleman on commission, as most farmers would often have no time to sell direct to the public, and their earnings would be on marked up prices and expected sales. In some cases, the farmers made a profit, but just as often found themselves breaking even, or getting no money at all due to the business practices of the wholesalers. During the existence of the wholesale houses, which far predated the Market, there were regular rumors as well as instances of corruption in denying payment to farmers."  As consumers and farmers became increasingly unhappy about the situation, the issue was put to city council vote and Pike Place was soon designated as the city's first public market in 1907.
On August 7th Seattle's mayor cut the ribbon to officially open the market.  Only 10 farmers arrived, pulling their goods behind them.  "The Times alleged several reasons for the low turnout of farmers: Western Avenue wholesale commission men who had gone to the nearby valleys and farms to buy all the produce out ahead of time to ruin the event; threats of violence by commission men against farmers; and farmers' fear of possible boycotts and lack of business with the commission men if the Market idea did not succeed in the long term."  But these determined farmers triumphed that day:  Hundreds of customers poured in for the grand opening and before noon that day all the produce had been completely sold out.
Pike Place Market now sells the goods of many small farmers, merchants and craftspeople and serves 10 million visitors each year.
Above three images courtesy Wikipedia
A Brief Tour of Pike Place Market
My husband and I fell asleep with the view of Pike Place Market and water below us (first pic in this post) and woke up to another great view of the market from our hotel window the next morning.  From that vantage point were able to watch the vendors bustling about to set up their stalls.  We headed down to the market for a a morning stroll.
It was early morning and a few of the stalls were still getting set up.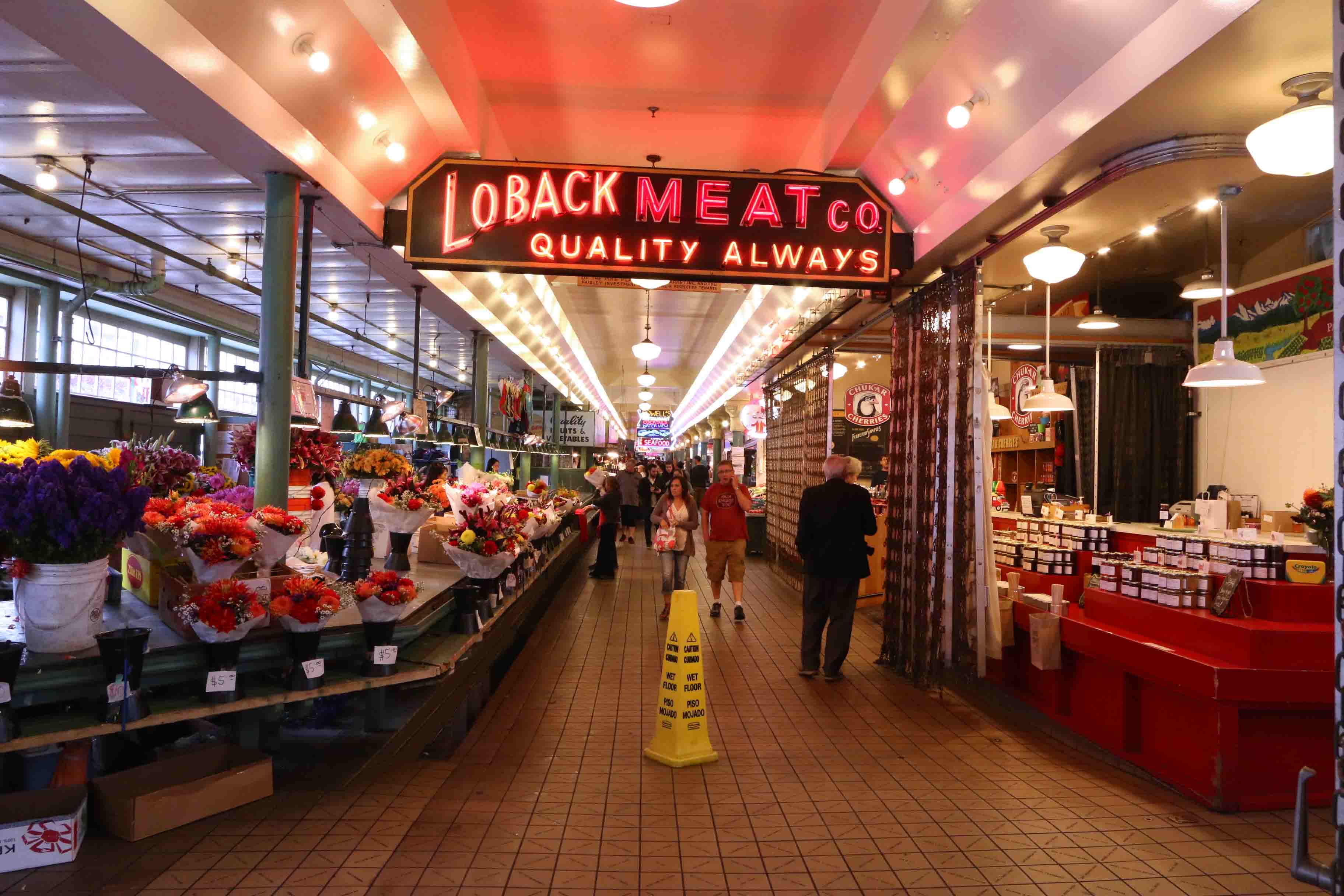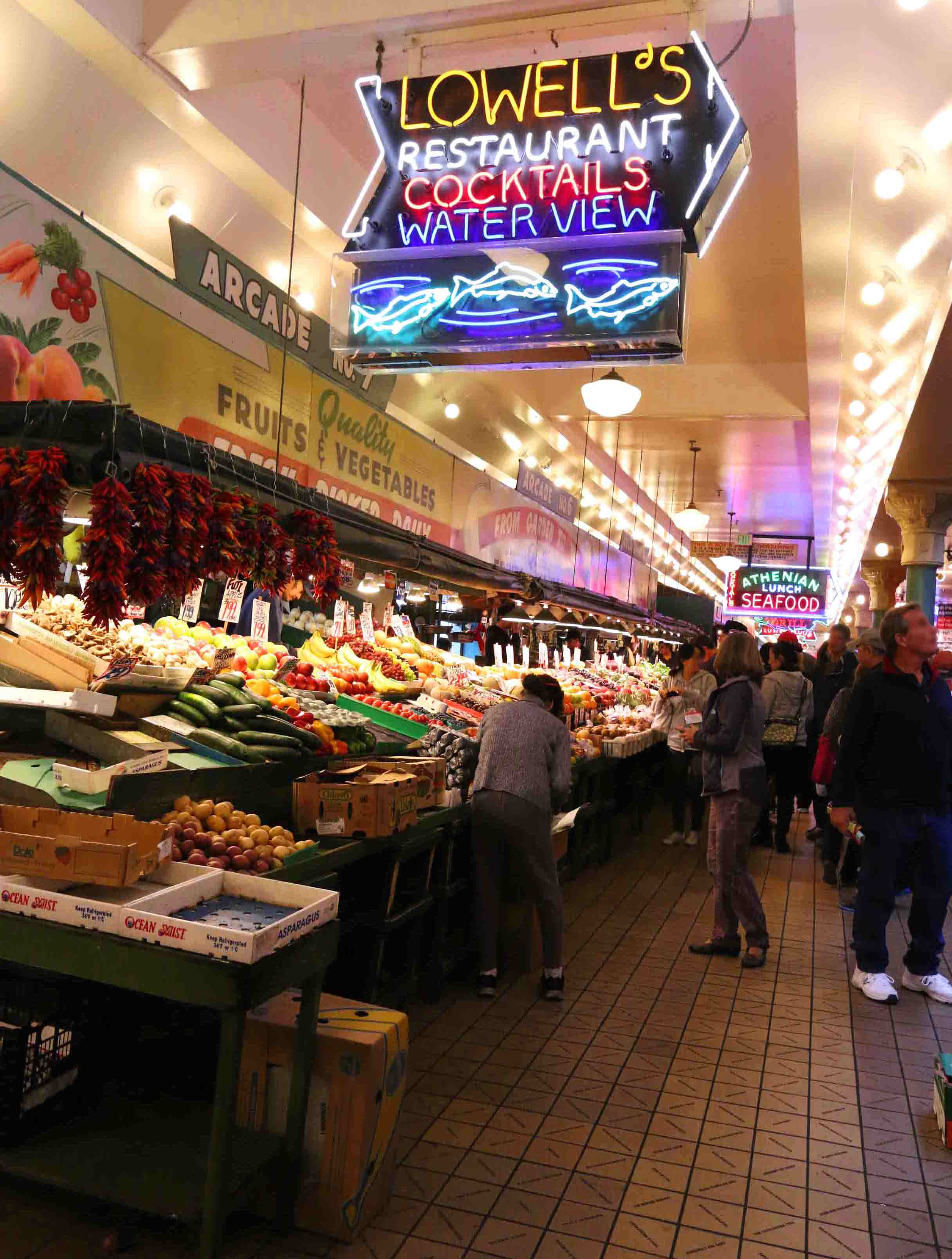 Fresh, colorful, vibrantly healthy fruits and vegetables get me excited, how about you?  When I see them I immediately dream about the possibilities, the tasty new dishes I can make with them.  And I would imagine that is what Seattle's chefs do as well when they visit this market each morning to gather up the freshest ingredients for their restaurants.
And speaking of vibrant colors, I just love the fresh pepper wreaths and swags sold by a couple of the Market's vendors.  They remind me of the ones I always saw in Hungary made with red paprika.  Just beautiful.
I don't think I've ever seen this before, have you?  Peanuts still attached to the stalks.  Isn't that cool?
Fresh fish and seafood galore!  Every morning chefs from Seattle's finest restaurants visit the market to select from the freshest seafood available.
Have you ever seen such gargantuan crab legs??  They're almost the length of my arm!
For seafood you'll find everything your heart desires at Pike Place Market.  This is Seattle after all, the seafood capital!
Some other goodies you'll find at Pike Place Market:  Chukar Cherries, handmade fur-lined hats and shoes from Whidbey Island, Don and Joe's Meats, local honey and jams, German sausages, handmade wooden fire lighters, jewelry, belt buckles to your heart's content, locally made beef jerky, the Pike Place Bakery, and Pappardelle's Pasta (I've written a couple of posts about their awesome products).  Here's just a tiny peek of a few of the offerings.
Market Spice has been around since 1911 providing generations of customers with the finest coffee, tea and spices.  And my husband can tell you, I'm like a kid in a candy shop when I see walls lined with spices.  Uli's and Bavarian Meats are two places after my own heart.  Uli's is a German master butcher producing a variety of German sausages and meats.
Bavarian Meats also not only specializes in the full array of German meat products (wursts, sausages, salami, etc), they're also well-stocked with an nice selection of grocery products we know and love from Germany.
I would imagine vendors come and go all the time but there are those, like the previous three I just mentioned,  who have been here for decades, whose names are practically synonymous with Pike Place Market.  They've earned a reputation for themselves, consistently providing the freshest, top quality ingredients to thousand of visitors every day.
Another Pike Place Market institution that has been here forever is Sosio's, your one-stop shop for everything produce.  They open at 6am every day of the week.
They also have an incredible variety of fresh mushrooms, many of them foraged locally here in Washington.
Among them are some of my favorites, porcini mushrooms and chanterelles.  I thought I was familiar with all things mushrooms, but they had a variety there I had never heard of:  Cauliflower mushrooms.  Have any of you heard of or cooked with them before?  And just look at those glorious black truffles!
And then there's the world famous Pike Place Fish Company you may have heard about.  I first heard about them all the way over in Germany.  A couple of years before I moved to the USA I was hired for a job as manager of a brand new food/entertainment facility.  During my training, one of the videos they used on the topic of customer service was a video about this very seafood stall at Pike Place Market.  They're famous for their fish-tossing acrobatics, engaging ways with customers, and providing you with not only the freshest product possible, but with some fun while you're at it.
You'll also find an endless supply of fresh and dried flowers.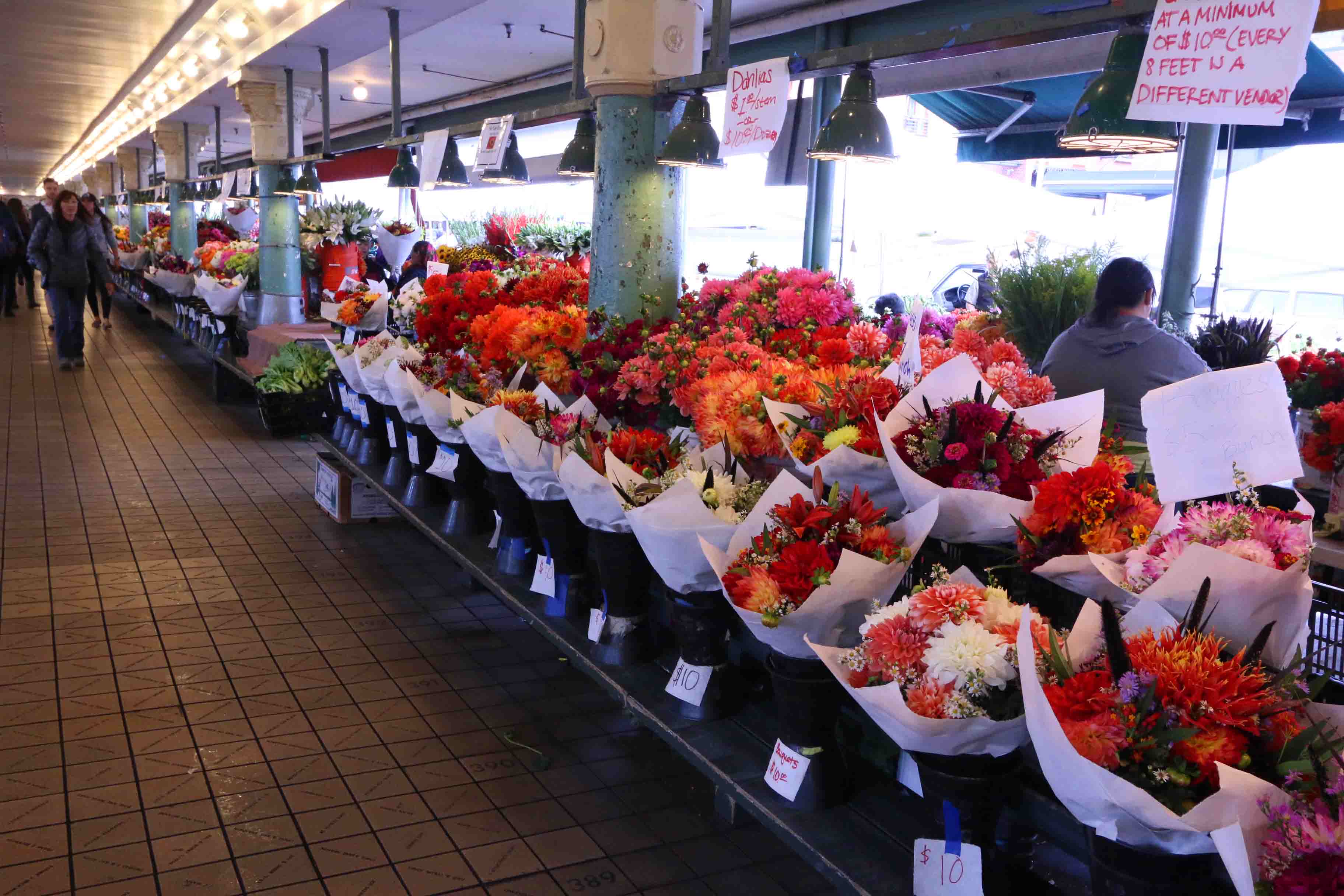 These are all just a few of the reasons why a trip to Seattle isn't complete without a visit to Pike Place Market.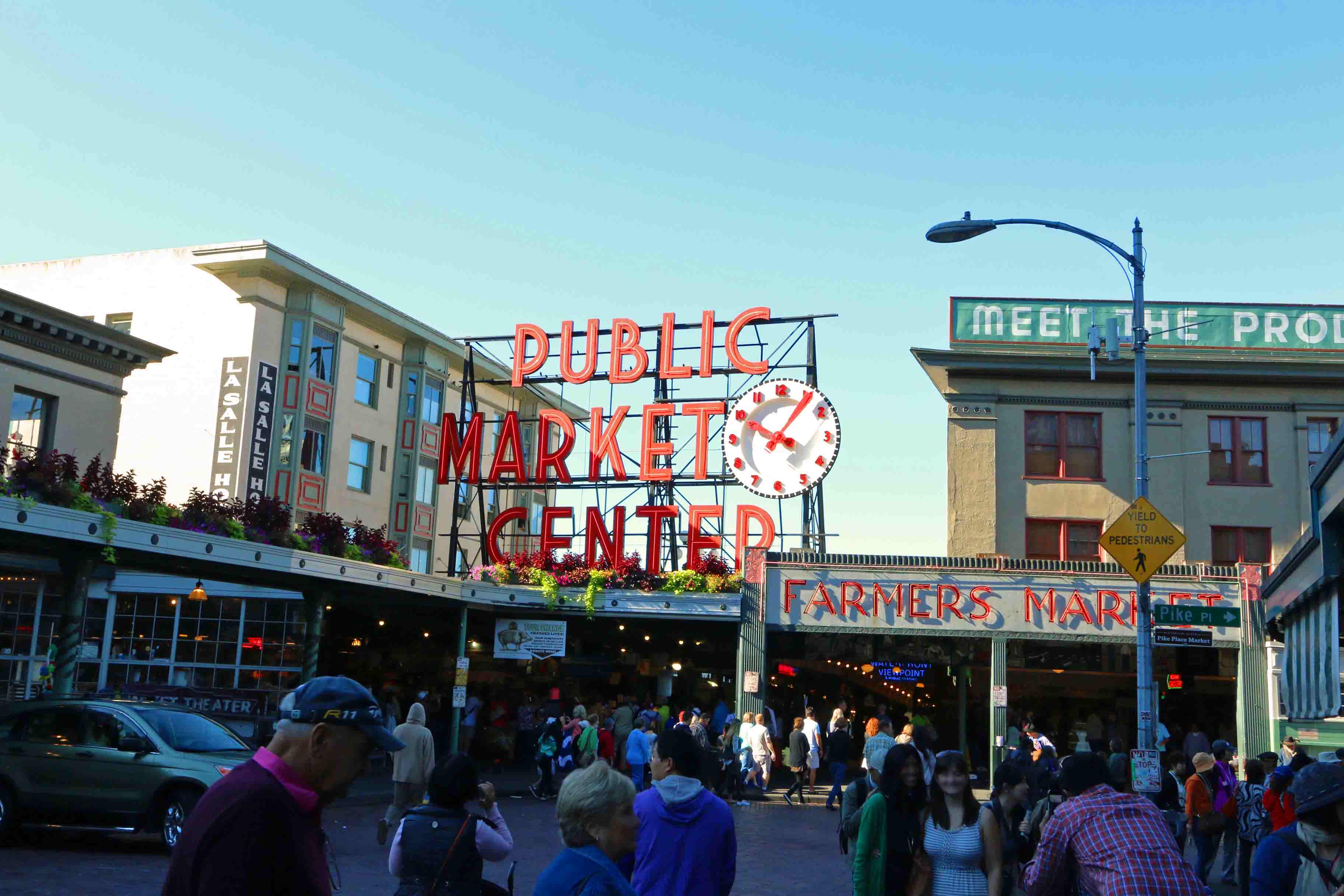 After our stroll through the market it was time to head home to relieve my parents of babysitting duty.  But not without making one final purchase.   I rarely visit Seattle without making a pit stop at Pike Place Market to pick up a bouquet of fresh flowers.  The prices are a tiny fraction of the cost of what you would pay at a flower shop and the bouquets are always fresh.  I picked up this beautiful mixed bouquet for $8 as a thank you to my mom for watching the kiddos while we enjoyed our overnight getaway.
Thank you for joining us!  Be sure to SUBSCRIBE (top right corner of this blog) for FREE to receive email notifications of the latest travel and recipe posts.