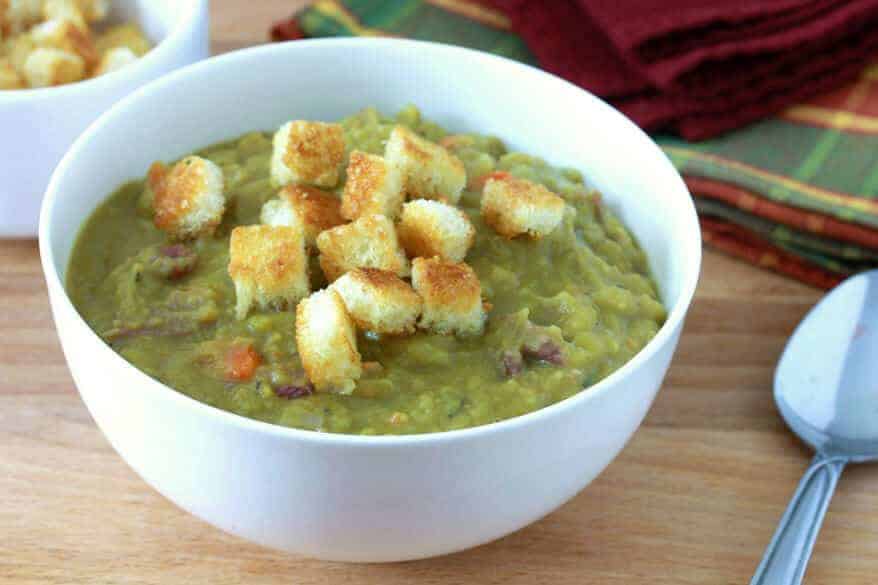 Split pea soup is a classic and variations of it are enjoyed around the world.  Here is an easy slow cooker version that is packed with flavor and is accompanied by homemade buttery croutons.
It's great when you can spend less than 5 minutes of prep time and sit down to a delicious meal.  And if you want to take an extra 5 minutes, you can make a tossed salad and enjoy a complete meal.
The humble pea.  We owe a lot to these little guys.  They were the subject of Gregor Mendel's research when he discovered the concept of dominant and recessive genes (remember that from high school biology:  YY, yy, Yy…yes, it's all coming back now).  That's right, the humble pea played a key role in revolutionizing our understanding of modern genetics.
And they also taste fantastic.
My husband usually takes lunches with him to work.  It's more convenient, less expensive, and generally far healthier.  So I'll often make a large batch of something at a time and portion it off to freeze so he can can simply "grab and go."  This soup yields quite a bit but I didn't even bother freezing it – my husband loved it so much that it didn't make it past the second day.
Split peas are high in protein, very low in fat.  The majority of the calories from split peas come from protein and complex carbohydrates.   This soup has a fantastic flavor, is healthy, hearty, and satisfying.  It's accompanied by a recipe for easy homemade croutons.
Let's get started!
Finely chop up the onions, celery, carrots and garlic.
Place the split peas in the slow cooker, add the smoked ham hock, the vegetables, bay leaf, herbs, salt and pepper.
Pour over the broth.  Cook on the HIGH setting for 4-5 hours or LOW for 8-10 hours.
Remove the ham hock, shred meat, discard the bone and return the meat to the slow cooker.  The soup will initially be more liquidy but will thicken within about 30 minutes of sitting.  Leftovers will also be thick.
While the soup is cooking, make the croutons.  Remove the crusts from the bread and dice the bread in 1/4 inch cubes.
Heat the butter in a skillet over medium-high heat and add the bread cubes.
Cook until browned on all sides.
Serve the soup with the croutons.
Enjoy!
Slow Cooker Split Pea and Ham Soup with Homemade Croutons
:
The Daring Gourmet, www.daringgourmet.com
Ingredients
1 lb dried green slit peas, rinsed and drained
1 large smoked ham hock
2 medium carrots, diced
2 celery stalks, diced
1 small yellow onion, diced
2 cloves garlic, minced
1 large bay leaf
¼ teaspoon dried thyme
¼ teaspoon dried parsley
¼ teaspoon dried marjoram
1 teaspoon salt
¼ teaspoon freshly ground black pepper
6 cups chicken stock
For the Croutons:
4 slices sandwich bread, crusts removed and cut into ¼ inch cubes
2 tablespoons butter
Instructions
Place all the ingredients in the slow cooker in the order listed. Cook on HIGH for 4-5 hours or LOW for 8-10 hours. Remove the meat from the ham hock, shred it and return it to the slow cooker.
For the Croutons: Heat the butter in a skillet over medium-high heat. Add the bread cubes and cook, tossing occasionally, until browned on all sides.
Serve the soup with the croutons.