My husband and I escaped for a little couple's getaway to Southern California and on our drive up the coast we stopped at the little town of Solvang in the heart of Santa Barbara's beautiful wine country in the Santa Ynez Valley.
Solvang, Danish for "sunny fields", is a small town of around 5200 residents in Santa Barbara County and was incorporated as a city on May 1, 1985.  But its history goes back much further.  It was actually founded in 1911 by a group Danish immigrants who were traveling West to establish a Danish colony in a warmer climate.  They purchased nearly 9000 acres at $40/acre and a few of the prominent members traveled back to places like Iowa and Nebraska to convince other Danes to buy land in the new colony. Before long a small town was established.
Initially buildings were built in the same style as anywhere else in the area, but after World War II there arose a growing interest in the concept of a "Danish village."  In the 1940's buildings began to be erected after traditional Danish style and older existing buildings received facelifts.  Thatched roofs, windmills and a replica of The Little Mermaid statue from Copenhagen soon graced the town.
Solvang celebrated its 100th year anniversary in 2011.  Henrik, Prince Consort of Denmark, visited accompanied by the Danish ambassador and dedicated Solvang's Centennial Plaza.  In his remarks he commended Solvang as having been forged by individuals "who have made a new home without forgetting the old nation of their ancestors."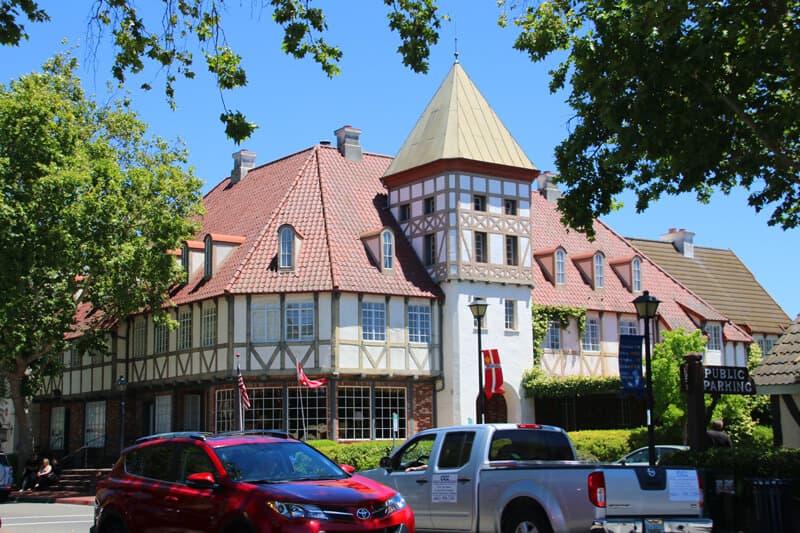 Solvang has celebrated a festival every year since 1936 known as "Danish Days", an annual event held each September. The festivities include music, folk dancing, marching bands and processions down the streets, and even an æbleskiver eating contest.
A few random facts:  Alfred Hitchcock's only child, Patricia Hitchcock, currently lives in Solvang.  Al Gionfriddo of the Brooklyn Dodgers lived and died in Solvang.  And Ronald Reagan's Rancho del Cielo, the "Western White House", is just 6 miles from town.
Solvang has a nice variety of restaurants and pubs, including those showcasing some traditional Danish food.
And of course there are plenty of bakeries in town, the most popular of which is Olsen's where you can also sit down to enjoy a Danish breakfast.  They feature a wide variety pastries baked fresh daily.
With 150 independent shops, if you enjoy shopping you won't have any problems filling your time.  Some of the shops offer imported European wares such as porcelain, iron work, leather, linens, and other handicrafts.
Princess Margrethe of Denmark visited Solvang on two occasions, in 1960 and again in 1976, the second time to award Solvang's developer, Ferdinand Sorensen, the Order of the Danneborg for his work in strengthening ties between the U.S. and Denmark.
Solvang really has done an impressive job of replicating the traditional Danish look.
My husband and I both have Danish ancestry and it runs particularly strong and proud on my husband's side.  Todd's great aunt spent decades actively volunteering in the Danish heritage community in Seattle.  Todd and I once helped her run the æbleskiver booth at a fundraising event that drew in thousands of people.
We've both been to Denmark and though nothing is a replacement for the real thing, we enjoyed our time walking around town eating Danish pastries and taking in the architecture.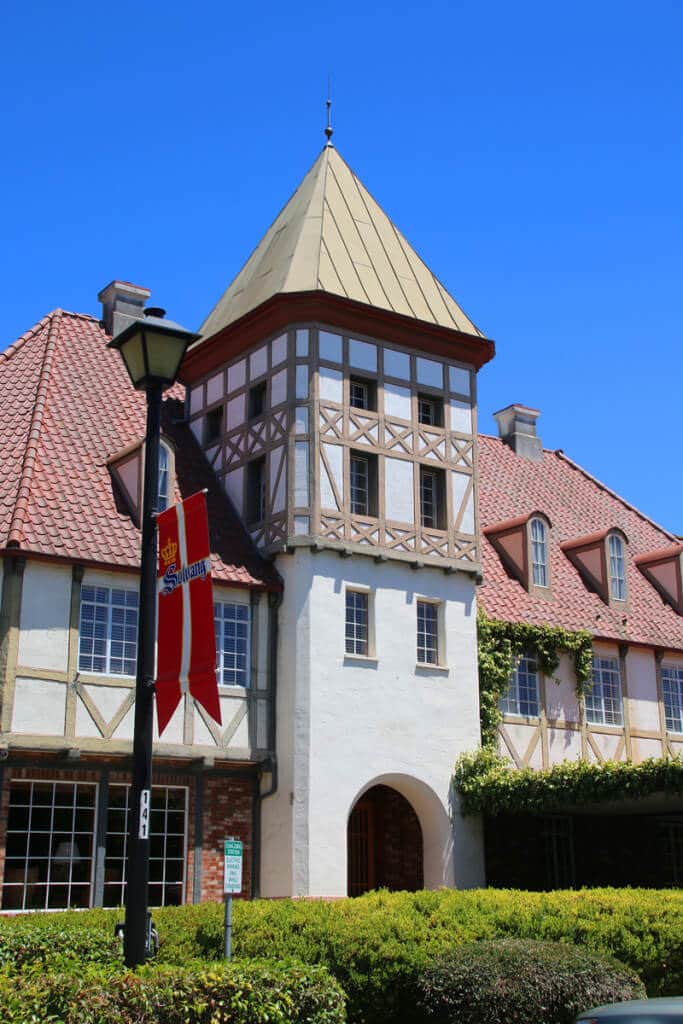 In 1939 Crown Prince Frederik of Denmark visited Solvang and this was his response:  "To find our traditions in our fatherland in new surroundings makes them only more beloved to us. We have been bathed in sunlight ever since we began this memorable day and now we have driven into a bit of Denmark tucked into this beautiful California."
We were surprised at the size of Solvang.  In our home State of Washington we have the Bavarian town of Leavenworth which also does a really nice job of the architecture, but Solvang is substantially larger with more buildings, structures, shops and restaurants.  It's a fun town to navigate by foot and the weather is pleasant all year round.
In addition to the sightseeing, shopping and eating, Solvang offers museums, theaters, wine tastings, cycling, golfing, and other fun and cultural events.
For a little "Taste of Denmark" in a gorgeous setting, visit Solvang.
For more information about Solvang, check out the Official Visitor Guide for Solvang