San Diego is a terrific family vacation destination.  A few months ago I published several articles about our family trip to San Diego: Our visit to the San Diego Zoo and SeaWorld, our stay at the stunning San Diego Omni Hotel, and our dining experience at the Bali Hai Restaurant on Shelter Island and Casa Guadalajara.   There is a very long list of things to do in San Diego, and our next installment is…Coronado Beach!
Voted America's #1 Beach, Coronado Beach is a mile and half of sandy beach that is very flat, making it ideal for walking and skim boarding.  The sand also has an attractive silvery sheen because of the mica content.  Coronado Beach has a team of lifeguards on duty for your safety, and the beach is the perfect place to set up an umbrella, lay down the beach towels, pull out picnic coolers and make a day of it.
We were excited to hit the water – pale Washingtonian skin and all with a touch of classic farmer's tan – and my husband Todd was eager to go surfing for the very first time.
The Coronado Surfing Academy came highly recommended.  They offer private, semi-private and group lessons for reasonable prices and also rent surfboards and wetsuits at really good rates.  Todd signed up for a private lesson and when we arrived at the designated time, there was the instructor waiting with Todd's surfboard and wetsuit.
All surfing lessons include 1 1/2 hours of instruction plus at least a full hour in the water with the instructor.  They offer surfing lessons from age 6 and up.
The private lesson was perfect because of the continual one-on-one instruction.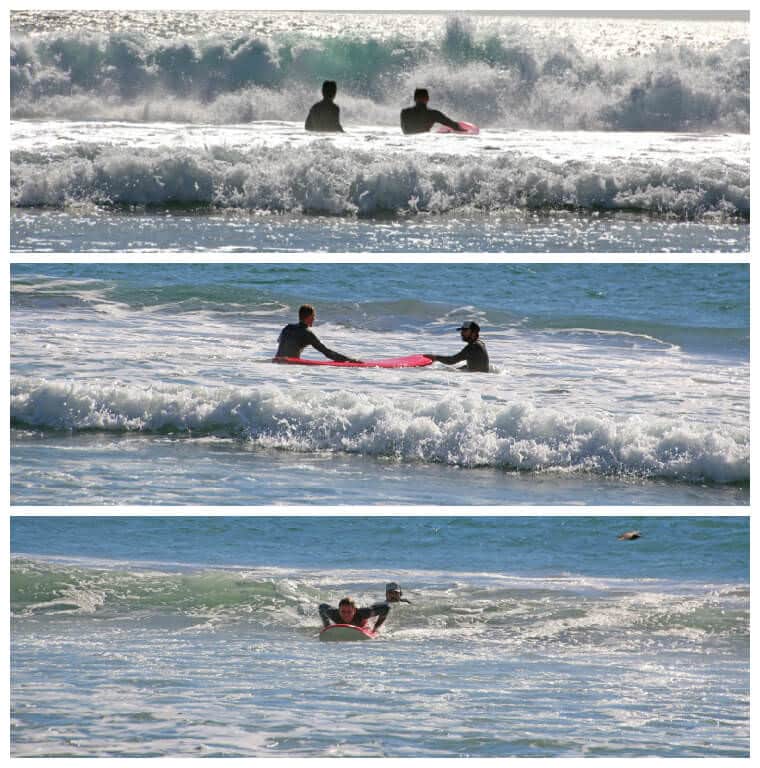 Before long Todd was ready to give it a try on his own and after only one lesson with Coronado Surfing Academy he was surfin' USA!
It was an exhilarating experience for him and the kids were cheering on their daddy while having a blast themselves at the beach!
Todd's pretty hooked on surfing now and is excited to go again.  Next time around yes, I'll give it a go, too!
The accomplished surfer, coming back for some family beach time.
Our kids couldn't get enough of the beach, they loved it!  And we made sure to go back to the beach a couple more times during our 3-day stay.
I never tire of seeing Todd play with our kids, it's one of my most favorite things go observe.  Truly, is there anything in this world that makes a man more attractive than dedicated fatherhood?
And our kids in their little swimsuits…it's just the cutest sight!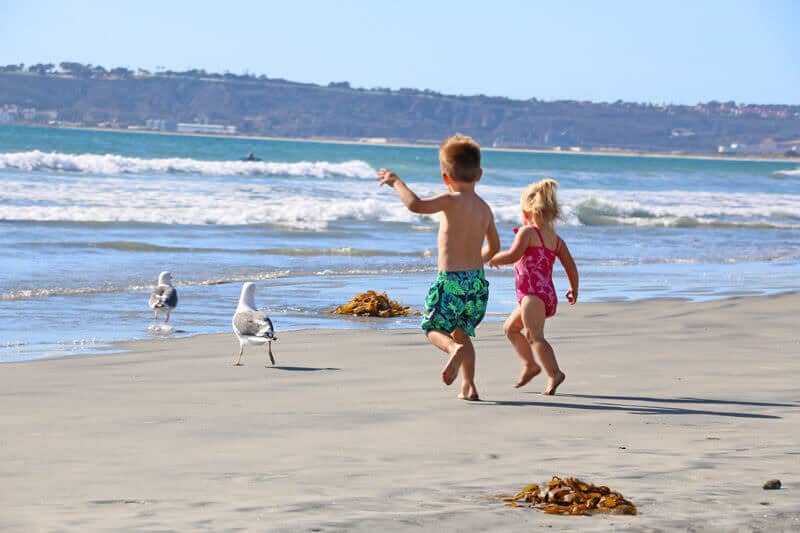 Our family had such a wonderful time in San Diego and at Coronado Beach.  It was one of the most memorable family vacations we've taken and we came back with memories we will treasure forever.
Disclosure:  We were give a complimentary surfing lesson from Coronado Surfing Academy without any obligation to write a positive review.  As always, all opinions are entirely my own.