This luxuriously creamy pea risotto recipe combines the freshest sweet peas with the irresistible flavors of basil, Parmesan and pancetta!
I've partnered with Aneto to bring you this post
Pea Risotto Recipe
In celebration of Spring, I want to introduce you to a risotto featuring one of early Spring's finest bounties:  The garden-fresh sweet pea.  Aren't they simply irresistible?
We had a really nice harvest of sweet peas last year and are looking forward to picking the first batch of this Spring.  Our kids had a fun time helping pick and shell the peas and then experiencing the cool, smooth sensation of dipping their little hands into a bowl filled with hundreds and hundreds of peas.  It's simple family efforts like harvesting peas that always make for meaningful memories.
We're featuring these sweet peas in a delicious risotto.  So what is risotto anyway?  It's a rice dish that is cooked in quality broth (meat, fish or vegetable) until it has reached a creamy, but still slightly chewy, consistency.  There are many variations of risotto but many include onions, butter and wine.  Depending on the type of risotto, in Italy it can be served as either a first course or served along with the main course.
In order to achieve that unique texture that is risotto's hallmark, it's vital to use a special kind of medium-grain rice.  The two most notable varieties are carnaroli and arborio, both grown in the northern regions of Italy, but the former – carnaroli – is considered the "king of Italian rices," because it has an even higher starch content than Arborio, resulting in a luxuriously creamy risotto with the perfect degree of chewiness.  It's absolutely worth it to find and use carnaroli rice.  I got a 5-pack here on Amazon.
Risotto takes us to the northern region of Italy.  Risotto is a specialty throughout northern Italy, including the region of Lombardy where risotto originated.  Two areas in Lombardy you've probably heard of include Lake Como, an upscale alpine resort in a breathtaking setting, and Milan, the capital of Lombardy.  I'm originally from Stuttgart Germany and Milan was only a 5 1/2 hour drive away, making it easily accessible for weekend getaways.
Milan, the original home of risotto, is a global cultural hub, famous for its shopping and restaurants, and its renowned gothic cathedral, the Duomo di Milano, is home to Leonardo da Vinci's painting of "The Last Supper."  Rice is thought to have caught on during Spain's nearly two-century rule of this Italian city:  The Moors had earlier introduced rice to Spain and during Spain's subsequent rule of Milan, rice became a staple.
Our Fresh Pea Risotto with Basil & Pancetta features fresh garden peas that are pureed and nestled whole among creamy, delicately seasoned rice.  It's topped off with some diced pancetta for an added layer of flavor.
I'm using my most favorite brand of chicken broth for this risotto, Aneto's 100% Natural Chicken Broth.  It's imported from Barcelona, Spain and is the highest quality chicken broth available on the market.  Aneto's broths are not made from concentrates, contain no artificial ingredients or fillers, no MSG disguised as "yeast extract", and no "natural flavors" (a FDA loophole translated as "anything goes").  Aneto's broths are all made from the freshest, purest, REAL ingredients that are slow-simmered for several hours using the same method you do when making broth in your own kitchen.
Todd and I had the privilege of touring Aneto's factory while on vacation in Barcelona, Spain.  It was the most remarkable food-related experience we've ever had.  We were able to observe first-hand Aneto's entire broth-making process from start to finish, everything from washing and chopping the vegetables to simmering the broth in large pots, to filling cartons with the broth for distribution. You really MUST take our virtual tour of Aneto's factory, see it for yourself and learn why Aneto is the most exceptional broth manufacturer in the world.  Take me on the tour!
On a low salt diet?  Aneto also makes a Low Salt version of their Chicken Broth.  And if you want to make a vegetarian or vegan version of this, simply omit the pancetta and use vegetable instead of chicken broth. Aneto also makes the highest quality 100% natural vegetable broth.
Aneto's broths are available online and in many stores across the United States.  Click here for a list of store locations.
So be sure to use a quality broth and the freshest sweet peas you can find, and we're confident you're going to love this wonderful Spring-themed risotto!
Enjoy!
Be sure to also check out our post on How to Cook Snap Peas!
PIN ME!
For more delicious risotto recipes be sure to try our: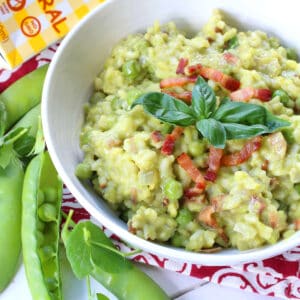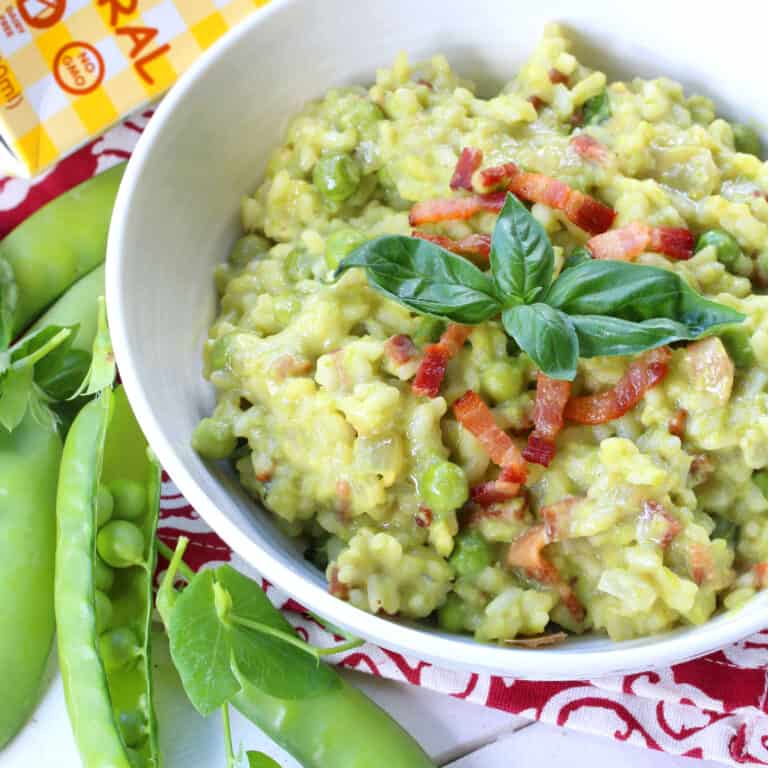 Sweet Pea Risotto with Basil and Pancetta
Bursting with the fresh flavor of spring, this luxuriously creamy risotto will wow your taste buds!
Ingredients
3

tablespoon

olive oil

1

medium yellow onion

finey diced

1

cup

carnaroli rice

recommended or arborio rice

1/2

cup

dry white wine

1/2

teaspoon

salt

2 1/2

cups

Aneto 100% Natural Chicken Broth

heated (reserve 1/2 cup for pureeing the peas) (vegetarian/vegan: use Aneto 100% Natural Vegetable Broth)

2 1/2

cups

cooked sweet peas

use the freshest sweet peas you can find

2

tablespoons

butter

2

tablespoons

chopped fresh basil

4

ounces

pancetta

diced and fried (can substitute 4 slices of thick-cut bacon, diced and fried) (vegetarians: omit)
Instructions
Place 1 1/2 cups of the peas in a blender along with the 1/2 cup of reserved broth and puree until smooth. Set aside until ready to use and reserve the remaining cup of whole peas for the very end.

Heat the olive oil in a large, deep skillet over medium heat. Add the onions and cook for 5 minutes, until soft. Add the rice and stir to coat the rice grains with oil. Add the wine and boil until most of the liquid has evaporated.

Add 1 cup of the hot broth and the salt. Stir gently until most of the broth has been absorbed. Add the remaining cup of stock, repeating the process. After 10 to 15 minutes the rice should be creamy but still very slightly chewy. If the rice seems too dry, a little more broth. Stir in the butter and Parmesan. Stir in the basil, pureed peas and the reserved cup of whole peas. Heat through and add salt to taste. Sprinkle with the pancetta and garnish with a sprig of basil. Serve immediately.
Nutrition
Calories:
595
kcal
|
Carbohydrates:
55
g
|
Protein:
17
g
|
Fat:
31
g
|
Saturated Fat:
10
g
|
Cholesterol:
44
mg
|
Sodium:
773
mg
|
Potassium:
534
mg
|
Fiber:
5
g
|
Sugar:
6
g
|
Vitamin A:
945
IU
|
Vitamin C:
38.3
mg
|
Calcium:
189
mg
|
Iron:
2.4
mg
I've partnered with Aneto to bring you this post and all opinions are entirely my own.  A special thank you to our readers for supporting the brands who help make The Daring Gourmet possible.