I've teamed up with The Sausage Maker to bring you this post.
If you make your own dry-cured meats and sausages, cheeses and fermented vegetables, the Digital Dry-Curing Cabinet from The Sausage Maker is an absolute dream come true!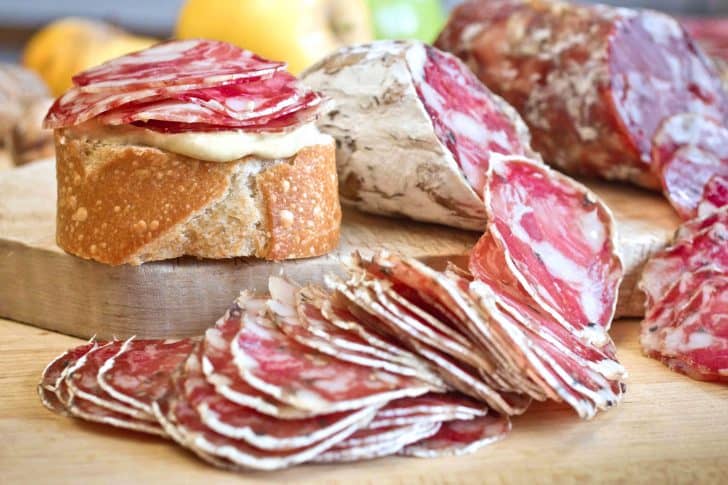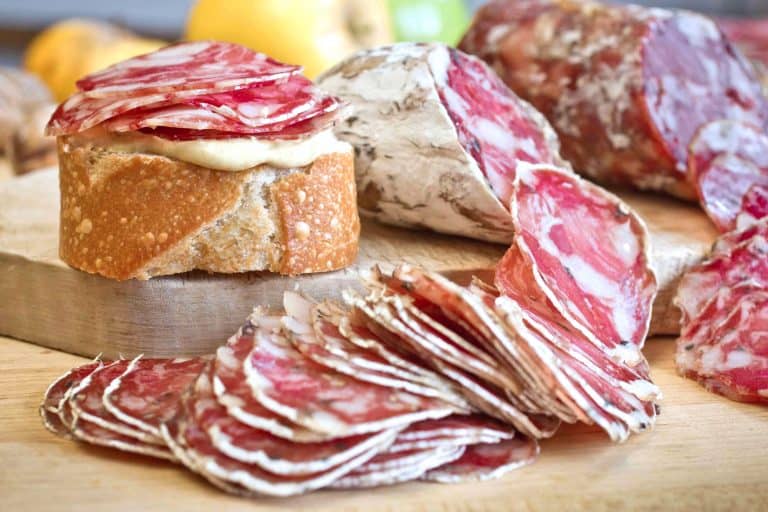 If you're into making your own sausages and charcuterie you've most likely heard of The Sausage Maker.  Based in Buffalo, New York, the family-owned Sausage Maker has been the leader in the sausage-making, dry-curing industry in the United States for more than 40 years.  A haven for DIY'ers, it's at the Sausage Maker where you can also find what you need to make your own cheese, wine, beer and sauerkraut.
The Sausage Maker continues to create a variety of unique and innovate products for hunters, anglers, hobbyists and home cooks.  These products include everything from stainless steel grinders, smokers and slicers to every kind of sausage casing, rubs, seasonings and ingredients needed for successful charcuterie production.
One such innovate product is the first ever large-capacity digital dry-aging cabinet for home use!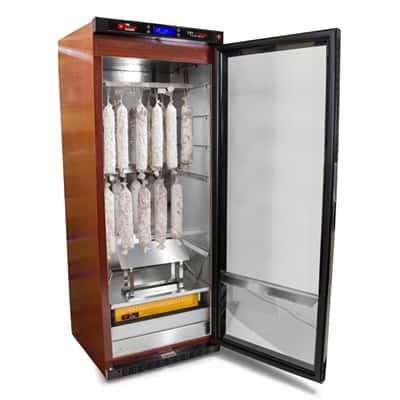 From their website:
As a result of our lengthy engineering, testing and adjustment cycles, you can use this curing cabinet for dry aging steak or pork belly to enhance flavor, hang curing sausage for traditional preservation, or give your cured meats, summer sausage and pepperoni sticks a tangy flavor that comes from natural fermentation. Make traditionally fermented, dry-aged and preserved foods in your home with modern, elegant controls."
Just imagine being able to make THIS right at home!
PLUS things like sauerkraut, kimchi and cheese!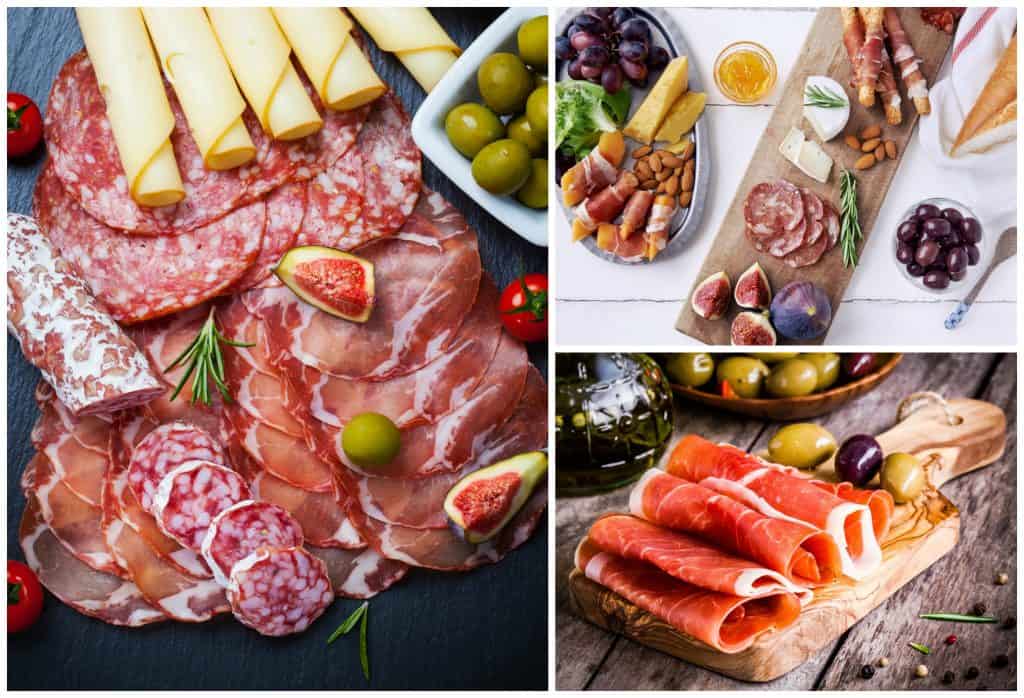 Many of you, like me, who don't have a cellar with optimal or consistent temperature and humidity conditions have been using a DIY dry-curing cabinet made from a converted fridge or wine cooler to dry-cure your meats and sausages and have enjoyed a lot of success.
But most of us will readily admit that this is not without its challenges and frustrations.
Fermenting, for example, requires high temperatures and humidity levels and for that I've always had to create a separate, makeshift fermentation chamber, usually a large box covered with blankets to keep heat in and with a humidifier inside of it to create humidity.  I'd then transfer the meats into the converted fridge where we had to insert temperature and humidity probes, add a humidifier and a dehumidifier to keep the humidity regulated.  We also had to constantly monitor for flies and other insects since all the cables leading in and out of the fridge compromised the seal of the door.
Throughout the whole process of dry-curing in a DIY chamber, constant monitoring is required to make sure the temperature, humidity and circulation is just right.  It's definitely not something you can leave and ignore for days at a time.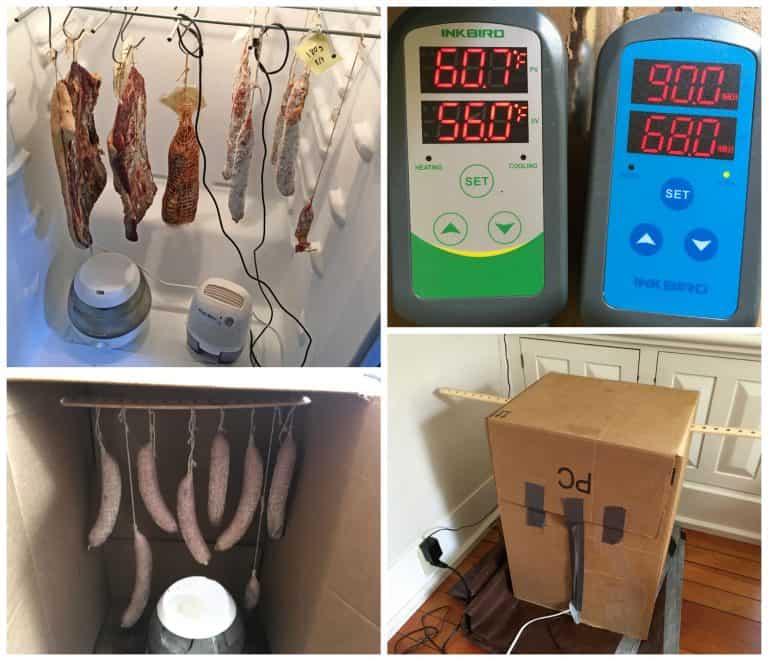 Enter the Sausage Maker's Digital Dry-Curing Cabinet.
ALL of what I've described above is taken care of for you! 
And that's where you'll have to decide whether it's worth it to you to pay for the ease, convenience and precision of a professional, dedicated dry-curing cabinet.
I've been using this cabinet for the past couple of months and I will tell you – the ease, convenience and precision of this dry-curing cabinet over my DIY converted fridge cannot be overstated.
For one, no separate DIY fermentation chamber is necessary.  The temperature of the dry-curing chamber from The Sausage Maker can go up to 99 degrees F and the relative humidity can go up to 90%, so you can ferment your sausages within the same unit and then simply change the temperature and humidity settings once the fermentation is done.
Also, no more fiddling with temperature probes, thermostats, fans, humidifiers and dehumidifiers and constantly having to go out and check on the contraption to make sure everything is okay.  Everything is already built in and digitalized. All you have to do is turn the power on, pour in some water in the bottom chamber, set LCD screen to the temperature and humidity level you want, and the dry-curing cabinet does the rest.  Heaven!
Our dry-curing cabinet arrived well-packed in a wooden crate.  The stainless steel unit has wood panels on both sides for a higher-end look.  On that note, with the real wood panels we recommend storing it in a dry area to avoid moisture damage.
Setting up the cabinet took less than 10 minutes as there are only a couple of parts to put into place.  The instruction manual is easy to follow and explains everything clearly.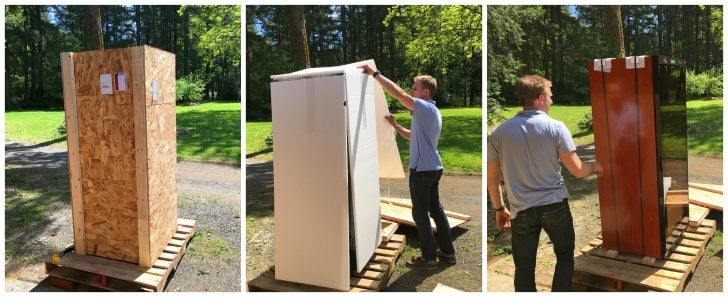 Let's take a look at some of its features.  The dry-curing cabinet has a
304-grade stainless steel interior
Anti-microbial membrane
UV-protective double-paned glass
USA-made whisper-quiet compressor
The stainless steel interior and anti-microbial membrane to prevent the buildup of harmful bacteria and mold.
Noise-wise, the cabinet is completely silent most of the time except for the occasions when the compressor comes on for just a minute or so at a time and the sound and volume is like a refrigerator.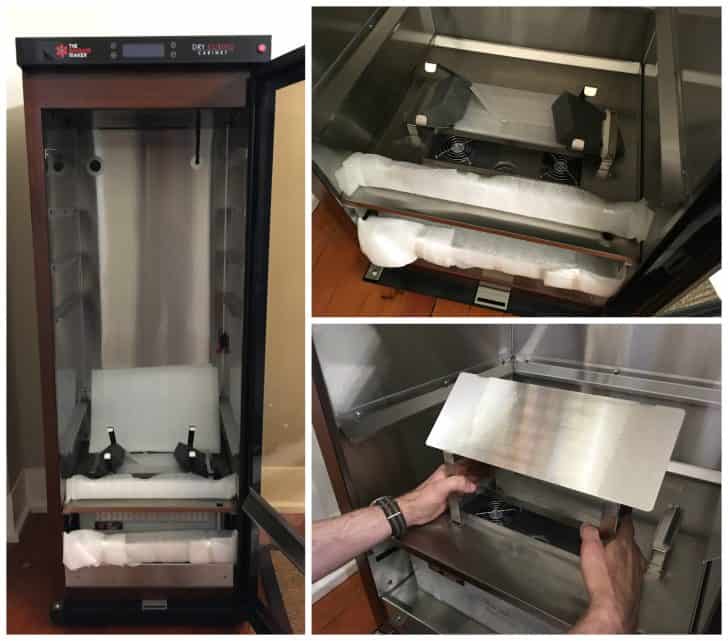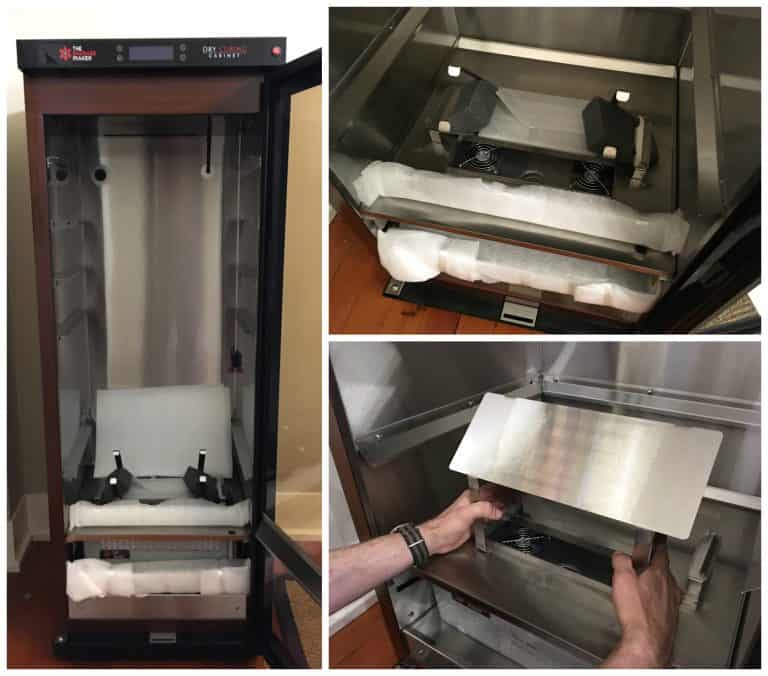 It also comes with a
2-gallon water tank humidifier
Removable S/S drip collector
Water tank overload drainage
The cabinet is extremely low maintenance and easy to clean – two huge pluses.

The cabinet also has a carbon air filtration system.
The water box is easy to fill with clearly defined markings to know where the level should be.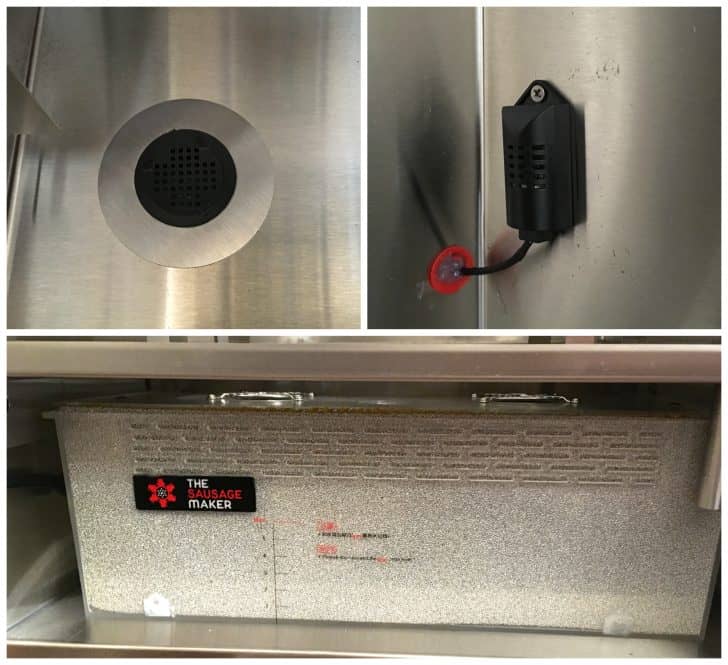 It has 6 stainless steel V-sticks for hanging and stainless steel shelves are also available for purchase.  These enable you to dry-cure products that need to be laid down instead of hung.
You'll also need these shelves if you're using the cabinet to make cheese or fermented veggies.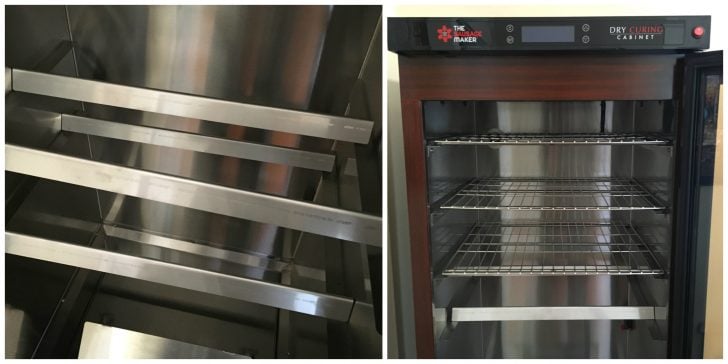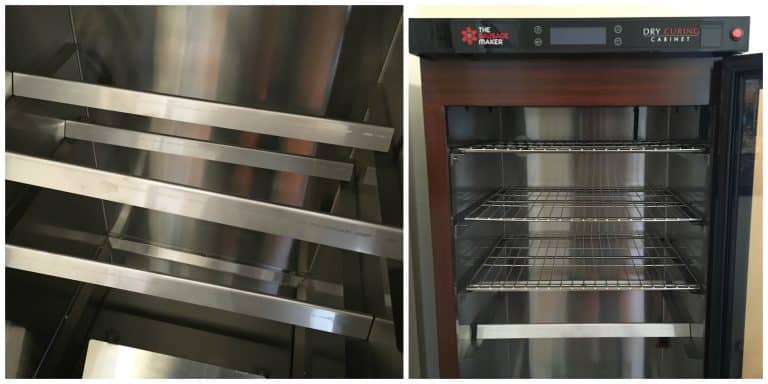 Other features include a
LCD capacitive-touch control panel
Temperature range: 41-99°F (±2°F)
Humidity range: 40-90% RH (±5% RH)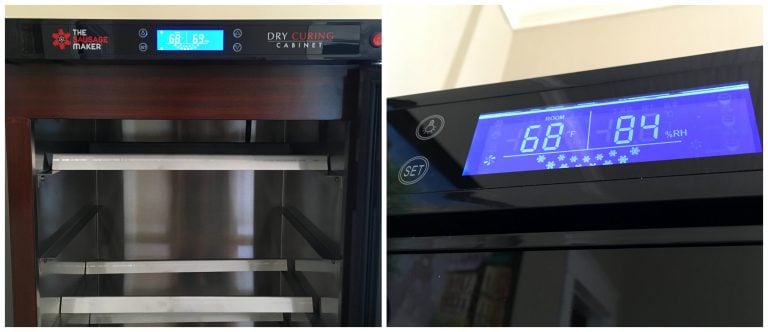 And a
Key-locking door
Miniature blue-LED ceiling light
Our young kids have been good about not opening the cabinet but the keys are a great feature if you need the cabinet left shut and undisturbed.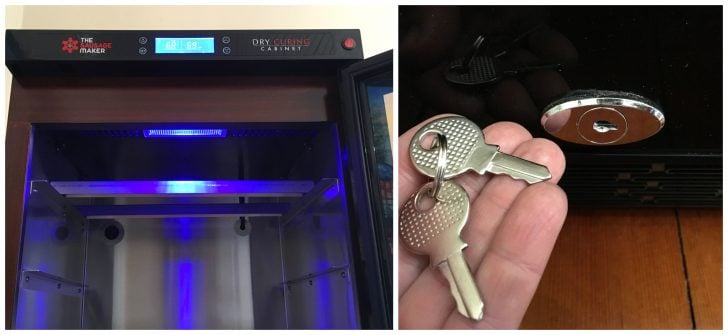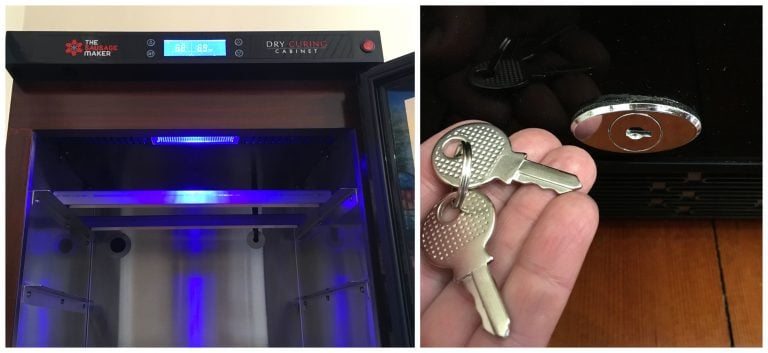 I've been using my dry-curing cabinet for a couple of months and have already run a batch of Italian salami and Spanish chorizo through it and currently have some Italian coppa, prosciutto and pancetta in the works.
Bottom line:  We are in LOVE with The Sausage Maker Dry-Curing Cabinet and can't wait to show you the results!
Stay tuned for Part 2 and bring your appetite with you!
UPDATE:  Part 2 is now available – come check out the final REVEAL!
For more information about this dry-curing cabinet and to explore more products, visit The Sausage Maker.
*The Sausage Maker Dry-Curing Cabinet can also be purchased here on Amazon.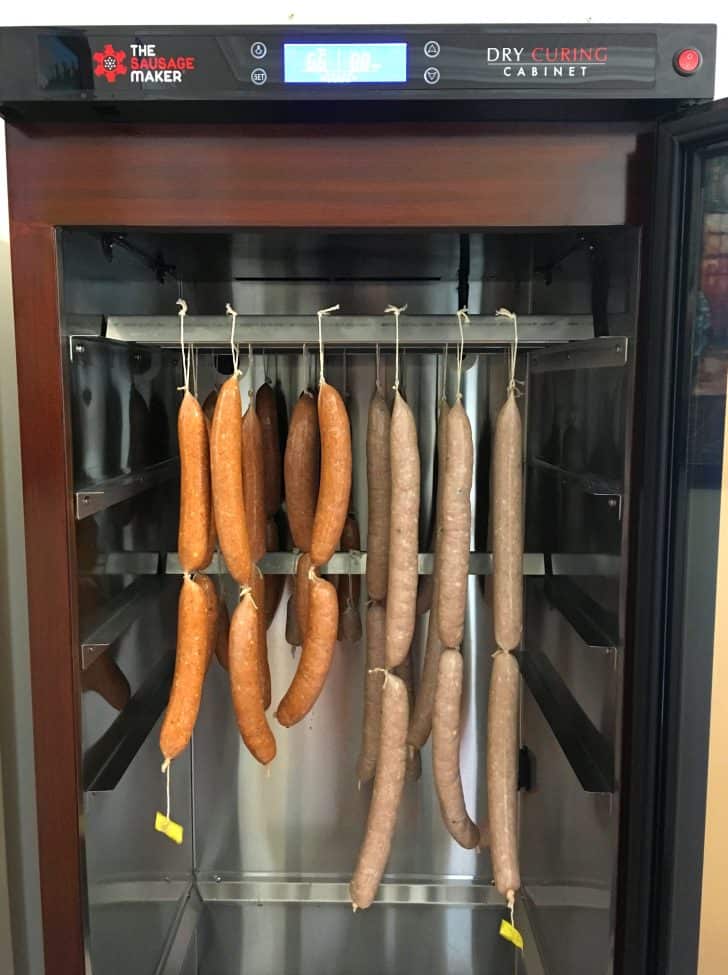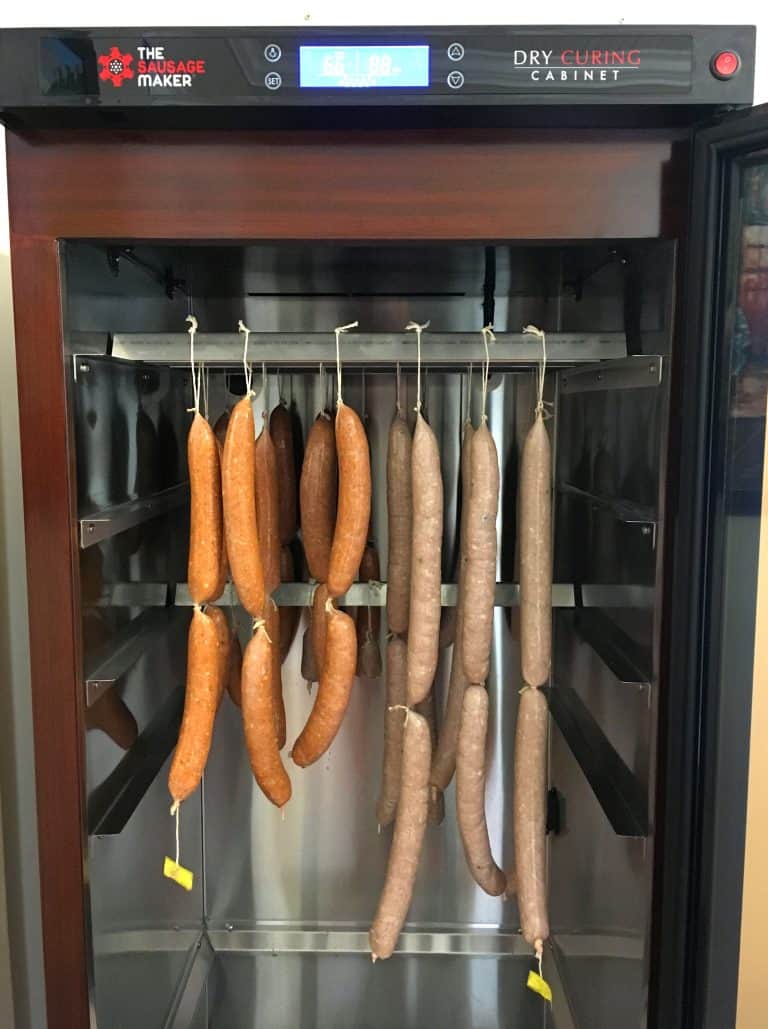 I've teamed up with The Sausage Maker to bring you this post.