This post contains affiliate links.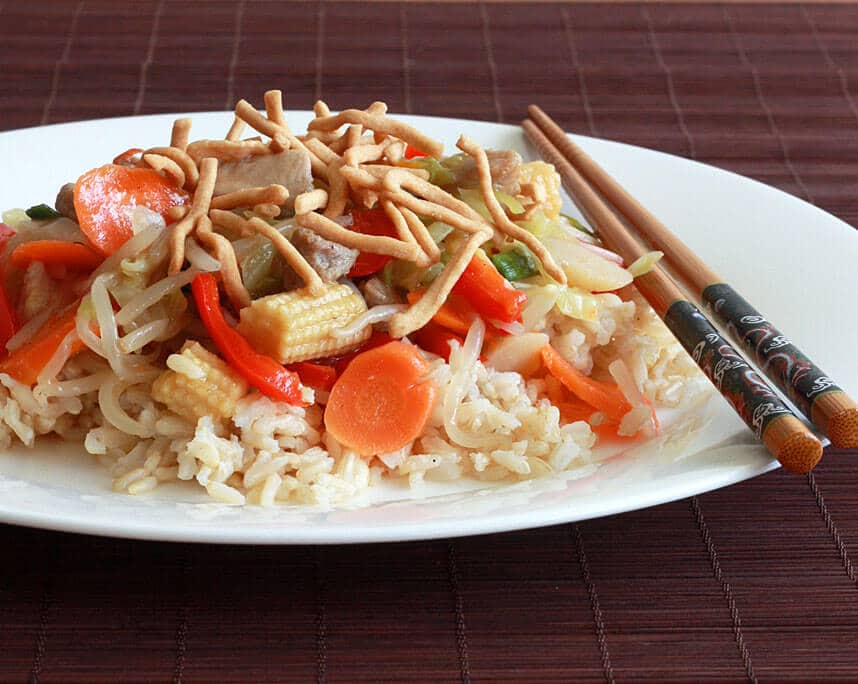 Good food is therapeutic.  It adds spice to life, offers comfort for the "blah's", provides warmth on a cold evening, coolth on a hot day…and helps unravel and unfrazzle you after having spent two hours in bumper-to-bumper traffic on the cursed I-5 headed south of Seattle during rush hour!!  Just hypothetically speaking.
Food is good.  Food is helpful.  Food is our friend.  Whether it's a cup of hot chocolate, a glass of cold lemonade, some freshly baked chocolate chip cookies, or…drum roll…a hot plate of chow mein!
Believe it or not, Chow Mein was one of the Father's Day requests in my family.  We celebrated Father's Day with my parents and I asked my husband and dad what their meal requests were.  My dad requested Chow Mein and Todd requested British Bangers and Mash with mushy peas!  (Do I have very unique men in my family or what?)  Well, there was hardly a fitting compromise for such  vastly different dishes, so I made both.  Yep, for Father's Day we had Chinese Chow Mein and British Bangers and Mash with mushy peas!  It must have been the oddest combination of food Father's Day has ever seen.  But the end result was two very satisfied daddy's and that's really what mattered, right?
Chow Mein, which means "noodles," is an Americanized Chinese dish of Canton influence.  It was at its peak in popularity in the 50's and 60's and though it's a little more challenging to find it nowadays in Chinese restaurants, some will make it on request.  There are many variations of chow mein.  It first appeared as a dish or vegetables and chicken tossed with fresh egg noodles.  Other versions soon evolved (many of them regional differences between the East and West coast) including ones with a thicker sauce of vegetables and chicken served with deep-fried crunchy egg noodles or with rice.  This recipe is easily adapted to your preferences.  If you prefer fresh egg noodles, toss them with the sauce at the end.  Or you can the sauce with/over rice and/or deep-fried crunchy egg noodles.  And as for the meat, prefer pork?  Use pork!  Prefer shrimp?  Use shrimp!  Whatever combinations you choose, you're going to enjoy this chow mein.  I call it "ultimate" because not only does it taste fantastic, it's packed full of a ton of healthy veggies!
If you're worried about calories and fat, you don't have worry with this one.  Just limit the rice/noodles and load up on the vegetable-chicken stir-fry to your heart's content!
Super-duper simple to make.  And the actual cooking takes less than 10 minutes.  It's the prep work of slicing and chopping all the vegetables that takes some time, but that can all be done in advance.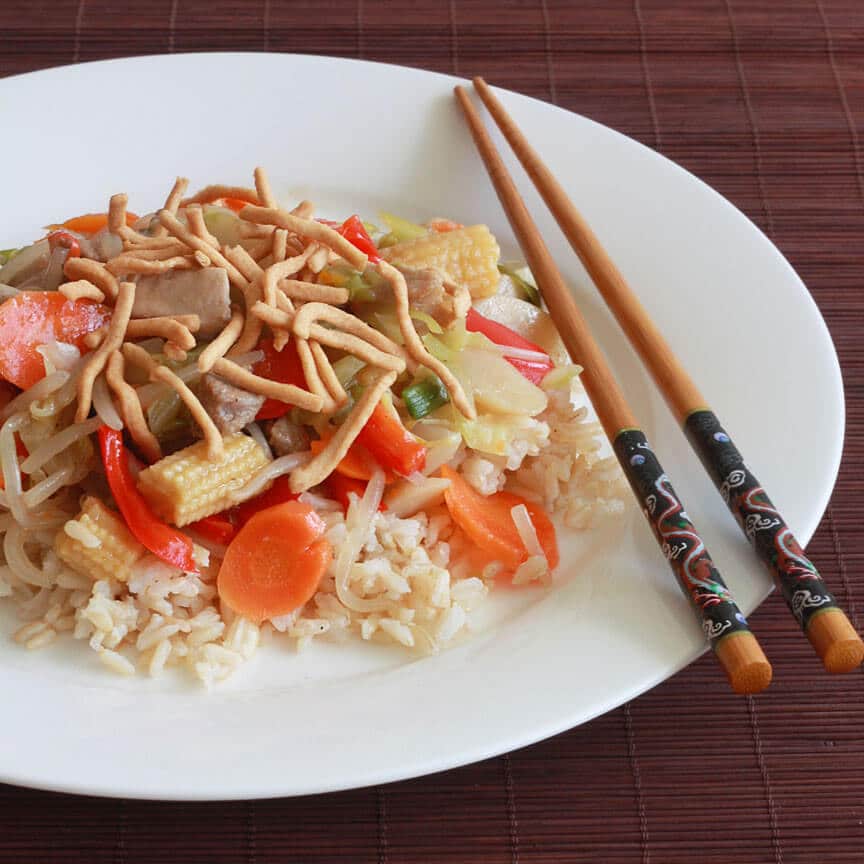 Let's get started!
Dice up the chicken or pork.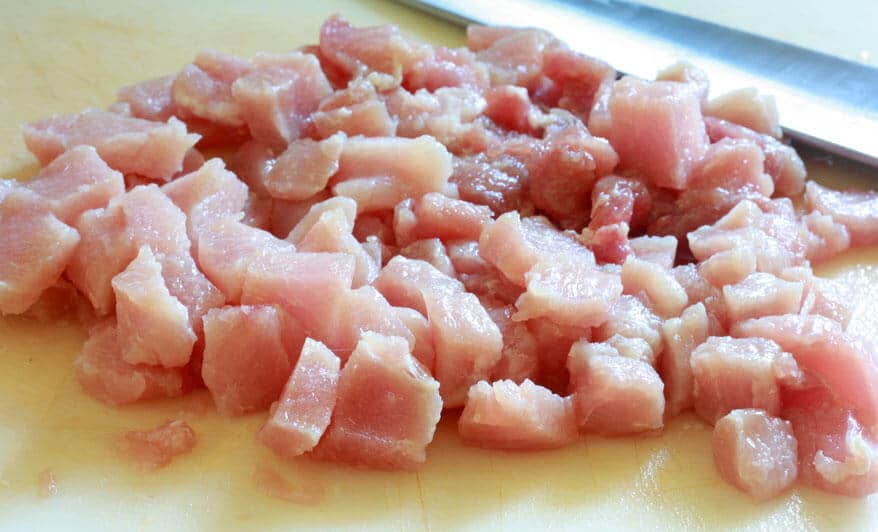 Slice the carrots, celery and red bell peppers diagonally, Chinese style.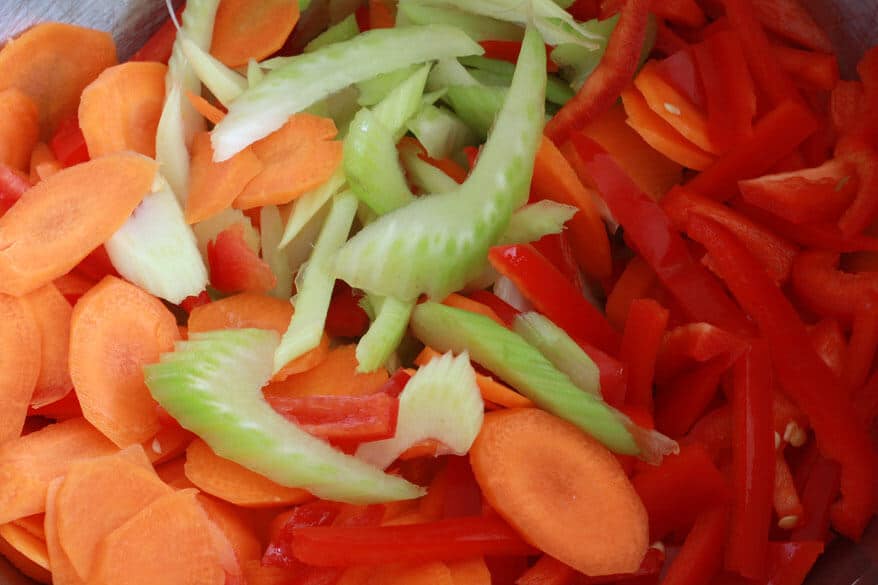 Slice the water chestnuts.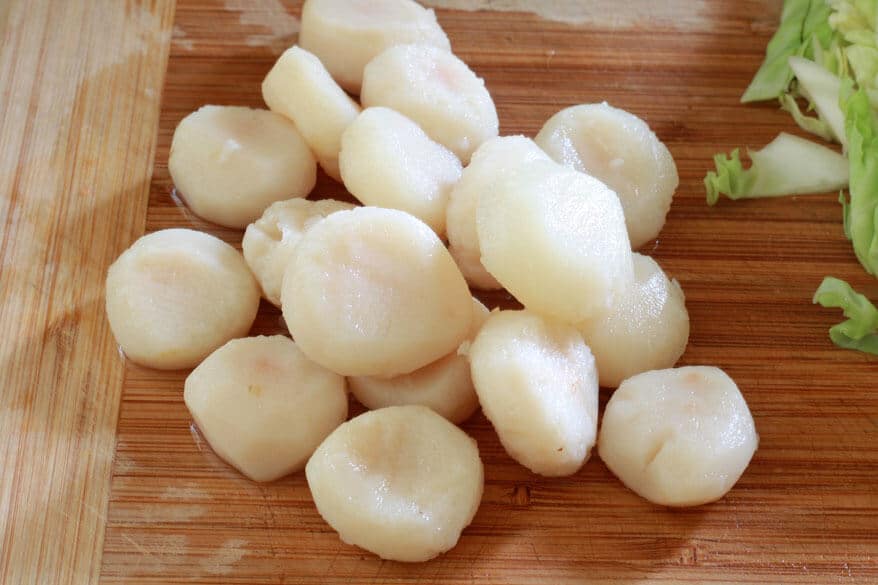 Wash and drain the bean sprouts.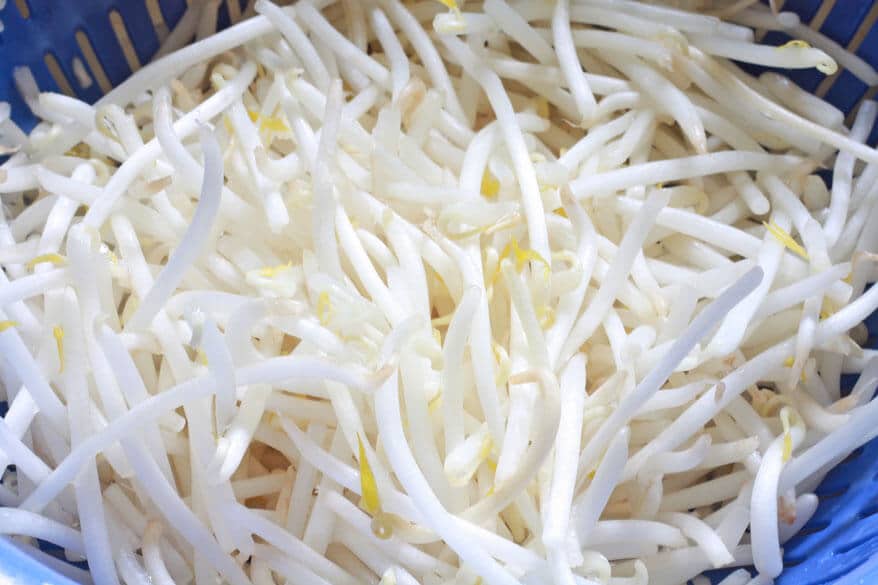 Drain the baby corn and chop the green cabbage.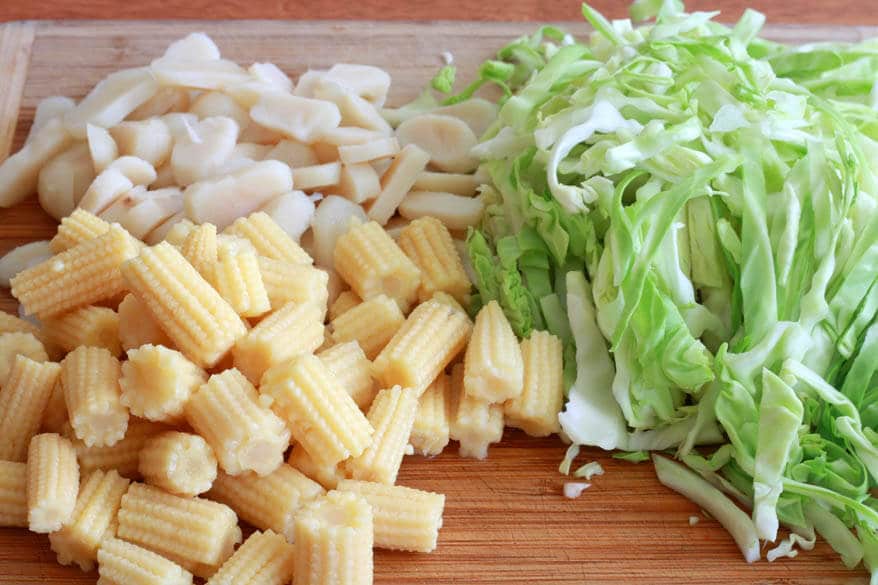 Combine the sauce ingredients.
Heat the oil over high in a wok or large skillet and cook the meat until done.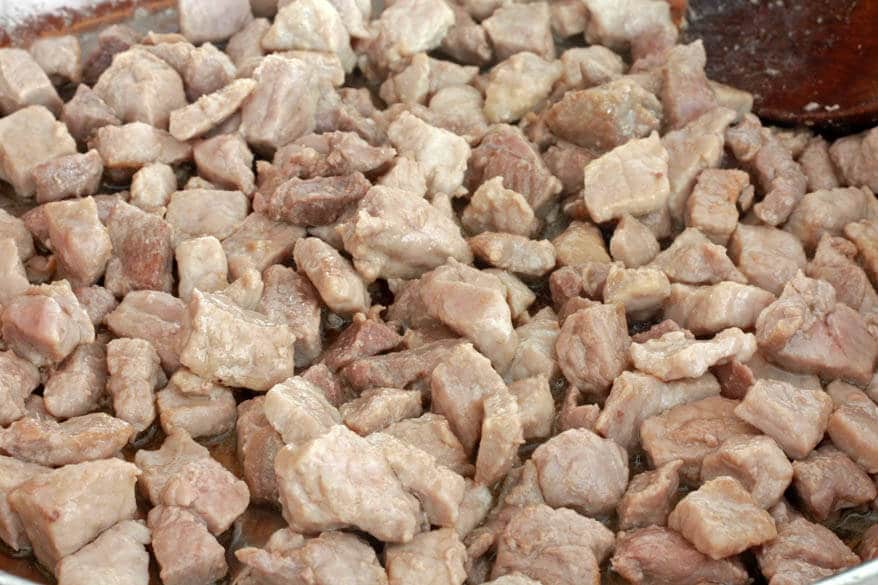 Add the celery, carrots and bell pepper and cook for another 3 minutes.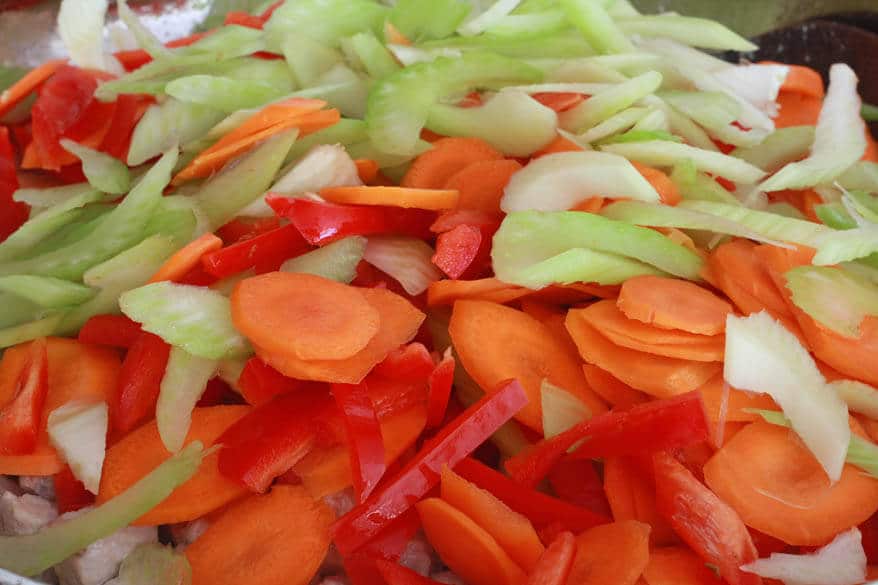 Add the cabbage, water chestnuts and baby corn and fry for another minute or two.  Add the sauce and stir to combine.  Bring to a simmer until thickened.
Add the bean sprouts and stir to coat.
Add the green onions and stir to combine.  Add salt, pepper, soy sauce and sesame oil to taste.  If using fresh egg noodles, add the cooked noodles and toss to combine.  Or serve with/on rice and/or deep-fried crunchy egg noodles.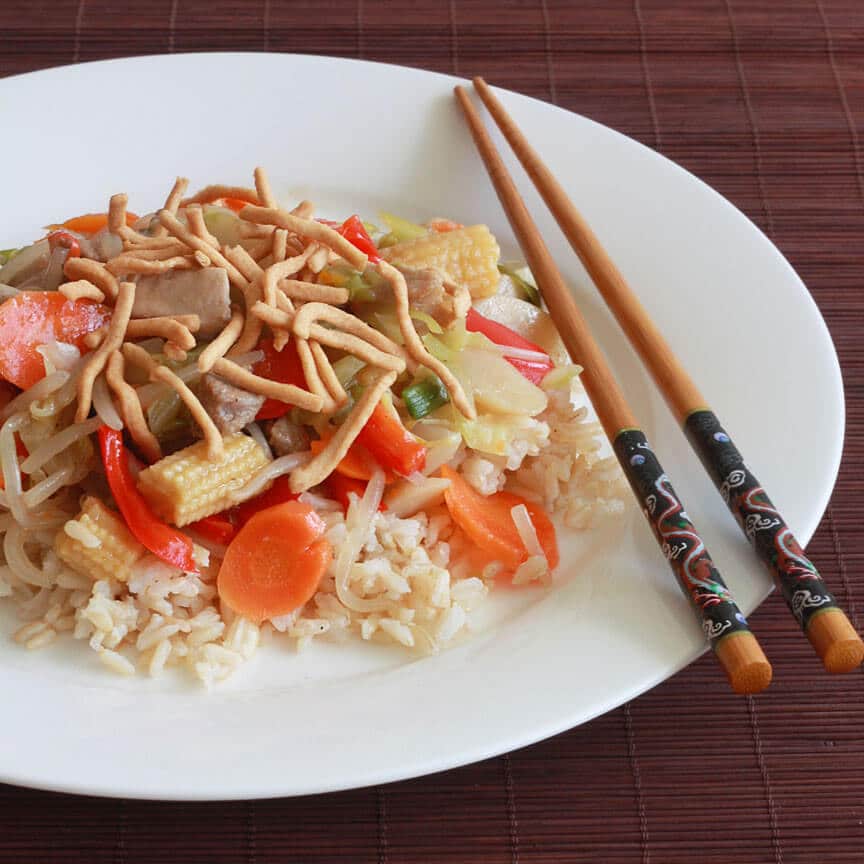 Asian food lovers, don't forget to check out this recipe for the Best Homemade Teriyaki Sauce!

Ultimate Chicken Chow Mein
:
The Daring Gourmet, www.daringgourmet.com
Cuisine:
Chinese-American
Ingredients
1 tablespoon olive or vegetable oil
2 cups chicken breast or pork, cut into small cubes
3 large carrots, thinly sliced diagonally
3 large celery sticks, thinly sliced diagonally
1 red bell pepper, sliced in 1 inch long sticks
2 cups shredded green cabbage
1 (15 oz) can baby corn, drained
1 (7 oz) can water chestnuts, drained and sliced
3 cups bean sprouts
4 green onions, sliced
For the sauce:
2 cups chicken broth
3 tablespoons cornstarch
1 tablespoon sesame oil
¼ cup soy sauce
½ teaspoon garlic powder
½ teaspoon freshly ground black pepper
Serve with either: 1 lb fresh cooked egg noodles, steamed rice, and/or crispy chow mein noodles (see instructions)
Instructions
Heat the oil in a wok or large skillet over high heat.
Add the meat and fry until done. Add the carrots, celery and bell pepper and fry for about 3 minutes or until slightly softened. Add the cabbage, baby corn, and water chestnuts and stif-fry for another 2 minutes.
Combine the sauce ingredients and stir until the cornstarch is dissolved.
Add the sauce to the wok, lower the heat and simmer until the sauce is thickened. If you prefer a thicker sauce, combine some cornstarch with a little more water and add it to the sauce until you've achieved the desired thickness.
Add the bean sprouts and green onions and stir to combine. Don't cook for longer than a minute so that the bean sprouts remain crispy. Add salt, pepper and soy sauce to taste. Add more sesame oil if you like.
If using fresh egg noodles, add them and stir to combine and let heat through.
Or serve with/on rice and/or crunchy deep-fried egg noodles.