Whether deliciously complex or refreshingly simple, I love a good salad.  The other day the sun was shining, the birds were singing, and the beautiful rhododendrons were starting to blossom.  I felt like something fresh and vibrant.  So I picked up some fresh watercress and strawberries and whipped up this salad.
The peppery taste of the watercress combines beautifully with the sweetness of the strawberries and nutty flavor of the toasted hazelnuts.  It is served with a delicious vinaigrette.
Fast, simple, elegant, delightful.
Let's get started on this wonderful watercress salad recipe!
Cut the bottom of the stems off and wash the watercress.
Place the hazelnuts on a cookie sheet and roast in a preheated oven at 350 degrees F for 10-15 minutes or until toasted and blistery, tossing occasionally to prevent burning.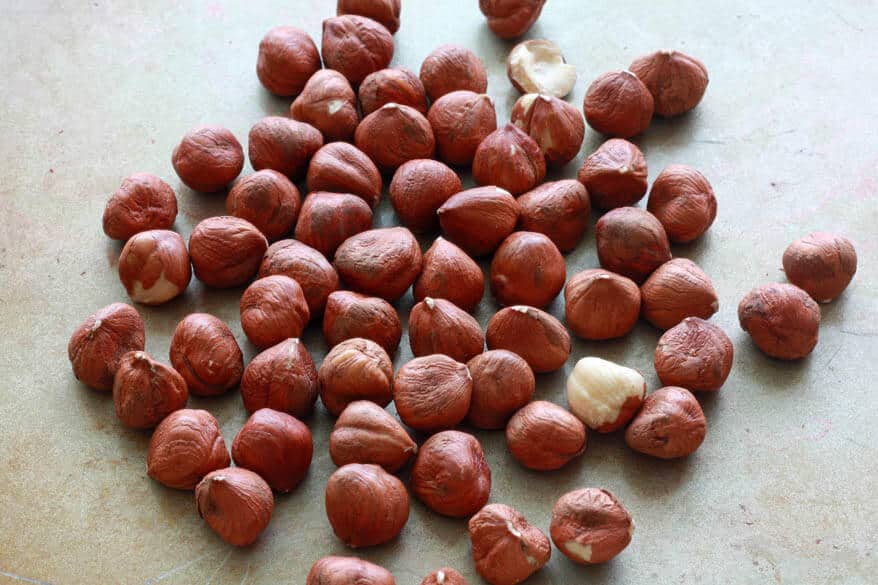 Remove the hazelnuts and wrap in a clean kitchen towel for a minute, then rub the hazelnuts in the towel to remove the skins.  Not all the skin will come off, and that's okay.
Place the olive oil, vinegar, honey, salt and pepper in a small bowl and stir until the salt is dissolved.
Place the watercress, onions, hazelnuts and strawberries in a bowl.  Pour the dressing over the salad and toss to combine.  Serve immediately.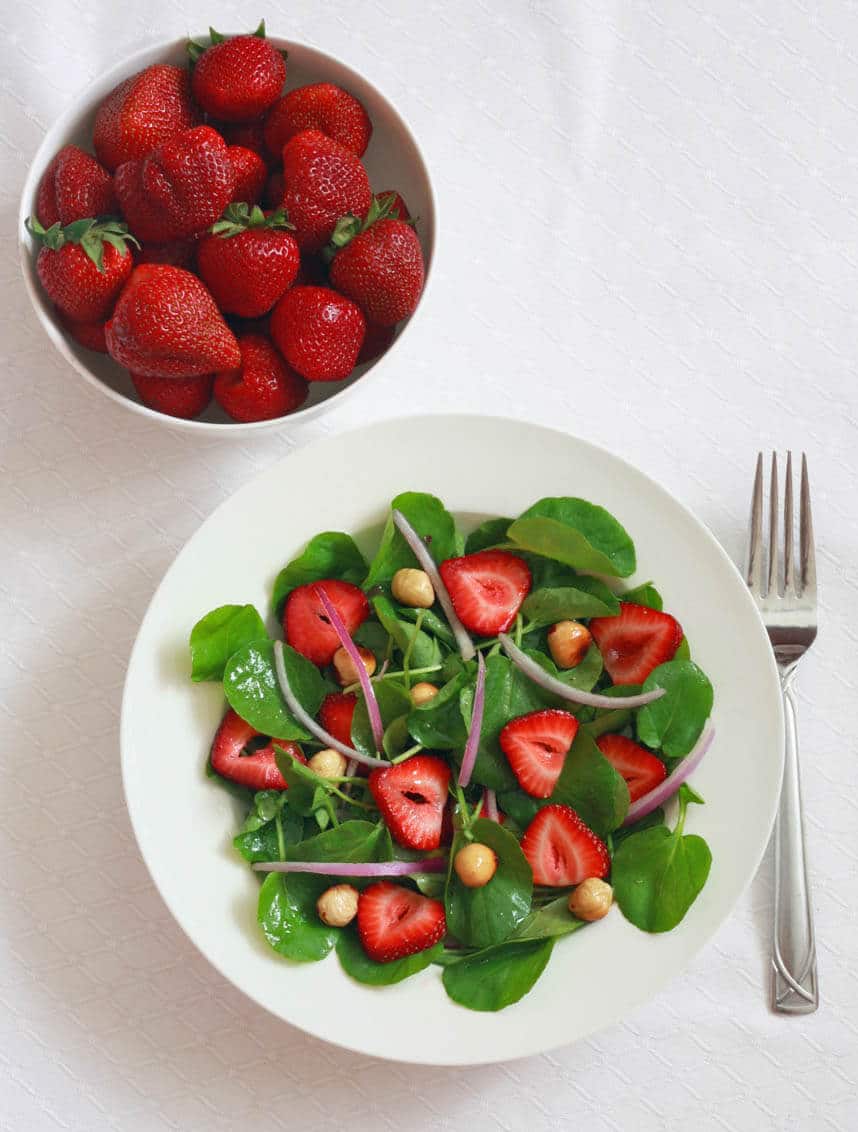 For another great fruity salad, check out this Cantaloupe Salad – it's grilled!

Watercress Salad with Strawberries and Hazelnuts
:
The Daring Gourmet, www.daringgourmet.com
Ingredients
2 bunches watercress, washed and bottom of stems cut off (arugula and spinach also work nicely)
½ cup red onion, cut in half and thinly sliced
¾ cup fresh strawberries, sliced
¼ cup roasted hazelnuts, see instructions
¼ cup extra virgin olive oil
2 tablespoons red wine vinegar
2 tablespoons honey
¼ teaspoon salt
A pinch of freshly ground pepper
Instructions
Preheat the oven to 350 degrees F.
Spread the hazelnuts out on a small cookie sheet and roast for 10-15 minutes, tossing occasionally to prevent burning. When toasted and blistery, remove them from the oven and pour them onto a clean kitchen towel. Wrap them and allow them to steam for a minute, then rub them in the kitchen towel to remove the skins (note, not all of the peel will come off).
In a small bowl, combine the olive oil, vinegar, honey, salt and pepper and stir until the salt is dissolved.
Place the watercress, red onion, strawberries and hazelnuts in a bowl, pour the dressing over and toss to coat.
Serve immediately
Adapted from [url:1]Wishful Chef[/url]