This post contains affiliate links.
Thank you to Pollinate Media Group and Hillshire Brand Company for sponsoring this post. 

As much as I love to cook, it can be challenging to find the time to do it.  I know you can relate.  I've found that to be especially true now that I have two toddlers.  And so there are definitely times when I really appreciate the convenience of quick, healthy meals that I can make for my family in a time crunch.  Like this one.
So get your Creole on in just 30 minutes with this Weeknight Jambalaya and laissez les bons temps rouler!!
Jambalaya is a traditional Creole dish from New Orleans, though there are also Cajun varieties.  It has been said that jambalaya was the South's attempt at recreating Spanish paella in the New World. Jambalaya can include any one or combination of chicken, crawfish, shrimp, andouille sausage, and diced ham.  Cajun varieties have traditionally included oysters, alligator, turtle, and…nutria.  If you don't know what that last one is (I didn't), educate yourself by googling it.  So yes, we're going to stick with Creole jambalaya.
Whether one or several meats are used, it's all thrown in with rice, tomatoes, green bell peppers, and – of course – a healthy dose of Creole seasoning.  I wanted to make jambalaya with some good sausage (though you can substitute any meat you want).  I made a quick dash into Safeway and made my way over to the stash of Hillshire Farm goods.  I've always enjoyed kielbasa and thought this smoky sausage would work wonderfully in my Jambalaya.  It did.
Let's get to that Weeknight Jambalaya, shall we?  Alright!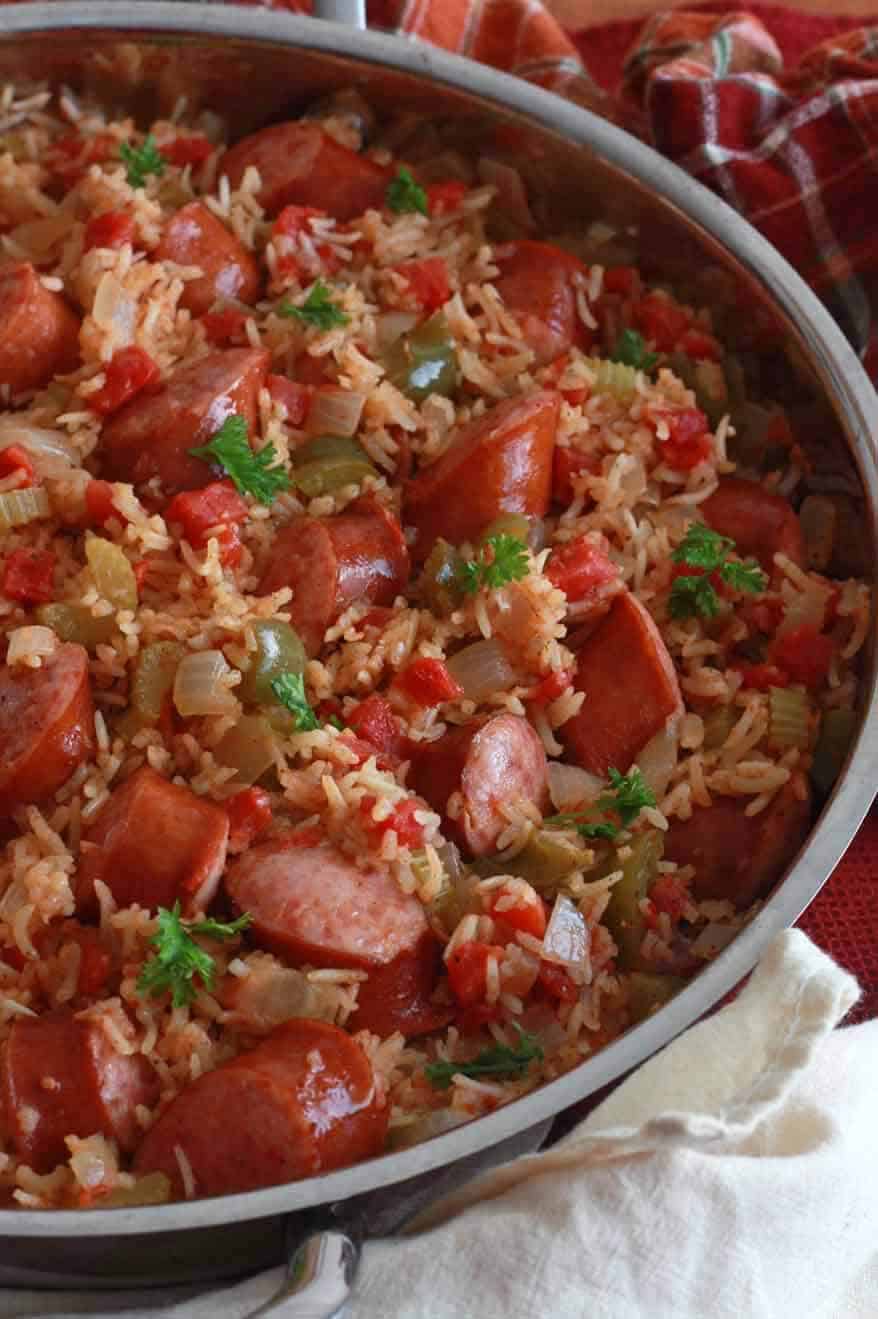 Chop up the veggies and garlic.
Heat the oil in a large skillet over medium-high heat and saute the veggies for about 6-7 minutes.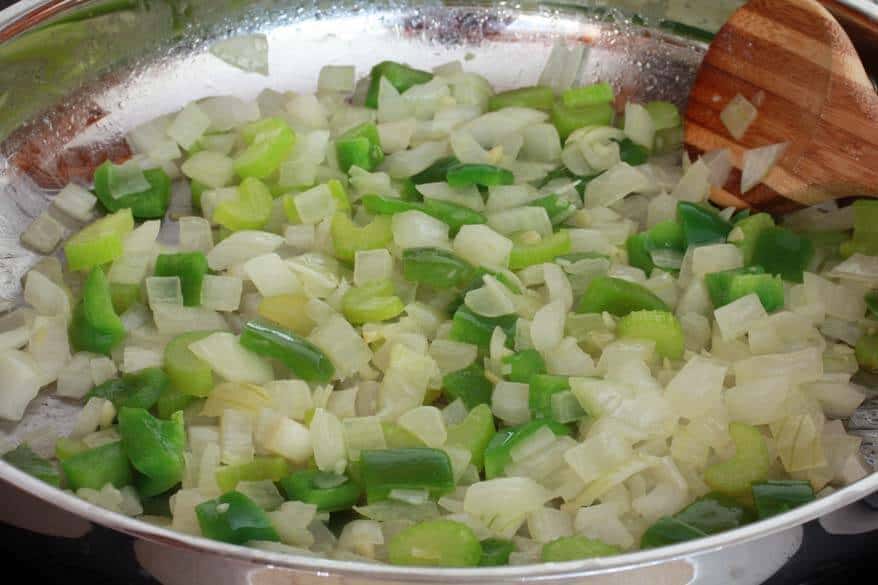 Add the tomatoes with their juice, the Creole seasoning, salt, and hot sauce if using.
Stir to combine.
Measure the rice.  Long grain rice, like Basmati, really is best.  It doesn't get as squishy or lump together like short grain rice does.
Get out the kielbasa.
Cut it into 1-inch chunks.
Add the rice, kielbasa, bay leaf, and chicken stock.
Stir to combine.  Bring the mixture to a boil, reduce the heat to low, cover, and simmer for 25 minutes.  Remove from heat and let sit, covered, for 5 minutes.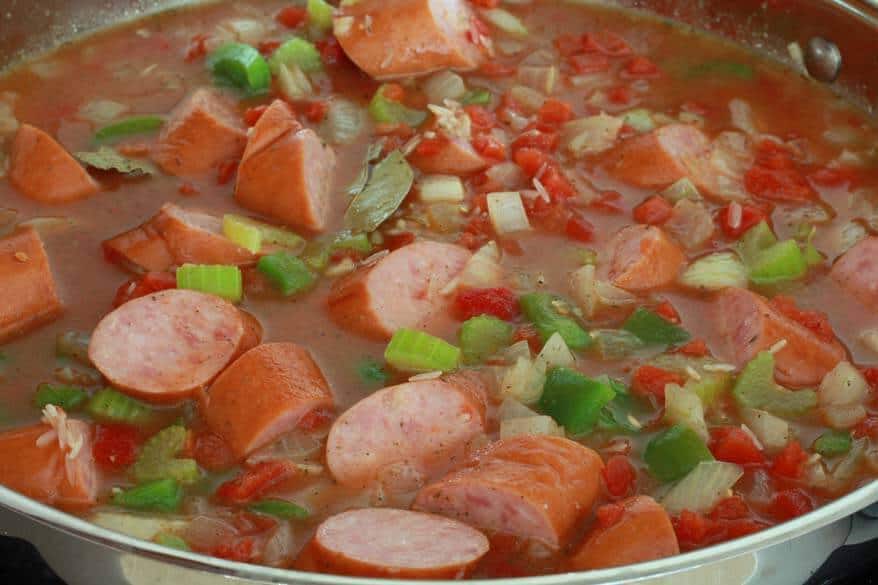 Remove the lid and fluff the rice with a fork.
Serve immediately accompanied by the Carpenters' "Jambalaya (On The Bayou)"
That's optional, of course.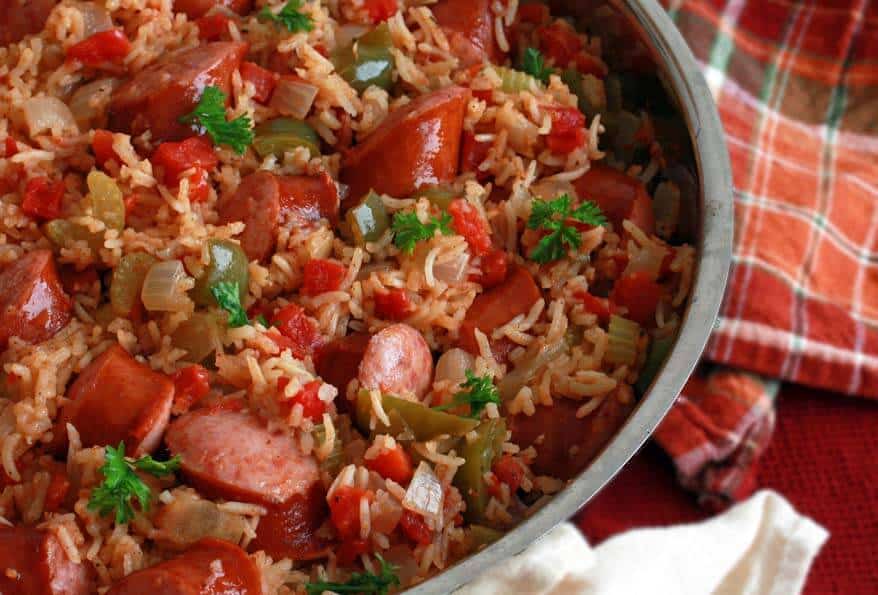 Weeknight Jambalaya
:
The Daring Gourmet, www.daringgourmet.com
Ingredients
2 tablespoons butter
1 medium yellow onion, chopped
½ cup diced green bell pepper
½ cup chopped celery
3 cloves garlic, minced
1 (14.5 oz) can diced tomatoes
1½ tablespoons good Creole Seasoning
½ teaspoon salt
1 teaspoon hot sauce or more according to heat preference (optional)
1 (14 oz) package Hillshire Farm Polska Kielbasa, cut into 1-inch chunks
1 cup long grain rice (e.g., Basmati)
1 (14 oz) can good quality chicken broth (about 2 cups)
1 bay leaf
Instructions
Melt the butter over medium-high heat and saute the onions, bell peppers, celery and garlic for about 7 minutes. Add the tomatoes and their juice, Creole seasoning, salt, and hot sauce if using. Stir to combine.
Add the kielbasa, rice, chicken broth, bay leaf and stir to combine. Bring to a boil, reduce the heat to low, cover and cook for 25 minutes or until the rice is tender.
(Try to avoid removing the lid while it's cooking) Remove from heat and let it sit, covered, for 5 minutes. Then fluff the rice with a fork. Serve immediately.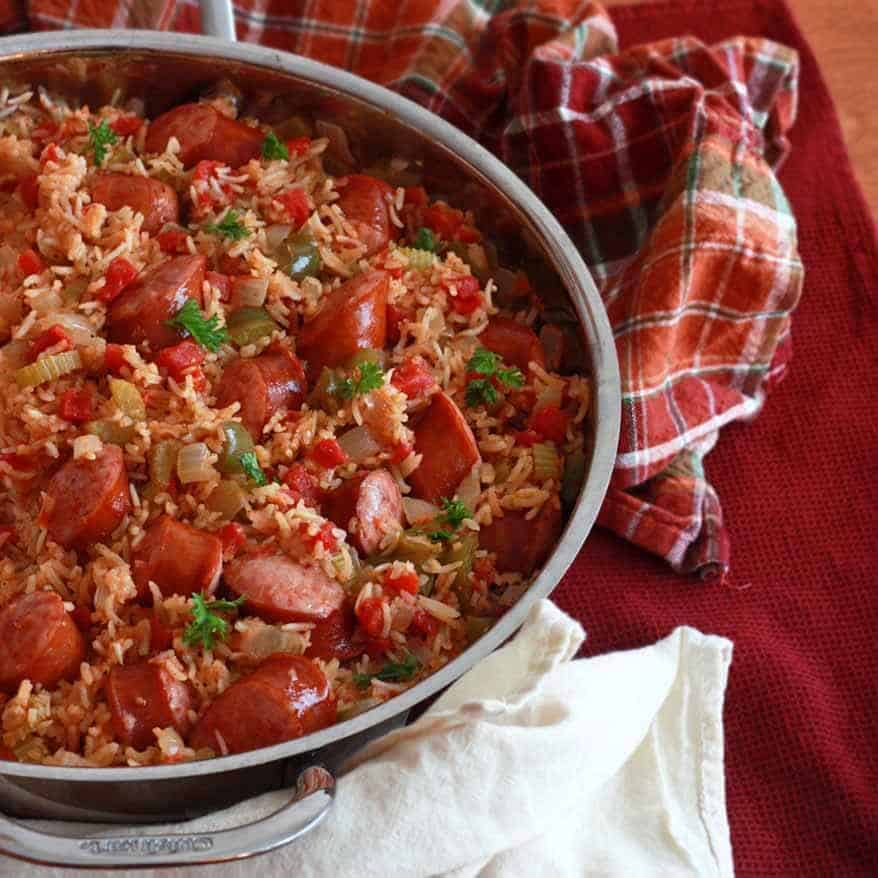 Visit Hillshire Farm on Facebook or Twitter.
For more recipe ideas using Hillshire Farm products, see their website.