My mom and I recently took a trip down to Portland, Oregon for a girls' weekend getaway.  Choosing a hotel was an easy decision.  After the great experience my husband and I had at the Westin Bellevue, I was eager to try the Westin Portland.  We couldn't have picked a better place to stay.
How many of you have been to Portland?  Whether you enjoy art, the theater, shopping, nature, or food, Portland is a city of tremendous variety.  Something that may surprise you is that not only is Portland known as the "capital of karaoke", the New York Times has called it "one of the most exciting music scenes in America."  It's been home to a number of famous bands through the decades including a personal 80's favorite, Quarterflash (think "Harden My Heart", "Find Another Fool", "Williams Avenue".  You know the one.).  Rindy Ross brought the sax back to rock music and man, could she wail!  (I'm a sax player and 80's music lover, I couldn't not mention Quarterflash!  Thanks for indulging me.)
Here are a few brag-worthy facts about Portland:  It has a thriving arts scene and has been voted tenth best Big City Arts Destination in the U.S. by American Style magazine.  It's home to Powell's City of Books, the largest independent new and used bookstore in the world.  I could spend hours there, and have.  It's home to two major league sports teams and has one of the most active bicycle racing scenes in the country.  Something that would especially interest our train-loving 4 year old son, Portland is the only city in the country that owns and operates mainline steam locomotives.  Portland also boasts a number of parks and its city park system has been ranked one of the best in America.  16% of the city is parkland and a survey revealed that 80% of Portlanders live within just 1/2 mile of a park.  And of course Portland is home to the famous and beautiful International Rose Test Garden, which we've been to several times.
Portland's food scene is another dynamic aspect of the city's many attractions.  Food Network Awards designated Portland as their "Delicious Destination of the Year" in 2007 and in 2012 Travel + Leisure ranked Portland's food and bar scene #5 in the nation.  With over 600 licensed carts, Portland is also recognized as one of the most robust street food scenes in the country.  With over 60 breweries, Portland has more breweries than any other city in the U.S.  And if you're vegetarian, Portland is the food mecca for you.
If you're planning a trip to Portland it may also interest you to know that in 2012 Travel + Leisure magazine rated Portland as the #1 most pedestrian and transit-friendly city in the United States.  In other words, you can ditch the car and enjoy Portland up close and personal.  And what a beautiful city it is!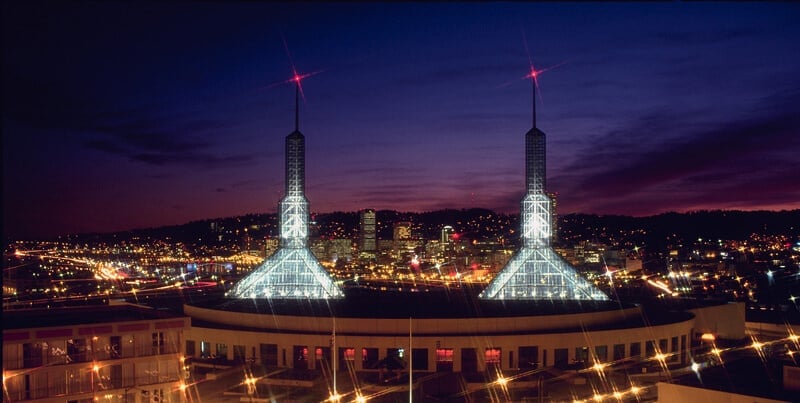 Above Portland pics courtesy Creative Common, Wikipedia
As we arrived in Portland we were greeted by the most beautiful sky peppered with flecks of fluffy clouds.  As we came to a stop at the light in front of the convention center I rolled down the window for a quick shot.  The beauty was an omen of more good things to come.
After our two hour drive to Portland we finally pulled up to the Westin.
Situated on Southwest Alder Street in the center of downtown, if you're planning a trip to Portland, the Westin offers the perfect location.  It's just a few blocks from the MAX light rail, Pioneer Courthouse Square, the Portland Art Museum, the Arlene Schnitzer Concert Hall and shopping such as Nordstrom.  Also within walking distance are the trendy Pearl District and Nob Hill, known for their great restaurants and stylish boutiques.
I knew just from seeing the exterior of the Westin that we were going to enjoy our stay.
With 205 guest rooms and 17 suites, the hotel has all the luxury and elegance of a Westin while offering the charm and coziness of a boutique hotel.
Everything about the Westin, inside and out, just "fits" its host city so well.  It's a representation of Portland at its best.  The Westin Portland is a lovely blend of quiet elegance and class while offering an atmosphere that is friendly, warm and welcoming.  Cozy and intimate, we felt at home as soon as we walked in.
The staff at the front desk were very friendly and happy to assist in any way they could.  We had forgotten a couple of items at home and they immediately supplied us with them at no extra charge.
The Westin Portland recently underwent a $6.5 million renovation and it is beautiful!  The lighting is soft and warm, the decor elegant and tasteful.
Across from the front desk is a cozy sitting area.
The books and the earth-tone color scheme create a really comfortable, at-home feel.
We really liked the candlelight that softly illuminated the room.  The lighting, furnishings, art and decor all created a relaxing and intimate atmosphere.  We loved it!
To the right of the front entrance is the lounge and bar where you can pull up a chair and enjoy a drink with some friends or just give your feet a rest from the day's activities.
Happy Hour is daily from 4-7pm and you can enjoy a nice selection of drinks and small plates such as the Mediterranean Chicken Lettuce Cups, Chicken Poblano Quesadillas, Firecracker Shrimp, Crispy Ahi Tacos, or a flaky and bubbling Chicken Pot Pie.
We headed past the front desk to the hallway to take the elevator up to our room.  At the end of the hall was an art display of silver bottles, jugs and utensils and a large matted frame with no picture in it.  Any modern art lovers reading this who can provide an interpretation?  It made for an interesting conversation piece as we waited for the elevator.
Even the elevator was nice with all the wood and there were large mirrors on opposite sides creating that illusion of "forever."
Up a few floors is the business center, clean and sleek with everything you would need to conduct business away from the office.
The Westin Portland also has a gym which I wouldn't have expected for a hotel of its size.  The gym has a nice range of equipment available and if you forget your workout clothes or shoes you can borrow some from the front desk for a very small fee.  That's Westin.
Our room was wonderful.  You know the feeling when you're tired from traveling and walk into a really nice, super clean, cozy, modern hotel room?  It's the "ahhhhh effect" where you immediately feel comfortable and at home.  That was our experience.  Our room was very quiet and the Westin's signature "Heavenly Beds" beds exquisitely comfortable.  The oversized bathroom was immaculate with dual showerheads, a glass-enclosed shower, and spa-like products that I remembered from the Westin Bellevue as smelling soooo good.
Both the guestroom and bathroom were superb.
And we had a great view of downtown Portland from our guestroom window.
In the morning we headed downstairs to the hotel's restaurant, Daily Grill, for breakfast.
Upscale with a friendly atmosphere we really enjoyed the Daily Grill.
Breakfast was terrific.  I ordered a three-egg omelette with my choice of fillings served with breakfast potatoes.  The omelette was light and fluffy and the fillings were generous.  I point that out simply because it's been my experience ordering omelettes that when I request ham or bell peppers or mushrooms, etc, I end up with a couple of chunks and like a teaspoon of cheese.  Not so at the Daily Grill.  The ingredients were also fresh and flavorful.  The breakfast potatoes were nice and crispy-brown, just the way I like them.  My mom had the Corned Beef Hash topped with two poached eggs.  Both of our servings were very generous, something I have rarely seen in upscale hotel restaurants, and the prices were pretty average.  The food was very flavorful, especially the Corned Beef Hash.  I was more than happy to trade a few of my potatoes for some of her hash.
In fact, we enjoyed breakfast so much that we decided to come back later to sample their lunch menu.  And we were happy we did!
Our server was super friendly and professional with a great sense of humor.  Service was quick and we had our food within just a few minutes.  We decided to split a Reuben Sandwich and ordered it with a side of Roasted Peanut Cole Slaw.  I can still vividly remember the sensation of biting into that lightly toasted and crispy rye bread and feeling the gentle gush of thousand island, Dijon mustard, and the flavorful juices of the corned beef fill my mouth.  I'll tell you what, this Reuben would give even New York's best deli's a real run for their money!  It was so good.  And I've just learned that there's a Daily Grill in Seattle.  Guess where I'll be headed to for my next reuben sandwich?
And then there was the Roasted Peanut Slaw.  Ok, this was seriously amazing.  So good in fact that while I'm in Seattle enjoying that Reuben I'm going to have to take some of the slaw back home with me so I can recreate it in my own kitchen!
For dessert we both ordered the Brownie Pie with vanilla ice cream, candied pecans, hot fudge and caramel.  No words needed.  Just look at it.  Beautiful presentation, too.
For food, service and atmosphere we give two thumbs up for the Daily Grill!
We enjoyed the rest of the days' activities and then headed back home that night giving Portland a wave goodbye and a thank you for its hospitality.
We couldn't have enjoyed our stay more.  The Westin Portland was fantastic in every way and the Daily Grill kept our tummies very satisfied.
If you're looking for a luxury hotel with an intimate, cozy and fully modern atmosphere, stellar service, and a fantastic downtown location, we highly recommend the Westin Portland.
For more information or to book a room, visit their website:  Westin Portland
For more information on the restaurant or to make a reservation, visit Daily Grill
Disclosure:  We were provided with a complimentary stay without any obligation to write a favorable review.  As always, all opinions are entirely my own.