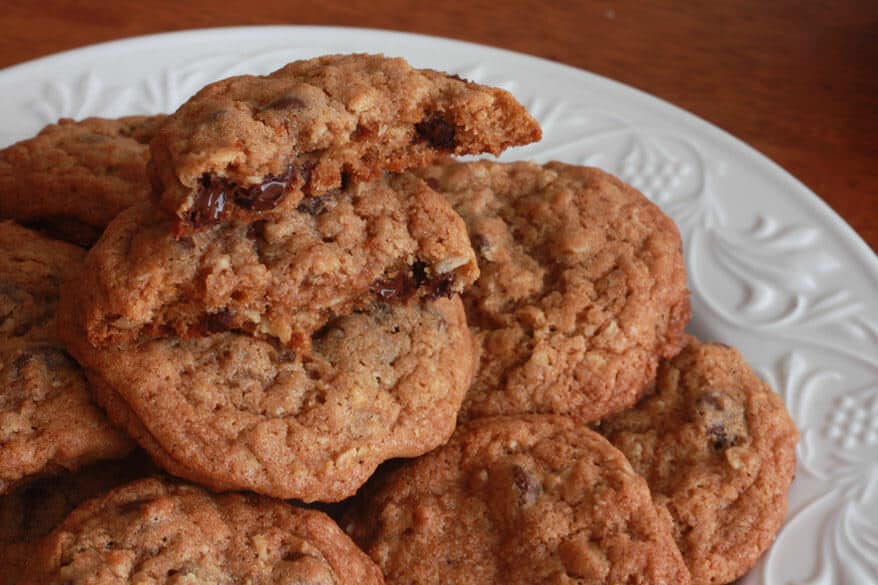 Fabulous flavor and texture, these cookies are a winning creation by my husband, Todd!
Todd has been making these since he was 10 years old for his family and friends, making a few changes here and there over the years to perfect them.  He likes to remind his sister of the many times she would eat up all the cookie dough before he had the chance to bake them (ah, those days glorious sibling squabbles).  In her defense, I like to remind him that all's fair in love and cookie-making.  If cookie dough is sitting unattended, it's fair game.  Period.
He made them for me when we first started dating and they definitely scored him a few points.  And since then there have been several times when I've had the ol' sweet craving hit me and Todd has whipped up a batch of these  – boy, do they hit the spot.  Fresh out of the oven with glass of cold milk – heaven!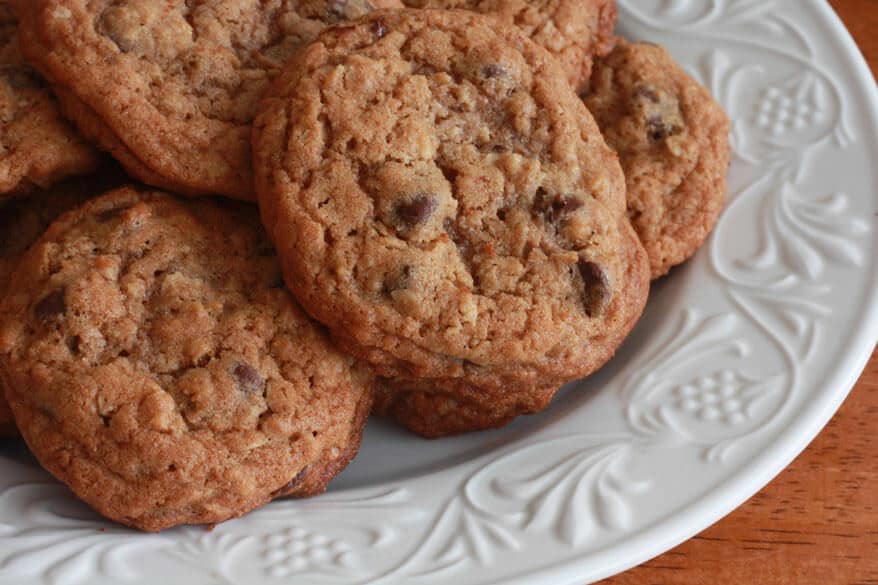 Todd always uses an ice cream scoop for the cookie dough, which is pretty convenient.  He also uses the Kitchenaid to make the batter, but I've changed the directions to the more standard method of making cookies for a couple of reasons:  1)  Not everyone has a stand mixer and 2)  I personally prefer the more traditional method of using a hand mixer and spoon to make cookies.
*  On second thought, I'll include the stand mixer directions as well for those who prefer to use it.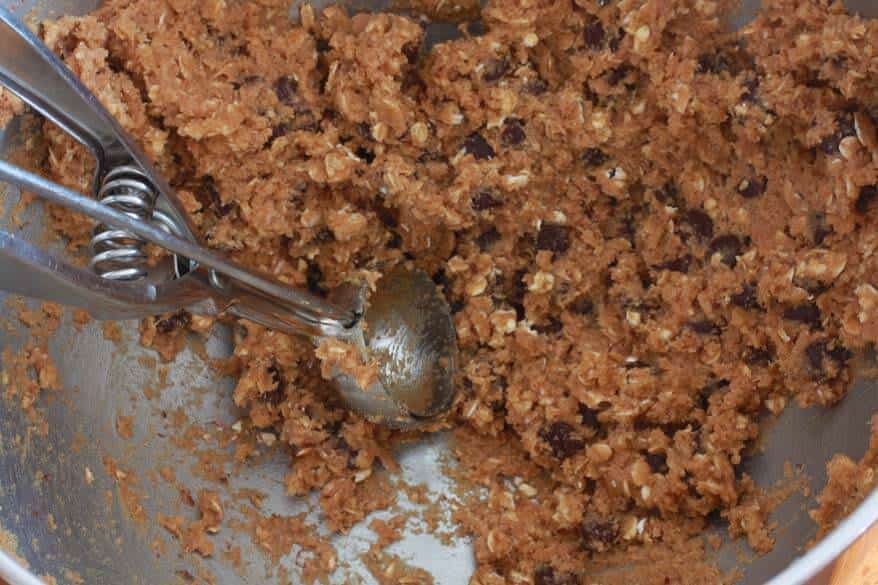 Enjoy!
Todd's Famous Whole Wheat Oatmeal Chocolate Chip Cookies
:
The Daring Gourmet, www.daringgourmet.com
Ingredients
2¼ cups whole wheat flour
1 teaspoon baking soda
1 teaspoon salt
½ cup white sugar
½ cup firmly packed brown sugar
2 sticks butter (1 cup), at room temperature
2 large eggs
1 teaspoon pure vanilla extract
1 cup rolled oats
1½ - 2 cups semisweet chocolate chips
Instructions
Preheat the oven to 375 degrees F.
In a large mixing bowl, cream the butter and sugars until pale in color and fluffy in texture. Add the eggs and vanilla extract and beat until combined.
In a separate bowl, combine the flour, baking soda, salt.
Add the flour mixture to the butter mixture and beat until combined. Add the oats and use a wooden spoon to stir until combined. Add the chocolate chips and stir until combined.
Drop the cookie batter onto a cookie sheet using an ice cream scoop or spoon, in about 1-inch rounds. Bake for 8-10 minutes.
Notes
For those who prefer to use the stand mixer to make the cookie dough: Use the paddle attachment to cream the butter and sugar, then add the eggs and vanilla extract and beat until combined. Then add the baking soda, salt, flour – mix that until thoroughly combined. Then add the oats, then add the chocolate chips.