Thank you to La Brea Bakery for sponsoring this post!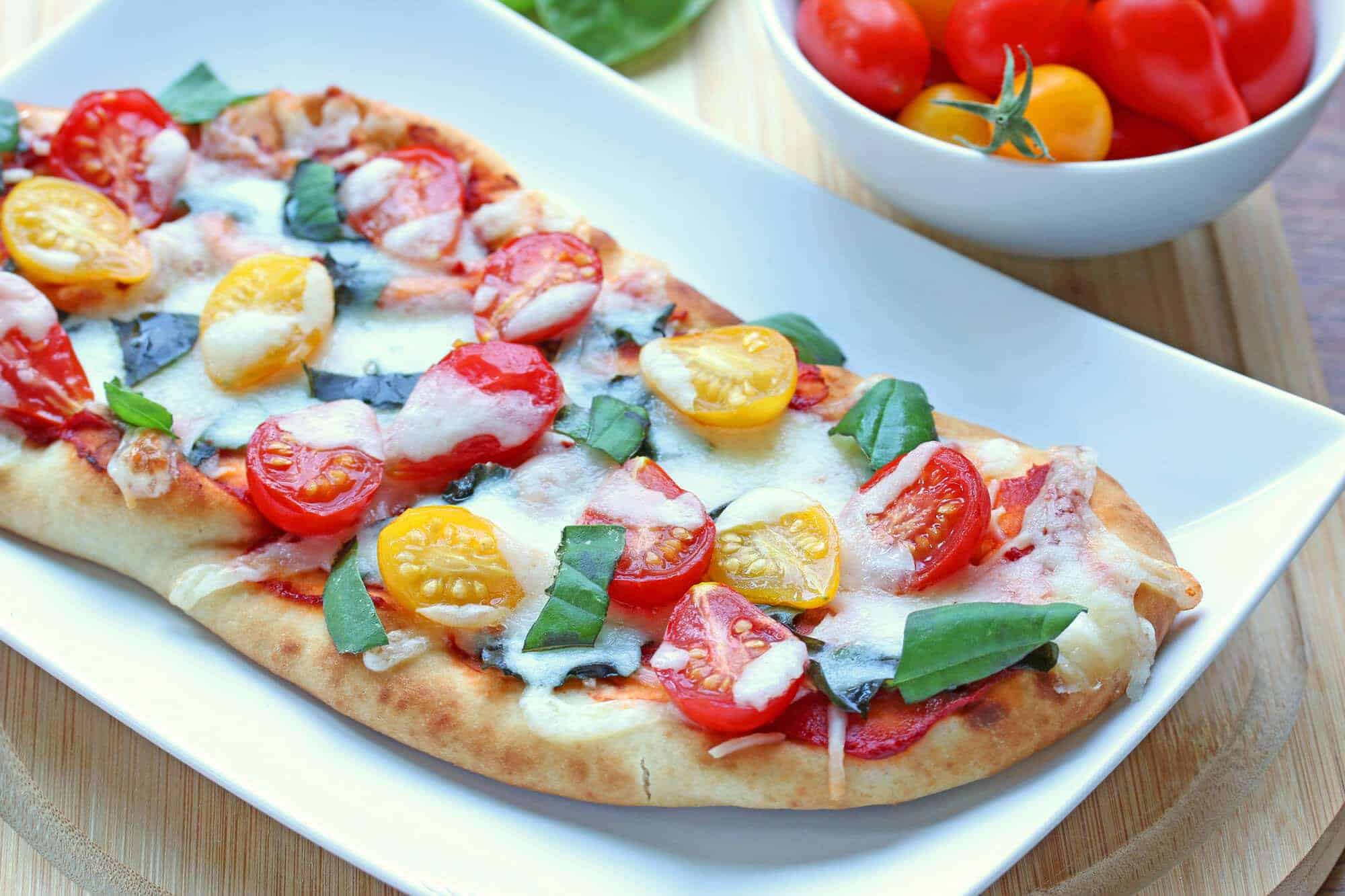 Pizza is pure bliss, don't you think?  There's just something about that crispy-chewy bread crust topped with sauce, oozing cheese and any variety of toppings that speaks universal comfort.
I enjoy all kinds of pizzas, everything from the quick and simple to the more time-consuming and elaborate.  Today we're going to make a pizza that's ready in 10 minutes, the perfect go-to snack, lunch or dinner when you're in a hurry.
For today's recipe we're recruiting the help of La Brea Bakery.  They're regularly ranked the nation's premier artisan bread and make over 200 varieties of hand-crafted bread.  They're made without any artificial flavors, colors or preservatives, are Kosher Pareve, and are the only national line that includes sprouted whole wheat flour.  For today's recipe we're featuring their Naan Flatbread.  What I love about their naan is its light and crispy texture and its versatility.  It's perfect for creating a whole range of appetizers and entrees or simply using it as a table bread to complement sauces and dips.
And I do have a small confession to make.  This bread is so good that I've gone to the store 4 times in the past two weeks just to get more of this Naan Flatbread along with La Brea Bakery's Telera Rolls!   It's just been so doggone fun creating quick and delicious meals with them.  We used the naan bread for making a variety of individual pizzas and also just put it under the broiler and cut them into wedges to accompany a family favorite, my Indian Red Lentil Dip.  The perfectly crispy exterior and light and chewy interior of La Brea Bakery's Naan Flatbread is so good!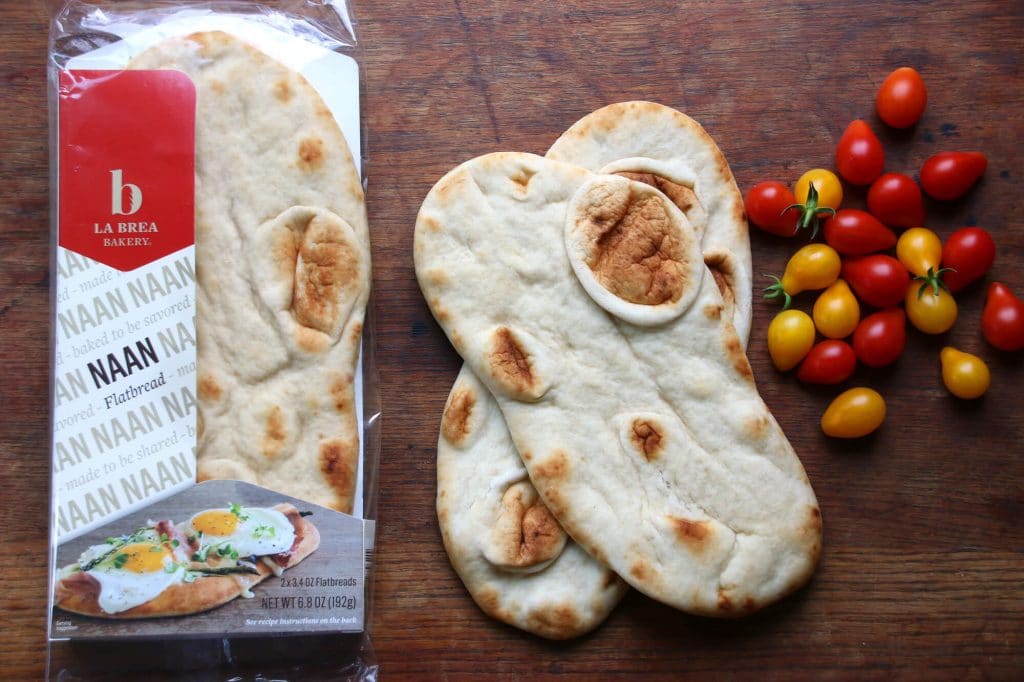 I LOVE BREAD.  Of any kind.  How about you?  According to a recent study, 92 percent of consumers believe that 'breaking bread,' or eating a meal with others, provides a great opportunity to catch up with friends and family.  And 74 percent believes a good meal always includes bread.  Do you agree?  To celebrate this love of bread, La Brea Bakery launched their Breaking Bread Tour, which traveled across country to eight cities this Summer, including my area of Seattle.
The tour is wrapping up this weekend and if you're lucky you can still catch them!
To further celebrate our love of bread, La Brea Bakery is going to share FOUR of their breads with TWO of you!  Two randomly chosen winners will each win the following artisan breads:  Sourdough Loaf, French Baguette, Ciabatta and Plain Naan Flatbread.  All you have to do to enter is leave a comment telling us why you love bread and/or your favorite way to enjoy it.  The winners will be contacted via email and if no response is received after 48 hours a another winner will be chosen.  This giveaway is open to U.S. residents and will end Friday, September 25th at midnight PST.
Okay, now let's talk about Pizza!
The texture and size of La Brea Bakery's naan flatbreads makes them perfect for quick individual pizzas.  And with a great crop of fresh tomatoes and basil in our garden, one of our favorite pizzas – Pizza Margherita – was the obvious choice for creating flatbread-style.  And you know what?  We haven't been able to get enough of them since because they're sooooo delicious!
Pizza Margherita is known for its simplicity of ingredients while yielding positively scrumptious results.  It's simply hard to beat that classic Italian combination of fresh vine-ripened tomatoes, sun-baked basil and oozing cheese.
These Margherita Flatbreads are something you can whip up in the spur of the moment and have a truly satisfying meal.  And if it happens to be Winter, well then you can enjoy these for a burst of Summer flavor to warm you over during the cold months!
Let's get started!
I used tomato paste instead of sauce for more intense tomato flavor.  Spread some on each flatbread.
Sprinkle with some Parmesan cheese and chopped fresh basil.
Top with some chopped tomatoes.
Sprinkle with shredded Mozzarella cheese.  That's it!  Now it's ready for the oven!
Preheat the oven to 400 degrees F and bake for about 5 minutes or until the cheese is melted and bubbly and just beginning to turn golden in a couple of spots.  Remove from the oven and let the flatbreads rest for a minute before serving.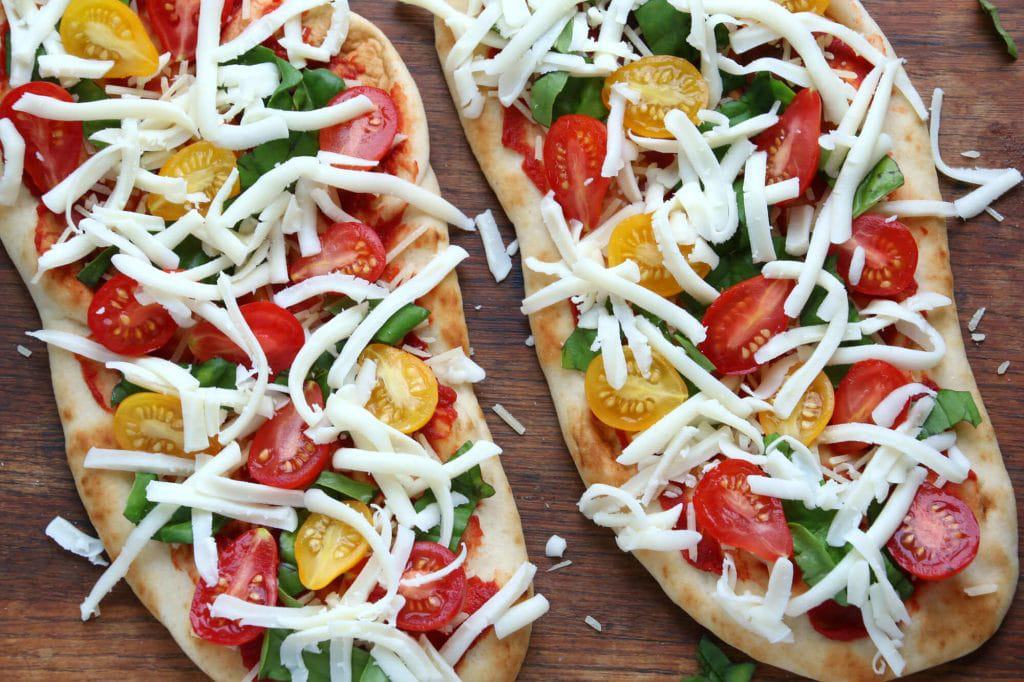 Enjoy!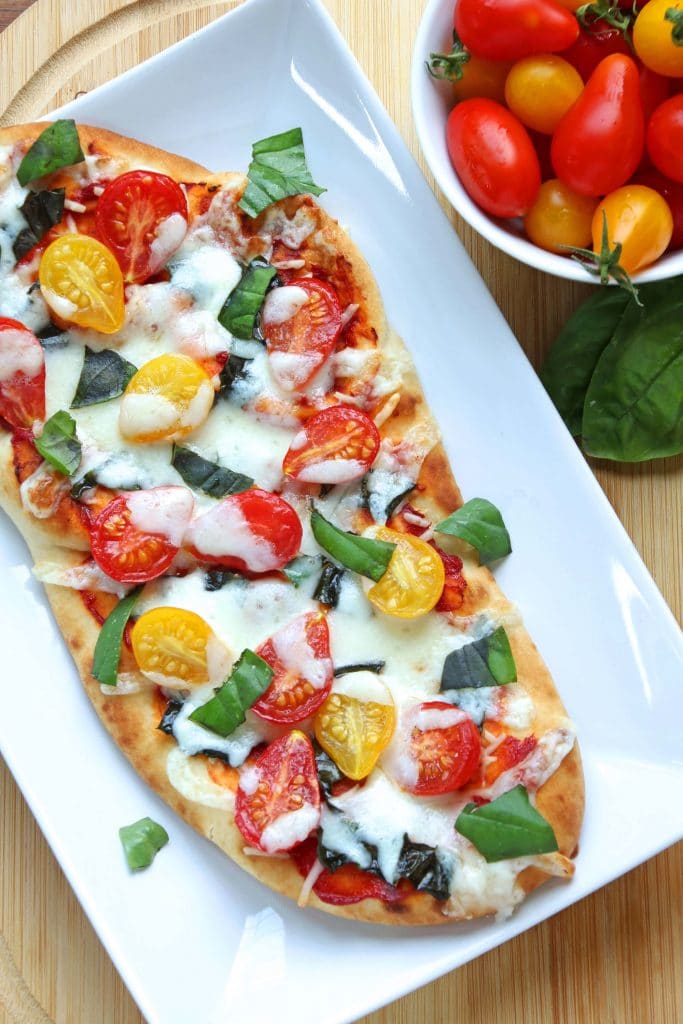 As simple as 1-2-3, these will be on the table or in your hands in just 10 minutes!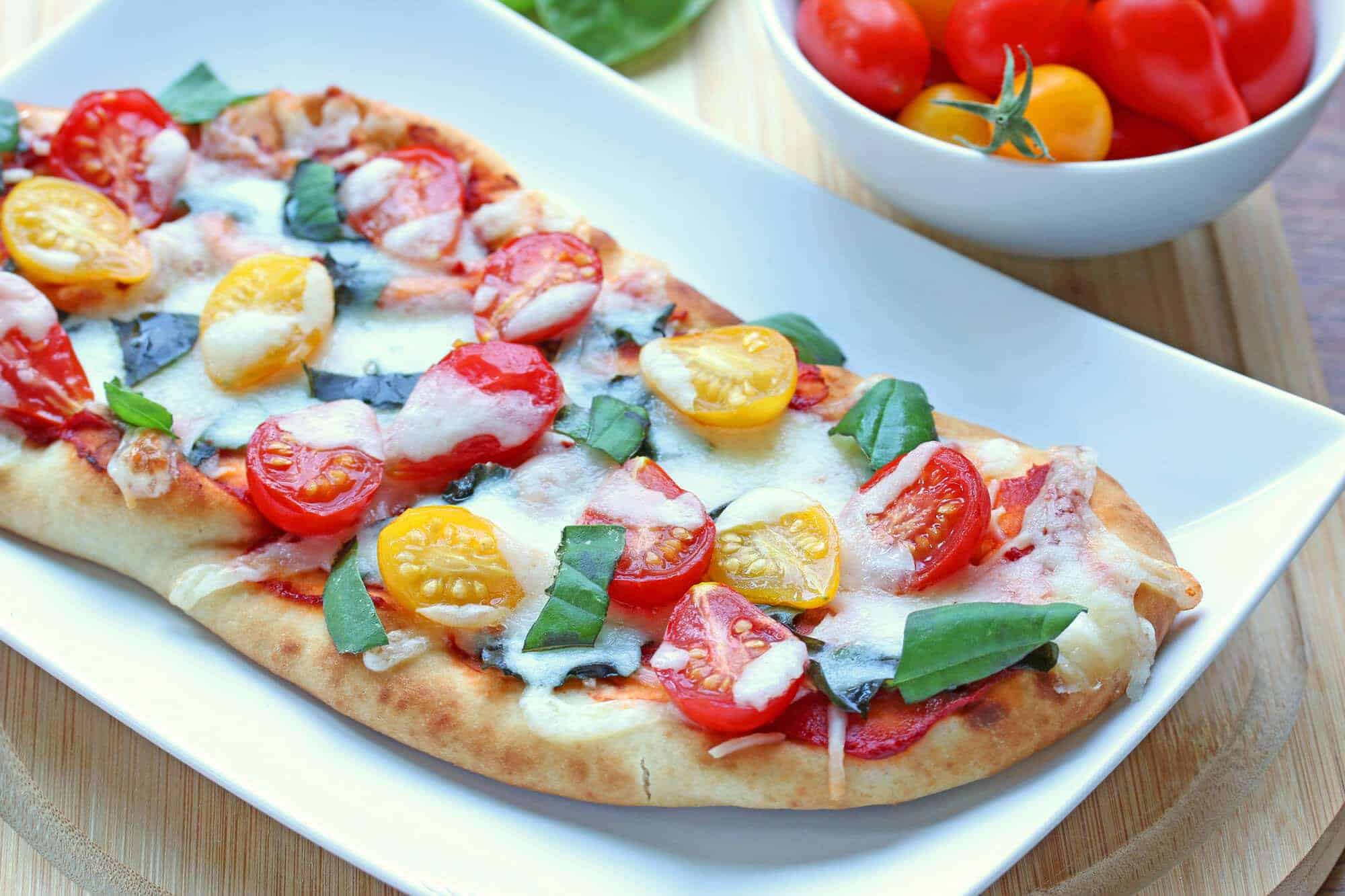 10-Minute Margherita Flatbreads
:
Kimberly Killebrew, www.daringgourmet.com
Ingredients
4 La Brea Bakery Naan Flatbreads or flatbread of choice
¼ cup tomato paste
¼ cup grated Parmesan cheese
½ cup chopped fresh basil
1½ cups chopped vine-ripened tomatoes (about ⅓ cup per flatbread)
1½ cup shredded Mozzarella cheese (about ⅓ cup per flatbread)
Instructions
Preheat the oven to 400 degrees F. (These are perfectly suited to a toaster oven)
Spread about a tablespoon of tomato paste on each flatbread, then sprinkle each one with about a tablespoon of Parmesan cheese followed by the basil. Top with the tomatoes and then sprinkle on the Mozzarella.
Bake for 4-5 minutes or until the Mozzarella starts bubbling and just barely begins to turn light golden in a couple of places. Remove from oven and let rest for a minute before serving.
Disclosure:  A special thank you to La Brea Bakery for sponsoring this post!  It's always a pleasure working with and sharing brands that I love.  As always, all opinions are entirely my own.