The classic German soft drink known as Apfelschorle, or apple spritzer!  Served in every German restaurant, Apfelschorle has been a popular drink for decades and is quick and easy to make.
Growing up in Stuttgart Germany, Apfelschorle was a staple every time we ate out.  My Oma and Opa would order their Pilsner or Hofbräu but for my brother and I and for my parents, Apfelschorle was standard.  Sweet but not overly sweet and refreshing from the carbonation, it was always a welcome accompaniment to every meal.  And of course not being pure apple juice it's also lower in calories – score!
What is Apfelschorle?
Apfelschorle, also known as Apfelsaftschorle, is German for apple spritzer or apple juice spritzer.  It's made by diluting fruit juice with carbonated water.  The combination of apple juice and carbonated water is so popular in Germany that you can buy it ready made in bottles.
Apfelschorle is so easy to make yourself and within just a minute or two you'll be enjoying one of Germany's most classic soft drinks.
Apfelschorle Recipe
Simply mix equal parts chilled apple juice and carbonated water in a glass.  That's all there's to it!
Apfelschorle typically consists of 40-60% apple juice but you can alter the ratio of apple juice to carbonated water according to your preference.  You can also adjust the fizziness left by selecting a carbonated water that's relatively weak or one that's strong.
To serve Apfelschorle like a true German, hold the ice.  Serving ice in soft drinks is uncommon in Europe at large and Germany is no exception.  Soft drinks are commonly served at room temperature.  But if you must have your drink ice cold feel free to bend the rules.
Enjoy!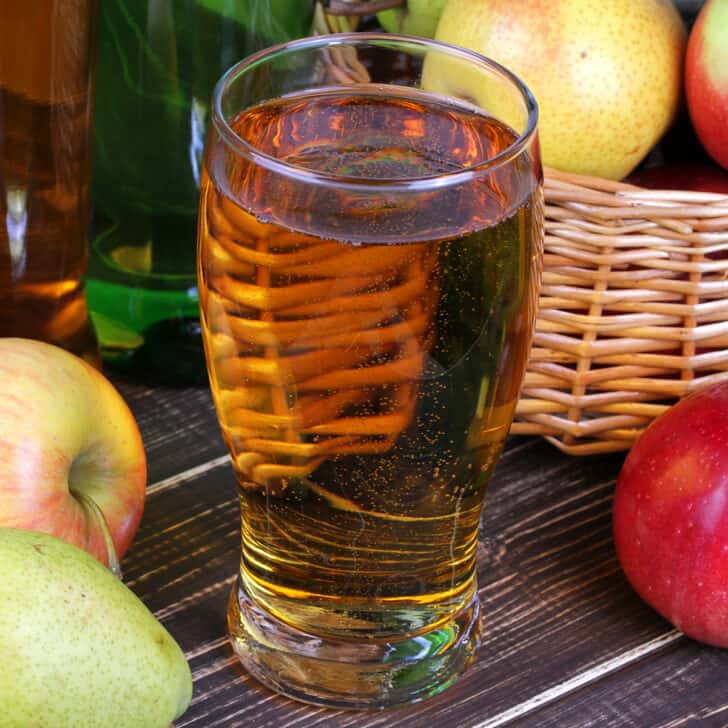 For more refreshing drinks be sure to try our: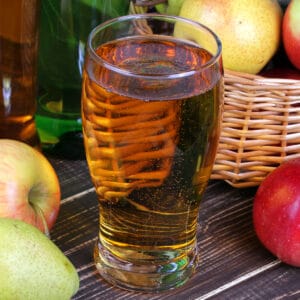 Apfelschorle (German Apple Spritzer)
The classic German soft drink known as Apfelschorle or apple spritzer!
Ingredients
16

ounces

apple juice

16

ounces

carbonated water or sparkling water
Instructions
Stir the apple juice and water together. Note: You can adjust the ratio of juice to water according to personal preference.

Serve at room temperature, chilled, or with ice cubes.
Nutrition
Serving:
8
ounces
|
Calories:
52
kcal
|
Carbohydrates:
13
g
|
Protein:
1
g
|
Fat:
1
g
|
Saturated Fat:
1
g
|
Polyunsaturated Fat:
1
g
|
Monounsaturated Fat:
1
g
|
Sodium:
28
mg
|
Potassium:
117
mg
|
Fiber:
1
g
|
Sugar:
11
g
|
Vitamin A:
1
IU
|
Vitamin C:
1
mg
|
Calcium:
15
mg
|
Iron:
1
mg