As an Amazon Associate I earn from qualifying purchases.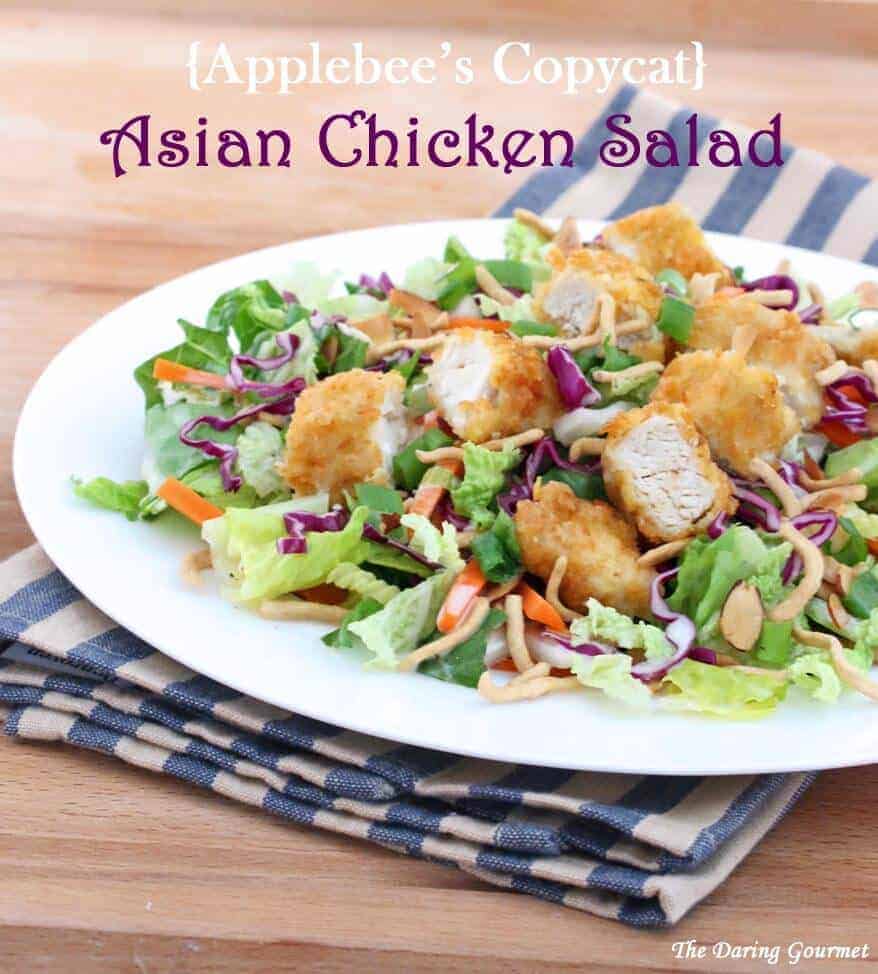 One of my most favorite restaurant salads.  Now you can make it at home for a fraction of the cost and it tastes as good, or better, as the "real thing"!
Call me cheap.  But I'm often very grudging when it comes to ordering entree salads at restaurants.  I mean, it's hard justifying paying $15+ for a pile of lettuce when I can get chicken or pork or steak with sides for the same price.  Same goes for pasta dishes.  The profit margin on salads and pasta is enormous!  I'm not saying I never order salads or pasta at restaurants.  I do.  I just often feel a little irked about it.
So when I come across salad or pasta dishes that I particularly like at restaurants, I'll often work to recreate them at home.  For example, my twist on Romano's Macaroni Grill Pasta Milano.  (It's gooooood!).  And that's just what I did with Applebee's Asian Chicken Salad.
I moved to the U.S. from Europe about 10 years ago and funnily, this salad is one of the first restaurant dishes I had after moving here.  I think the very first restaurant I visited was the Olive Garden.  Some friends invited me for lunch and we had their soup and salad.  That was my first introduction to restaurants in America.  And I think Applebee's was next.  That was for a date.  And no, I didn't order a salad because I wanted to come across as "dainty" (you know me better than that – give me FOOD!), I ordered it because it sounded good.  Yes, basically a $1.57 meal with a 10 times higher price tag.  But hey, I wasn't paying for it…
Many of you have had this salad at Applebee's and know how good it is.  For those of you who haven't, you're in for a treat.
And you don't have to wait to make this salad in its entirety before being able to enjoy some of its elements.  This salad dressing is simply marvelous!  I make it all the time for regular salads, too.
This salad can conveniently be made ahead.  Just cover and refrigerate the salad (up to several hours ahead), keep the dressing in the fridge (up to several days ahead), and the fried chicken (several hours ahead – just be sure to reheat in the oven, not microwave, so it crisps up again).  Ideally though, make the salad and dressing ahead, but make the chicken just before serving.
So there you have it!  A wonderfully satisfying, delicious entree salad that is guaranteed to become a family and entertaining favorite!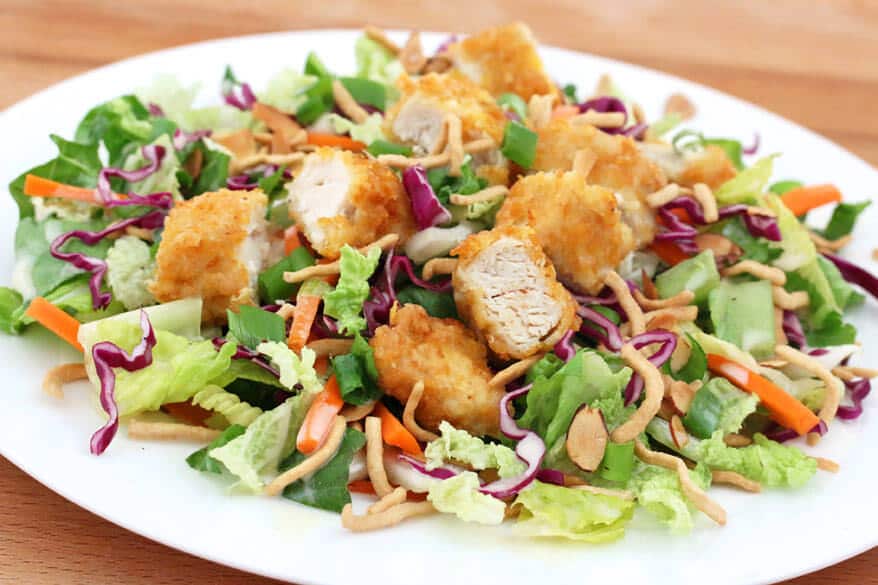 Let's get started!
Combine the salad dressing ingredients, shake thoroughly until combined.  Refrigerate until ready to use.
Combine the salad materials in a large bowl, reserving the green onions.
Whisk together the buttermilk and eggs in a medium bowl.
Combine the flour, crushed cornflakes and salt in a medium shallow bowl.
Slice the chicken breast into strips.
Dip the chicken strips into the buttermilk/egg mixture then dredge in the flour/cornflake mixture until coated on all sides.
Heat the oil to 375 degrees F and, working in batches, fry the chicken until it's a deep golden brown, about 7-8 minutes.
Drain the chicken strips on paper towels.  Divide the salad among plates.  Slice the chicken strips, arrange them on top of the salad, sprinkle with toasted almonds, chow mein noodles, and green onions and serve with the Asian Dressing.
Enjoy!
Asian food lovers, don't forget to check out this recipe for the Best Homemade Teriyaki Sauce!

Applebee's Oriental Chicken Salad (Copycat)
Ingredients
For the Salad:
4 cups romaine lettuce, chopped
2 cups Napa cabbage, chopped
1½ cups red cabbage, thinly sliced
¾ cup julienned carrots
3 green onions, sliced
¼ cup toasted sliced almonds
1 cup chow mein noodles
For the Chicken:
2 large boneless, skinless chicken breasts, cut into strips
2 large eggs
½ cup buttermilk
1 cup crushed cornflakes
¾ cup all-purpose flour
¾ teaspoon salt
Oil for deep-frying (alternatively, you can fry the chicken strips in a pan)
For the Asian Dressing:
1 cup mayonnaise
½ cup honey
⅓ cup Chinese rice vinegar
4 teaspoons Dijon mustard
4 teaspoons quality toasted sesame oil
½ teaspoon salt
½ teaspoon freshly ground black pepper
Instructions
Place all the dressing ingredients in a container with a lid and shake until thoroughly combined. Refrigerate until ready to use.
Combine all the salad ingredients, reserving the green onions. Cover and refrigerate.
Heat the oil to 375 degrees F.
Whisk the eggs and buttermilk together in a medium bowl. Using another medium shallow bowl, combine the crushed cornflakes, flour and salt.
Dip the chicken strips into the egg mixture, then dredge in the cornflake mixture, coating all sides.
Working in batches, fry the chicken strips until deep golden brown, about 7-8 minutes. Drain on paper towels and slice.
Arrange the salad on the plates, top with some sliced chicken in the center, sprinkle with toasted almonds, chow mein noodles, green onions, and serve with the Asian dressing.