Your favorite dried onion dip that comes in the envelope at the grocery store can be made right at home – and it's healthier!  This French Onion Dip Mix recipe is a breeze to make.  It takes just 2 minutes to put together, the dried mix stores for a good couple of months, you can make several batches in advance to conveniently have on hand, and it makes cute gifts too!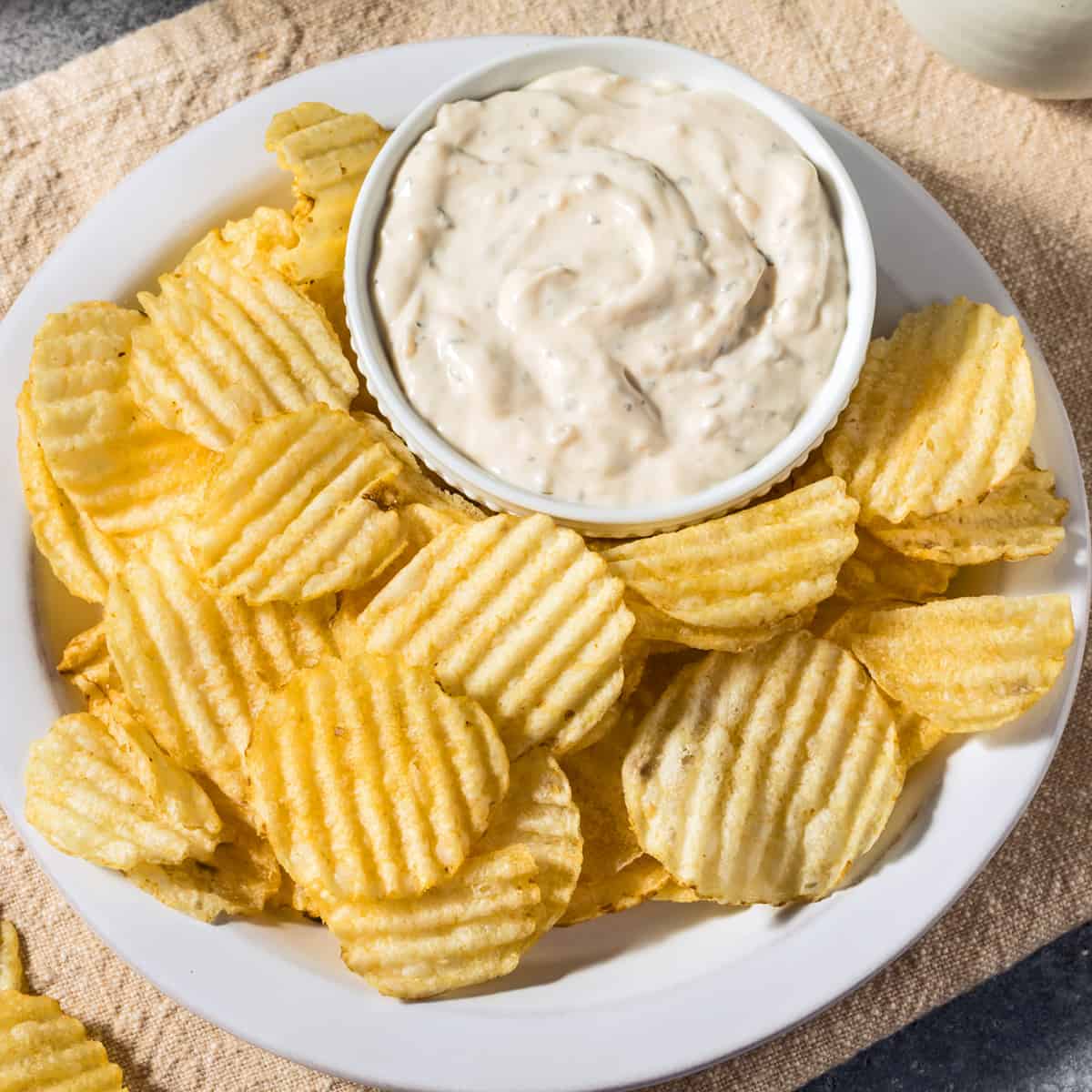 Just as I've admitted in the past that I like boxed Rice a Roni, I'll also admit that I like the Lipton onion dip mix stuff.  You know, the stuff in the envelope that can be used to make soup or dip?  I've never used it to make soup but as a dip it tastes pretty darn good.  Tear open the envelope, pour the contents into a bowl of sour cream, stir, refrigerate for 30 minutes, pull out a bag of your favorite potato chips, sit back and munch away.  It has been an American classic for over 70 years.
That said, I only very rarely eat it because I try to avoid pre-packaged food items in general.  And so I developed a copycat version of it.  The inclusion of the beef broth granules means it's not 100% from-scratch, but it's still a healthier alternative to the store-bought dip mix.  So here is my copycat Lipton onion dip mix recipe you can throw together in just 2 minutes and I think you'll love the results.  AND it also makes a cute gift idea all wrapped up with a ribbon and a card with preparation instructions!
This dried onion dip mix recipe is the equivalent of one envelope of the store-bought stuff and can be stored in an airtight jar for a good couple of months.  When you're ready to make it, simply stir into one 16 ounce container of sour cream, chill for at least 30 minutes, and serve!  You can make a few batches in advance to keep on hand.
Ways to Jazz It Up
If you'd like to amplify the flavor of this French onion dip mix try adding some fresh herbs like chives and/or parsley, a few drops of Worcestershires sauce for a dose of umami, or swap out some of the sour cream with cream cheese or creme fraiche for added richness.  For a tangier flavor profile you can also replace the sour cream with Greek yogurt.  Like a little heat?  Add a pinch or two of cayenne pepper or a splash of hot sauce.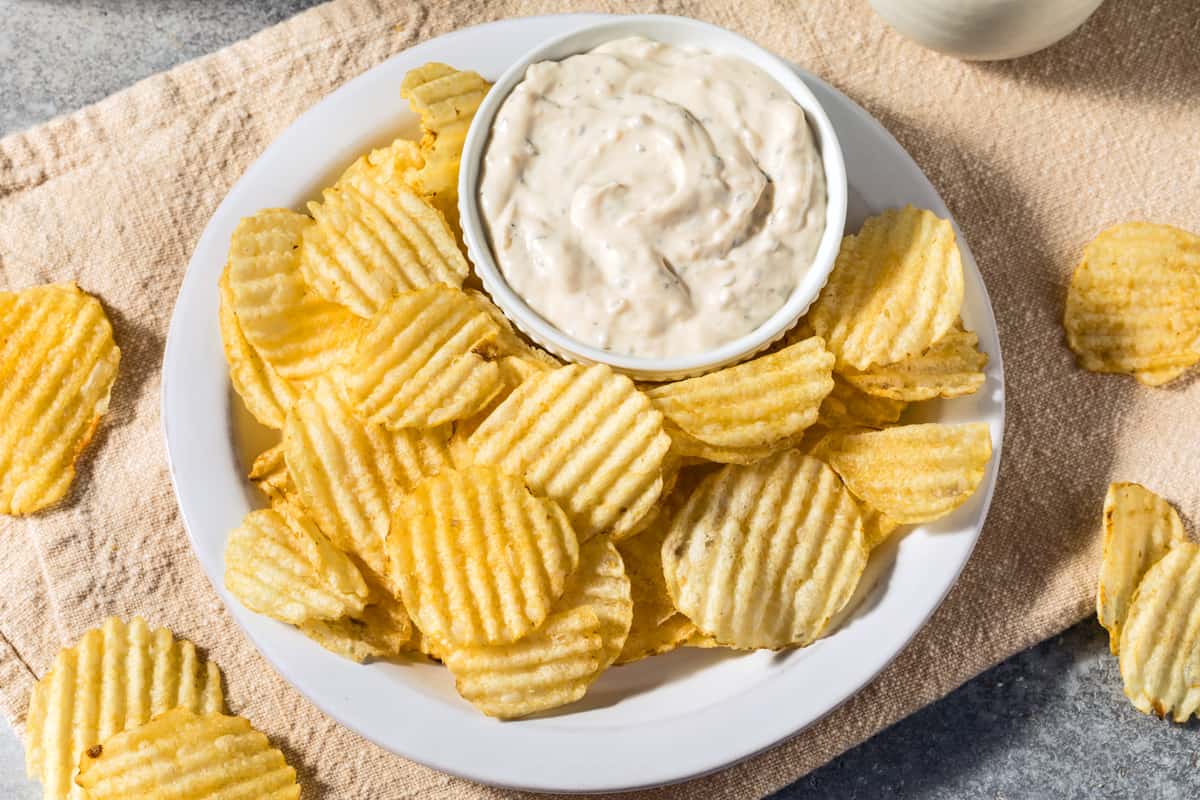 Can This Be Made Ahead?
Absolutely and it tastes much better the next day!  This dried onion dip mix can be made prepared as much as 3-4 days in advance.  Give it a stir before serving.
What To Serve with French Onion Dip
French onion dip is a delicious and creamy dip that pairs well with a variety of snacks. Here are some popular options to serve alongside French onion dip:
Potato Chips
Vegetables like carrot sticks, celery, bell pepper strips, sugar snap peas, cucumber slices, and cherry tomatoes.
Pretzels
Crackers
Breadsticks, Cheese Straws or Toasted Pita Wedges
Dipping Bread or Bread Bowls – hollow out a bread loaf and fill it with the French onion dip or serve it alongside chunks of bread for dipping.
French Onion Dip Mix Recipe
Let's get started!
To make the French onion dip mix, combine everything but the sour cream in a small bowl.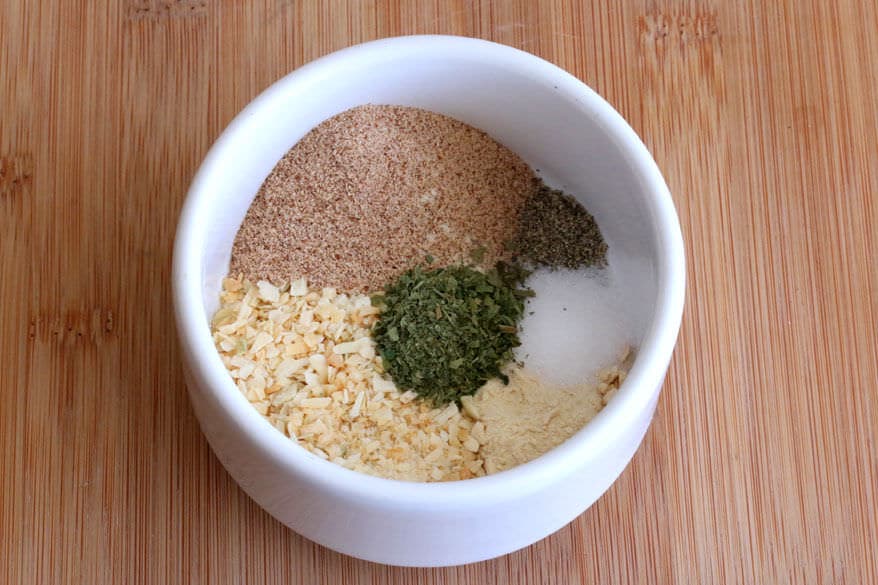 Add the dip mix to the sour cream in a medium-sized bowl.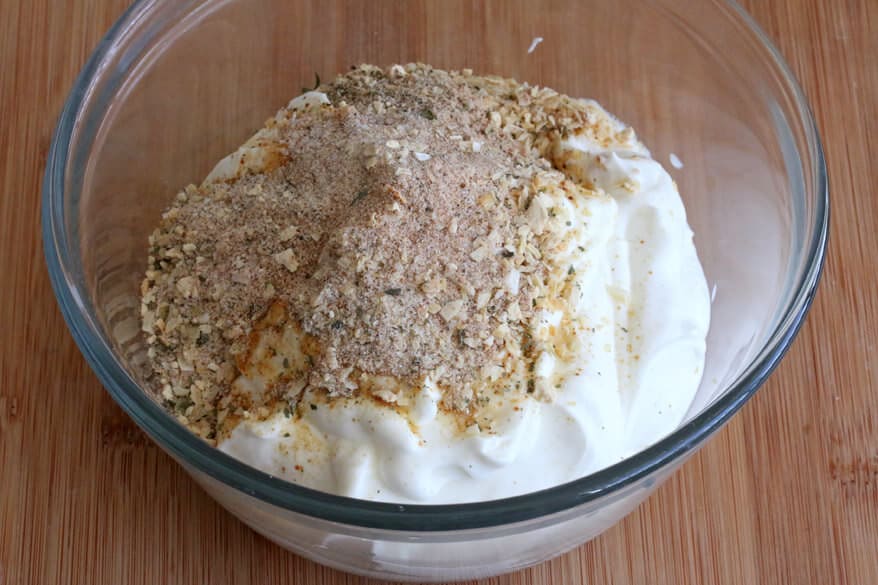 Stir to thoroughly combine and refrigerate for at least 30 minutes, preferably an hour, before using.
Give it another stir before serving.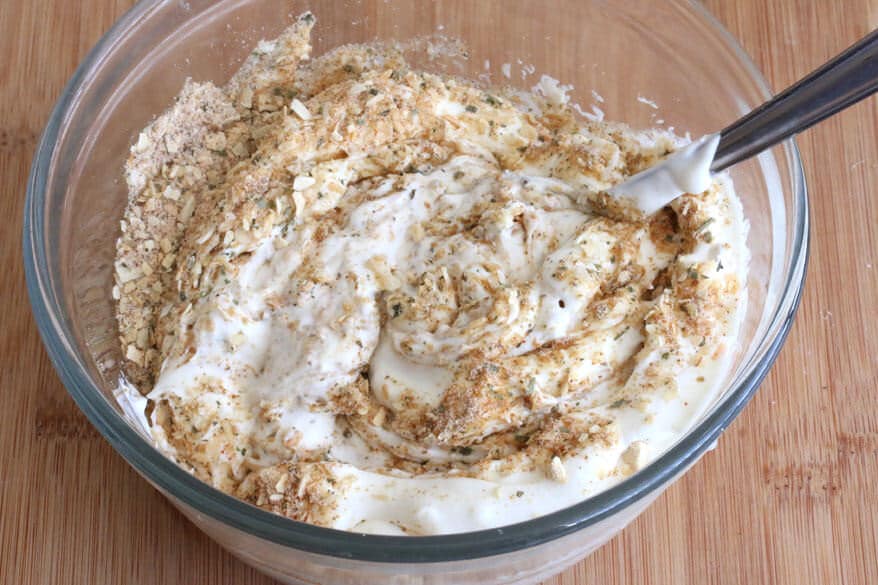 This can be made 3-4 days in advance and will keep in the fridge for up to a week.
Store it in the fridge in an airtight container.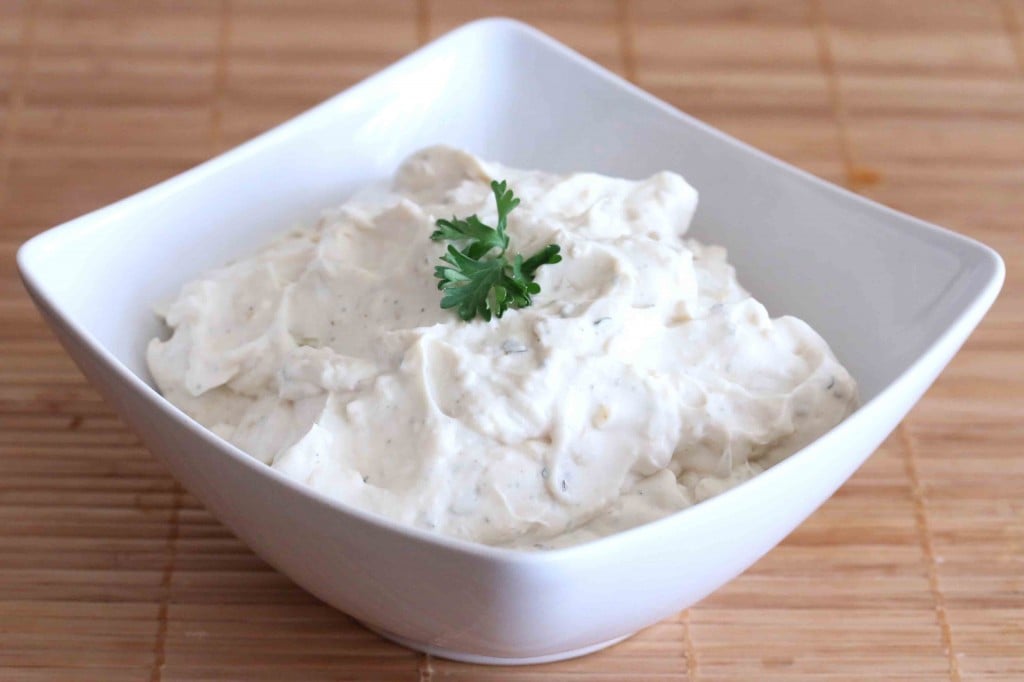 Serve it with potato chips, pita chips, crackers, pretzels, breadsticks, or veggies.
Enjoy!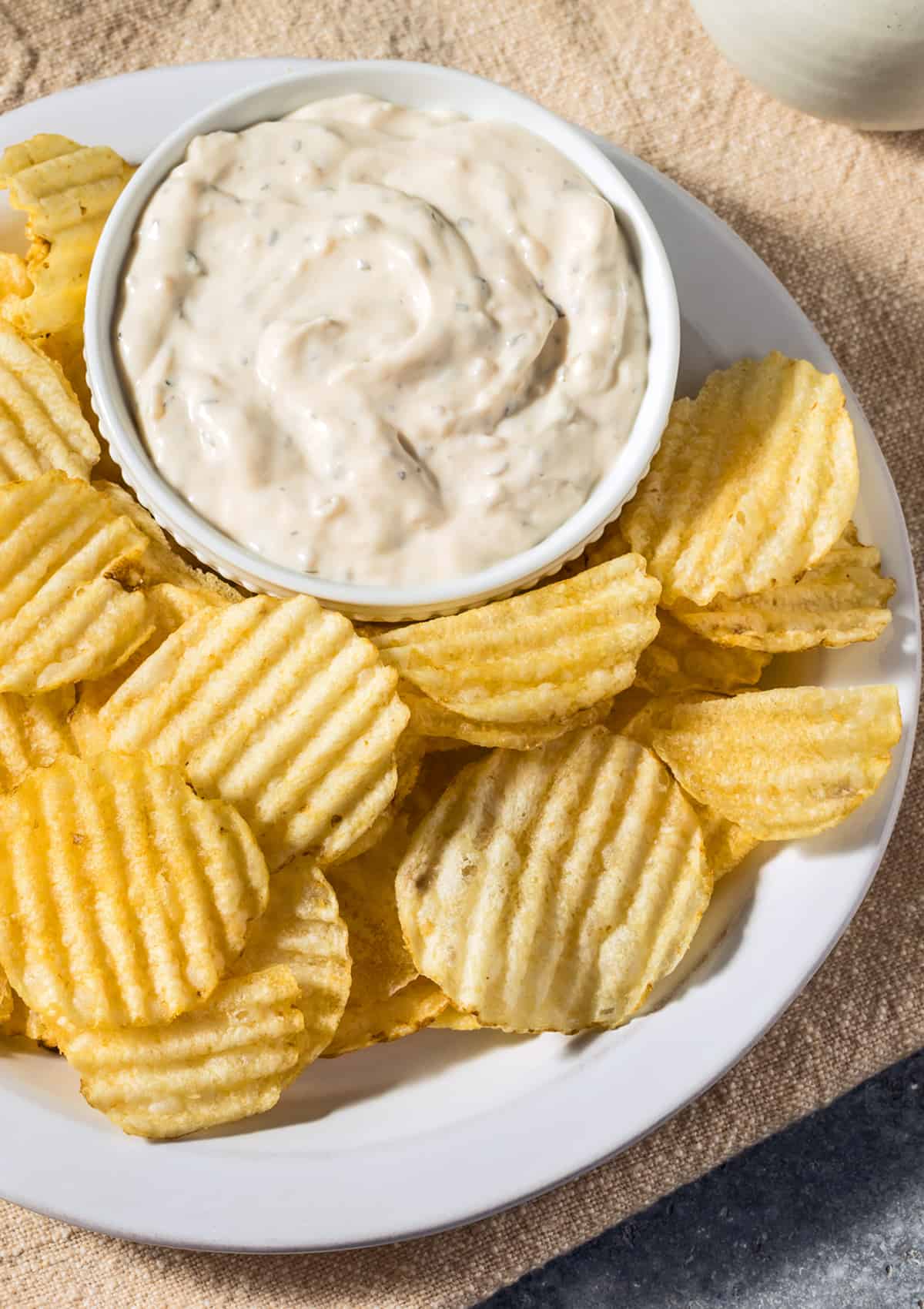 For more delicious dips and spread be sure to try our: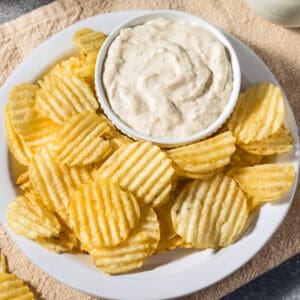 French Onion Dip Mix (Copycat)
This copycat French Onion Dip Mix is super quick and easy to make, stores for several weeks and tastes fantastic!
Ingredients
For the French Onion Dip Mix:

1 1/2

tablespoons

beef bouillon powder

2

tablespoons

dried minced onions

1 1/2

teaspoons

onion powder

1/4

teaspoon

freshly ground black pepper

1/2

teaspoon

sugar

1

teaspoon

dried parsley

To Serve:

16

ounces

sour cream
Instructions
Combine the seasoning ingredients in a small bowl or or jar. If not using immediately, store it in an airtight jar. Will keep for up to 2 months.

When ready to use, place the sour cream in a medium-sized bowl and stir in the dip mix. Let it refrigerate for at least 30 minutes, preferably an hour, before using. Store in an airtight container in the fridge. Will keep for up to a week. Serve with potato chips, crackers, breadsticks, pita chips, pretzels, or fresh vegetables.

Makes about 2 cups of prepared dip.
Nutrition
Serving:
0.25
cup
|
Calories:
121
kcal
|
Carbohydrates:
4
g
|
Protein:
2
g
|
Fat:
11
g
|
Saturated Fat:
6
g
|
Polyunsaturated Fat:
0.5
g
|
Monounsaturated Fat:
3
g
|
Cholesterol:
33
mg
|
Sodium:
243
mg
|
Potassium:
100
mg
|
Fiber:
0.2
g
|
Sugar:
3
g
|
Vitamin A:
354
IU
|
Vitamin C:
2
mg
|
Calcium:
63
mg
|
Iron:
0.1
mg
Originally published on The Daring Gourmet June 22, 2015