This black olive tapenade recipe combines figs, walnuts, honey, herbs and roquefort for an unforgettably flavorful feast for the senses!  It's delicious as a sandwich spread and incredible spread on crispy baguette rounds for five star entertaining that will WOW your guests!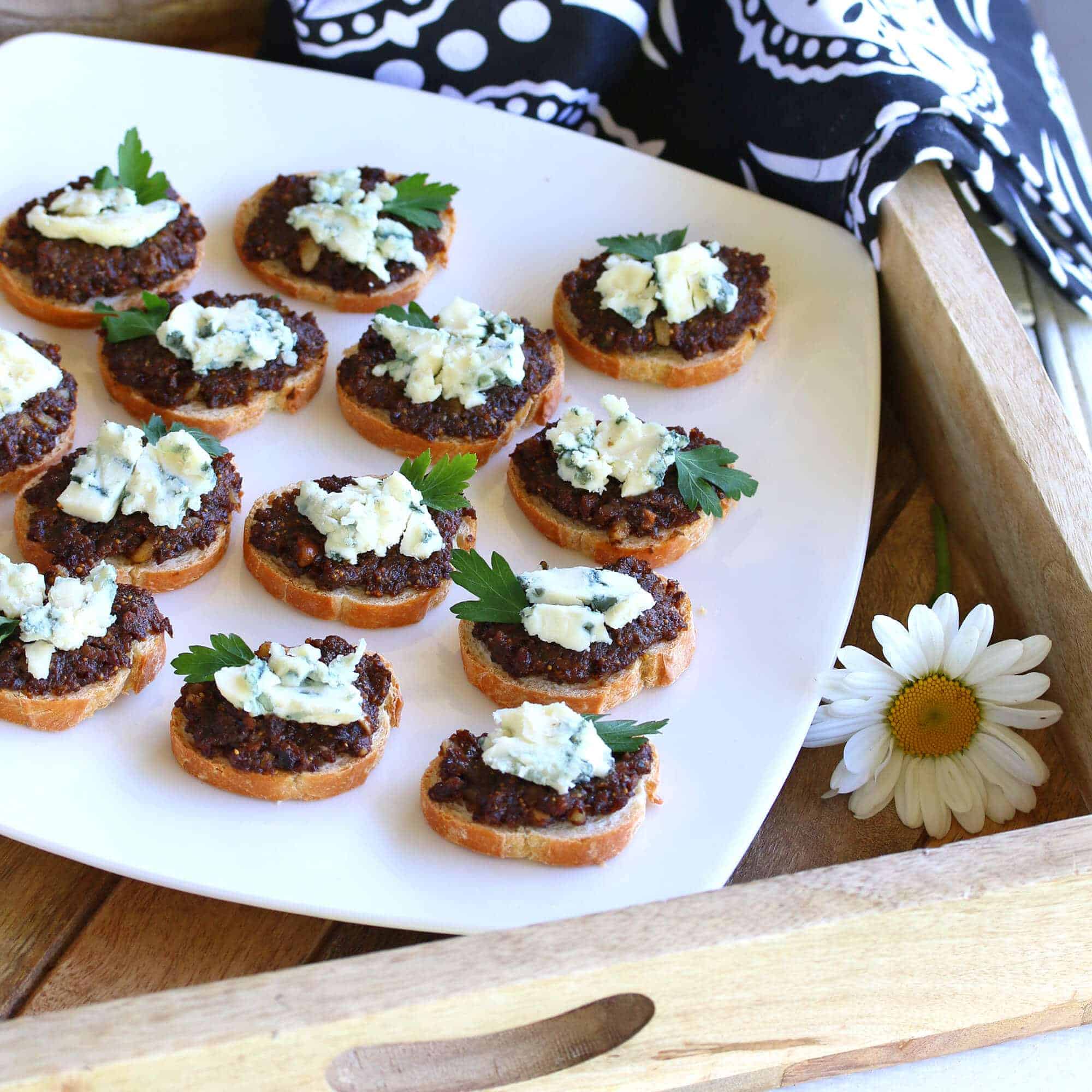 Today's Black Olive Tapenade recipe features one of the most influential foods in the world's history – olives – and takes us to the Provence region of southern France.  Olives were first introduced to Marseilles by the Phoenicians 2500 years ago and since their introduction, olives have played a very prominent role in southern France's culture and cuisine.
On one of our previous trips to southern France we spent time exploring Avignon, Nimes and the ancient Roman aqueduct at Pont du Gard.  The latter had some gorgeous old olive trees that we had to stop and admire.  Although France ranks 12th in the world in terms of olive production, its olive oil is considered among the very best and most of it comes from this region.  We still have a bottle of premium Provencal olive oil that we've been stingily holding onto for the right occasion.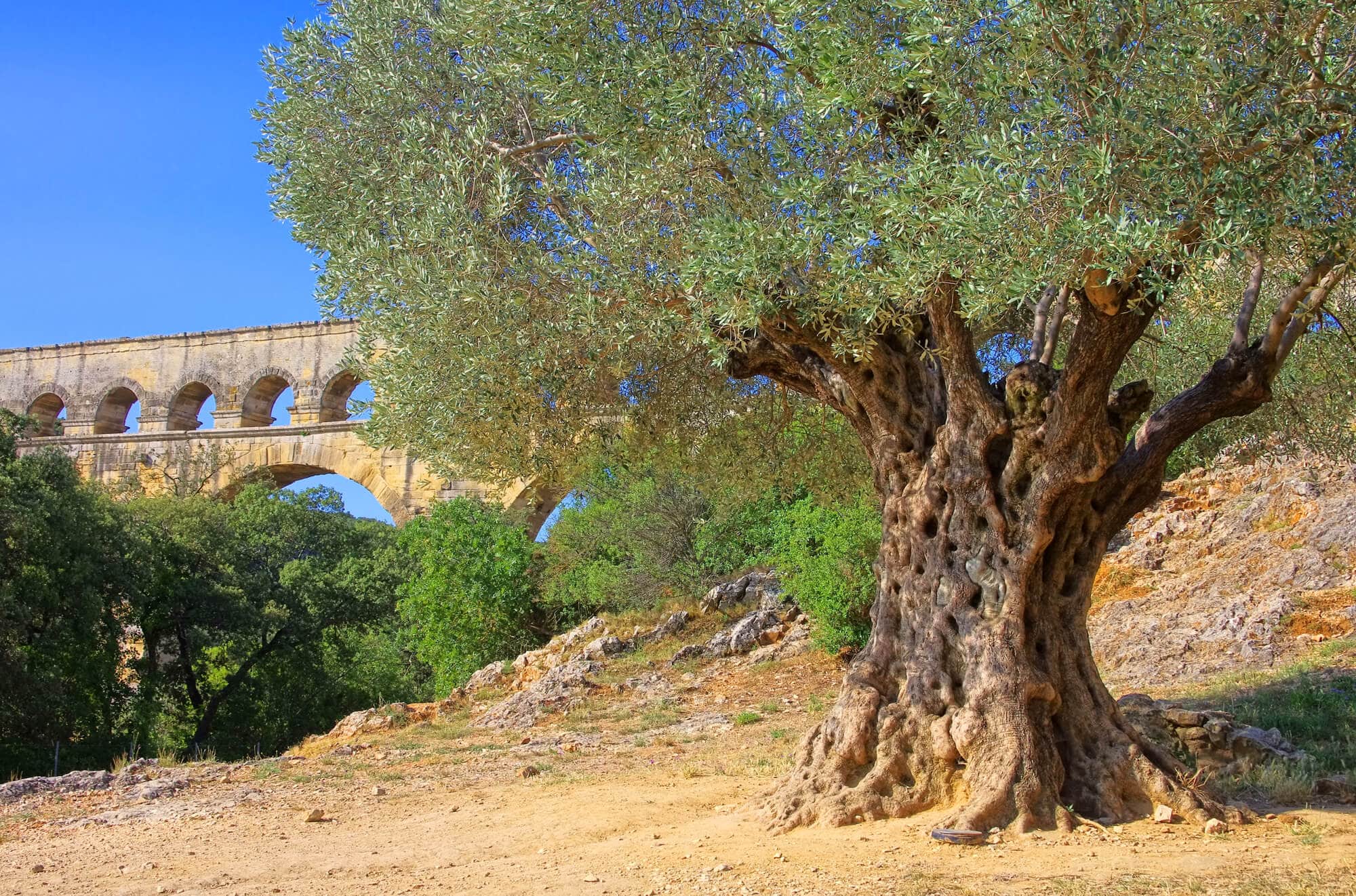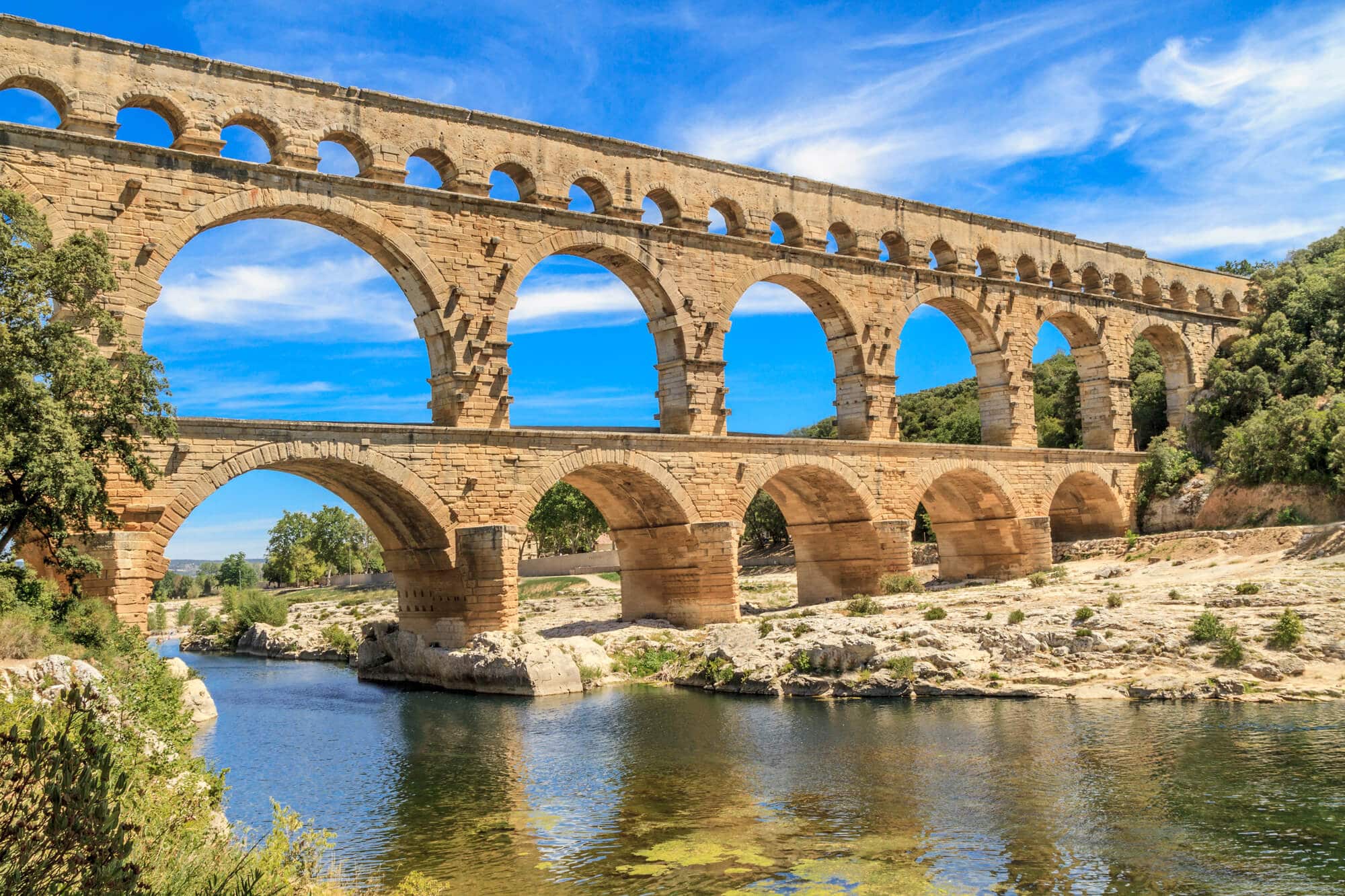 What is Tapenade?
Southern France is known for a variety of dishes and tapenade is among the most popular.  Tapenade is a Provençal name for a spread that's made from puréed or very finely chopped olives, capers and sometimes anchovies.  
It's served spread on sandwiches and also served as hors d'oeuvres.  You can stop at French bakeries and cafes throughout the region and get crusty baguettes slathered with a variety of different tapenades, each unique to their particular area.  Depending on the region, tapenade can include such ingredients as garlic, herbs, anchovies, lemon juice or brandy.  
Where Did Tapenade Originate?
What's interesting is the name tapenade, which is the Provencal word for capers, tapenas. 
Capers traditionally were the prominent ingredient of tapenade with olives playing a more secondary role.  Like olives, capers also have a long tradition in southern France and were likewise first introduced to Marseilles by the Greeks.
But the dish actually predates its name and goes back to the time of Ancient Rome where olives were originally the primary ingredient.  Olives were crushed with a mortar and pestle along with olive oil and herbs and served with a variety of flatbreads fresh from the hearth.
And though at some point capers took over as the prominent ingredient in tapenade, over time that role was reversed with olives once again taking front and center stage.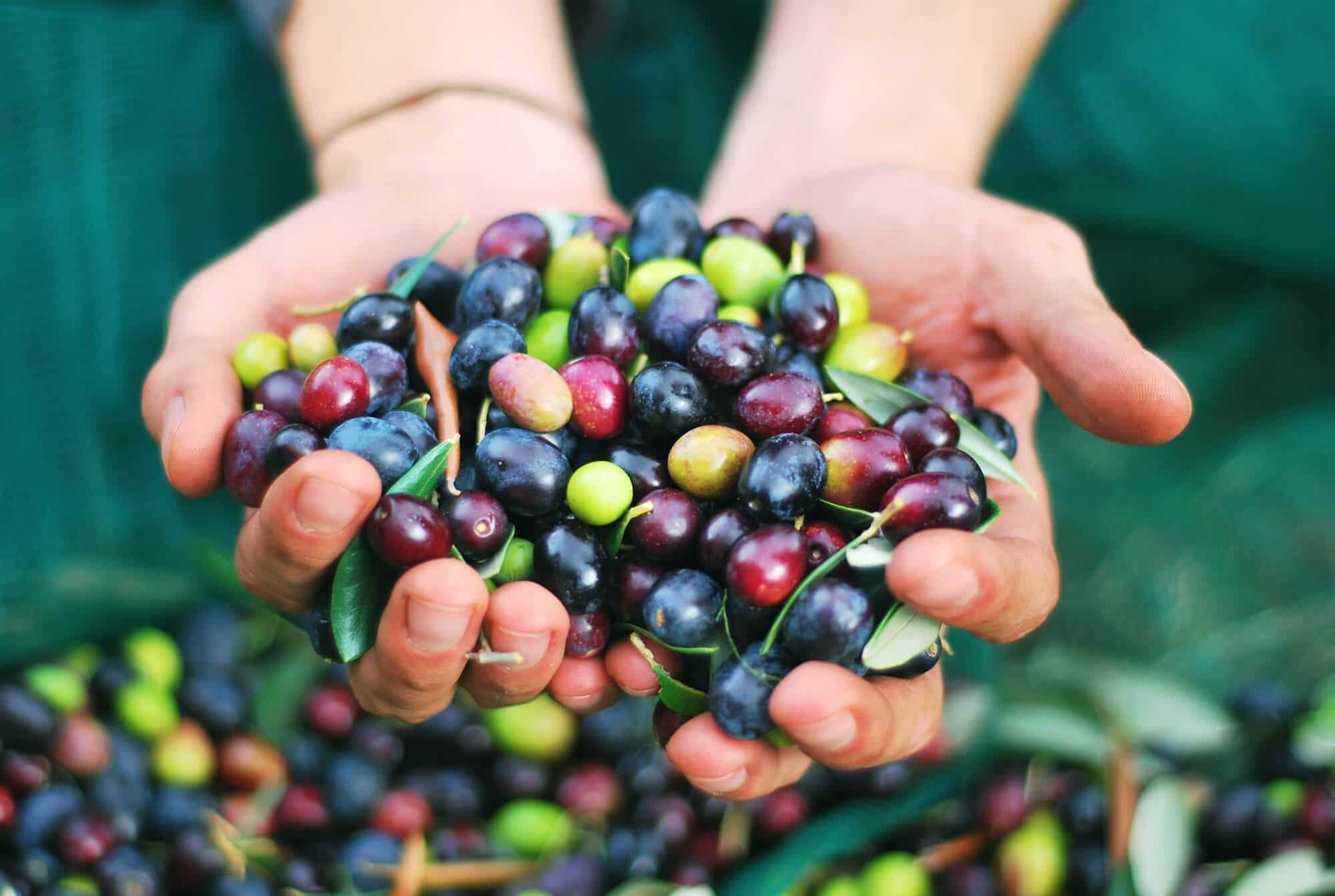 Lea Rojec/Shutterstock
Black Olive Tapenade with Figs and Roquefort
Traditionally black olives were used in tapenade and that's what we're using today.  They have a nice mild, nutty flavor.  
We're adding capers which contribute a sharp, piquant and salty flavor.  The capers beautifully complement the sweet and fruity flavors of the figs and honey.
Like olives and capers, figs also have a very long tradition in southern France.  In fact they form a very integral part of local history in some parts of the Midi-Pyrenees region.  One village, Le Mas-d'Azil, in the foothills of the Pyrenees about 90 minutes from Toulouse, has an annual fig festival, the Fête de la Figue, whose origins go back to the 1800's.
matka_Wariatka/Shutterstock
Another ingredient from southern France that we're featuring in today's dish is Roquefort, one of the world's most famous blue cheeses.  Legend has it that the cheese was discovered by a young man who, seeking shelter from the noon sun, ate his lunch of bread and sheep's milk cheese in the nearby Cambalou caves.  While eating he saw a beautiful young woman in the distance, set his food down and went running after her.  When he returned a few months later, the mold in the cave had transformed his cheese into Roquefort.
Today Roquefort has a protected destination of origin and EU laws dictate that only those cheeses aged in the Combalou caves of Roquefort-sur-Soulzon can bear the name Roquefort.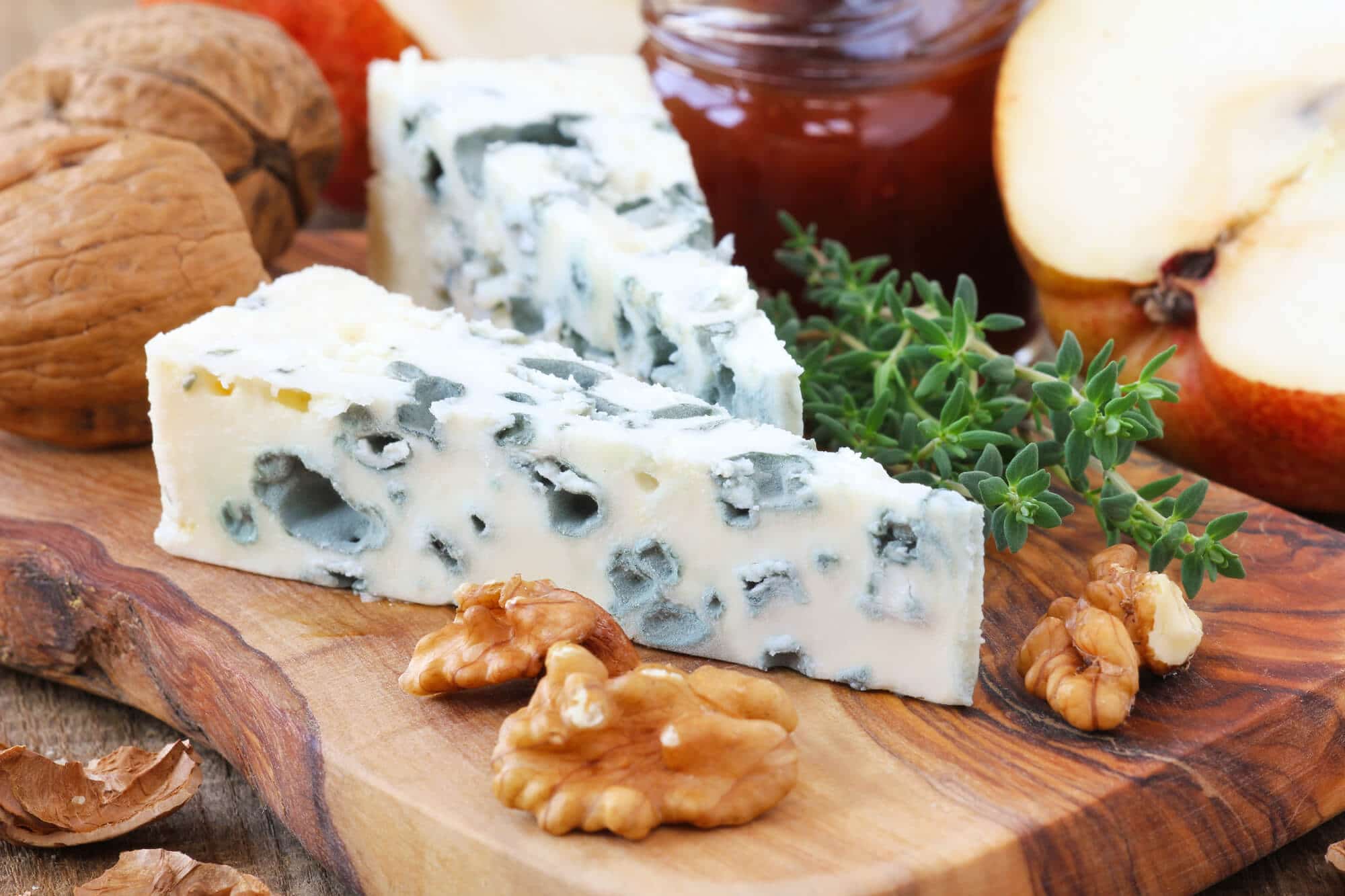 kuvona/Shutterstock
So what happens when you combine these flavors with some garlic, herbs, toasted walnuts and honey?
You get this magnificent Black Olive Tapenade with Figs and Roquefort!
If you can't find Roquefort you can use either blue cheese or gorgonzola.  The sharp, salty flavor of the Roquefort or blue cheese is the perfect contrast to the sweet flavors of the black figs and honey.
Incredibly fast and easy to throw together, this Black Olive and Fig Tapenade with Roquefort makes the perfect hors d'oeuvres for holiday entertaining or any special gathering.
Black Olive Tapenade Recipe
Let's get started!
Place all the ingredients, except for the walnuts, in a food processor and pulse until chunky-smooth.  You want it smooth enough to spread without it being a paste.
Scrape the tapenade into a medium-sized bowl and stir in the chopped toasted walnuts.
Refrigerate for at least 4 hours before serving.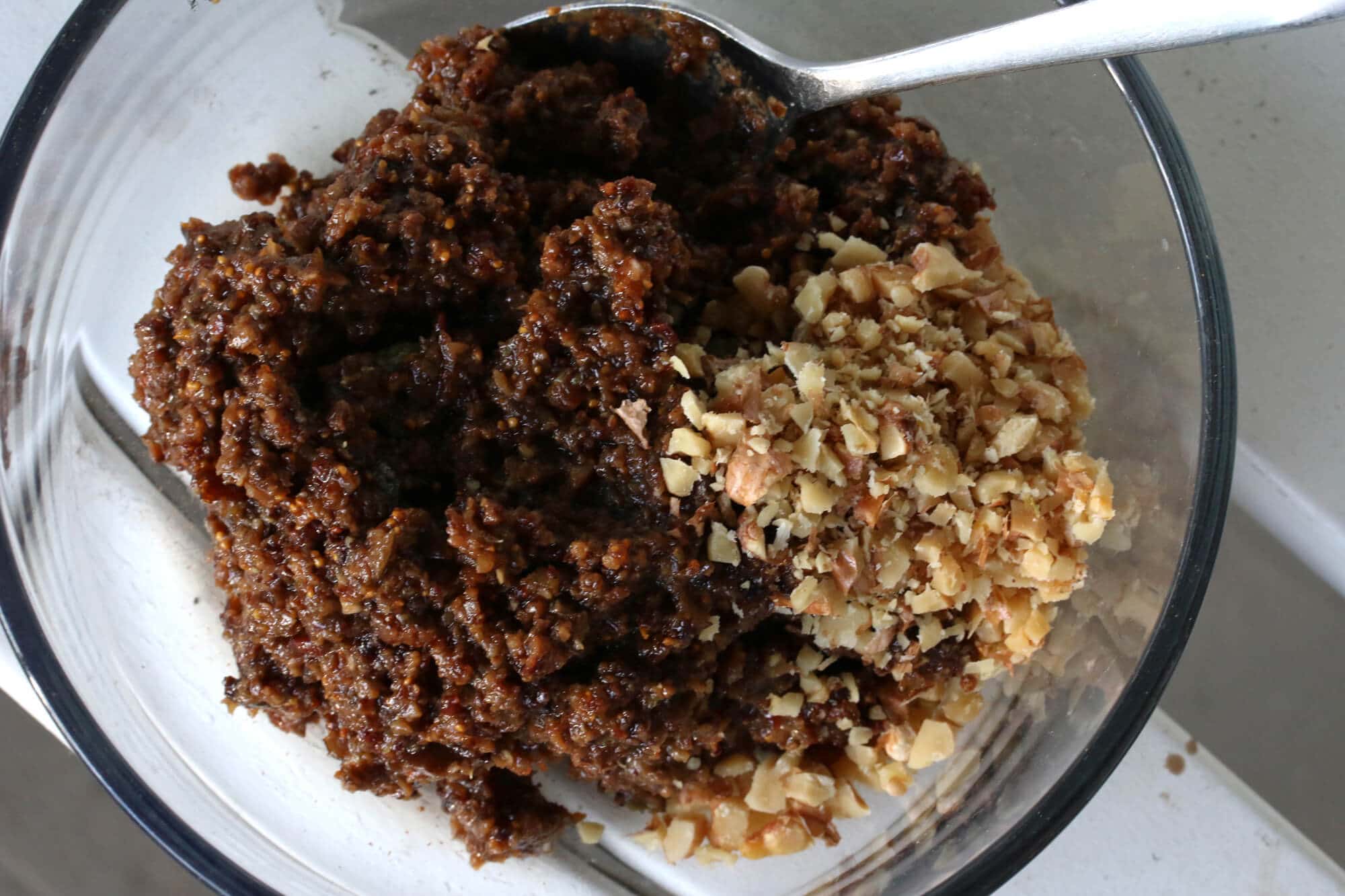 Slice a baguette into 1/4 inch rounds, lay them on a cookie sheet and lightly toast them in the oven.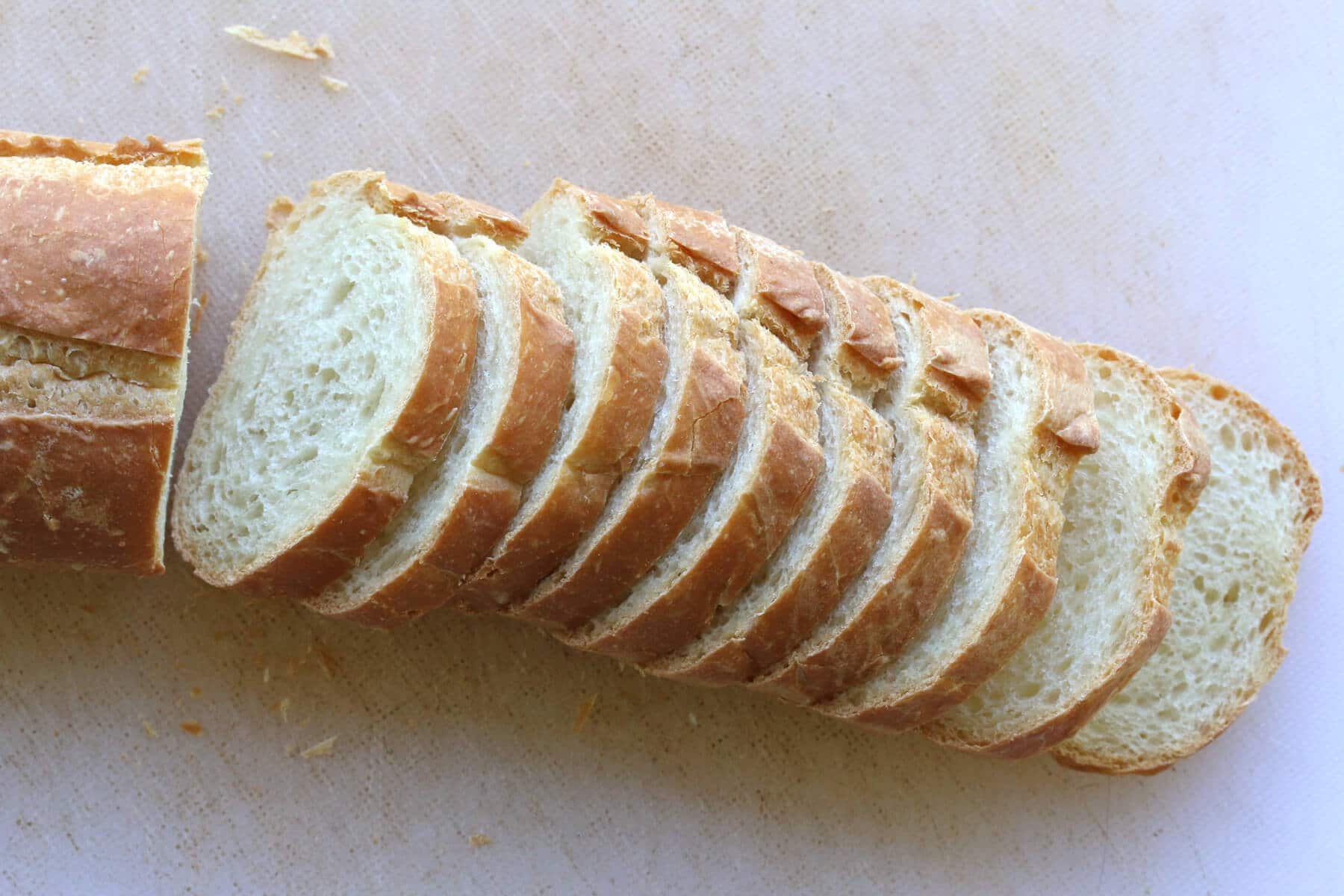 Spread them with some tapenade.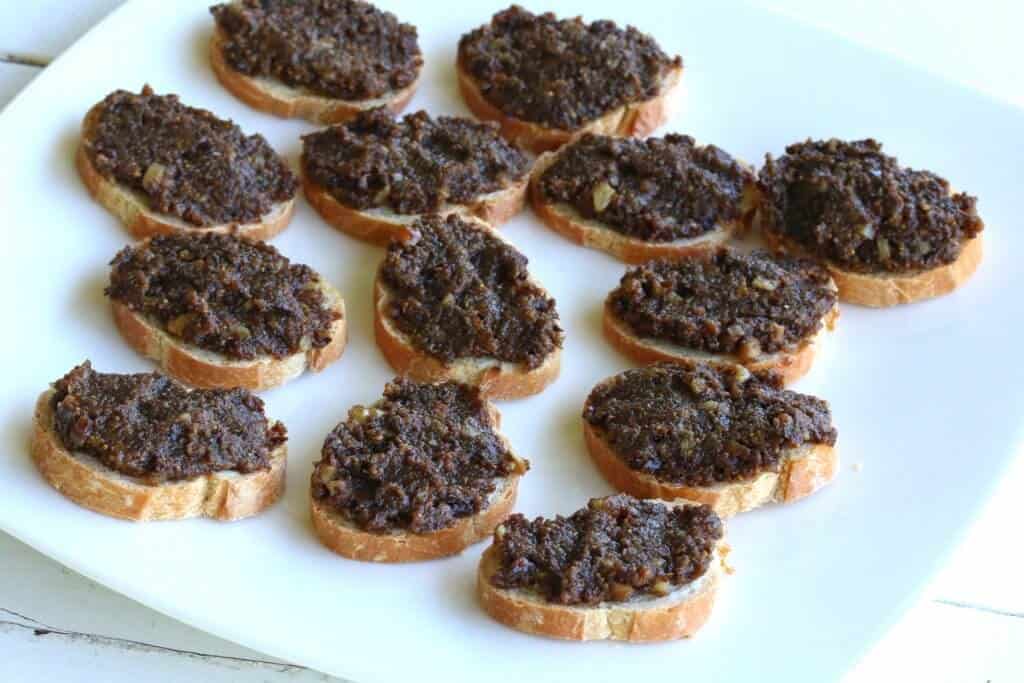 Top with some Roquefort or other blue cheese.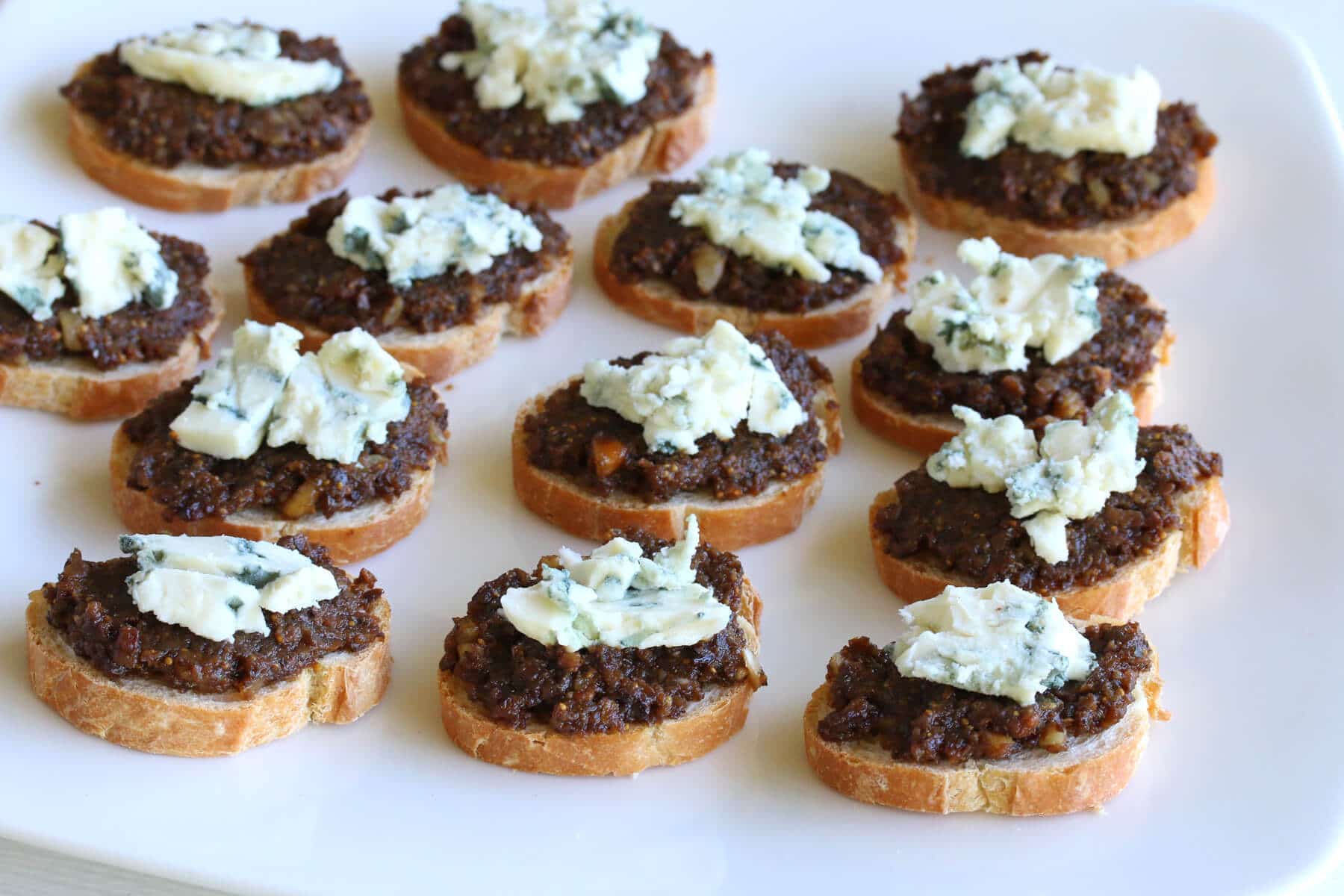 Garnish with a sprig of flat-leaf parsley.
Enjoy!

For more delicious dips and spread be sure to try our: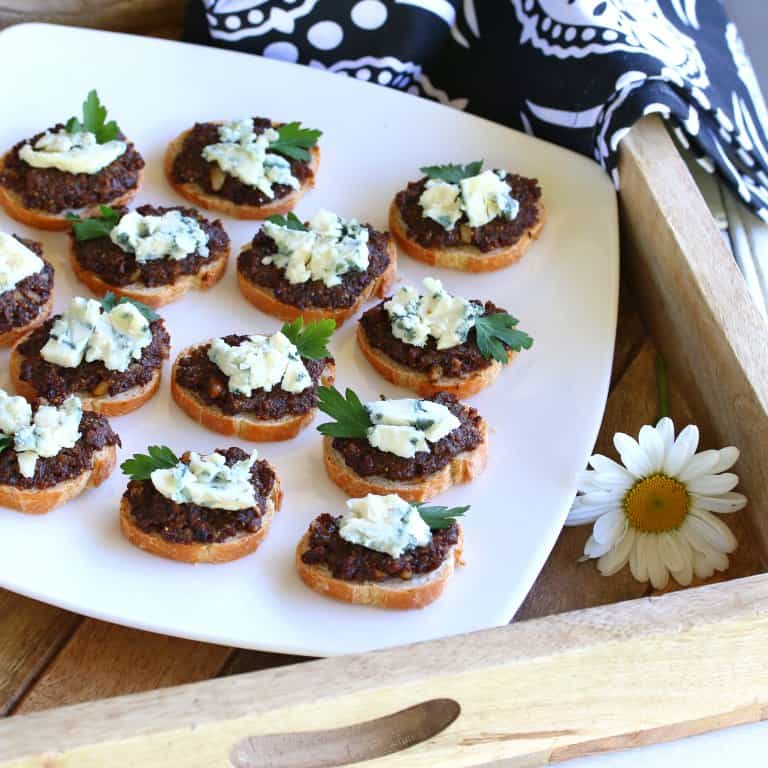 Black Olive Tapenade with Figs and Roquefort
Get ready to absolutely WOW your guests with this delicious tapenade bursting with the flavors of southern France!
Ingredients
1

cup

black olives

, rinsed and drained

1/2

cup

dried halved black mission figs

2

teaspoons

capers

, rinsed and drained

1

clove

garlic

, roughly chopped

3/4

teaspoon

fresh thyme leaves

1/8

teaspoon

fresh orange zest

1/4

teaspoon

salt

1/8

teaspoon

freshly ground black pepper

1

teaspoon

honey

(vegan: use sugar syrup or agave)

1 1/2

teaspoons

dark balsamic vinegar

1/4

cup

extra virgin olive oil

2

tablespoons

chopped toasted walnuts

baguette sliced into rounds and lightly toasted

, for serving (Gluten Free: Use GF bread or crackers)

small shards/shavings of Roquefort, gorgonzola or blue cheese

, for serving (vegan: use blue cheese substitute such as "Sheesh")

fresh flat-leafed parsley

, for garnish
Instructions
Place the first ten ingredients in a food processor and pulse to finely chop. Add the oil and walnuts and pulse to form a chunky paste.

Spread the tapenade on the baguettes and top with the Roquefort or blue cheese and a tiny sprig of parsley for garnish.

Note: The flavor is best after the ingredients have had some time to meld.
Nutrition
Serving:
2
tablespoons
|
Calories:
128
kcal
|
Carbohydrates:
8
g
|
Protein:
1
g
|
Fat:
11
g
|
Saturated Fat:
1
g
|
Polyunsaturated Fat:
2
g
|
Monounsaturated Fat:
7
g
|
Sodium:
351
mg
|
Potassium:
86
mg
|
Fiber:
2
g
|
Sugar:
5
g
|
Vitamin A:
78
IU
|
Vitamin C:
1
mg
|
Calcium:
29
mg
|
Iron:
0.4
mg
Originally published on The Daring Gourmet on November 25, 2016