This post contains affiliate links.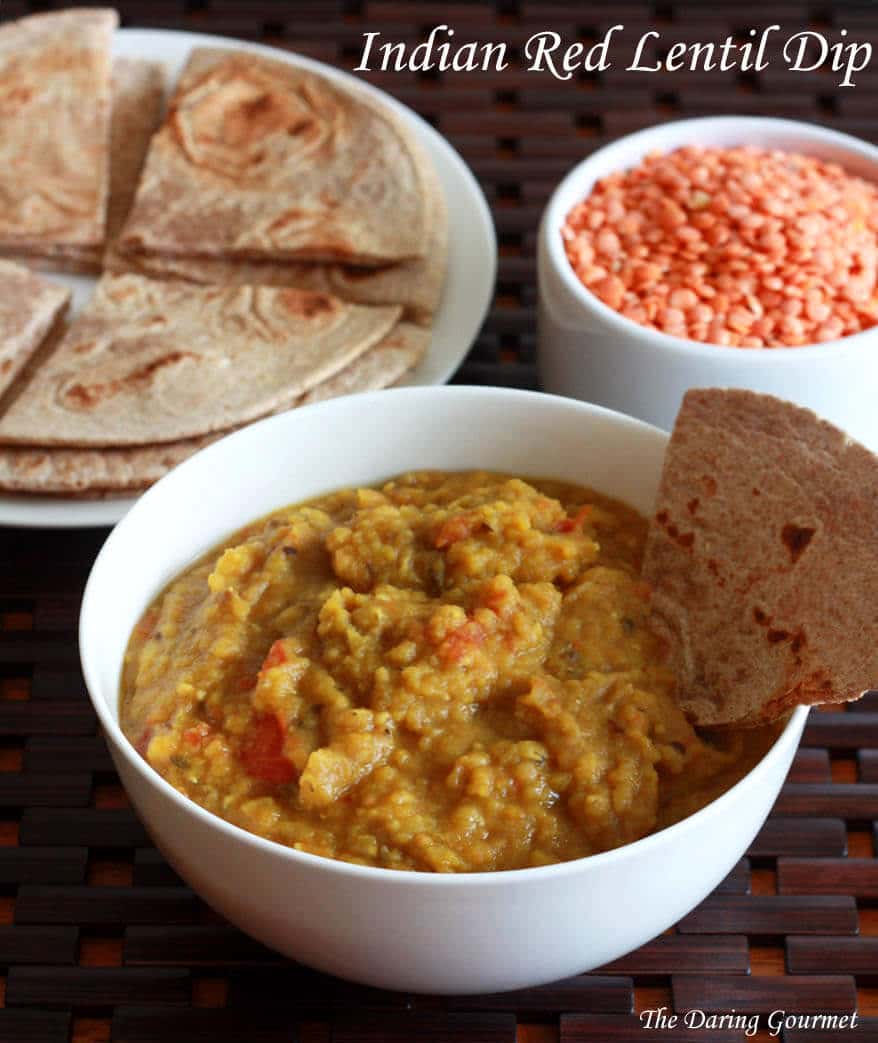 If you think this sounds and looks familiar, you're right!  A while back I posted my recipe for Masoor Dal, an Indian red lentil soup.  It's my favorite Indian soup and I've discovered that the way I enjoy eating it best is as a dip.  This is a thicker version of Masoor Dal and it makes the most splendid dip for various kinds of bread and vegetables.  It's a family favorite, from our one year old on up.  This dip version is so good that it deserves a spotlight of its own.
Indian food is without question one of the most complex cuisines in the world.  Multiple layers of flavor allure the palate in virtually every Indian dish.  That's in part because Indian cuisine is based upon various elements of Ayurvedic philosophy.  I don't pretend to know much about Aryuveda, but here it is with respect to food in a nutshell.  Ayruveda's aim is to restore and maintain balance within the body's various systems in order to prevent disease and achieve optimal health and well-being.  And this is achieved in large part through diet.  Thus food is not only consumed for enjoyment but also as medicine.  Ayurveda maintains that six tastes are required, in various proportions dependent on each person's unique constitution, and those tastes are sweet, sour, salty, pungent, bitter, and astringent.   This philosophy of achieving balance in different taste properties is also seen in Chinese cuisine.  And herein lies the complexity of Indian cuisine:  A lack of any of the six tastes will lead to an imbalance in the body's systems and lead to various health conditions, both of body and mind.  And so a balanced Indian meal will always include a spicy-sour combination along with something pungent like onion or garlic, a bitter component like fenugreek or lemon, something astringent like green vegetables or potatoes, and of course something sweet, whether it's a chutney, some fruit, or dessert.   So next time you eat out at an authentic, traditional Indian restaurant, pay attention to the careful preparation that goes into the meal.
This Indian Red Lentil Dip is simple in its ingredients but complex in its flavor because of the wonderful combination of ingredients and the variety of spices in it.  For more information about some of these spices, including the mysterious and magical Asafoetida (aka Devil's Dung!) see my post for the Masoor Dal recipe.
Let's get started!
Rinse the lentils in a colander.  Note:  Red lentils always turn color when cooked, so don't expect the resulting dish to be red.
Chop the tomatoes and mince the garlic and ginger.
Rinse the lentils and place them in a stock pot with the vegetable broth, tomatoes and salt.
Heat the oil over medium-high heat and fry the mustard and cumin seeds until the mustard seeds begin to pop and the spices are fragrant.
Add the garlic and ginger and fry for another minute.  Add the onions (not in picture) and fry until caramelized, about 5-7 minutes.
Add the spice/garlic/ginger mixture to the stock pot.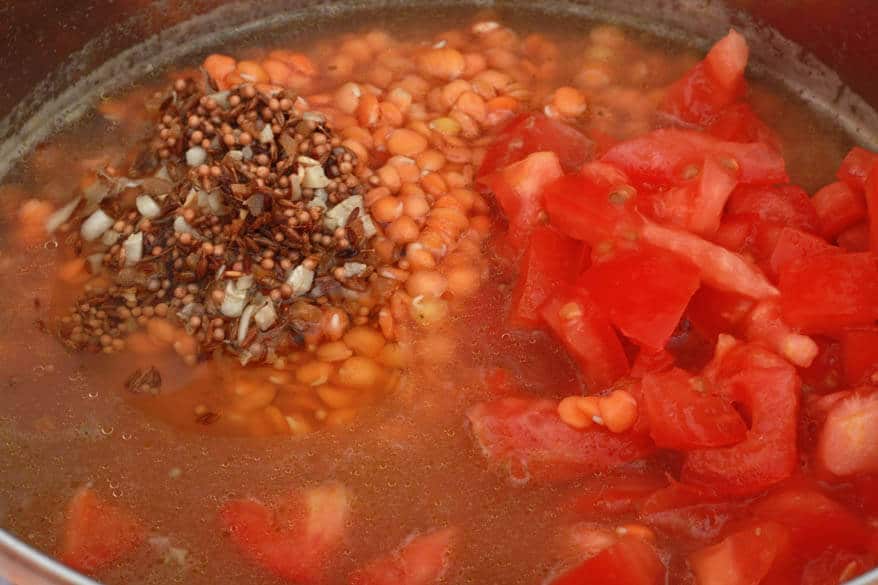 Add the remaining spices.  Stir to combine.  Bring the lentils to a boil, reduce the heat to medium-low, cover and simmer for 20 minutes or until the lentils are done.  Add the lime juice, a little at a time, according to taste.  Add more salt as needed.  Sprinkle with fresh chopped cilantro.
Serve warm or at room temperature with naan bread (see recipe here), toasted pita or flatbread, or vegetables.
Indian food lovers, don't forget to try this recipe for the BEST Indian Mango Chutney!

Indian Red Lentil Dip
:
The Daring Gourmet, www.daringgourmet.com
Ingredients
1¾ cups red lentils, thoroughly rinsed
2½ cups vegetable stock
2 tomatoes, diced
1 teaspoon salt
1 tablespoon extra virgin olive oil
1 teaspoon mustard seeds
1 teaspoon cumin seeds
1-2 green chilies, chopped (use more or less and discard seeds according to heat preference)
1 teaspoon chopped fresh ginger
1 teaspoon chopped fresh garlic
½ cup onion, finely chopped
¼ teaspoon asaefoetida (aka hing)
2 teaspoons ground coriander
½ teaspoon turmeric
Pinch of Kashmiri chili powder (or cayenne pepper)
Small pinch of cinnamon
Small pinch of cloves
Juice of one lime
Fresh chopped cilantro for serving
Salt to taste
Instructions
For the Dal: Place the rinsed lentils, vegetable stock, tomatoes, and salt in a stock pot.
For the Chaunk: Heat the oil in a small skillet over high heat and add the mustard and cumin seeds. Fry until the mustard seeds begin to pop, about 10 seconds. Reduce the heat to medium-high and add the chilies, garlic and ginger. Fry for another 20 seconds. Add the onion and fry until soft and a light caramelized brown, about 5-7 minutes. Add the turmeric, chili powder, asaefoetida, coriander, cinnamon and cloves and stir to combine.
Combine the Dal and Chaunk: Scrape the contents of the skillet into the stock pot. Stir to combine and bring it to a boil. Reduce the heat, cover, and simmer stirring occasionally for about 20 minutes or until the lentils are done are are a thick consistency.
Before serving, add the lime juice, a little at a time, according to taste. Add more salt as needed. Serve sprinkled with fresh chopped cilantro.
Serve warm or at room temperature with naan bread, toasted pita or flatbread, or vegetables.