As an Amazon Associate I earn from qualifying purchases.
With an eggplant left over from last week's Moussaka, what was I going to make?  Why, baba ganoush, of course!
Baba Ganoush (pronounced baw-baw ga-noosh).  Isn't that fun to say?  Say it again.  "Baba Ganoush!"  This creamy, smoky dip is popular throughout the Middle East.  The traditional ingredients are eggplant, tahini, lemon juice and garlic.  The flavor is reminiscent of hummus, only it's made with eggplant instead of garbanzo beans.  Enjoy this dip with toasted pita bread wedges or vegetables.
I almost never have tahini paste on hand when I need it?  Or it's expired.  Can you relate?  Don't fret because not only is it super-duper easy to make yourself, it tastes WAY better than store-bought!  Click below for the recipe!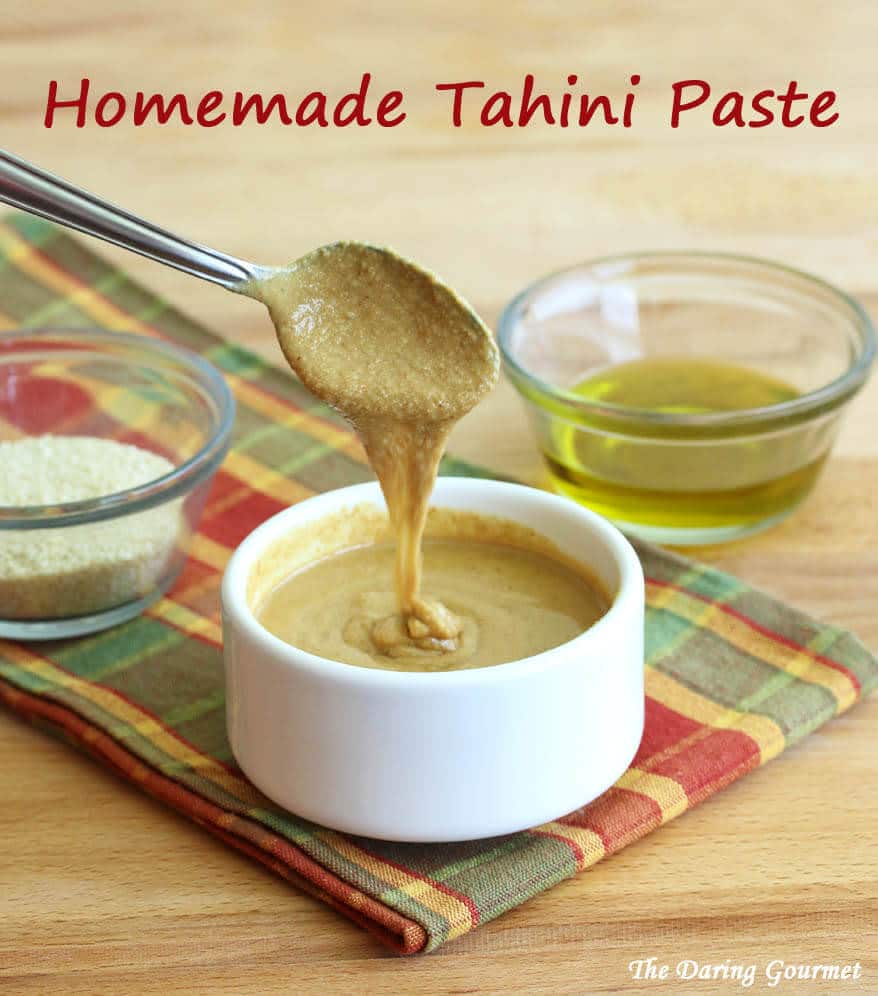 And now for that Baba Ganoush recipe!

Baba Ganoush
:
The Daring Gourmet, www.daringgourmet.com
Ingredients
1 large eggplant
3 garlic cloves, peel on
2-3 tablespoons fresh lemon juice according to taste
¼ cup homemade tahini paste (or store bought)
¼ teaspoon ground cumin
½ teaspoon salt plus extra depending on size of eggplant
Extra virgin olive oil for drizzling
Chopped fresh cilantro for garnishing
Pinch of paprika for garnishing
Instructions
Preheat the oven to 400°F. Poke the eggplant all over with the tines of a fork. Place it on a baking sheet along with the garlic and roast until tender, 40-45 minutes. Remove the garlic after 30 minutes and remove the peel. Remove the eggplant from the oven and allow to cool for 10 minutes before removing the peel.
Place the eggplant, garlic and tahini in a food processor and process until fairly smooth but not completely pureed. Scrape the mixture into a bowl and add the lemon juice cumin and salt. Stir to thoroughly combine.
With the back of a spoon, make a swirl in the top of the baba ganoush, drizzle olive oil in the swirl grooves, and sprinkle with paprika and fresh cilantro.
Serve immediately with toasted pita wedges, flatbread, or vegetables.