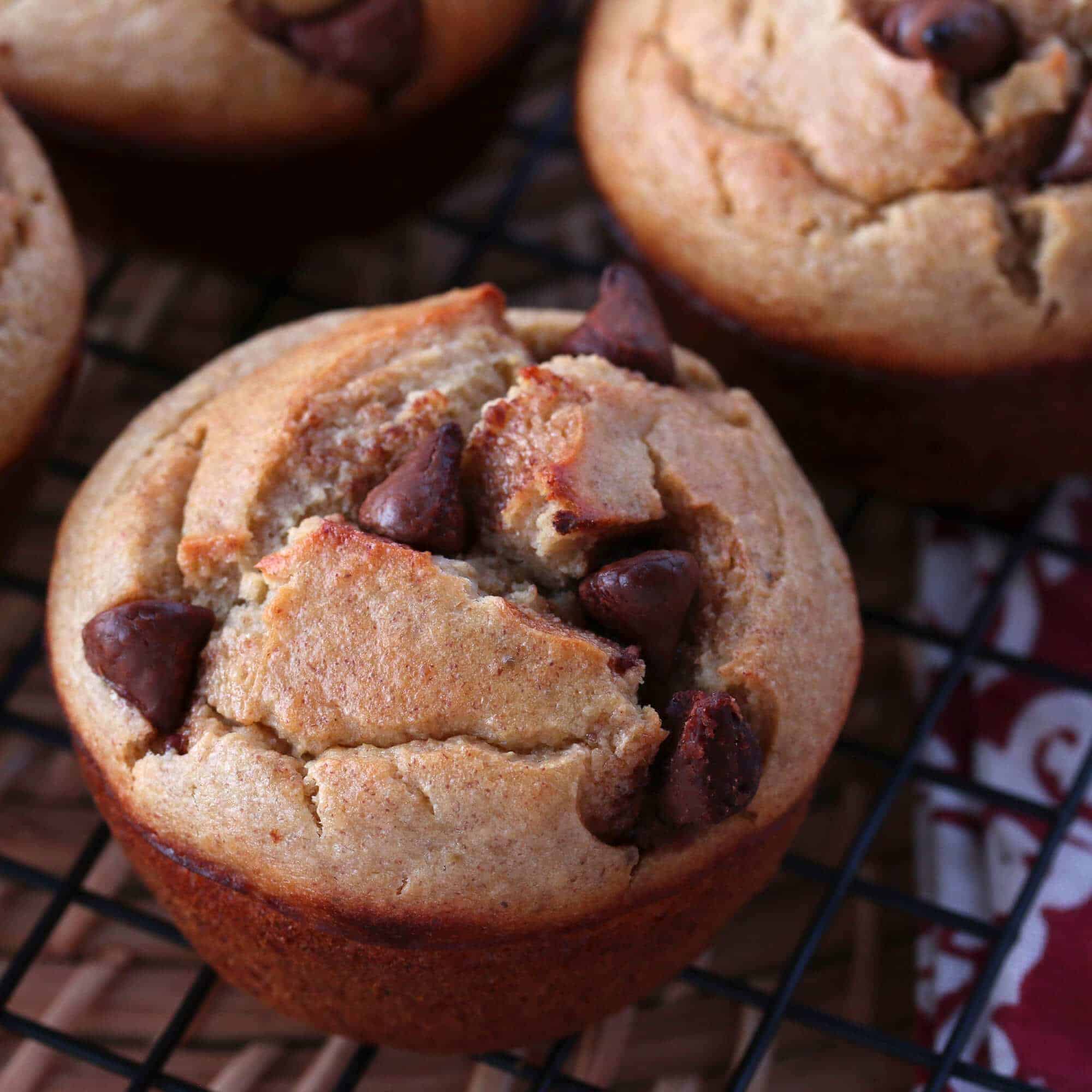 I made these muffins earlier this week and out of a dozen muffins our 4 year-old daughter ate six in a two-hour period and was still wanting more!  Her new favorite muffin?  Apparently so!  As she kept asking for more I hesitated and then reasoned, "you know, why not?  We rarely let our kids eat candy or junk food.  And these muffins have no refined flour or sugar and only a little honey per muffin…they're healthy."  And so I handed her another one.
Not only are these muffins nutritious and delicious, these are seriously the easiest muffins ever:  Dump all the ingredients into your blender, puree it, stir in some chocolate chips, pour it into the muffin tins and bake.
From start to finish, it takes less than 5 minutes of prep time and the result is a healthy and delicious muffin with a great texture!
For the bran you can use either oat bran or wheat bran.
Wheat bran has the highest fiber content, over 40%, and is rich in insoluble fiber, so it's a great choice for preventing constipation and promoting a healthy digestive system.  Oat bran contains about 17% fiber and that's mostly a soluble fiber called beta-glucan, which helps lower blood cholesterol and keeps your hearth healthy.  Oat bran also tastes better than wheat germ.
Both have some advantages and it just depends on what you're looking for.
These muffins are already naturally gluten-free and if you'd like to keep them that way, use oat bran.  Bob's Red Mill and other brands also make GF oat bran.
Whichever route you go, you're going to LOVE how simple and quick these muffins are to make, how nutritious they are, and how great they taste!
These muffins are made without flour, refined sugar or fat.  Packed with nutrition, with a great flavor and texture, these muffins are perfect for your on-the-go breakfast or as a healthy snack.
And feel free to experiment with different mix-ins of your choice!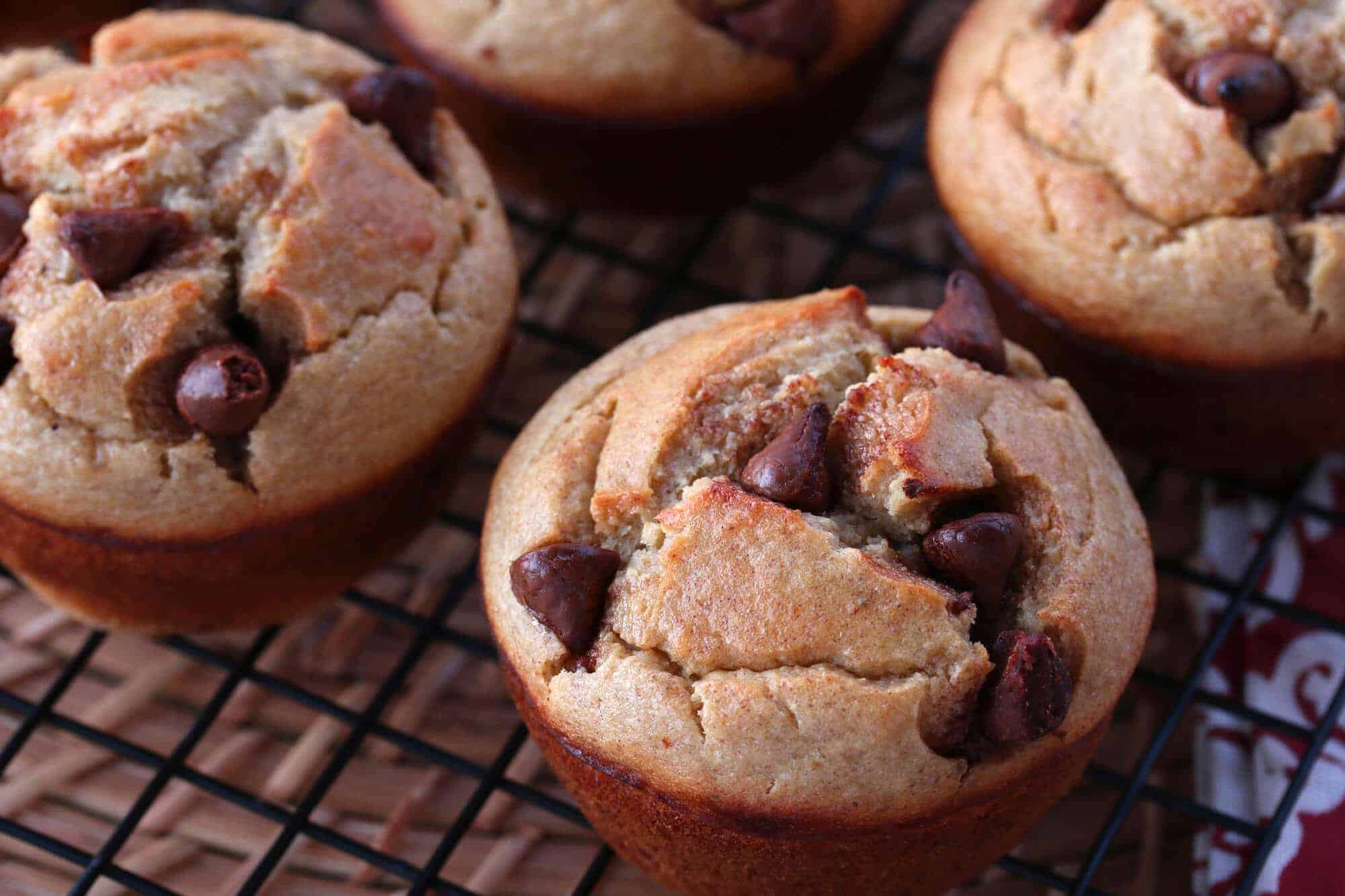 Let's get started!
Place all of the ingredients, except for the mix-ins, in a blender.
Process for about a minute or until smooth, scraping down the sides as necessary.
Stir in some chocolate chips or mix-in of your choice.
Grease or line a muffin tin and pour the batter in to just over 3/4 full.
Sprinkle a few extra chocolate chips on top just to make them prettier.
Bake the muffins in an oven preheated to 400 degrees F for about 15 minutes or until golden.  Let them cool in the muffin tins for a couple of minutes before taking them out and placing them on a wire rack to cool.
The muffins are best eaten once they've cooled down a little bit but are still warm.
Enjoy!
Blender Banana Oatmeal Bran Muffins
Made without flour, refined sugar or fat, these quick and easy muffins are healthy and delicious!
:
Kimberly Killebrew, www.daringgourmet.com
Ingredients
2 large very ripe bananas (the riper the better as they'll be sweeter and have far more flavor)
1½ cups traditional rolled oats
½ cup oat bran (or wheat bran. If gluten free useGF oat bran)
1 cup sour cream or Greek yogurt
2 large eggs
¼ cup honey
3 tablespoons peanut butter (optional and depending on which mix-ins you use)
½ teaspoon quality pure vanilla extract
1½ teaspoons baking powder
⅛ teaspoon salt
½ cup chocolate chips or mix-in of your choice (e.g., nuts, apples, cinnamon, blueberries, etc)
Instructions
Preheat the oven to 400 degrees F. Grease a 12-cup muffin tin (these muffins tend to really stick to liners)
Place all of the ingredients except for the chocolate chips in a blender. Process for about a minute or until smooth. Stir in the chocolate chips. Pour the batter into the muffin tins just slightly more than ¾ full. Bake for 15 minutes or until golden.
Let the muffins sit in the muffin tins for a couple of minutes before transferring them to a wire rack to cool.
Best eaten once slightly cooled but still warm.