The national dish of Bahrain, this Chicken Machboos recipe is thoroughly authentic and thoroughly delicious!  Seasoned rice and tender moist chicken come together in this satisfying meal that is an absolute feast for the taste buds!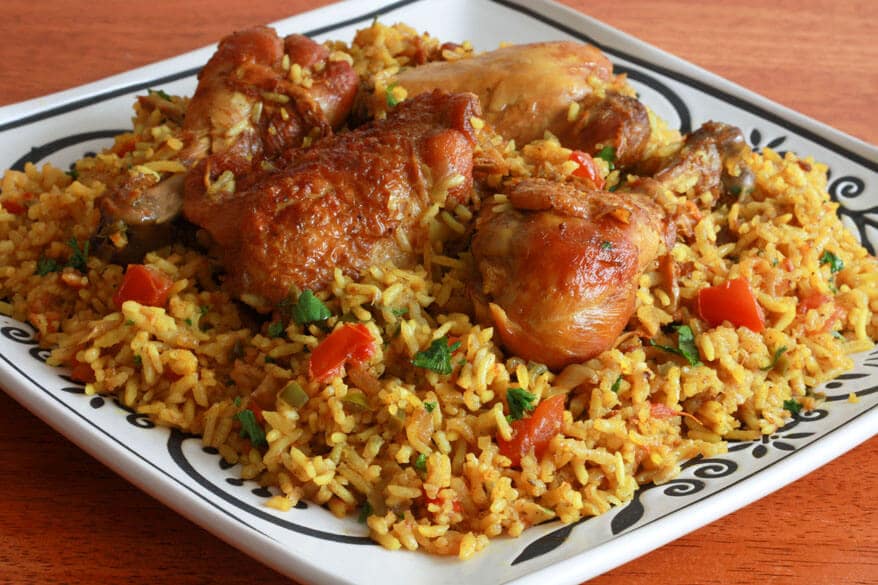 Chicken Machboos, or Machboos ala Dajaj ("spiced chicken and rice"), is the national dish of Bahrain, a small island country in the Persian Gulf neighbored by Saudi Arabia and Iran.  Machboos is similar to Biryani (from the Indian subcontinent) and Kabsa (from Saudi Arabia), all with varying cooking methods, ingredients, degree of spiciness, and assembly.   But all three are essentially meat and rice dishes.
I developed this recipe by way of request from Jay and Kelly.  They posted a challenge for me on The Daring Gourmet's facebook fan page.  Having toured the Middle East during their time in the Navy, they had come to love its variety of foods.  They especially loved the Machboos from Bahrain.  Disappointed in the recipes they've found and tried online, they challenged me to develop an authentic Bahraini Machboos.  Jay and Kelly, while I can't promise you that this tastes just like the particular Machboos you had in Bahrain, I can guarantee that it's both authentic and delicious.
I even flew back to the Middle East to pick up the spices for this dish.  Just kidding.  But I was there a few years ago and could have spent HOURS in the spice stalls of the Arab markets. This vendor had a terrific selection.
And oh, how I miss that perfect sun-kissed skin!  Mine, not the spice vendor's.  I don't miss him – or his skin, rather.  But he was a very nice man and he let me take his picture.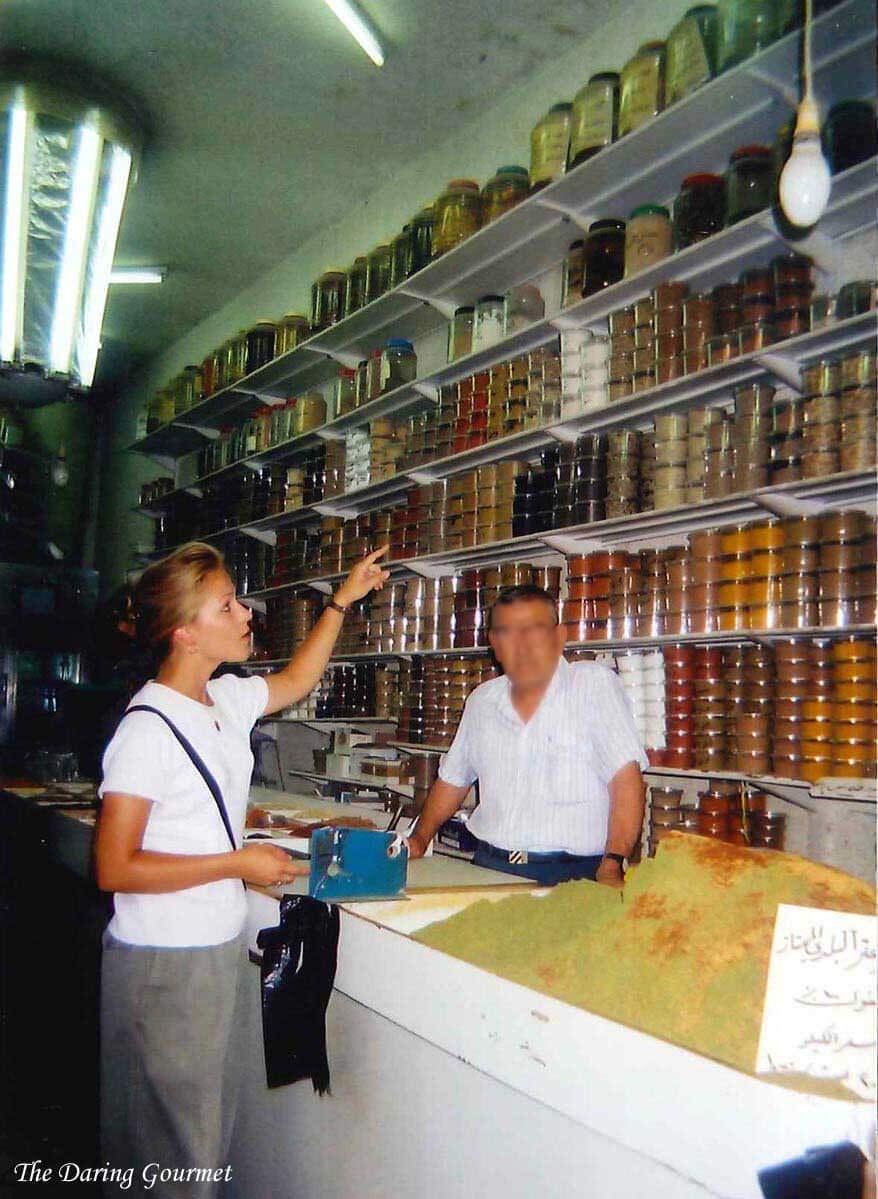 There are two ingredients in particular that set this dish apart from any Western chicken and rice dishes.  Baharat and Loomi.
Baharat, Arabic for "spice", is a popular spice blend found in Arab cuisine.  Ingredients can vary, but it typically includes black pepper, paprika, cumin, coriander, cinnamon, cloves, cardamom and nutmeg.  An intensely flavorful spice blend, Baharat can liven up any dish.  It is commonly used as a rub for lamb, chicken, beef and fish and can be combined with olive oil and lemon juice for a delicious marinade.  It is also used in soups and sauces.
Another Daring Gourmet recipe using this wonderful spice blend is Egyptian Koshari.
Loomi is another ingredient that is a must if you wish to achieve an authentic flavor in your Middle Eastern cooking.  Loomi are limes, often from Oman, that have been boiled and then left to dry in the sun.  Their color can range from tan to black.  The concentrated lime flavor is intensely tangy and earthy with an almost smoky quality.  Loomi are sold under a variety of names including black limes, black lemons (though not lemons at all), and of course dried limes.  They can be purchased either whole or in powdered form.  Whole is better as the powder oxidizes quickly and much of the flavor can be lost.  As with spices, it is better to keep them stored whole and then grind as needed.  Dried limes can be found in stores carrying Middle Eastern products or can be ordered online.  They are also delicious stuffed into the cavity of a chicken before roasting or added to boiling rice for added flavor.  You can purchase them online HERE.
Another ingredient that I have added to this dish and that is commonly found in Middle Eastern cuisine is rosewater.  I included it as an optional ingredient to be sprinkled over the finished dish just before eating, but I highly recommend it as it will add a whole exotic flavor dimension to the Machboos.  The sweet accents of the rosewater gracefully complement the earthy spices and tangy  limes.  You can find rose water online HERE.
Once you have gathered up the ingredients necessary for this dish, it is quite easy and straightforward to make.  A one pot dish, you'll have little cleanup to do and most of the time involved in making the process is simply cooking time.  The end result is worth whatever effort you went through to get the needed ingredients.  And it's a great dish for the whole family.  While packed with flavor, it's not spicy-hot.  Even our toddler ate two pieces of the chicken and then requested rice.
Chicken Machboos Recipe
Let's get started!
Separate the whole spices and the powdered spices.
Dry roast the whole spices in a small pan over medium-high heat, tossing frequently to prevent scorching, until very fragrant, about 3-4 minutes.
Allow the spices to cool and then transfer them to a spice or coffee grinder along with the powdered spices and grind them to a fine powder.
Set the baharat aside.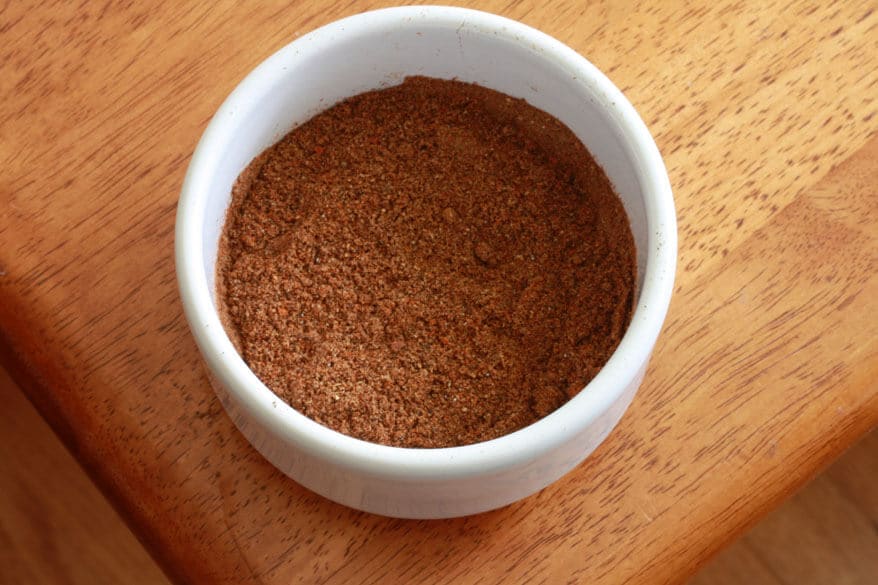 Either cut up a whole chicken or use chicken pieces.
Heat some oil over medium-high heat in a large Dutch oven (I use and love Lodge) and fry the chicken on both sides until browned and crispy.
Set the chicken aside.
Add the ghee or butter to the oil already in the Dutch oven and saute the onions over medium heat until caramelized and beginning to brown.
Add the garlic, ginger and jalapeno to the onions and saute for another two minutes.
Add the baharat and turmeric and stir to combine.
Return the chicken to the Dutch oven.
Prepare the dried limes.  It's important to punch a few holes in the limes with a skewer, knife or the tines of fork before adding it to the dish, otherwise the juices won't effectively penetrate the hardened skin.  The holes will allow the cooking juices to infuse with the flavorful interior of the limes.
Add the dried limes, tomatoes, cinnamon stick, cardamom, and ground cloves.  Add the chicken stock.  Stir to combine, bring to a boil, reduce the heat to low, cover and simmer for one hour.
After simmering for an hour, discard the cinnamon stick and dried limes.  You can leave the cardamom pods in, but I prefer not to be surprised with a whole cardamom pod in my mouth.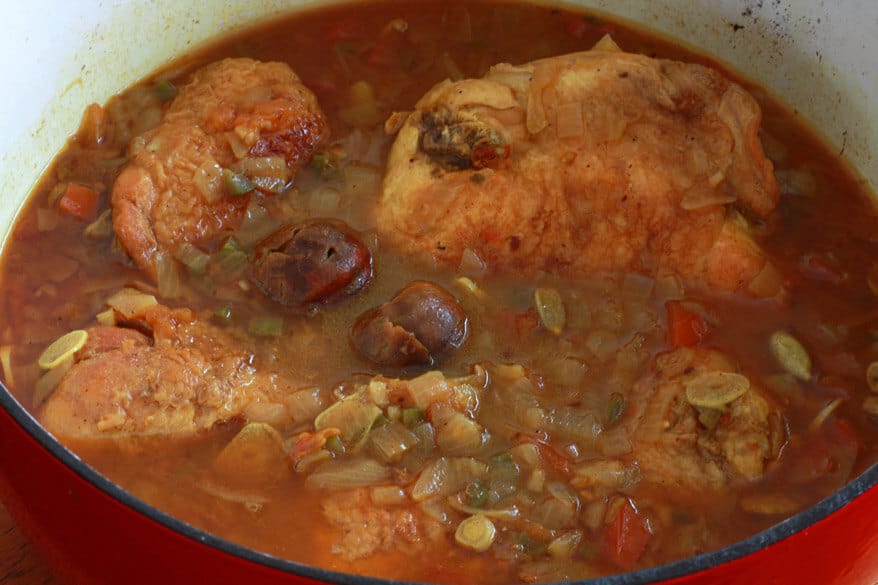 Soak the basmati rice in water for at least 15 minutes.
Rinse and drain the rice.  This process is said to create a fluffier rice texture for the finished dish, but it also lessens the cooking time of the rice and thus preserves its flavor which can diminish through longer cooking periods.
Add the rice and stir to combine.  Return the mixture to a boil, reduce to low, cover and cook for another 15-20 minutes or until the rice is fully cooked.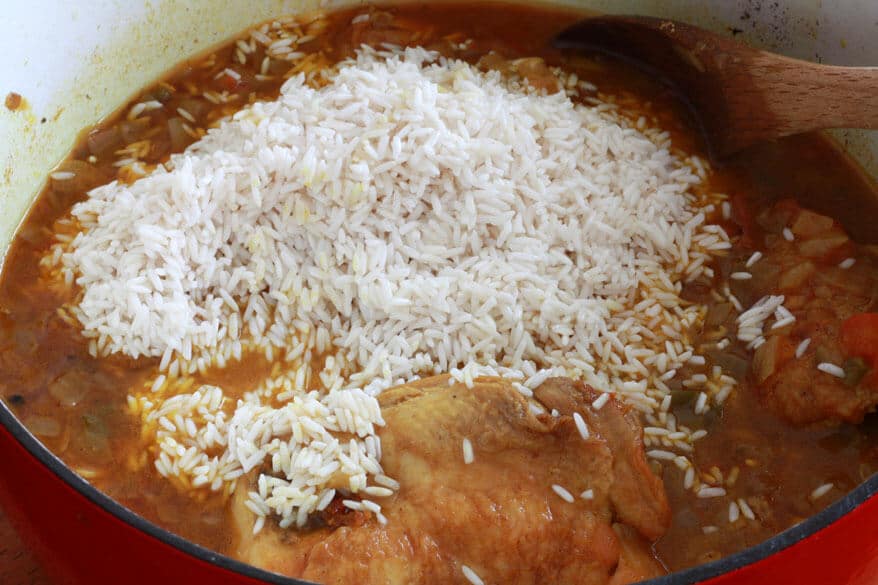 Transfer the rice and chicken to a serving platter and serve immediately.  You can leave the chicken mixed in with the rice or place the chicken on top of the rice.  For an added authentic Middle Eastern touch, sprinkle some rosewater over the finished dish just before serving.
And there you have it – a lovely, authentic and delicious plate of Bahraini Chicken Machboos.
Enjoy!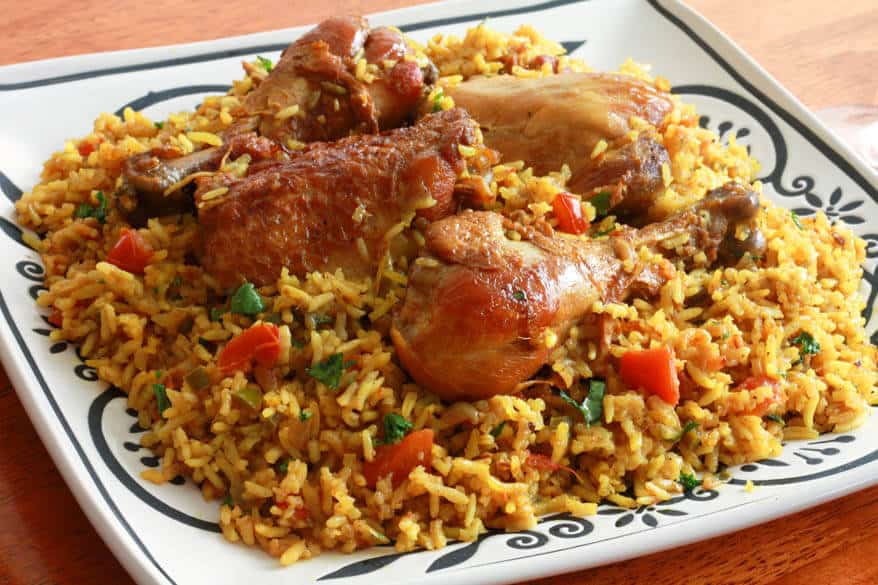 Chicken Machboos (Bahraini Spiced Chicken and Rice)
A delicious and authentic Chicken Machboos, the national dish of Bahrain.
:
Kimberly Killebrew, www.daringgourmet.com
Cuisine:
Middle Eastern, Bahrain
Ingredients
2 large onions, diced
3 tablespoons ghee or unsalted butter
1 tablespoon baharat (see recipe below)
1 teaspoon turmeric
2 tablespoons oil
A combination of chicken thighs, legs and breasts (about 3 pounds)
1 hot green chili pepper (e.g., jalapeno), seeded and diced
1 tablespoon fresh ginger, minced
5 large cloves or garlic, thinly sliced
2 large roma tomatoes, diced (or 1 (14 oz) can diced tomatoes, juices drained)
2-3 dried limes (loomi), several holes punched throughout each one
⅛ teaspoon ground cloves
1 stick cinnamon (about 2 inches long)
2½ teaspoons salt
2½ cups chicken stock
2 cups basmati rice (soaked for at least 15 minutes, then rinsed and drained)
3 tablespoons fresh cilantro, chopped
2 tablespoons fresh parsley, chopped
Rosewater for sprinkling (optional, but recommended)
For the Homemade Baharat:
1 tablespoon black peppercorns
1 tablespoon cumin seeds
2 teaspoons coriander seeds
1 cinnamon stick (about 2 inches long)
1 teaspoon whole cloves
¼ teaspoon green cardamom seeds
1 tablespoon paprika powder
¼ teaspoon ground nutmeg
For the Baharat:
Set the paprika and nutmeg powders aside. Place all remaining ingredients (whole seeds, cinnamon stick and cloves) in a small frying pan and dry roast over medium-high heat, tossing regularly to prevent scorching, for 3-4 minutes or until very fragrant. Transfer to a spice or coffee grinder and let cool. Add the paprika and nutmeg and grind all the ingredients to a fine powder. Store left over baharat in an airtight jar.
Instructions
Heat the oil in a large Dutch oven over medium-high heat and fry the chicken pieces on both sides until the skin is brown and crispy. Transfer the chicken to a plate and leave the remaining oil in the Dutch oven.
Add the ghee (or butter), reduce the heat to medium, and fry the onions until starting to brown, about 10-12 minutes.
Add the ginger, garlic, and green chile pepper and saute for another 2 minutes.
Add the baharat and turmeric and cook for another minute.
Return the chicken pieces to the Dutch oven along with the tomatoes, dried limes, cardamom pods, cinnamon, ground cloves and salt. Add the chicken stock and stir to combine. Bring it to a boil, reduce the heat to low, cover and simmer for one hour.
Add the cilantro, parsley and drained rice and stir to combine. Return it to a boil, reduce the heat to low, cover, and simmer for another 15-20 minutes until the rice is done and has absorbed the liquid.
Transfer the chicken and rice to a serving dish (either leave the chicken pieces tossed in with the rice, or place the chicken on top of the rice), and sprinkling with 1-2 tablespoons of rosewater (optional).
Serve with a green salad and yogurt raita.