Fengmi Niulijirou Hetaoren.  Repeat 3 times in a row as fast as you can.  That's Chinese for "Chinese honey-glazed beef and walnuts."   Sweet and sticky beef with crunchy glazed walnuts –  like eating candy.  SO good.  This dish comes from the Northern region of China. The beef is sliced ultra thin and marinated. It is then fried on high heat until it is crisp and golden. The beef is then left to cook in a delicious sauce, honey and Chinese five-spice powder are prominent ingredients, and then tossed with walnuts.  An authentic and lesser-known Chinese classic, it's not quite like anything you've tasted before and it will have you hooked.
This dish was created in the fall of 1772 in Northern China (that makes it 241 years old). Emperor Qianlong, on a tour of the northern reaches outside the Great Wall, went on a hunting trip and caught three deer. Back home in the imperial kitchens, he entrusted them to his head chef with the order to create something worthy of the imperial hunt. The tenderest meat was sliced finely, quick fried, and tossed in this special sauce. The delighted emperor declared it "sweeter than honey." And so the dish was born. Honey-glazed meats continue to remain signature dishes in Northern China today.
Dig in!
The key is ensuring the meat remains crisp beneath its sweet glaze.  Accomplish this by slicing the beef ultra thin and frying on high heat.
Make your own Chinese Five Spice Powder for ultimate flavor!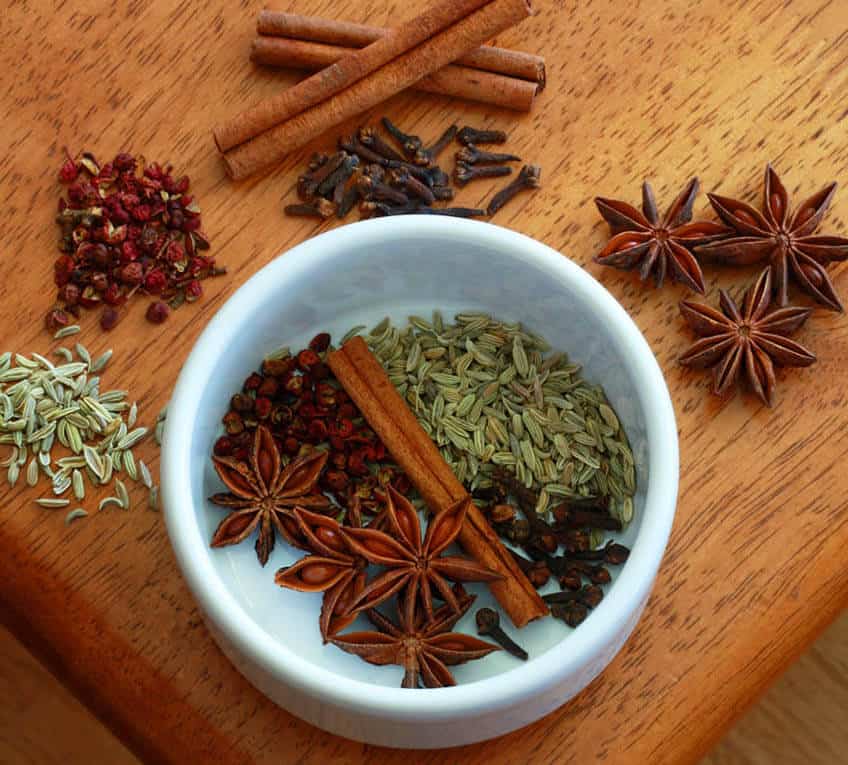 Asian food fans, don't forget to check out this recipe for the Best Homemade Teriyaki Sauce!

Chinese Honey-glazed Beef and Walnuts
:
The Daring Gourmet, www.daringgourmet.com
Ingredients
10 oz lean beef, partially frozen, sliced ultra thinly (keeping the beef partially frozen enables you to slice it extra thin)
2 tablespoons cornstarch
1 tablespoon water
1 egg
1 tablespoon light soy sauce
2 teaspoons Chinese five-spice powder (storebought or homemade - see recipe at https://www.daringgourmet.com/2013/04/12/chinese-five-spice-powder/)
Oil for deep-frying
¾ cup walnut halves
¼ cup honey
1 tablespoon soy sauce
1 tablespoon rice wine
1 teaspoon finely grated fresh ginger
1 teaspoon balsamic vinegar
½ teaspoon salt
Sesame seeds for sprinkling on top
Instructions
Use a very sharp knife to cut the beef across the grain into ultra-thin slices, then stack the slices and cut thinly into matchsticks.
In a bowl, combine 2 tablespoons of the cornstarch with the water, egg, soy sauce, and five-spice powder. Stir to combine thoroughly. Add the beef strips and toss to coat evenly.
Pour some oil to the depth of about an inch in a wok or skillet. Heat to about 360 degrees F. Slowly add the beef strips and stir to separate them. Cook until lightly browned, about 2 minutes. Use a slotted spoon to remove the beef, allowing the oil to drip for a few moments, and transfer to a plate.
Add the walnuts to the hot oil and fry for about a minute, until crispy. Use a slotted spoon to transfer the walnuts to the plate with the beef.
In a bowl, combine the honey, rice wine, soy sauce, grated ginger, vinegar and salt.
Carefully remove all but 2 tablespoons of the oil from the wok. Return the oil to high heat, then add the honey sauce. Simmer for 15 seconds to make a glaze. Add the beef and walnuts, reduce the heat to medium high, and stir until evenly glazed, about 3-5 minutes.
To serve, place the beef and walnuts on a serving platter along with a serving bowl of rice. Sprinkle sesame seeds over the beef and serve at once.
Makes 2 main or 4 side servings
Adapted from Williams Sonoma