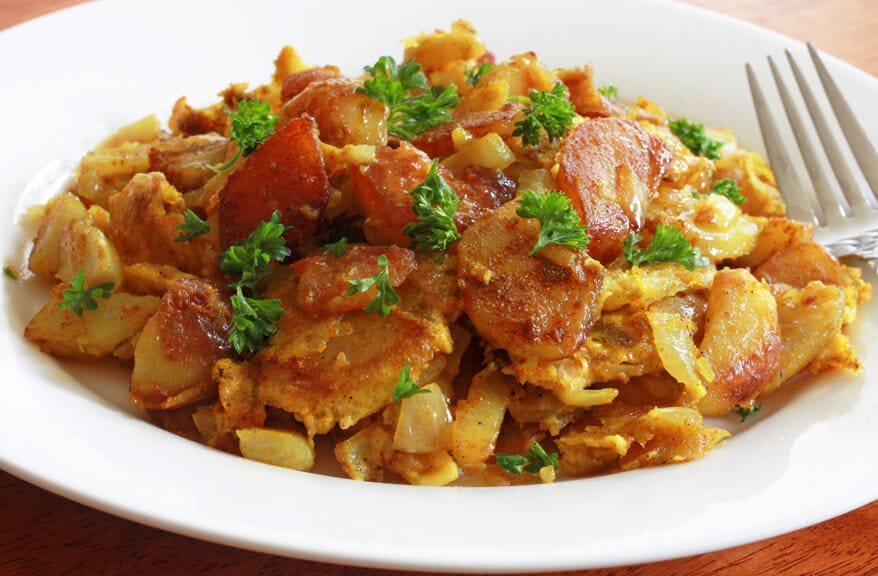 I made potato salad this past Saturday to take on a family picnic.  I ended up boiling more potatoes than I needed, so I put the leftovers in the refrigerator for another use.  The potatoes ended up coming in handy for a quick meal on a time crunch.
I love potatoes.  Made every which way.  I must get that from my mom who has a slight potato obsession.  Yet she's always been slim and petite.  Her philosophy has always been that occasional indulgences are okay as long as you work off the calories afterwards.  This is the same mom who raised us with whole grain baked cakes and cookies in a home where stuff like Kraft Macaroni and Cheese, Spaghetti-O's, and Fruity Pebbles were a rare treat. But her amazing international cooking skills made up for any deprivation of the aforementioned goodies.  But back to potatoes and my mom's slight potato obsession.
My mom has always claimed to not care much for Italian food because she's not crazy about pasta or pizza (seriously, how is that even possible?).  She also claims to not care much for rice.  She'd always say, and continues to say, "I'm a potato person."  Yet fortunately for us she always included Italian food in her meal planning repertoire.  We're still skeptical that she actually dislikes pasta, rice and pizza and are half convinced that more than disliking the two, she's just a potato loyalist who feels she'd be betraying the hallowed spud should she express any other competing interests.  Who knows.  We still challenge her from time to time when we get together for our weekly family Sunday dinners, but all in all we let her cling to her potatoes in peace.  Because, despite her slight obsession with potatoes at the exclusion of pasta, rice and pizza, we still love her just the same :)  And because we love potatoes, too.
While I do love pasta and pizza, I also love potatoes.  Potatoes are a staple in German cooking (no doubt another reason my mom is so loyal to them).  They are prepared many different ways.  In Germany a standard side dish that can be ordered at any restaurant is hash browns.  For example, if you're ordering a dish like Schnitzel, just to use a stereotype, you have your choice of Spätzle, Pommes (french fries), or Gebratene Kartoffeln (or "Roesti") – hash browns.  They're usually fried to crispy brown perfection with onions and tossed with fresh parsley.  Heaven!  Which leads us to today's recipe.
I love homemade hash browns.  The ones that are nice and crispy and brown.  I also love curry.  And who doesn't like scrambled eggs?  So why not combine all three for a quick and easy meal with absolutely delicious results?  That was my mom's inspired reasoning when she made this dish on occasion when we were growing up.  And after all, anything with potatoes must be good, right?
As long as you like potatoes, eggs and curry, you'll love this dish – I promise!  Enjoy this Curried Hash Brown Scramble for breakfast, brunch or dinner.  If you like spicy dishes, use a spicy curry powder.  Or you can add your usual hot sauce at the table.
The potatoes can be boiled well in advance and kept in the fridge.  Then all you have to do is fry up the ingredients.  So simple, so good!
Let's get started!
Get out those leftover boiled potatoes.
Slice them about 1/4 inch thick.
Heat one tablespoon of the oil in a skillet and saute the onions until tender and translucent, about 5-7 minutes.  Transfer to a bowl and set aside.
Heat the other 2 tablespoons of oil over medium-high heat and add the potatoes.  The key to getting those beautifully crispy brown hash browns is to let the potatoes fry undisturbed long enough to where they develop a crust.  Too much stirring will cause the potatoes to break apart and they won't brown properly.  Carefully flip the potatoes over with a spatula and fry the other side.  This process will take a while if you're after the brown crispy result, 15-20 minutes.  Add more oil as needed (you'll likely need more).  Be patient, the results are worth it!
Look at those lovely, perfectly crispy hash browns!
Return the onions to the skillet.
Add the curry powder, salt and pepper and carefully stir to combine.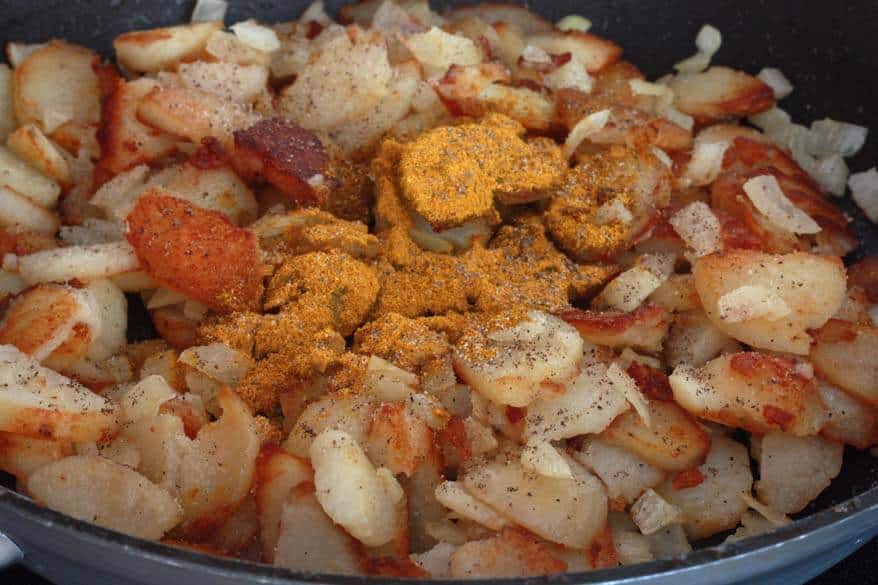 Beat the eggs in a small bowl with a fork.
Pour the eggs over the potatoes and continue to cook for another two minutes or until the eggs are set.  Season with salt and pepper as needed.  Sprinkle with some chopped parsley if desired and serve immediately.
Hot and ready to serve!
Curried Hash Brown Scramble
:
The Daring Gourmet, www.daringgourmet.com
Ingredients
2 lbs boiled potatoes, cooled and sliced
1 medium yellow onion, chopped
3 tablespoons extra virgin olive oil, plus extra as needed
½ teaspoon salt
1 tablespoon curry powder (mild or hot, according to preference)
3 eggs, whisked
Salt and pepper to taste
Instructions
Heat 1 tablespoon of the olive oil in a skillet over medium-high heat. When the oil is hot but not smoking, add the onions and cook and soft and beginning to brown. Transfer to a bowl.
A 2 tablespoons of olive oil to the skillet and when hot, add the potatoes and the salt. Cook until browned on both sides. Be careful not to turn too often or the potatoes will break apart. Add more oil as needed to ensure a crispy finish.
Add the cooked onions to the potatoes and gently stir in the curry powder.
Pour the eggs over the potatoes and cook for another 2 minutes until the eggs are set. Gently flip the potatoes and cook for another minute. Add salt and pepper to taste.
Serve immediately.