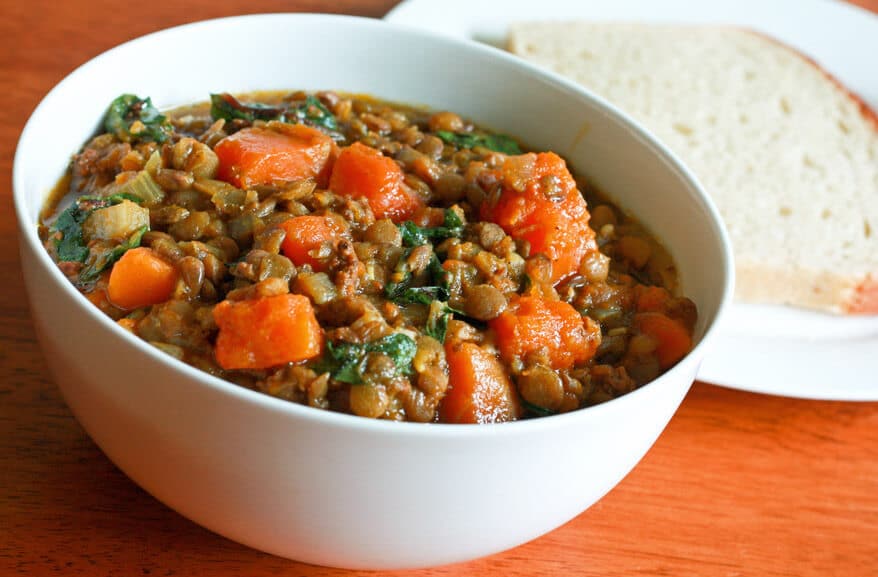 This was a creation on a whim. I wasn't in the mood to cook (oh yes, this happens even to me) and Todd was coming home in 30 minutes.  I needed something quick to make.  I opened my freezer and saw the homemade Mexican chorizo I had made and frozen a few weeks ago.  I also had some butternut squash that needed to be used. Chorizo and butternut squash…I figured the cinnamon accents and spiciness of the chorizo would complement the sweetness of the squash. I opened one of my pantry closets and a big bag of green lentils immediately caught my eye. A perfect ingredient to bind the other two together.
I sauteed some onion and garlic in olive oil and browned the chorizo in it, added the diced squash and let it caramelize a bit, then added the lentils, a little celery, some chicken stock, a bay leaf, freshly ground pepper and salt, and some…why not?…curry powder (I reasoned that the cinnamon in the chorizo would complement the curry. And it did.) This simmered for a while and my kitchen was soon filled with a lovely sweet and spicy aroma.  I added some Swiss chard in at the end for some added color, texture and nutrition.  It was delicious!
So having combined the Eastern influence of Indian curry powder with the sweet and spicy Western accents of Mexican chorizo, I ended up with what I simply named East-West Lentil Stew. An unusual combination that worked really well.  A hearty, satisfying lentil stew for a cold winter's evening (it's still technically winter, you know…at least until tomorrow ;)
AND here is another use for that wonderful homemade Mexican chorizo!
East-West Lentil Stew
A union of Mexican and Indian flavors in a hearty, satisfying lentil stew.
:
The Daring Gourmet, www.daringgourmet.com
Recipe type:
Soups & Stews
Ingredients
2 tbs olive oil
1 small onion, diced
2 cloves garlic, minced
¼ lb Mexican chorizo
2 cups butternut squash, diced
1 stalk celery, diced
1 cup lentils
3 cups chicken stock
1 bay leaf
1 tsp curry powder
Salt and pepper to taste
1 cup Swiss chard, thinly sliced
Instructions
In a Dutch oven, saute the onion and garlic in olive oil until translucent, add the chorizo and brown, add the squash and celery and saute for another 2 minutes, add the lentils, stock, bay leaf, curry powder, and salt and pepper. Bring to a slow boil, reduce heat to low, cover and simmer for 20 minutes or until the lentils and vegetables are soft. Add the Swiss chard and cook for another 3 minutes. Serve hot.