As an Amazon Associate I earn from qualifying purchases.
If anyone were to ask me, "What is the ultimate chocolate dessert?", my answer would be Chocolate Pot de Crème.  For chocolate richness, this dessert is unrivaled.  A classic French favorite since the 17th century, a love affair with chocolate is incomplete without a rendezvous with Pot de Crème.
Pot de Crème is traditionally made with chocolate or as a vanilla custard.  It can be prepared in one larger bowl with servings scooped out, or in individual serving-sized ramekins (Pots de Crème in plural form).  The process of making traditional Pots de Crème is a little lengthy.  It involves heating, whisking, straining, pouring and water bathing.  This version has all the richness and elegance of traditionally-made Pots de Crème, but is whipped in just 5 minutes!
My mother-in-law was visiting from Arizona a few weeks ago and I made these.  She took a couple of bites, looked up at me and said, "this is wicked."   You have to understand, my mother-in-law is a school teacher and "wicked" isn't generally part of her vocabulary – at least not when it comes to describing something good.  So that said it all.  And she requested it again a day later.  That's all the excuse I needed to whip up another batch.  Since then these Pots de Crème have become one of our most favorite indulgences. After we put the kids to bed my husband and I will crash on the couch, spoon in hand, and drift away into a world of chocolate delight.
Chocolate Pots de Crème are made with quality chocolate, cream, egg yolks and just a tiny bit of sugar.  And sugar is generally only added if you're using super dark chocolate.  If you're using semi-sweet no additional sugar is needed.  The flavor of the Pots de Crème is entirely dependent on the quality of the chocolate you use.  See, here's the wonderful thing about Pots de Crème:  It really showcases the chocolate itself without any competing flavors.  Just. Pure. Chocolate. Flavor.  So whether you use dark or semi-sweet or milk chocolate, just be sure to choose high quality chocolate.
The sinfully rich dark chocolate combined with the cream and egg yolks produces a result that is so delicious it's almost scandalous.  And it can be yours with just 5 minutes prep time!  Oh, and did I mention this dessert is naturally low sugar?  The ultimate chocolate fix without all the guilt – yes, please!
Perfect for entertaining, parties, or a romantic evening at home.
My friends at  Cooking With Kyler made a super fun YouTube video featuring our Chocolate Pots de Crème – check it out!
https://www.youtube.com/watch?v=1_31jeHMvzs
Let's get started!
Chop up the bar of chocolate and place it in a blender.  Set aside.
Place the heavy cream, egg yolks, sugar and salt in a medium sauce pan over medium heat.  Whisk to combine the ingredients and continue whisking continually as the liquid just begins to bubble.
NOTE:  If you need a dairy-free option, coconut milk makes a good substitute.
It's ready when the consistency is just thick enough to coat the back of a spoon.
Pour the hot mixture into the blender over the chocolate along with the vanilla extract.  Blend until smooth.
Divide the chocolate mixture between the ramekins.  After you're done pouring, carefully glide your fingers along the sides of the blender, scooping up every last drop of chocolate, and then lick your fingers.
Remember that scene from the original Willy Wonka (the only version worth watching) where after they first enter the edible wonderland, Augustus (it had to be the German kid, right?) dips his hands into the chocolate and licks that oozing goodness off his fingers?  Yes, that was me with the blender.  And just wait, it'll be you, too.  You won't want to waste a single drop.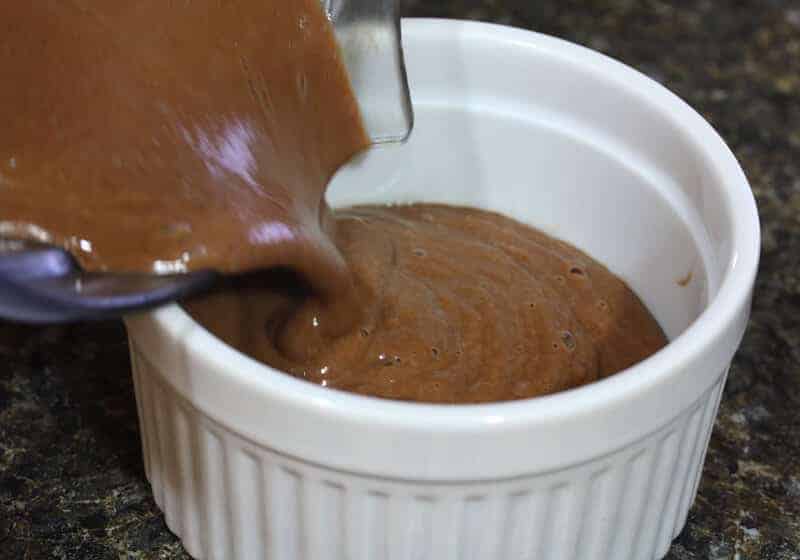 Refrigerate for 6-8 hours or until set (I often chill them overnight).  For a softer consistency, let them sit for about 10 minutes at room temperature before serving.
Serve with some whipped cream on top and for a nice visual touch, a sprinkle of grated chocolate or chocolate curls.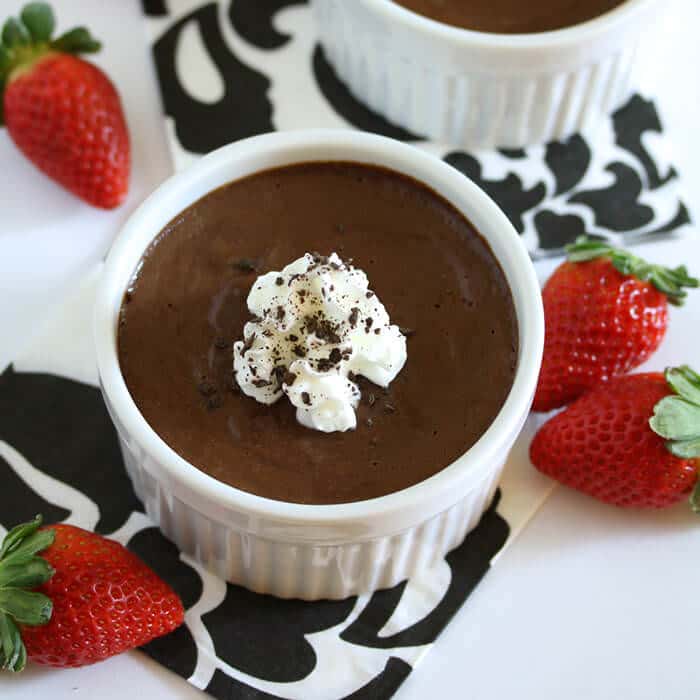 Enjoy!  (You will, I promise!)
Easy Chocolate Pots de Crème
:
Kimberly Killebrew, www.daringgourmet.com
Ingredients
6 ounces high quality dark chocolate
2 cups heavy cream (dairy free: use coconut milk)
3 egg yolks
3 tablespoons white granulated sugar (see Note)
⅛ teaspoon salt
1 teaspoon quality pure Madagascar vanilla extract
Instructions
Chop up the chocolate and place it in a blender. Set aside.
Place the cream, egg yolks, sugar and salt in a medium saucepan over medium heat, whisking to combine the ingredients. Continue to whisk continually until the mixture just starts to bubble and is thick enough to coat the back of a spoon.
Pour the hot mixture into the blender with the chocolate and vanilla and blend until smooth. Pour the mixture into individual ramekins and refrigerate for 6-8 hours or until set (I often chill them overnight).
For a softer consistency, let the pots de creme sit at room temperature for about 10 minutes before serving.
Serve with a dollop of whipped cream on top with a sprinkle of grated chocolate or chocolate curls.
Notes
If using semi-sweet chocolate no added sugar is necessary.