I've teamed up with Alexian to bring you this delicious post!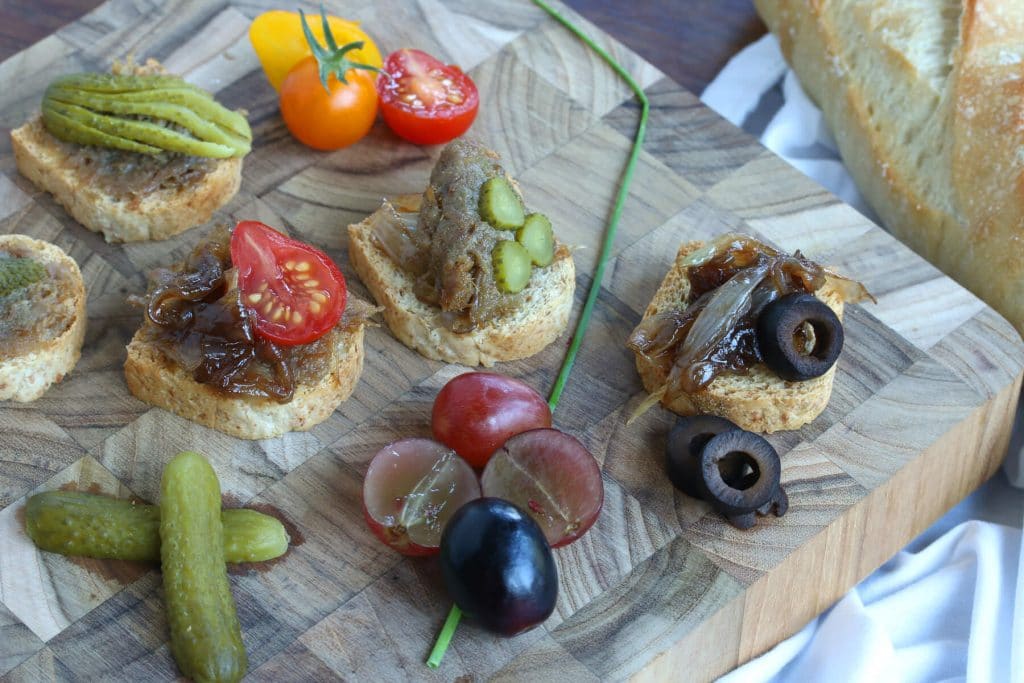 I recently had the opportunity to try some amazing products from ALEXIAN.  Let me tell you a little about them.  Alexian is America's premier producer of the finest pâtés and mousses all made with the finest, freshest all-natural ingredients and without any preservatives, additives, hormones, antibiotics or fillers.
Alexian's founder, Ewald Groezinger, was originally from my hometown of Stuttgart, Germany where his family, since the 16th century, specialized in making the finest meat products.  He started Alexian in the U.S., named after his two children Alexandra and Ian, and after his passing his wife, Laurie Groezinger Cummins, continued the business as a Certified Woman Owned Business Enterprise.  The family tradition of excellence continues to this day in every aspect of Alexian's operation and they celebrated their 30th anniversary three years ago.
I moved to the U.S. eleven years ago and have never been able to find the quality pâtés and mousses that I enjoyed in Europe.  So I was thrilled when I came across Alexian.  Sampling their products was like being back in a café in Paris or on a French countryside picnic with friends.  And I'll tell you, Alexian's Duck Rillette is seriously one of the best things I've ever tasted!
In a word, Alexian's products are superb in every way.  So much so that I wanted to do something special to share them with you.  I have invited a friend of mine from France to showcase them.  Today she'll be featuring Alexian's Duck Rillette and Pheasant Rosemary Pâté as she introduces you to "country style" French entertaining.   And stay tuned, because there will be a part II to this French entertaining series!
Joining us today is my super talented French friend, Sandrine Vannson, who is going to tell us a little about French entertaining.  Originally from The Vosges region of France, Sandrine went to school to pursue a career in fashion design.  She left college with her degree only to go back to school to complete a second degree in teaching.  She now lives an hour southeast of Paris teaching high school English.  Sandrine comes from a family of accomplished cooks and restaurateurs and is herself a phenomenal French cook.
Sandrine spent a couple of weeks with us last month.  We did some sightseeing of areas she's never visited and, of course, did some cooking.  She was here just in time for the arrival of my goodies from Alexian.  We are fortunate to have her with us today to share her talents with us tell us a little about French entertaining.
Welcome, Sandrine!
Kimberly:  Tell us a little about your background in cooking and the different influences you've had.

Sandrine:  As far as I can remember, I have always been in a kitchen. It was and still is the most important room at home. I have always seen my mother and grandmothers cook and enjoy what they were doing. I grew up in the northeastern part of France, in the Vosges area, not far from Epinal, and that area as well Lorraine and Alsace largely influenced my grandmothers.
On my paternal side, the family didn't move a lot for centuries, simply going down the Moselle river from the mountains to the valley. The cooking there is very countryside with lots of bacon, meat, cheese and potatoes. It's a simple style of cooking yet so rich and tasty. My childhood is filled with memories of this homemade cooking.  During the spring and summer we would spend our Saturday's at my grandfather's where had a large pond.  We would have a barbecue and then we would go fishing or relaxing in the clearing with nothing but nature to listen to. We would also go mushroom and blueberry picking. Then we would take everything back to my grandparent's house and have girolle mushroom omelets followed by trout with slivered almonds and blueberries fritters for dessert. Yummy!
On my maternal side we had another tradition. We would make couscous every time we gathered as a family. Having been married to a soldier, my grandma learned how to cook different dishes from the places where they would have been sent with the army. So when they went to Djibouti she learned how to make the couscous and that's how the tradition started.  I guess I developed my adventurous side in cooking with my mom, an incredible cook, my sister, her husband (who has Italian roots) and some of my closest friends.
Most of my friends' parents (one or both)  came from different countries so I was lucky to have some great teachers to introduce me to new flavors and new cooking styles and techniques.  I also had the incredible chance to live in the USA for a year and a half. While there my roommates, who were mostly foreigners like me, were a source of inspiration.  Asian, American, Mongolian, Tahitian, Mexican and so on. A real goldmine.
Since then, I've been eager to find and try new things. Give me a new cookbook or the opportunity to meet other passionate cooks and it's like Christmas to me!
Kimberly:  I understand two of your grandmothers owned their own cafes in France?
Sandrine:  Right. My mom's great grandmother had a café- restaurant first in Nancy, Lorraine, and then sold it to open a new café in Haroué next to the castle. Her son, my mom's grandfather, was also a cook and worked in Paris for a little while before going back to Lorraine. He never stopped cooking and transmitted this passion to his son (my grandfather), my mom and several of her brothers and sisters, down to us, his great-grandchildren. One of my cousins also opened a restaurant.  My great grandmother on my dad's side owned a café as well.  I remember playing with the little wine glasses she used to serve liquor. My sister and I would pretend that we were running a restaurant. We had so much fun.
Kimberly:  What do you enjoy cooking or baking the most?  What would you consider your specialties?
Sandrine:  I really like cooking different kind of things. Asian, Italian, Mexican and French (of course) are my favorite of all. I prefer cooking the savory dishes but I have to admit that a good lemon meringue pie always wins my heart!  My family would always go for my caramelized pork or if it's during Christmas, they would ask for my mango upside-down tart with foie-gras.
Kimberly:  You've traveled extensively, sampling cuisines across the world.  What do you see as some of the core differences between French and other cuisines?
Sandrine:  The length of the meals! We, French people, love to eat and we could spend hours sitting at the table and go through appetizers, starters, main dish, cheese/salad and dessert. Some even push it to the coffee with mini-cakes. Another difference is the size of the different courses. French cuisine is known to be sophisticated. So you usually have quality in products and presentation over quantity. We probably would define it as an art! I believe that French cuisine has different faces: It can either be traditional, gastronomic, or nouvelle cuisine. It's also versatile because each region has its own specialty and way of cooking.
Kimberly:  Today you'll be demonstrating some traditional French ways of entertaining, specifically how to serve pâté and rillette.  Here in the U.S. these items are considered more upscale and, unfortunately, they are something many Americans have never even tried.  What role do pâté and rillette  play in French entertaining today? 
Sandrine:  They are basics.  They are something that you will find in any countryside aperitif or buffet-dinner or just simply anytime you feel like it!
Kimberly:  With that introduction we're now going to turn the time over to Sandrine to show us some fun, traditional French ways with pâté and rillette as well as her famous Maple Caramelized Onions!
Sandrine will take it from here….
Rillettes and pâté are very common in France. Rillettes have been around since the 15th century in the Indre et Loire region, not too far from where I live now. For centuries it was considered a treat. Later it was popularized in a city called "Le Mans" in  Sarthe, a neighboring region. Since then rillettes can be found anywhere and are especially appreciated in country style buffets or as appetizers.  It's perfect for picnics and eaten in sandwiches. You just spread it on fresh crispy bread and add some pickled gherkins.  Rillettes are so tasty that they have been created with a variety of meats. You can find rillettes made out of pork, duck, goose, roasted chicken, rabbit, game or even salmon, tuna  or trout.  Alexian's duck rillete is one of the best I have tasted, and I have tried many.
Pâté ( or "terrine" as we could also call it) is another great alternative for a more rustic type of entertainment.  It can either be made with meat, fish or vegetables. You always want to associate it with good crispy, flavorful bread.
The Alexian products we will be working with are just perfect for this kind of rustic "country style" entertaining.  Hopefully, I'll tempt you with this little overview of what France looks and tastes like .
There is an association that I really like with duck: "le confit d'oignons" (glazed onions). I have my own interpretation of it and it will be perfect for our preparations today.  So let's start with the Maple Caramelized Onions.
To make the caramelized onions, take as many onions as you want depending on how many caramelized onions you need.  Peel them and slice them thinly. Melt some butter in a frying pan and add some olive oil so the butter doesn't burn. When the onions are translucent add some balsamic vinegar so it will color the onions and adds this nice acidity touch.
Add some sugar (I would say a small tablespoon of sugar per onion).  Stir together and then add some maple syrup (a tablespoon per onion or a little more if you like it a little sweeter, but not too much or it will be too sweet) and keep stirring. Let it caramelize until the onions are glazed.
Now let's prepare the rillettes….
Originally, rillettes were only made with pork. People used to give cooked pork morsels to their neighbors as a treat. Rillettes were at first a process to preserve pork meat, that's why you have a layer of fat on top of it.
Today, we want to shape our rillettes to be able to make some nice looking "canapé".  In order to scoop and shape them the rillette will need to sit at room temperature for a little while.
To make a nice-looking "quenelle", I will use 2 spoons to work the rillettes.
We're going to place some of the onions and rillette on some crispy toasts.  You can make your own crostini  from fresh French baguettes or you can use these French-imported Mini Toasts from Divina.  The latter is what we are using today.
Just before dropping the rillettes quenelle onto the toasts, add some of the maple caramelized onions.
Don't forget to slice some pickled gherkins and add them on top of the rillettes. Rillettes and gherkins just belong together.  We can't think of eating rillettes without them!
I'm using Maille Cornichons from France and highly recommend them.  That's what we use in France and they are the best.
You can  slice the gherkins as you please. There are no rules. Just be creative and enjoy what you're doing. The sky is your limit. You can also pair these toasts with cherry tomatoes or any fresh vegetables you like. Here again, we have this picnic idea somewhere in the back of our minds. Either refined or rustic. You choose the atmosphere.  Sandwiches would look more rustic while this kind of presentation is a little more sophisticated.
When your "canapés" are all done, arrange them on platter (a wood platter would be consistent with the countryside entertaining theme),  and add some fresh veggies for decoration.  You can also add some grapes  which will strengthen the idea of rusticity.  Beautiful to the sight and so tasty.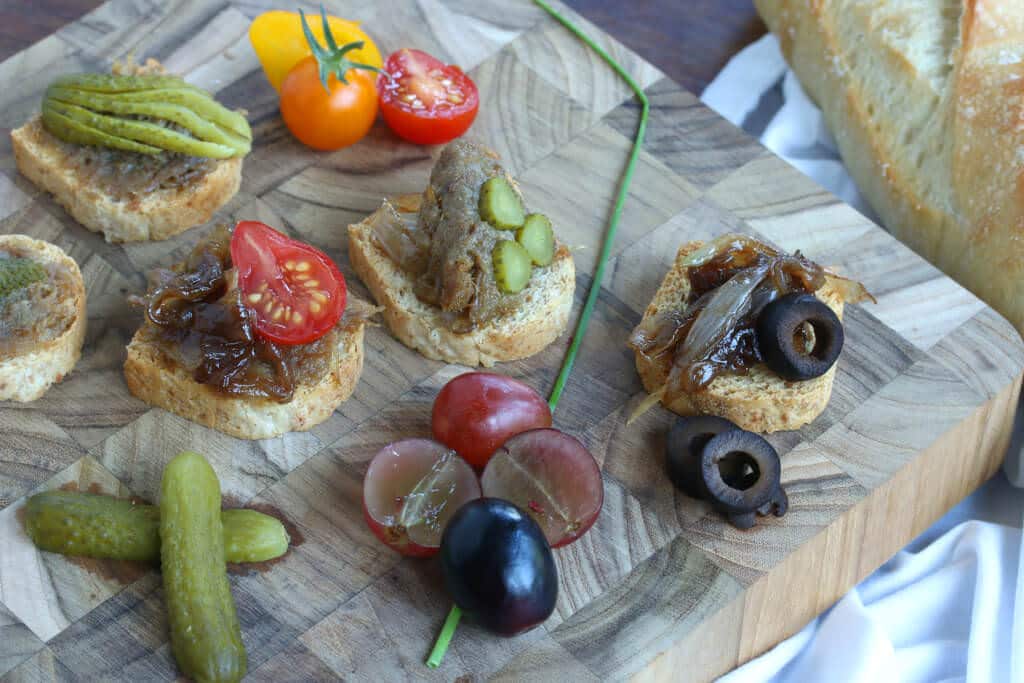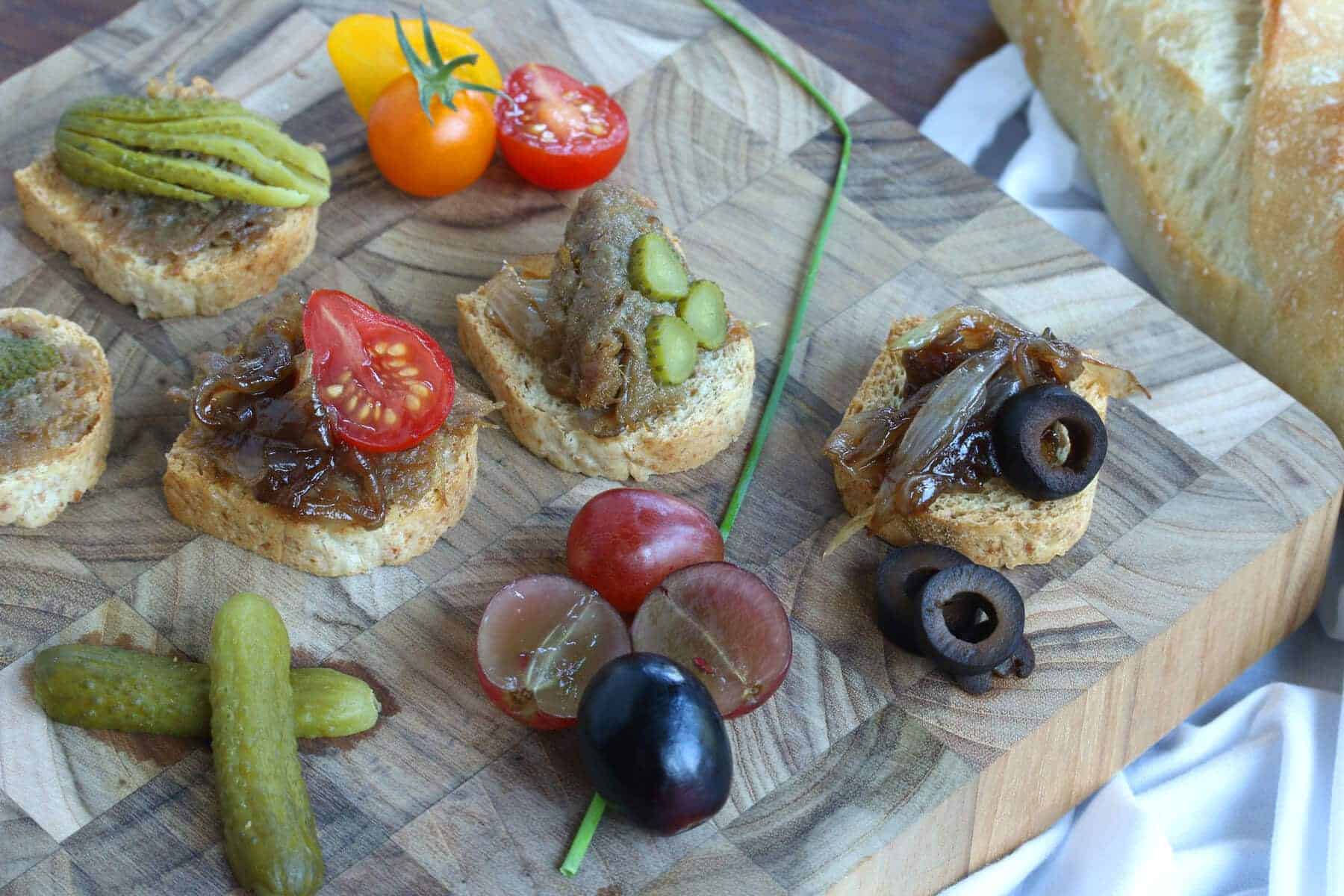 Next we're going to work with the Pheasant  Rosemary Pâté.  Unlike the duck rillette, the texture is not as malleable so the best ways to present it is to cut into squares and jab it with a toothpick.
You can either add fresh tomatoes or gherkins or both.  Or you can just slice the pâté and put it on a slice of fresh crusty bread or on toasted bread. You can also make mini sandwiches held by a toothpick. These are just a few ideas of how you can present it.
As with the duck rillette canapés, arrange these on a wooden platter for a more rustic look and garnish with fresh veggies, including lettuce leaves, and grapes.
We hope you've learned a bit about French entertaining and have been inspired to try some rillette and pate at home!  Be sure to join us for Part II when I discuss French entertaining the contemporary way!
To find a store near you that carries Alexian products, go to their Store Locater. 
One lucky, randomly chosen winner will receive this entire French-themed gourmet package, including a combination of 6 different pates/rillettes/mousses from Alexian!
a Rafflecopter giveaway

One winner will be randomly chosen and notified via email.  If the winner does not respond within 48 hours another winner will be chosen.  This giveaway is open to U.S. residents only.
**THIS GIVEAWAY HAS NOW ENDED**
Maple Caramelized Onions
These Maple Caramelized Onions from Sandrine Vannson are simply delightful and are the perfect accompaniment for your French entertaining.
PIN ME!

A special thank you to Alexian for sponsoring this post!  As always, all opinions are entirely my own.Lorraine photo courtesy Christian Ries via CC licensing