Thank you to Honest Cooking and Castello for sponsoring this post!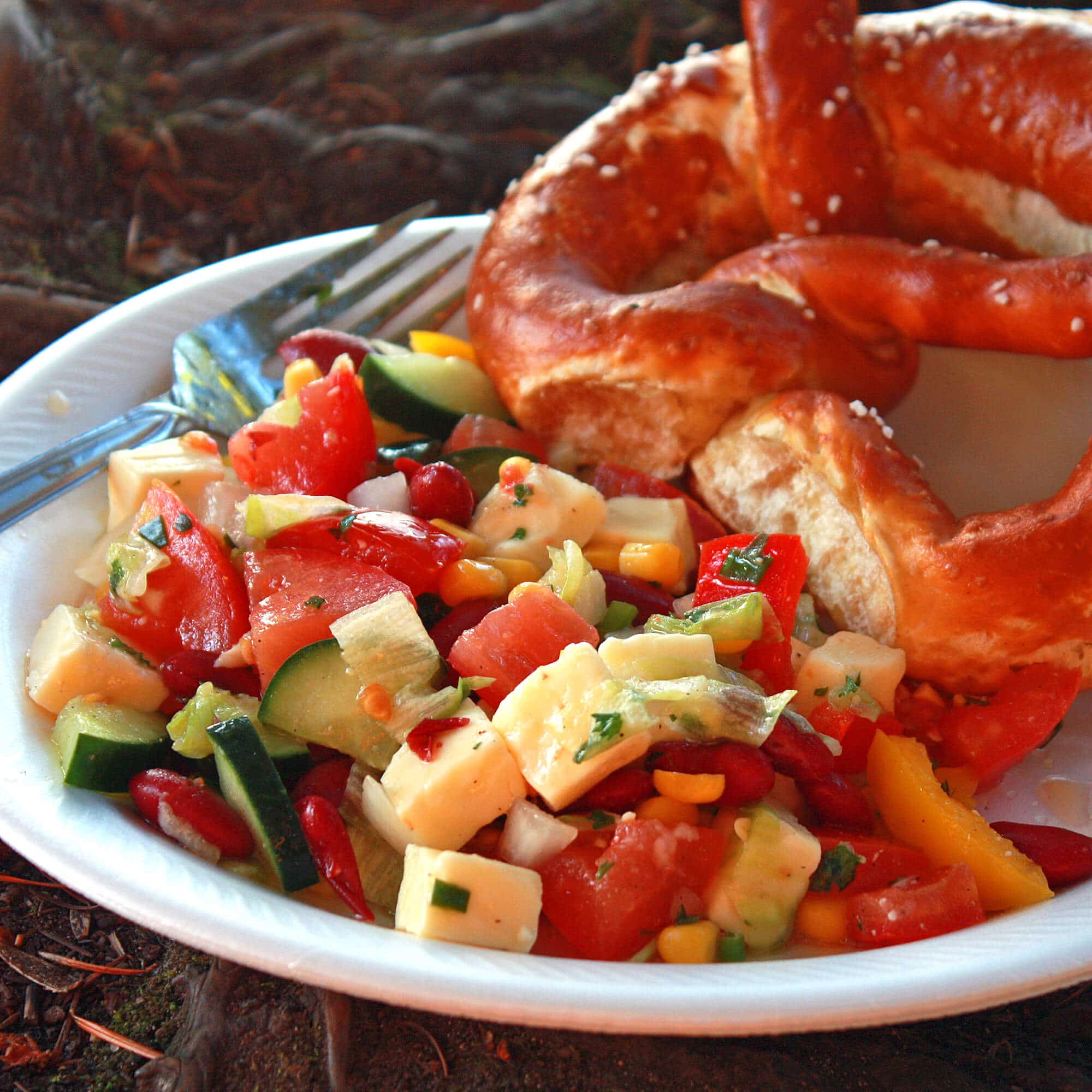 Though I do try to exercise self-control, I'm a bit of a cheese addict.  Growing up in Europe with regular access to the world's best cheeses rendered me into something of a cheese snob.   I can't help it.  The ability to appreciate fine cheeses was cultivated within me from childhood.  From my geographical vantage point in southern Germany, I could jump in the car and, within just a few hours in any direction, could be tasting cheese in France, Italy, the Netherlands, Luxembourg, Hungary, Switzerland, etc.  Then, when I moved to England, I fell in love with English cheddar (what cheddar is supposed to taste like) and a whole variety of cheeses from the British Isles.  So when I was offered the opportunity to sample some cheese from Castello, a Danish family-owned dairy, and to post about my "Castello Moment," I readily accepted.  Castello is the producer of the #1 premium blue cheese in the U.S., the winner of dozens of international awards, and I couldn't wait to try their Alps Collection.
Something that especially got me excited was seeing the following words on the back of the cheese labels:  "Product of Germany."  I was liking it already.  All three of the cheeses I had the pleasure of sampling were from the area I grew up in and comprise Castello's Alps Selection.  In order of mildness and texture, there was Weissbier cheese, Classic cheese, and Hirten cheese.  All three delicious and all three from southern Germany.  Oh, how I love Germany.  I love and miss its landscape, its culture, customs and traditions, its architecture, its food.  And so with some exquisite German cheese on hand, I decided to make a recipe that I would have enjoyed eating in Germany on a warm summery day.
Come join me on a picnic in the beautiful Pacific Northwest, an area I chose to settle down in, in large part because its climate and landscape are so similar to what I know and love from Germany.
Point Defiance Park in Tacoma, Washington is one of my favorite places in the South Puget Sound area.  A gorgeous pine forest complete with a rain forest atmosphere, a quaint and friendly zoo, a vibrant and colorful rose garden, an enchanting Japanese garden, a sweeping beach along the Puget Sound, and pristine views of the water, islands, and the Tacoma Narrows Bridge.  What better setting for a summer picnic?
A view of Gig Harbor, another favorite place.
Todd and I have a special little spot that we love.  It's hidden away and offers the perfect view of the Puget Sound.  Elevated up on a ledge that juts out over the water, this secluded spot is the perfect place for a sunset picnic.  We try to set aside Friday evenings as date night.  My parents watch the kids and while they get their "grandparent fix", Todd and I take off to enjoy some alone time.  This was our date night and dusk was approaching.  My favorite time of day.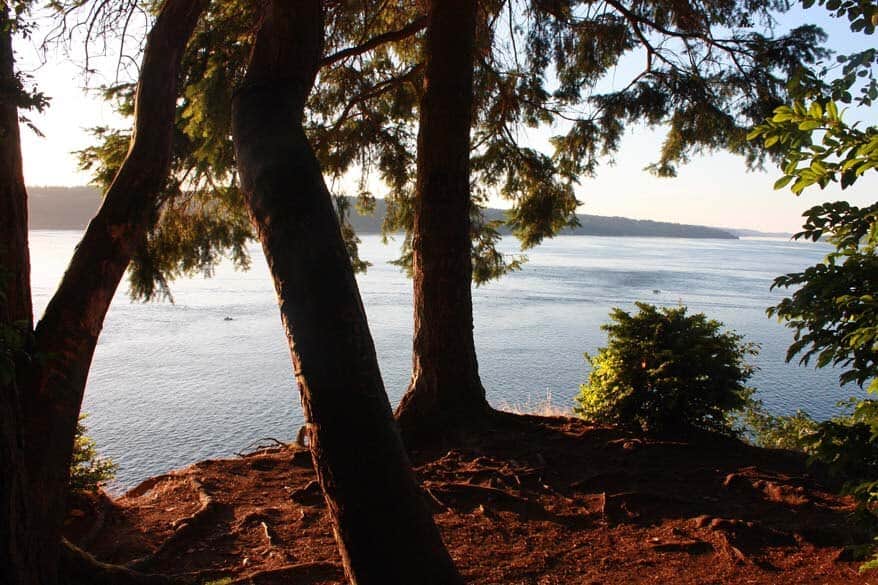 Gorgeous views from our picnic spot.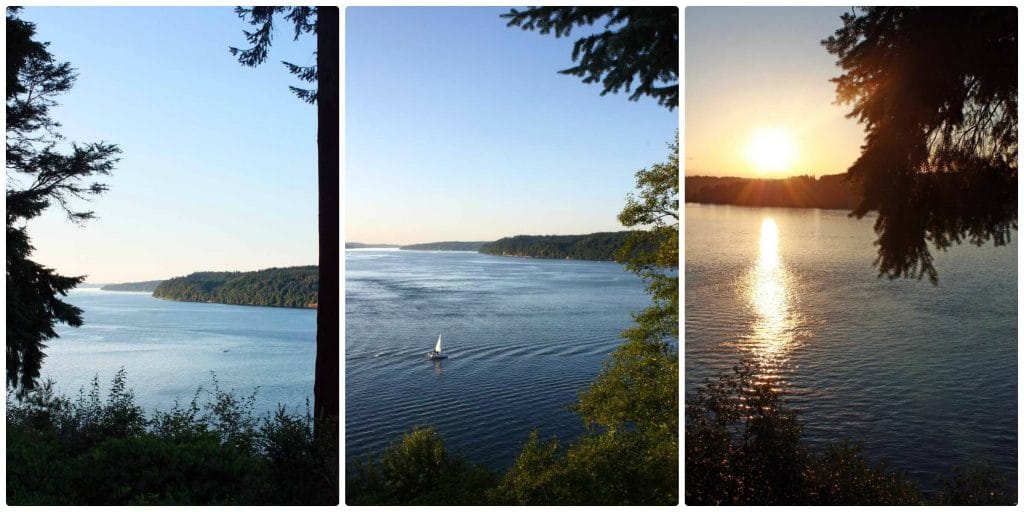 And so, with the mood and the setting complete, we pulled out our German Picnic Salad along with some authentic German pretzels from a nearby German bakery.  Todd and I chatted and reminisced about Germany and the various places we've visited in Western Europe.  Our Castello Moment was wonderful.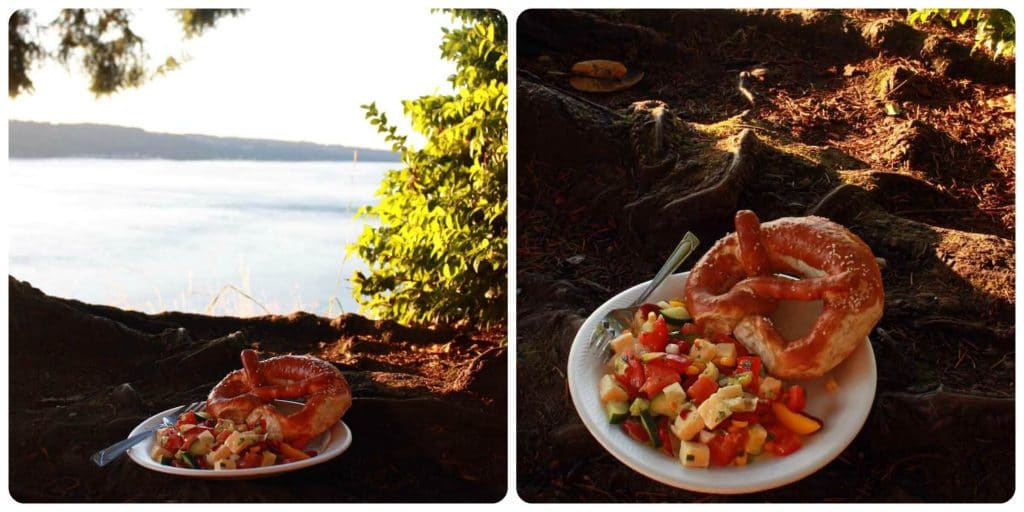 And then the cutest thing happened.  It was perfect timing and I was so glad I had my camera out to capture it!
Just as we were getting ready to put the rest of the food away and pack up to leave…
Who could resist such a plea?  And so we shared.
Thank you, Castello, for your wonderful cheese, for the walk down memory lane, and for the opportunity to enjoy a special moment in time.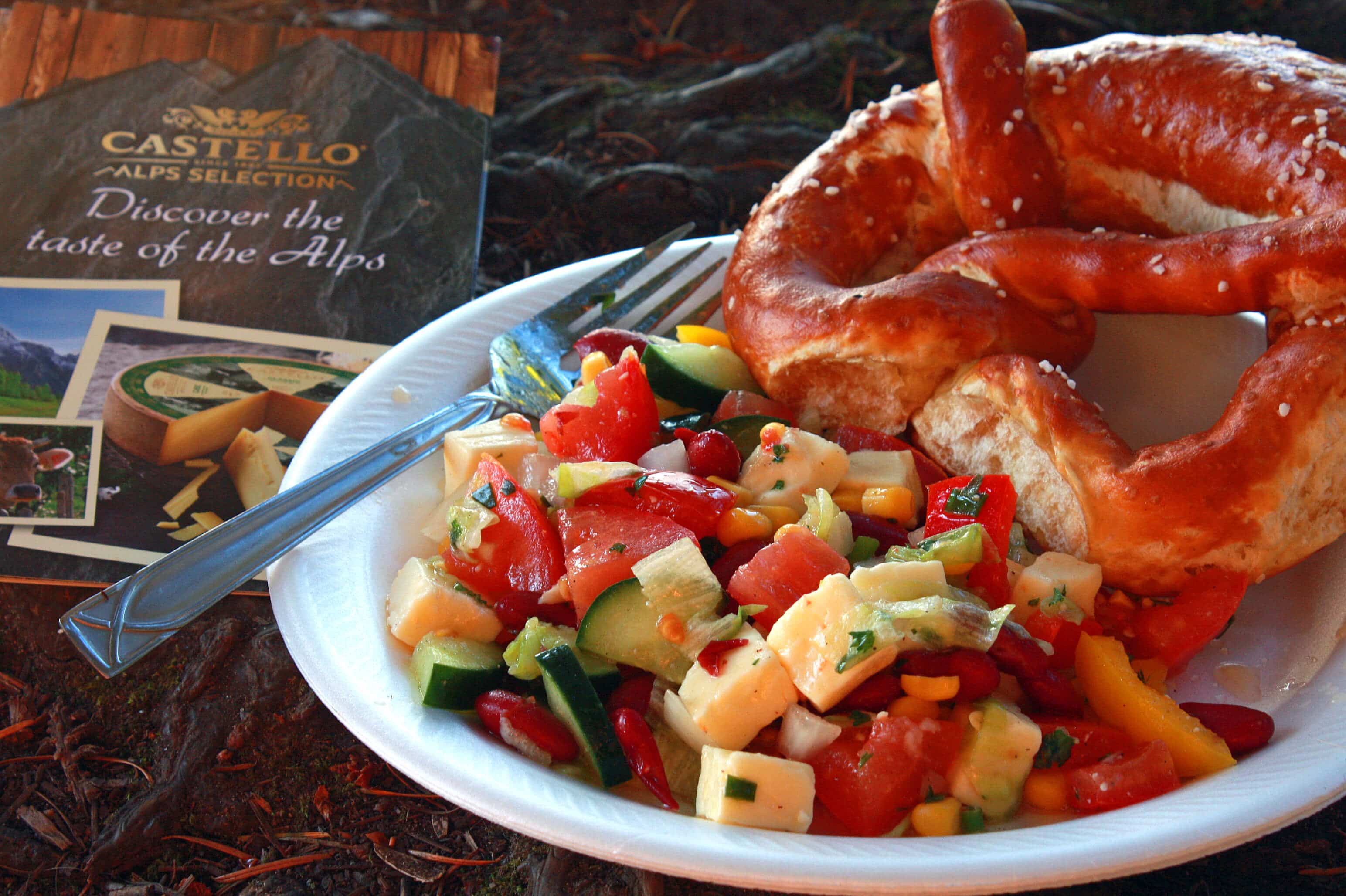 Be sure to also check out my recipe for Fresh Roasted Tomato and Herb Bread, it's perfect served with butter and cheese!
Bursting with the fresh flavors of garden herbs and roasted tomatoes, this bread is perfection in a loaf.  And what made it truly heaven was the addition of some fine cheese.
And now, finally, for that German Picnic Salad you've been waiting for!
A fresh, healthy, flavorful and colorful summer salad that will serve as the perfect accompaniment to your evening meal or garden picnic.  Packed full of 6 different vegetables, beans, corn and – the crowning touch – cheese!  I used Castello's Weissbier cheese for this recipe, but could have easily used their Classic and Hirten cheese as well.  Choose a cheese based on your strength preference.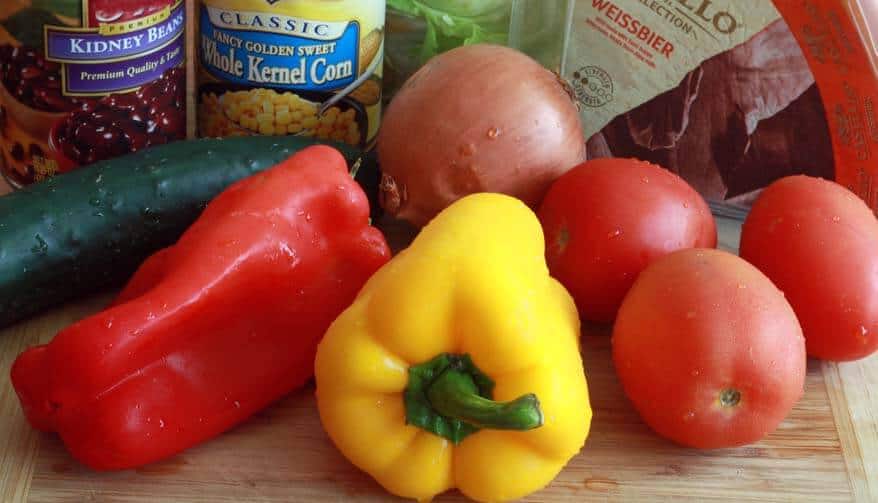 Use about 6 ounces of flavorful mild to medium cheese.
Cut the cheese into 1/2 inch cubes.
Place all the cut up veggies, beans, corn, and the cheese in a large mixing bowl.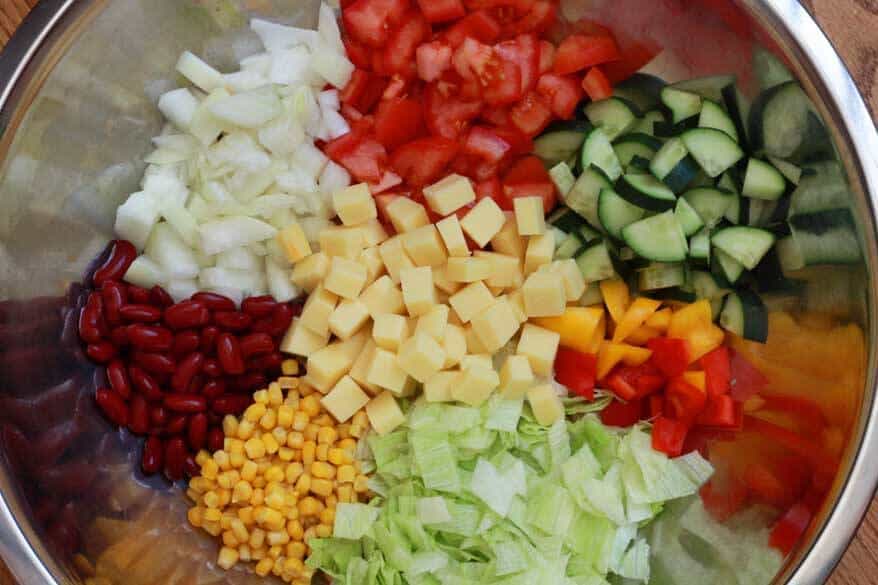 Chop up some fresh chives, parsley and marjoram.
Note:  Fresh herbs are a must for this dish.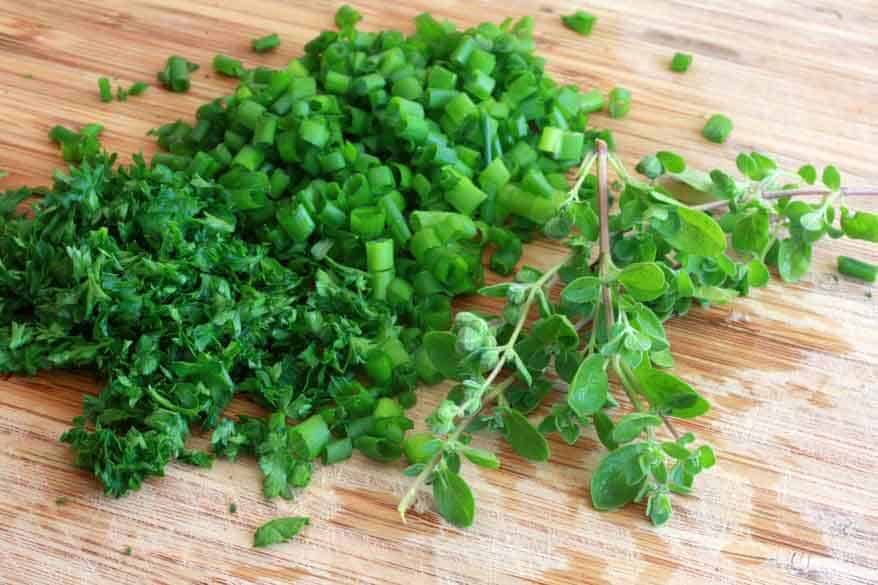 Whisk the oil, cider vinegar, salt, pepper, sugar, and mustard in a bowl until emulsified and then add the fresh herbs.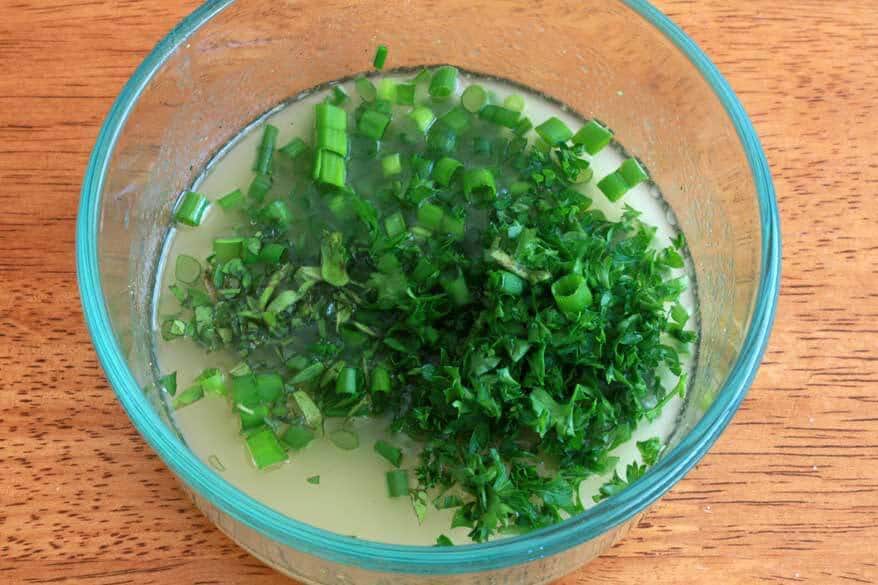 Pour the vinaigrette over the salad.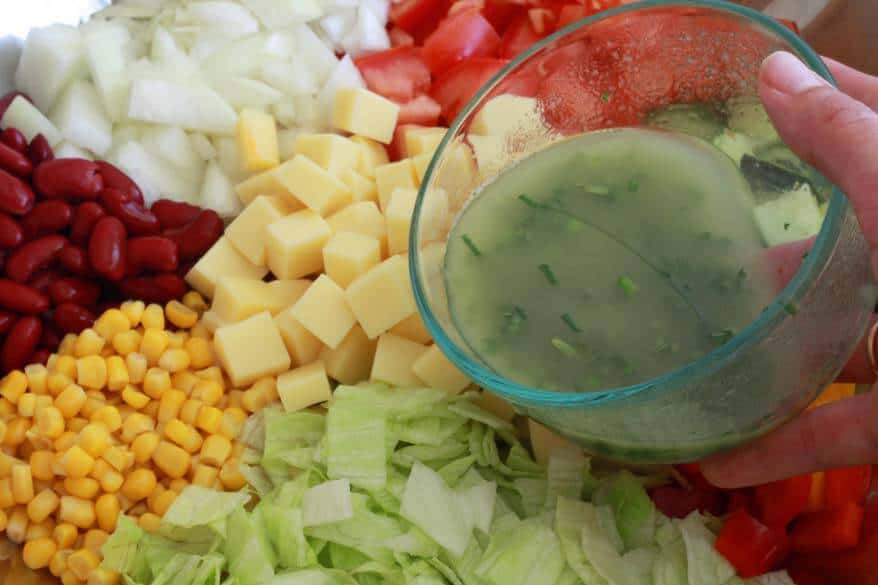 Stir to combine, cover, and refrigerate for at least 3 hours (the longer the better), stirring occasionally.
Remove the salad from the fridge at least 30 minutes before serving.  Enjoy it as a side dish or as a main course served with some crusty bread.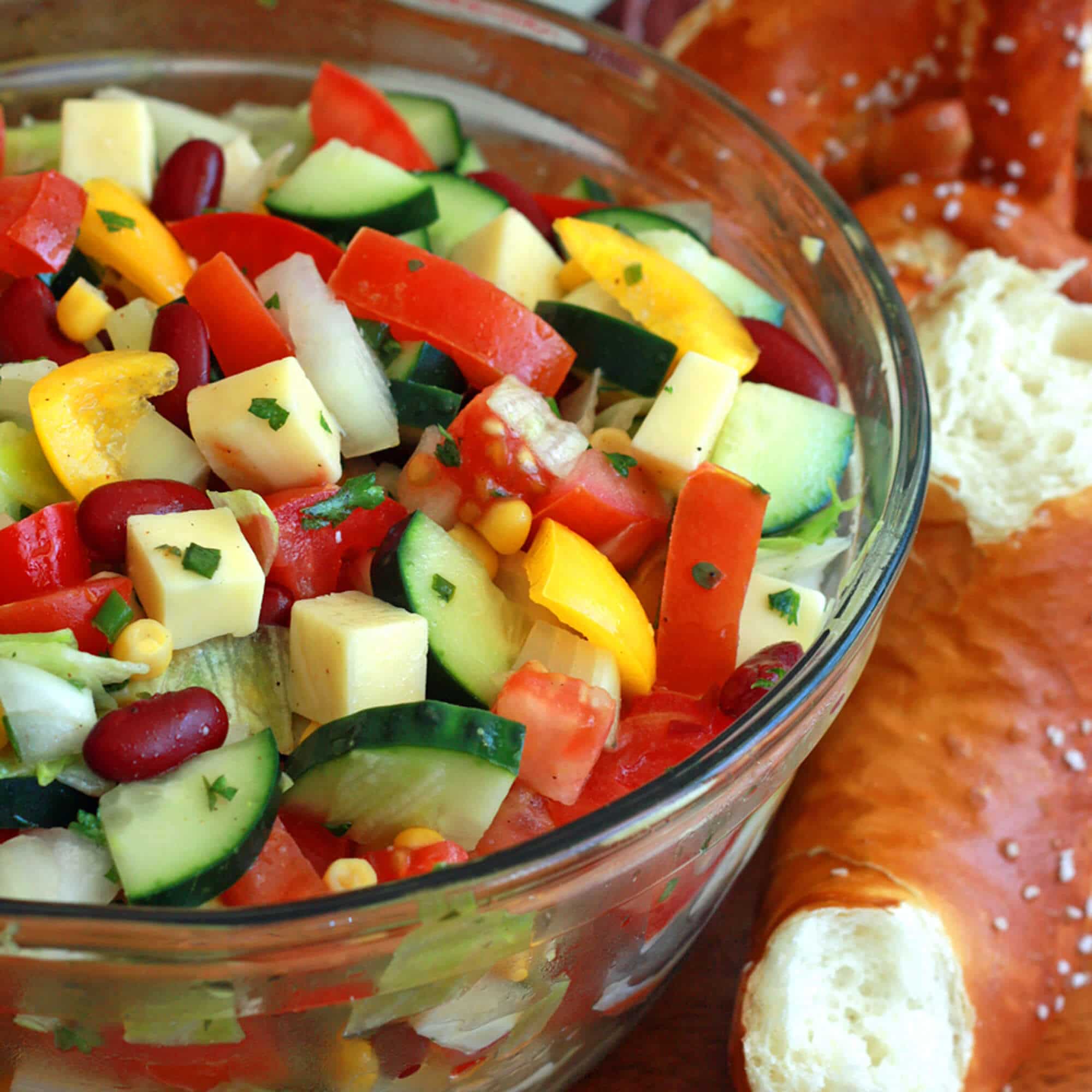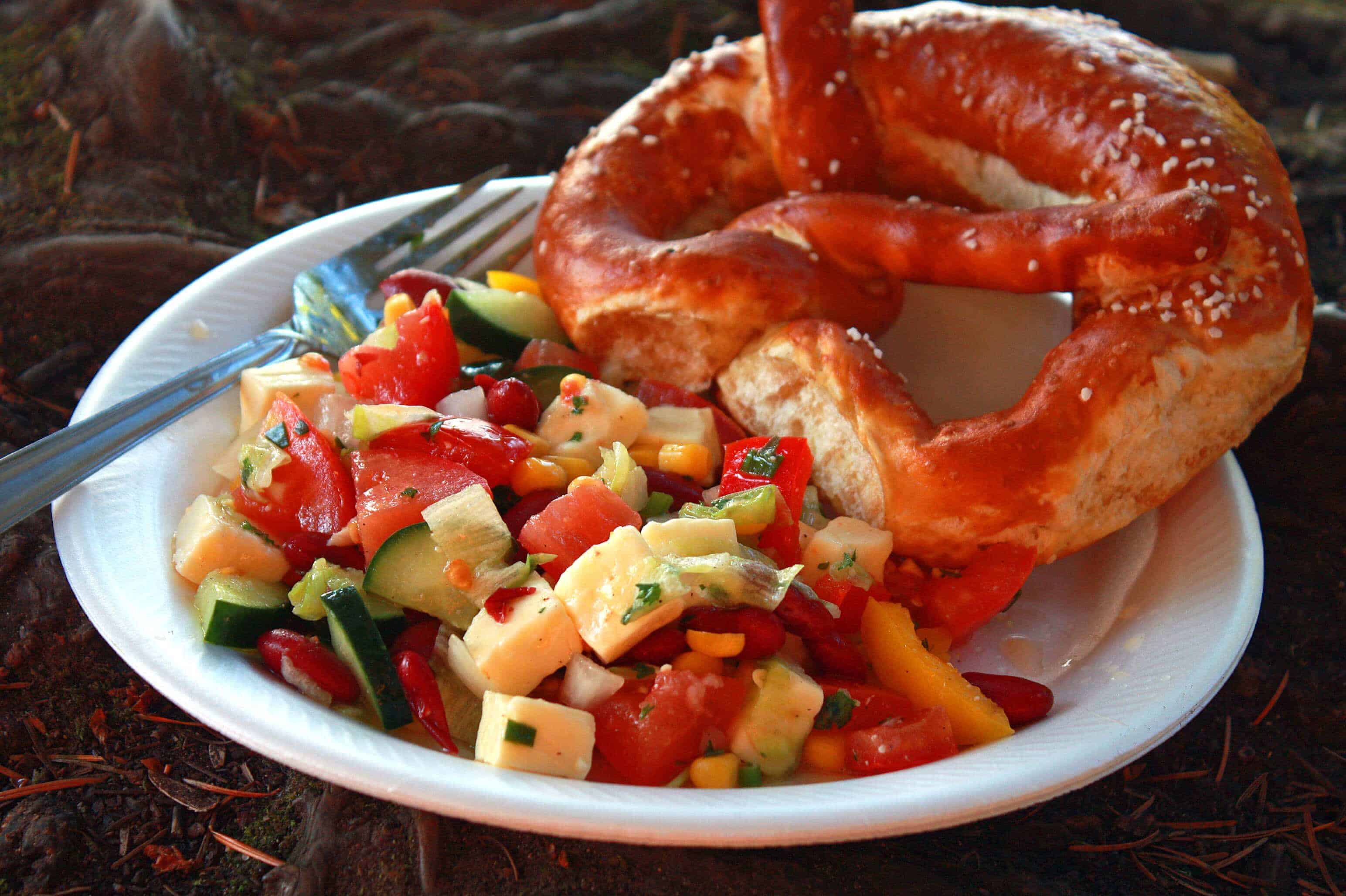 German Picnic Salad
:
Kimberly Killebrew, www.daringgourmet.com
Ingredients
6 ounces Castello Weissbier cheese, or your favorite firm and flavorful cheese, cut into ½ inch cubes,
1 large onion, chopped
½ cucumber, diced
½ red bell pepper, diced
½ yellow bell pepper, diced
3 Roma tomatoes, diced
2 cups finely chopped iceberg lettuce
½ can drained kidney beans
½ can drained corn
For the dressing:
5 tablespoons neutral-tasting oil (I use avocado)
4 tablespoons apple cider vinegar
1½ teaspoons salt
¾ teaspoon sugar
¼ teaspoon freshly ground black pepper
1½ teaspoons German or yellow mustard
2 tablespoons chopped fresh parsley
2 tablespoons chopped fresh chives
1 teaspoon chopped fresh marjoram
Instructions
Combine the vegetables, kidney beans, corn, and cheese in a large mixing bowl.
To make the dressing, whisk together the oil, vinegar, salt, sugar, pepper and mustard until emulsified. Stir in the fresh herbs.
Pour the dressing over the salad, cover, and refrigerate at least 3 hours (the longer the better) before serving. Let stand at room temperature at least 30 minutes before serving. Enjoy with some crusty bread.
Thank you to Castello for sponsoring this post.