Ginger Scallion Noodles.  Ready in less than 15 minutes + can be made ahead of time + tastes delicious = Yes, please!
Yesterday was the 4th of July and we had lots of family fun.  We headed off for the carnival, looking forward to the kids being able to get on some rides.  As usual, Liam insisted on pushing Emily.  He won't let anyone else touch the stroller!  Devoted older brother.
One ride immediately caught our 3 year old's interest:  "Dragon Train!" he shouted.  He was just barely at the required height to get on.  Turns out there were no kiddie rides for anyone under his height, so Emily, our 1 year old, had to forego rides this time.
We strapped him into the ride and he was just thrilled!
Todd and I were giddy with excitement, too.  "Hi, Liam!!"
And then the dragon train started to take off!  Liam's eyes and face lit up and we cheered him on!
I'm really not sure who was more excited – Liam or us :)
We felt bad that there weren't any rides suitable for Emily.  She was such a good sport about it, sweet baby girl.  She watched her brother on the rides and cheered him on.  She was enjoying all the sights and sounds.
Liam's excitement and courage inspired us adults to try one of the "big" rides.  It had been a few years since we had been on this particular ride.  Though nervous, we thought it looked pretty fun…from the ground anyway.  Once we were up off the ground it was a whole other story!
I love fast rides, but seriously, why do we willingly DO that to ourselves??!
Well, we teetered around for a bit until we regained our footing and then let Liam choose another ride.
As much as he loved the "dragon train," he had found his soul-mate in this one!
I think he could have stayed behind the wheel all night and been perfectly happy, but after a couple more rounds it was time to head back.  He ran back to Emily's stroller and pushed her through the crowds back to the car.
After an action-packed day of fun, food and fireworks, I'm feeling a little pooped today.  How about you?  A quick but tasty meal was definitely on my agenda today and these Ginger Scallion Noodles fit the bill perfectly!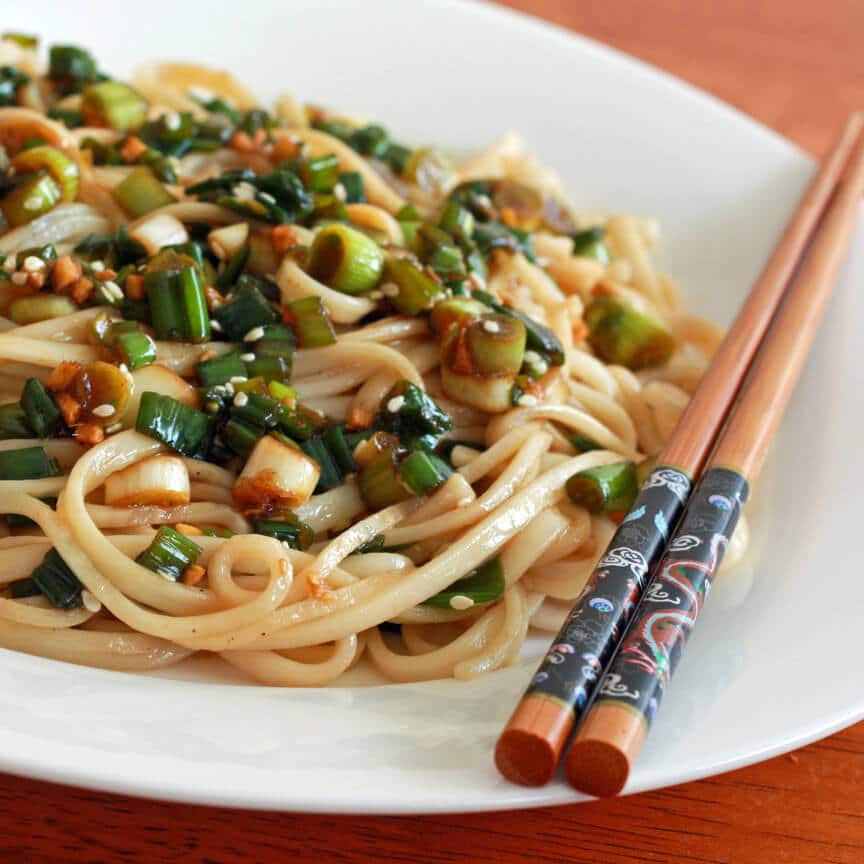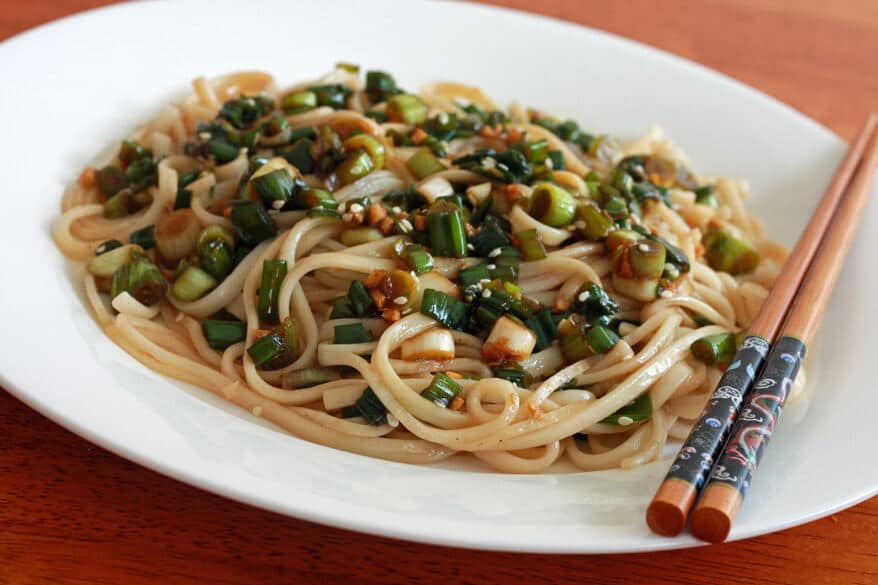 Asian food lovers, don't forget to check out this recipe for the Best Homemade Teriyaki Sauce!

Ginger Scallion Noodles
:
The Daring Gourmet, www.daringgourmet.com
Ingredients
8 oz Chinese noodles, or noodles of choice
1 large bunch scallions (green onions), chopped
1 tablespoon finely minced ginger root
1 teaspoon finely minced garlic
2 tablespoons vegetable oil
3 tablespoons soy sauce
2 teaspoons toasted sesame oil
1 teaspoon rice vinegar
1 teaspoon brown sugar
½ teaspoon freshly ground black pepper
½ teaspoon red chile flakes (optional)
Sesame seeds for garnish
Instructions
Cook the noodles according to package directions (add salt to the water). Rinse, drain, and set aside.
Combine all remaining ingredients in a small bowl and let sit for at least 15 minutes. The sauce can be refrigerated for up to 2 days.
Pour the sauce over the noodles in a large bowl and toss to coat. Serve sprinkled with some sesame seeds. Serve at room temperature.