Whether you live in what is currently a cool and rainy place like Washington, an area that is just beginning to thaw out from a mini ice age, or some warm and sunny region, this Hungarian Chicken Goulash is something you will all enjoy regardless of your current climate conditions.
I love Hungarian food.  I love the country, the people, the culture, the traditions…their handmade leather goods, their architecture (Budapest is one stunning city – that famous bridge, the parliament, the Fisherman's Wharf, wow!)  and those fantastic and incredible little túró rudi's – Hungarian chocolate bars that are kept refrigerated.  An outer coating of chocolate with a sweet and tangy cheese curd in the middle.  I could write sonnets about these cheesy-chocolate delights…*sigh*…focus, Kimberly, focus.
My brother had the opportunity to live in Hungary for two years, so he (the lucky guy) got to experience much more of Hungary than I did.  He also speaks Hungarian fluently.  Just before we moved back to the U.S. he took me to what had been one of favorite restaurants in Budapest.  Rustic wood tables and benches, wood walls and floors.  Charming atmosphere.  The food was served on wooden slab-like plates.  We realized it probably wasn't the most hygienic (you know, as you cut into wood with utensils it's easy for food particles to get stuck in the grooves over time).  Still, it didn't detract from our enjoyment of the meal one bit.  Our favorite dish to order was the Pörkölt, a traditional thick Hungarian meat stew that is served over Hungarian egg noodles that resemble German Spätzle.  Along with it we enjoyed a classic Hungarian cucumber salad and for dessert Washideg Meggyleves, a well-known and delicious chilled cherry soup (cherries, sugar, lemon, cinnamon, sour cream, etc).  We ordered this same meal several times during our last trip to Budapest.
I found a smokin' deal on some lovely organic yellow bell peppers last week and so I stocked up.  Yesterday I was trying to figure out what to make for dinner.  I remembered I had those bell peppers.  I also had some chicken thawing in the fridge.  Why not a chicken version of Hungary's national dish?
You will be amazed at how a few simple ingredients elicit such an amazing depth of flavor.  The key is adding lots and lots of paprika and slowly stewing down the soup for a good hour or more.  I'm always amused when I see "authentic" Hungarian recipes on the web that call for a teaspoon or two of paprika.  In Hungary, paprika is quite literally added by the handful.  That is what gives you the classic flavor that makes Hungarian food so delicious.  That and pork fat, butter, onions, kolbász (traditional Hungarian sausage)…oh my!
Using quality, real Hungarian paprika SO important for the best flavor results.  There's no comparison in flavor.  We recommend this genuine Hungarian paprika from the Kalocsa region of Hungary.  It has an extraordinarily rich flavor and an exceptionally vibrant red color.  Many of our readers have tried it, written back and agree that quality Hungarian-imported paprika makes all the difference.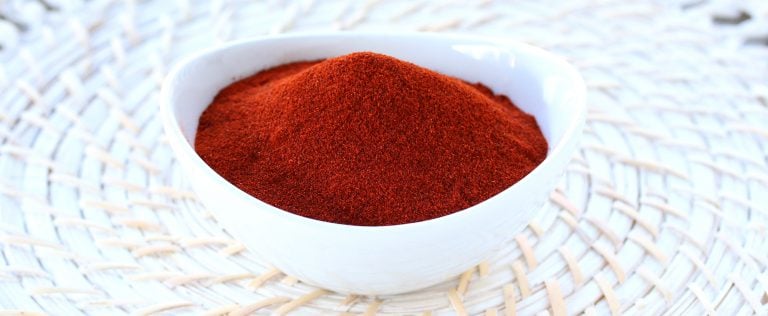 Equipped with the best Hungarian paprika you're all set for a delicious feast – Bon appetit!
Or, as the Hungarians say – Jó étvágyat!
Let's get started!
First we're going to start with the bell peppers and onions.
Chop the onions into stew-sized pieces.
Chop the yellow and/or orange bell peppers.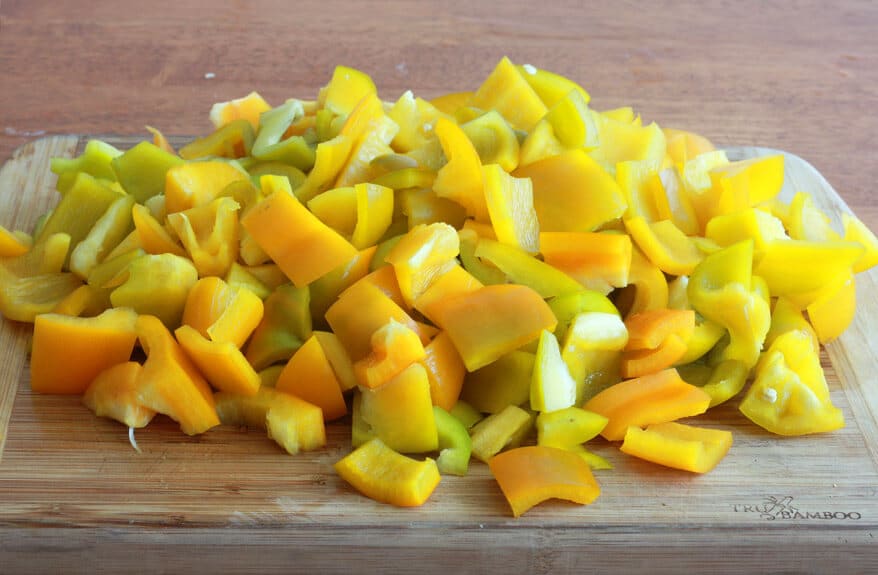 Mince the garlic.  Yes, we need lots and lots of garlic!
Heat the olive oil and butter in a large Dutch oven (I use and love Lodge) over medium high heat and cook the onions for about 5-7 minutes until soft and translucent and just beginning to turn golden.  Add the garlic and cook for another minute.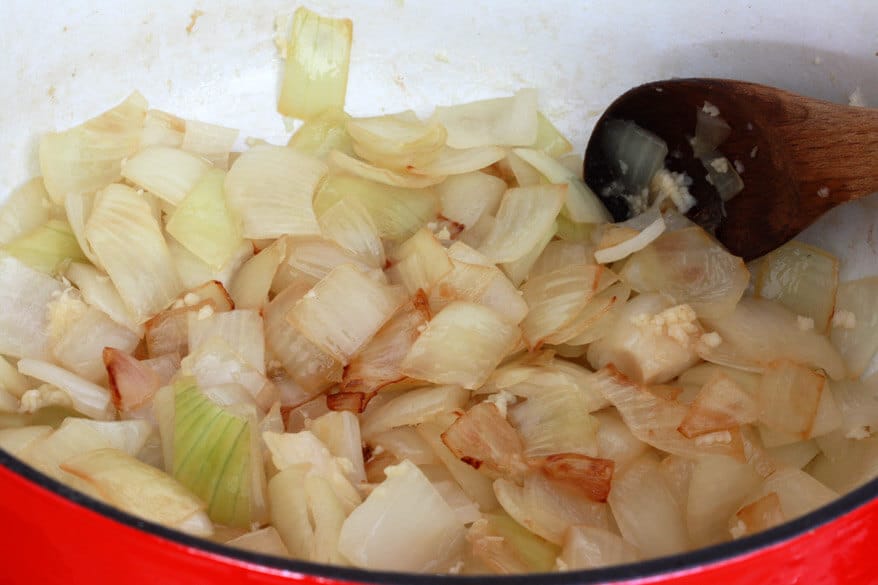 Add the bell peppers and the paprika powder and cook for another 7-8 minutes.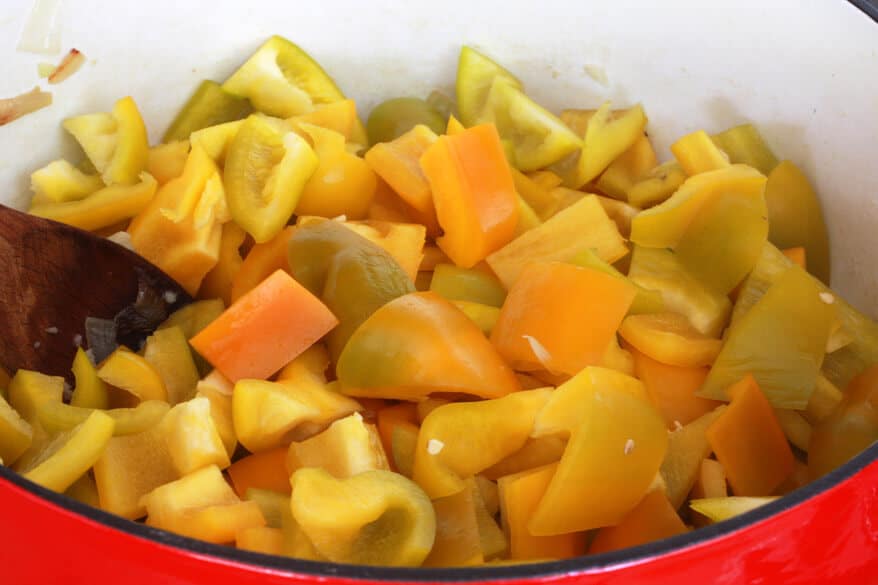 Cube the chicken breast.
Add the chicken breast along with the paprika and bouillon cubes.  *NOTE:  Update – add the paprika in with the bell peppers instead (see former step).
Stir to combine.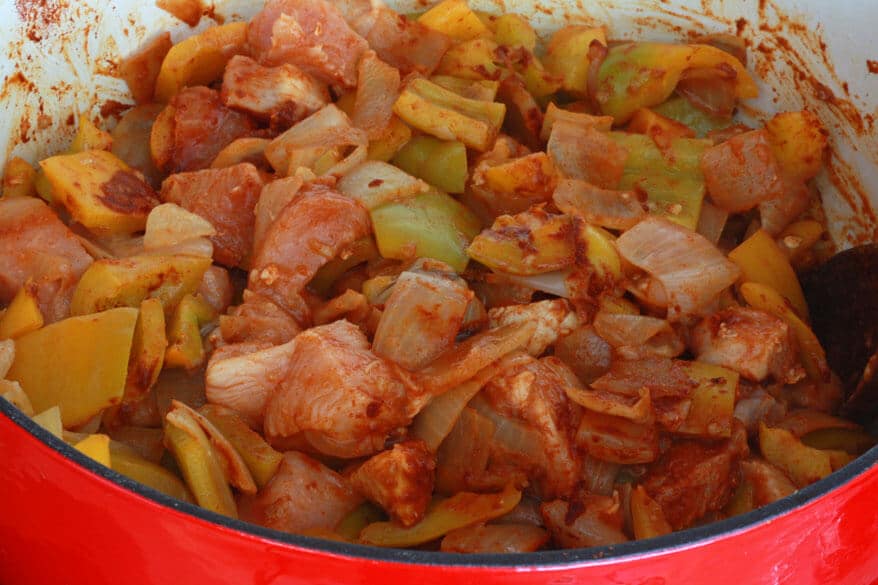 Oops, I almost forgot.  We're going to add some tomatoes as well.
After you add the tomatoes, add just enough water to cover the stew ingredients, about 4 cups.
Add the bay leaves, cracked peppercorns, and crushed caraway seeds.  Stir to combine.  Bring the goulash to a boil, reduce the heat to a low simmer, and continue to simmer, covered, for an hour.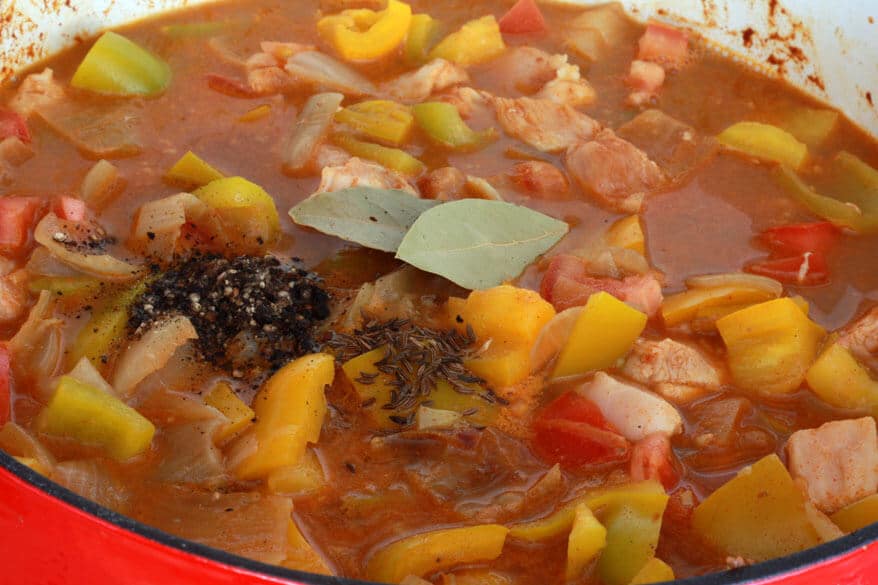 Serve the goulash hot with a dollop of sour cream (the sour cream makes a huge difference – don't omit).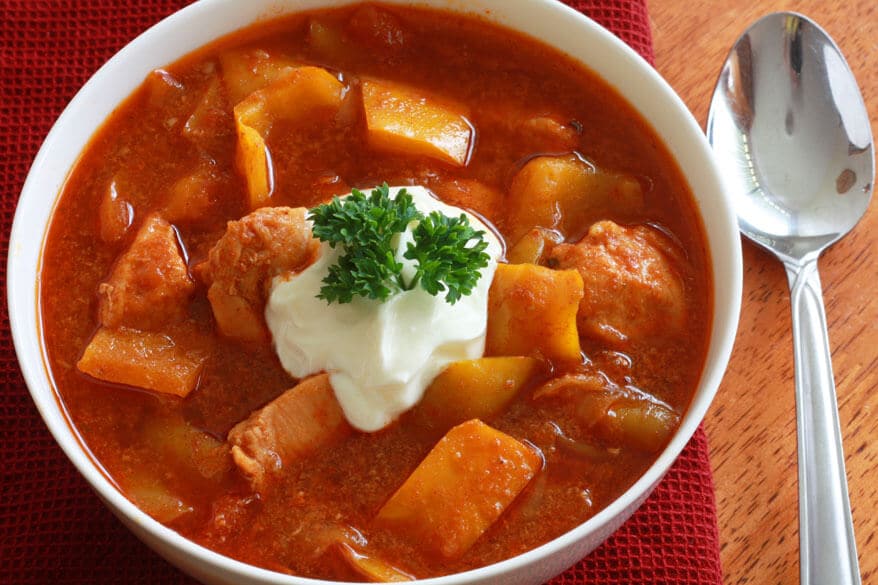 Hungarian Chicken Goulash
Made in authentic Hungarian fashion, simple ingredients yield tremendous depth of flavor.
:
The Daring Gourmet, www.daringgourmet.com
Ingredients
2 tablespoons extra virgin olive oil
1 tablespoon butter
2 large yellow onions, chopped
5 cloves garlic, minced
6 yellow or orange bell peppers (or a combination of the two), chopped
3 tomatoes, diced
3 chicken breasts (about 1½ pounds), cubed
3 chicken bouillon cubes
½ teaspoon salt
½ teaspoon caraway seeds, crushed
2 bay leaves
1 teaspoon crushed black peppercorns
Salt and pepper to taste
Sour cream
Instructions
Heat the olive oil and butter in a large Dutch oven over medium high heat. Saute the onions until tender and translucent, about 5-7 minutes. Add the garlic and cook for another minute.
Add the bell peppers and the paprika powder and cook for another 7-8 minutes until tender. Add the tomatoes and chicken and cook for another two minutes.
Add the bouillon cubes, caraway seeds, bay leaves and cracked peppercorns. Stir to combine. Pour in enough water to just cover the mixture, about 4 cups.
Bring the goulash to a boil, reduce the heat to low, cover and simmer for one hour. Add salt and pepper to taste.
Serve in bowls with a dollop of sour cream.