This post contains affiliate links.
One of the most famous Hungarian dishes, this slow-simmered Hungarian beef and onion stew is positively mouthwatering and out-of-this-world delicious!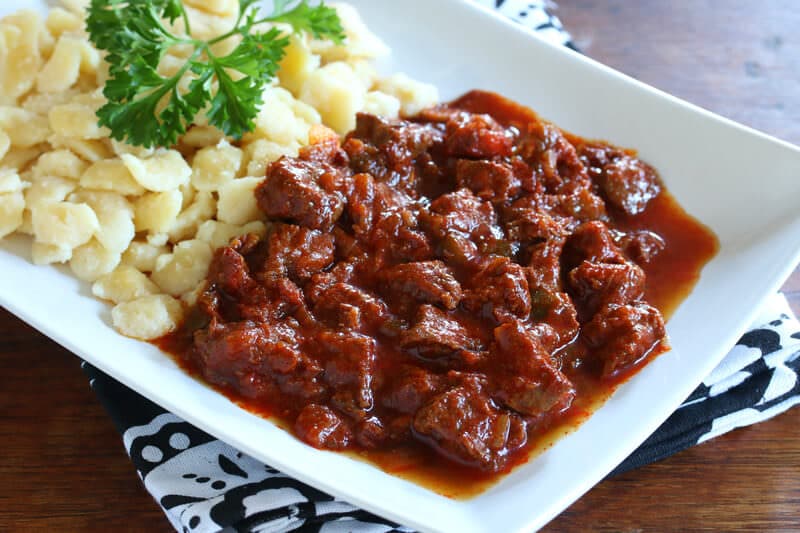 Marhapörkölt, Hungarian for "beef stew", is a prime example of how just a few simple ingredients can render the most delicious flavor.  The basic Hungarian pörkölt consists of onions sauteed in fat, meat and paprika slow-simmered in a little water and the result is simple fabulous.
My last trip to Hungary before leaving Europe and moving to the United States was with my brother.  Knowing we'd be terribly homesick, we decided to do a Grand Tour of Italy, Austria and Hungary before we left.  It's one of the best vacations I've ever had. We took time with us, simply jumped in the car with a few provisions, and drove south from Germany with no set itinerary or hotel reservations.  We wanted to be spontaneous, to go wherever the mood led us.  And it was fantastic!
While we were in Budapest we ate at one particular restaurant twice, St. Jupát.  Several years prior it had been a grease pit, but churned out the best food. It was so greasy that at the back of the restaurant where the steam was coming up through the grates on the sidewalk against the building, the grates were covered with thick residues of lard.  Fast forward a few years, the restaurant had experienced a makeover and the atmosphere was really cozy.  All-wood interior with tables made out of huge, solid slabs of wood.  And even the food was served on rectangular wooden plates.  Never mind the fact that the forks and knives of hundreds of previous customers had carved grooves into the wooden plates, raising the question of sanitation — the food was absolutely fabulous and that's all that mattered.  Plus, as always, you say a quick blessing on the food and trust that God will prevent you from keeling over after your meal.  That method of food safety has never failed us!  And so we ordered the Marhapörkölt, one of our favorite Hungarian dishes, and practically swooned over how delicious it was.  We ordered a side serving of Hungarian cucumber salad and for dessert we had traditional Hungarian cherry soup (it's served cold).  We enjoyed everything so much that we ordered exactly the same thing the following evening.
Now, I should have asked the chef for the recipe at the time, but I didn't.  Even so, I know what he would have said:  Onions cooked in lard, beef and paprika, slow-simmered with a little water.  It really is that simple.  But there are a couple of important keys necessary to achieving the best results:  The onions really do need to be cooked in lard and the paprika is added to the beef and only briefly cooked to bring out the flavor but not so long that it becomes bitter.  And you only want to use a little water so it's thick and concentrated – it's not a soup.  It's meant to be served with noodles.
And of course, most importantly, you need quality Hungarian paprika.  There are many options out there to purchase, a tiny fraction of which actually come from Hungary.  We cannot emphasize enough what a massive difference quality Hungarian paprika makes.  We recommend this genuine Hungarian paprika from the Kalocsa region of Hungary.  It has a wonderfully rich flavor and an exceptionally vibrant red color.  Many of our readers have tried it, written back and agree that quality Hungarian-imported paprika makes all the difference.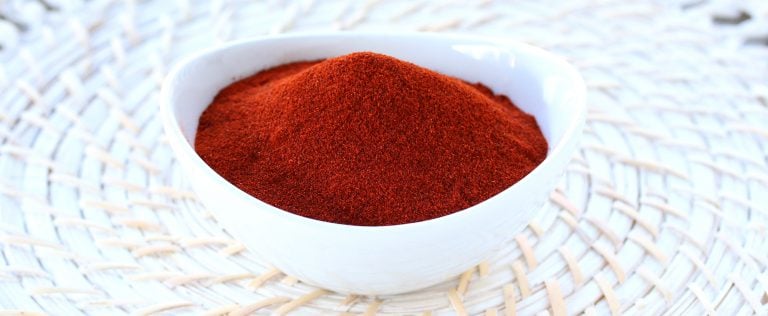 I don't recall whether this restaurant included caraway seed or not, but that is commonly added and has been included here.  I don't like it to be overpowering, but a little bit added creates a really nice depth of flavor.
A word about the lard:  Thanks to the USDA who has condemned saturated fat for decades – only now, finally, to sheepishly admit they've been wrong about it – you can't readily find lard on the grocery store shelves.  The closest thing I've found is something that's "called" lard but the ingredients list soon reveals that it's some kind of hydrogenated swill.  Now that WILL cause health problems.  So in the absence of pork lard, which is what most Hungarians use, we're simply going to add some bacon and the bacon grease will be a fabulous medium in which to cook the onions.  And what dish isn't better with bacon anyway, right?  Right!
Pörkölt is most commonly made with beef or pork and some versions include bell peppers and tomatoes.  I've included both. Marhapörkölt really is Hungarian comfort food at its best.  Pull up a chair and join me!
Let's get started!
In a large saucepan, fry the bacon until done.
Add the onions and cook over medium high heat until light golden.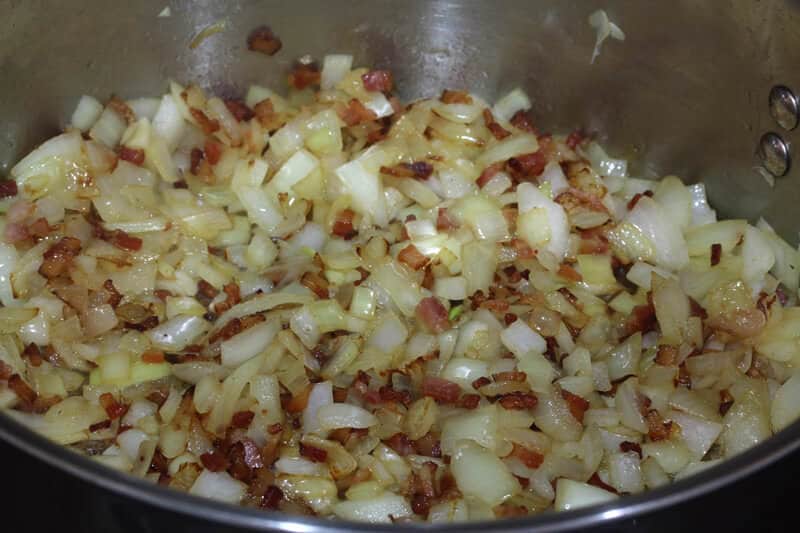 Add the bell pepper and garlic and cook for another two minutes.
Add the beef and cook for just a minute until some but not all of the pink is gone.
Add the paprika, stir to combine, and remove from the heat (paprika gets bitter when fried).
Add the tomatoes and remaining seasonings.
Pour just a little water in – you want it to come up just a tad above the halfway point of the stew mixture.  In other words, you don't want it to completely cover the stew.
Return the saucepan to the heat and bring to a boil.  Reduce the heat to medium-low, cover and simmer for 90 minutes.  It it's not thick enough by that point, let it simmer uncovered for a few more minutes to evaporate some of the liquid.  Add salt to taste.
Serve with Homemade Spätzle.  In Hungary they're shorter and stubbier but the flavor and texture is the same.  Or serve with boiled potatoes or wide egg noodles.  A side salad, particularly a cucumber salad, is also traditional.  If desired, serve with a dollop of sour cream.
Enjoy!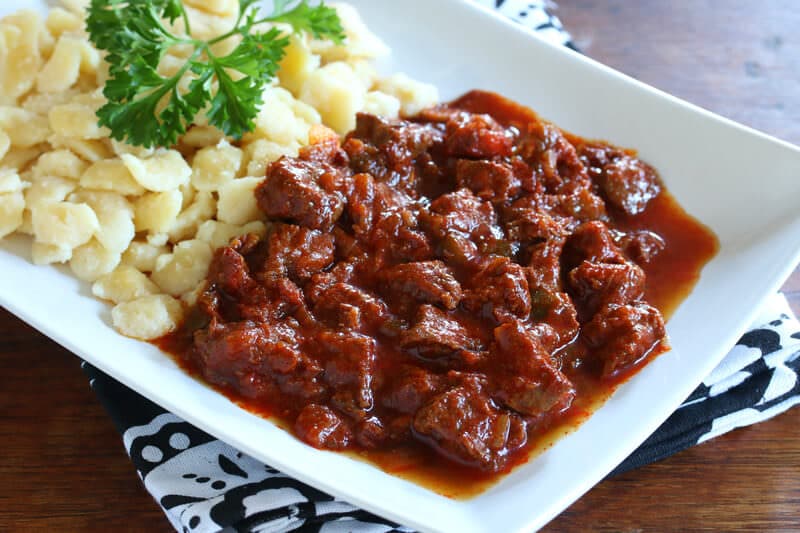 Hungarian Beef & Onion Stew (Marhapörkölt)
:
The Daring Gourmet, www.daringgourmet.com
Ingredients
4 slices thick-cut bacon, diced
1 large yellow onion, finely chopped
1 green bell pepper, seeded and finely chopped
2 cloves garlic, minced
1 large tomato, finely diced
1½ pounds stewing beef, cut into ½ inch pieces
4 tablespoonsquality imported sweet Hungarian paprika (yes, that's TABLEspoons!)
1½ teaspoons salt
¼ teaspoon freshly ground black pepper
½ teaspoon caraway seeds, coarsely crushed
1 bay leaf
Water
Instructions
In a medium sauce pan fry the bacon until done. Add the onions and cook over medium-high heat until golden. Add the bell peppers and garlic and cook for another two minutes. Add the beef and cook for a minute until some, but not all, of the pink is gone. Stir in the paprika and remove from heat.
Add the remaining ingredients. Add just enough water to come up to just over the halfway point of the stew mixture (in other words, not so the water is covering it). Return to heat and bring it to a boil. Cover, reduce the heat to medium-low and simmer for 90 minutes. If the stew isn't thick enough, continue to simmer uncovered for a few more minutes so that some of the liquid evaporates. Add salt to taste.
Serve with Homemade Spätzle (in Hungary they are shorter and stubbier, so prepare the dough accordingly or just use whatever method/shape you prefer - the texture and flavor of the dough is the same regardless). Or serve with boiled potatoes or wide egg noodles. A side salad, particularly a cucumber salad, is traditional. If desired, serve with a dollop of sour cream.