This post contains affiliate links.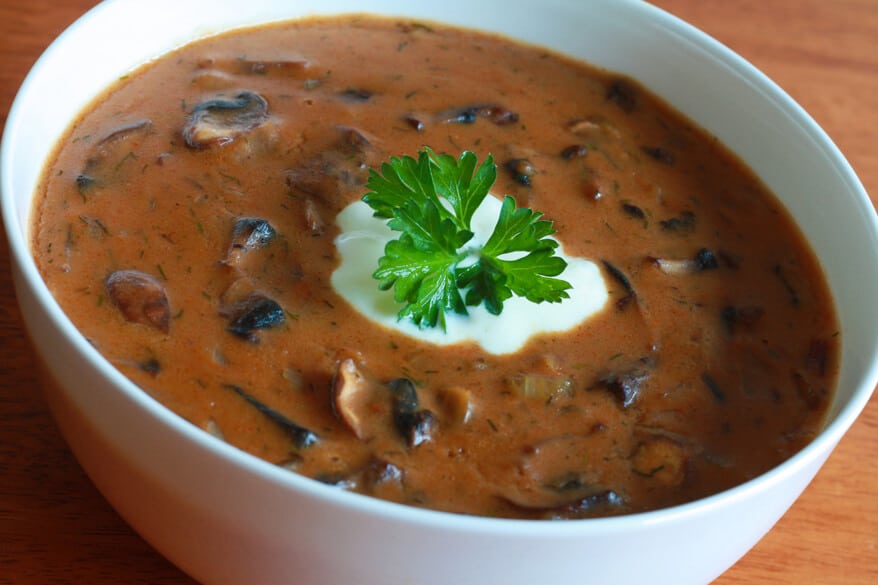 I love Hungary.  Such a beautiful country with wonderful people and delicious food.  Budapest is an amazing city.  That stunning bridge crossing the Danube, the Fisherman's Warf, the markets, the classic Viennese-influenced architecture…  I think it's one of the most beautiful cities in Eastern Europe, if not the most.  Most people seem to emphasize Prague and it is a tourist hot spot in Eastern Europe.   But while Prague is a gorgeous city, I prefer Budapest hands down.
We're definitely going to get to more Hungarian cuisine in the future, but for now let me introduce you to something I just made that was absolutely delicious!  A heavily Hungarian-influenced mushroom soup.
This soup is positively delightful!  Onions and cremini mushrooms are caramelized in butter.  A separate rich roux is made with butter and flour (this adds a world of depth and flavor to the soup).  A heap of paprika is then thrown in along with the delicate flavor of dill and a variety of other ingredients that combine to make this a guaranteed hit at your dinner table!
This is a stunningly rich and satisfying soup.  And it's also incredibly delicious as a creamy sauce over egg noodles.  Try it both ways!  Either way, it's a winner.
Try this delicious variation:  Hungarian Mushroom Pasta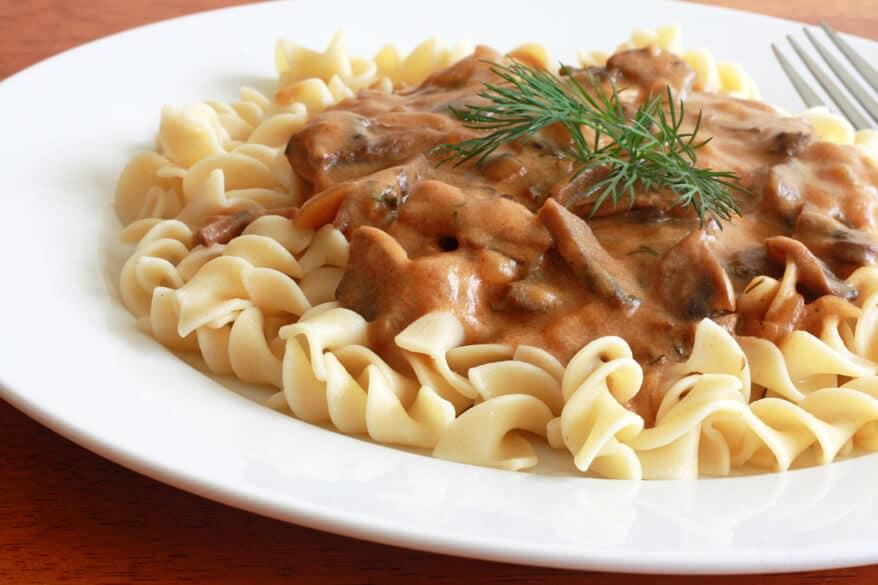 Now let's get to that Hungarian Mushroom Soup Recipe!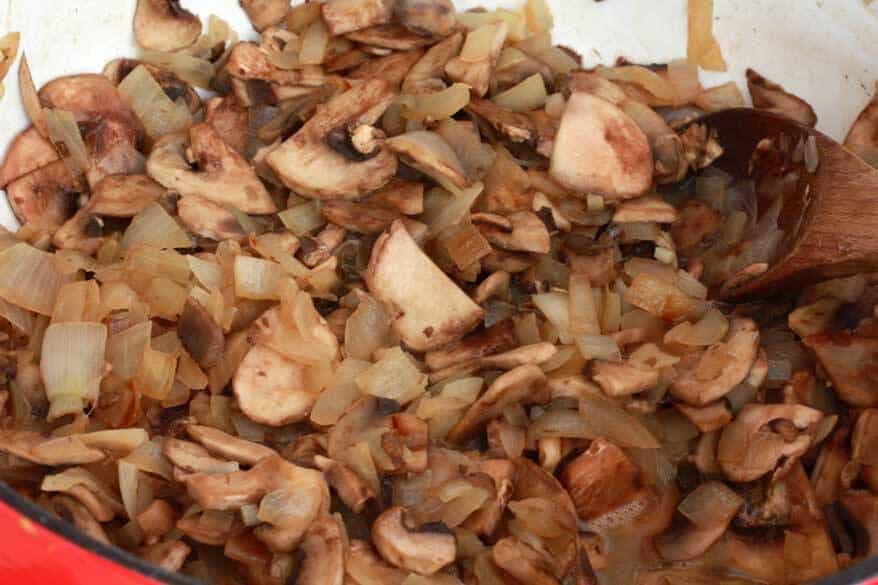 Hungarian Mushroom Soup
:
Kimberly Killebrew, www.daringgourmet.com
Ingredients
2 tablespoons butter (vegan substitute: vegetable spread, like Earth Balance)
1 large onion, diced
1 clove garlic, minced
12 oz mushrooms (cremini or white button mushrooms, chopped)
2 tablespoons paprika
4 teaspoons fresh dill, chopped or 2 teaspoons dried dill
1 teaspoon salt
¼ teaspoons black pepper
3 tablespoons butter (vegan substitute: vegetable spread, like Earth Balance)
2 tablespoons flour
1 cup milk (vegan: use soy or hemp milk)
2 cups beef broth (vegan: use vegetable broth)
1 tablespoon soy sauce (Note: You cannot taste the soy sauce in this but it's just enough to contribute a wonderful "umami effect" that you'll love!)
½ cup sour cream (vegan: use vegan sour cream)
Parsley, chopped, for garnish
Extra sour cream, for garnish
Instructions
Melt 2 tablespoons of butter in small pan. Saute the onions until translucent and just barely beginning to brown. Add the garlic and saute for another minute. Add the mushrooms and sauté for 5 minutes until the mushrooms release their juices. Add the paprika, dill, salt and pepper. Set aside.
In a Dutch oven, melt 3 tablespoons of butter and stir in the flour, constantly whisking for several minutes until the mixture is a rich, caramelized brown. Add the milk, broth, and soy sauce, still whisking until the mixture is smooth. Add the mushroom mixture. Bring to a boil, reduce heat to medium, cover and simmer for 15 minutes, stirring occasionally. Stir in the sour cream, simmer for another 2 minutes. Serve immediately with chopped parsley. Add a dollop of sour cream to each bowl if desired.
Served with crusty bread.