A review of the Miele PG 8083 SCVi Dishwasher.  This is the dishwasher that keeps going and going, load after load, and is packed with a TON of features!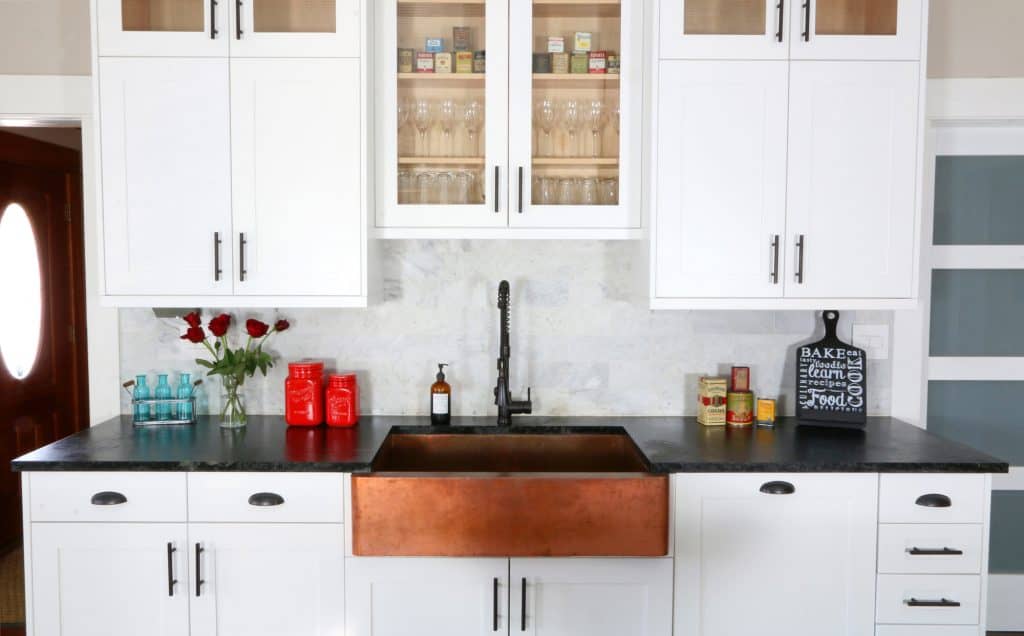 I've partnered with Miele to bring you this post.  All opinions are entirely my own. 
When we bought our 105-year-old farmhouse 2 1/2 years ago the kitchen had no dishwasher – not even a place for a dishwasher – and there was no fridge, it was located in the laundry room/pantry off to the side of the kitchen.  We knew we would eventually remodel the kitchen but were first focusing our time and attention to remodeling a tiny guesthouse on our property.
In the meantime, until we got around to remodeling our main kitchen, I told my husband we should just get one of those portable dishwashers on wheels that you plug in while using and can roll away when you're done.  His opinion on the matter was stronger than I expected:  "There's no way we're getting one of those things.  I'd rather just do all the dishes myself than have one of those things!"  And so he got his wish.  Todd has been our dishwasher for the past 2 1/2 years :)
I'm no stranger to a life without a dishwasher.  Being from Germany and having lived several years in England, many European kitchens don't have them at all and I never did in the 2 1/2 decades I lived there.  Washing dishes by hand really isn't a big deal if that's what you're used to.  But as with cell phones, once you have one it's hard to imagine life without it.  And while you certainly can survive without a dishwasher, they sure do make life easier.  Especially my life since having become a food blogger because with that profession comes heaps and heaps of dishes daily from testing and retesting sometimes multiple recipes a day!
Okay, that's not my kitchen.  But you get the point.
And you'll probably agree that it's really hard to get motivated to dive into that on a regular basis.
(And that's just a fraction of the amount of dishes we have to deal with on a busy blogging day!)
This is all to say that I was very eager to finally have a dishwasher again.  And my husband (for reasons already stated) was understandably even more eager than me.
It's no secret I'm a fan of German engineering.  And in particular Todd and I both love the simple but beautifully sleek and contemporary look of Miele appliances.  Check out our review of Miele's incredible ContourLine Double Oven and you'll understand what I mean.  It's because of Miele's quality, performance, features and appearance that we likewise went with a Miele dishwasher.  In particular, we chose the Miele PG 8083 SCVi dishwasher which is a professional model and is meant to be able to handle load after load after load.  And it does.  Seamlessly.
We also wanted to choose a dishwasher that was compatible with a cabinet panel. Fully integrated and hidden away out of view (in the picture above it's just to the right of the sink) and adds to the clean, streamlined look of our kitchen cabinets.
We just had some friends over who were admiring our Miele dishwasher.  Our friends and family are especially amazed when we tell them that it has a 28-minute ProSpeed cycle.  One of them was lamenting that their recently-bought, top-of-the-line Electrolux dishwasher was not only painfully loud but painfully slow with the fastest cycle still taking well over an hour.
What can we say other than "well, it's not a Miele"?
The Miele PG 8083 SCVi is, in a word, incredible.
Let's take a look at a few of its features:
The dishwasher opens and closes with very minimal effort and when the door is released it remains in its current position.
Simplest user interface:  It's easily accessible from the top of the door when opened and is intuitive to operate.  With the simple touch of a button all of the programs are quickly selected.
Short program cycles:   Our favorite feature of all.  The advanced technology and powerful heat pump allow for very short cycle times without compromising cleanliness or shine.  A 28-minute cycle that cleans effectively, need I say more?
Delay start and time left display:   You can determine up to 24 hours in advance when the selected program should start, delaying the start time.  Then after the program has started, the display will indicate the time remaining for the cycle.
Patented AutoOpen drying:   The dishwasher door opens automatically at the end of the program allowing the steam to escape and resulting in perfectly dry dishware.
Low consumption values:  Miele Professional dishwashers offer impressive low consumption values and are known for maximum efficiency.  They use recyclable materials and no more water, energy and detergent than absolutely necessary.  Bottom line:  They're environmentally friendly and will save you money.
Powerful heater pump:   The heater pump combines a powerful circulation pump and integrated heater elements in one compact unit resulting in excellent cleaning performance.
Commercial electrical connection:   The 5-pole connection cable in this dishwasher enables very short running times.
Patented in-door salt container:  It's integrated into the door of the dishwasher and can be refilled with the door half open, preventing the need to have to stoop into the cabinet or remove the lower basket.
Perfect GlassCare:   Ah, that perfect shine!  The dishwasher has a Perfect GlassCare program that cleans glassware very gently but thoroughly by precisely adjusting the water hardness level.
Integrated water softener:   This ensures the optimum water hardness level is which allows detergent to be used sparingly and prolongs the life of the appliance.  Our crystal and cutlery come out absolutely spotless.
Extra Comfort Baskets: These offer maximum versatility for achieving perfect washing and drying results in any situation.
Highly adjustable upper basket:  The versatility this provides is fantastic.  The height of the upper basket can be adjusted and even set at an angle to accommodate whatever is being washed and to optimize usage of the cabinet space.
Patented 3D cutlery tray:  This is a feature unique to Miele and provides excellent versatility.  The cutlery tray can be adjusted in height, width and depth to accommodate bulkier items like whisks or ladles.  You can also adjust the side elements to allow  you to arrange long-stemmed glasses securely in the upper basket.
BrilliantLight:  When the dishwasher is opened, the door control automatically lights up four high-performance LEDs.  This feature is exclusive to Miele and provides enhanced visibility, making loading and unloading visually easier.
High rinse temperature and fresh water system for maximum hygiene assurance:  A fresh-water dishwasher, it changes the water after each cycle providing constant high cleaning performance and filtration.  This dishwasher also has a commercial throughflow heater that enables high final rinse temperatures that even exceed the hygiene requirements for commercial dishwashers.
Bottom line:  The Miele PG 8083 SCVi Dishwasher is fast (28-minute cycle!), comparatively quiet, energy efficient, environmentally friendly and extremely thorough with sparklingly clean results every time.  It gets an enthusiastic two thumbs up from us.
For more information about this dishwasher and to explore other options, visit Miele.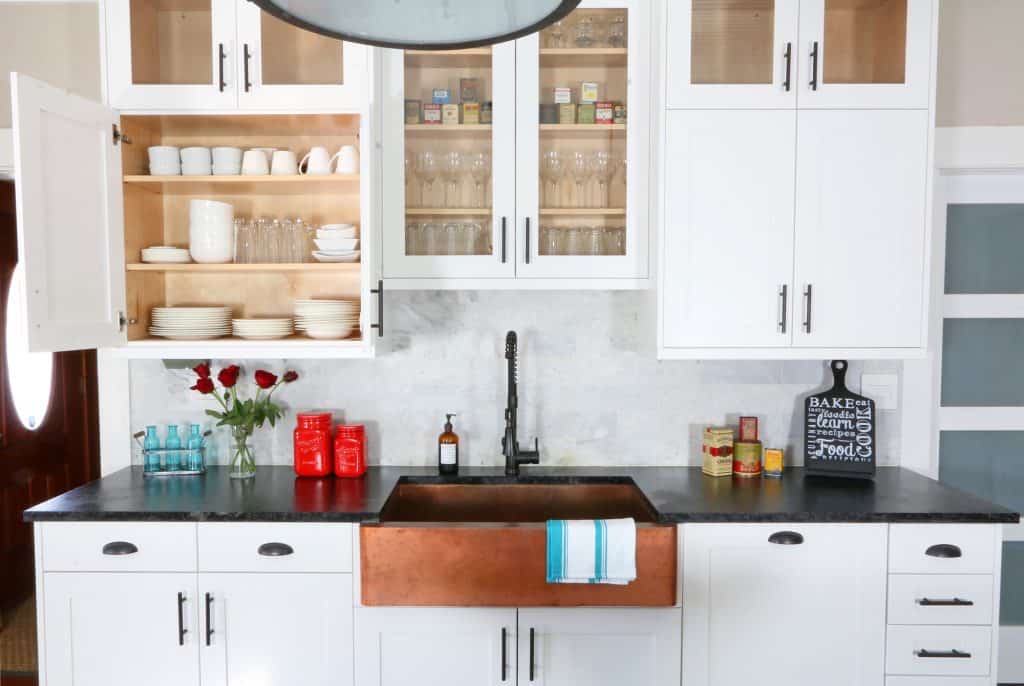 I've partnered with Miele to bring you this post.  This is an honest review of our experience with our Miele dishwasher and all opinions are entirely our own.