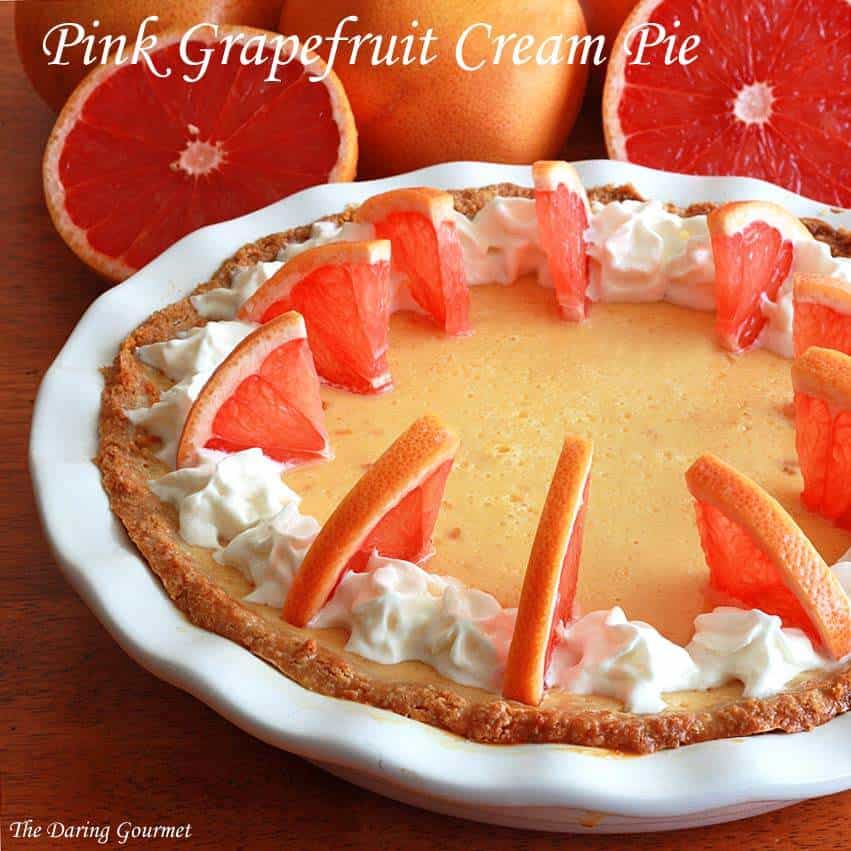 Oh.  My.  Goodness.  Died and gone to heaven?  I believe I have.  Pink Grapefruit Cream Pie.  Perhaps my most experimental undertaking yet.  At least in the area of baking.  A unexpected ingredient…no, you'll never guess.
I attempted to take a nap today while the kids were napping.  Laying down for about 10 minutes and just starting to lull off into a snooze, I had a thought come from out of nowhere:  "Key lime pie…how about pink grapefruit pie?"  I know, I'm a hopeless case.  I think about food even when I'm not thinking about food ;)   So this thought entered my mind.  And got stuck there.  I started getting excited about the prospect of a cold, creamy, sweet and tangy grapefruit pie with whipped cream.  And after my success with the Pink Grapefruit Buttermilk Muffins, I was doubly excited to make something else with this highly fresh-a-licious, yet underutilized, fruit.
Let me explain why this undertaking was so challenging and experimental.  Grapefruit has a much lower acidity content than lemon and lime juices, and so it's chemical properties react differently in baking…it doesn't set.  Instead of nicely set custard, you get a heaping mess of liquid.  And this, ladies and gentleman, is where the experiment comes in.  How to get the filling to set without adding a bunch of nasty cornstarch.  Can you guess what I did?
Now, I will admit.  I failed before I succeeded.  I ended up with that heaping mess of liquid the first attempt.  That's when it occurred to me that grapefruit juice can't be substituted for lemon or lime juice in baking – because of the low acidity level dilemma.  So it was back to square one.  I was determined to make this work.  Determined!   I love grapefruit and the thought of eating some cool, creamy grapefruit pie made with fresh grapefruit juice and zest was…intoxicating!  I HAD to have it!  It HAD to work!  It WOULD work!
And so I asked myself, "If low acidity is what's keeping it from firming up and setting, how do I increase the acidity?"  I refused to [cheat] and resort to using heaping spoonfuls of nasty cornstarch.
BINGO!  The inspiration came:  VITAMIN C!!!  Vitamin C is simply ascorbic acid, and that's what's in citrus fruit.  I grabbed a bottle of vitamin C and put a few in a baggie, pounded them to a powder, and added it to the filling (FYI, you can find vitamin C already in powder form).  I didn't know how much ascorbic acid was needed to bring the grapefruit juice to the right acidity level, so I just took a guess.  I used six 500mg tablets for a total of 3000mg, or 3 grams.  I whisked it in the filling and popped it in the oven for a second attempt.  I waited.  And waited.  Pacing the kitchen floor.  Frequently peering into the oven to see what was happening.  I baked it for close to 25 minutes and took it out…
IT WAS SET!!  And it was still a little jiggly!  Perfect!  I was giddy with excitement.  I honestly couldn't believe the experiment actually worked!
I was so excited to try this creation out.  I called my parents and invited them over for dessert (it's SO nice to have parents nearby.  Not just because of the kids, but because they're convenient guinea pigs for my cooking ;)
We all sat down together with our slices of pie, dessert forks in hand, and took a bite.  Oh.  My.  Gawsh.  Everyone loved it.
So here it is, folks.  Sweet, tangy, creamy, delicious…and Vitamin C Enriched!  (Does that constitute a "healthy" dessert? ;)
I never did get to that nap but, despite sleep deprivation after a night of frequent baby-waking, it was well worth it.
Alright, everybody, come this way and let's get to bakin' that amazing Pink Grapefruit Cream Pie!
For the graham cracker crust you'll need 1 1/2 cups of crushed graham crackers, which comes out to one package.
You can use a food processor or just put it in a baggie and pound it, which is what I did this time.  You'll need the baggie anyway later to crush the vitamin C :)
1 1/2 cups crushed graham crackers.
Combine the graham cracker crumbs with the sugar and melted butter.

Stir to thoroughly combine.
Pour the crumb mixture into a 9-inch pie dish.
Press the crumbs firmly inside the pie dish and up the sides.
Bake at 375 F for 7-8 minutes.  Remove and set aside.
Zest the grapefruit and juice it.  You can either use a hand zester, which yields longer strands and then chop them with a knife, or use the smallest holes on a standing grater, which yields more finely grated zest.
Whisk the egg yolks and add all the other ingredients.  Whisk until everything is incorporated and no lumps of sour cream are left.
Crush 3000mg of vitamin C to a fine powder (I used a baggie and the smooth side of a meat tenderizer).
Whisk the vitamin C powder (ascorbic acid) into the mixture.
Pour the mixture into the pie shell and bake at 350 for 20-25 minutes or until set but still a little jiggly.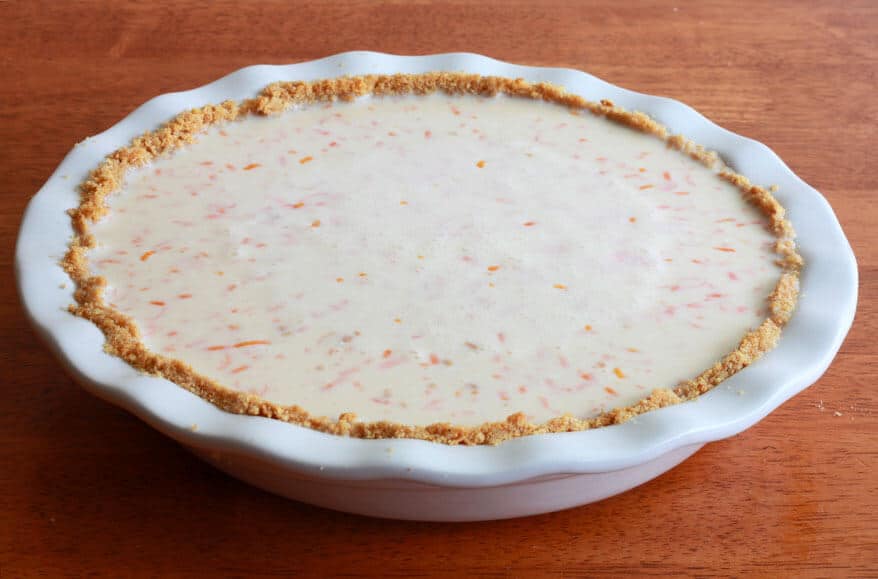 Let the pie cool completely and refrigerate for at least 1 hour until chilled.  Decorate as desired, or serve as is with whipped cream.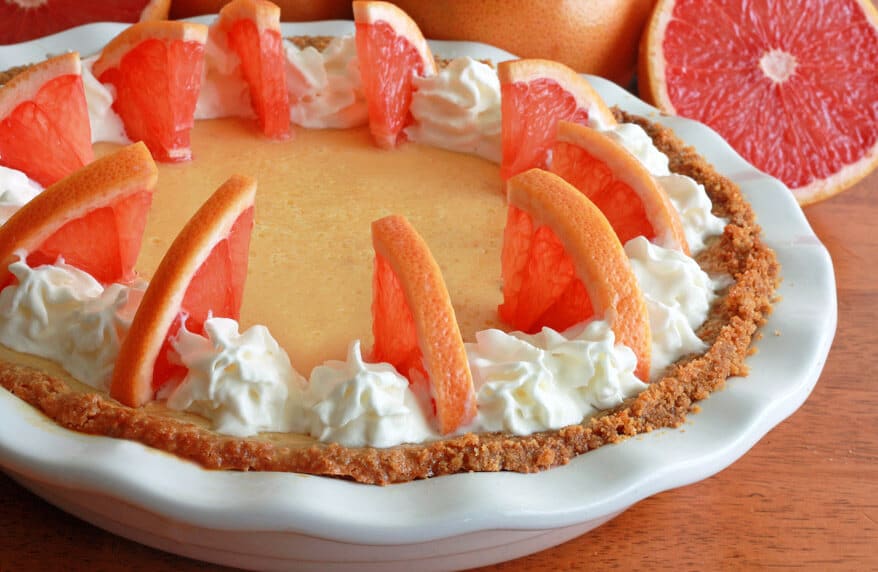 Pink Grapefruit Cream Pie
How about a grapefruit version of key lime pie? This Daring Gourmet original is sweet, tangy, creamy and utterly delicious!
:
The Daring Gourmet, www.daringgourmet.com
Ingredients
For the Graham Cracker Crust:
1½ cups graham cracker crumbs (about 1 individual package)
⅓ cup sugar
6 tablespoons melted unsalted butter
For the Pie Filling:
3 egg yolks
2 (14 oz) cans sweetened condensed milk
1 tablespoon pink grapefruit zest
¾ cup freshly squeezed pink grapefruit juice
3000mg (3gm) vitamin C powder (either crush vitamin c tablets or use vitamin c already in powdered form)
½ cup sour cream
Instructions
Preheat the oven to 375 F.
Combine the graham cracker crumbs with the sugar and melted butter. Stir to combine. Press the crust mixture into a 9-inch pie pan, pressing along the bottom and up the sides. Bake the crust for 7-8 minutes. Remove from the oven and set aside.
Reduce the oven temperature to 350 F.
For the pie filling: Whisk the egg yolks vigorously with a whisk. Add the remaining ingredients and whisk until thoroughly combined and no lumps of sour cream are remaining. Pour the filling into the pie crust shell. Bake at 350 F for 20-25 minutes, or until set but still a little jiggly in the middle. Remove from the oven and allow to cool before transferring the pie to the refrigerator to chill for at least one hour before serving.