Robustly flavorful, delicious and healthy, this Roasted Pumpkin Hummus is simply out of this world!  Enjoy it with your favorite crackers, toasted pita bread, or veggies and let the party begin!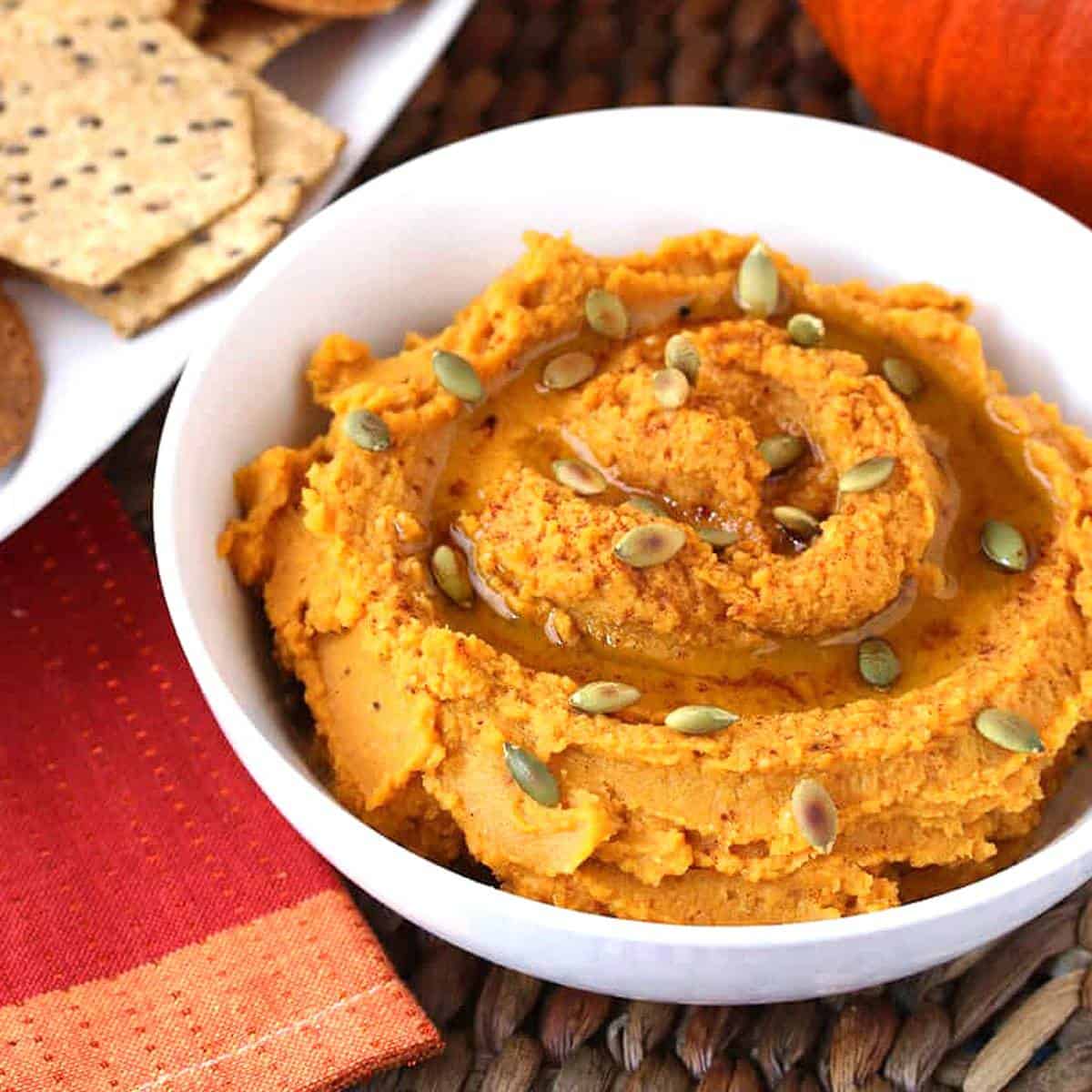 Let me tell you, this roasted pumpkin hummus ROCKS!
The first time I made this was several years ago when my kids were 3 and 5 years old and at the time I only got to taste just enough to know it was going to be a hit.  Here's what happened:
I had just made the kids a healthy lunch and they were sitting down to eat, and thought I'd have some of this Roasted Pumpkin Hummus that I had whipped up just an hour earlier.  As soon as they saw me eating this hummus they asked me what it was and could they try some.  They each took one bite, pushed their lunch plates aside, and eagerly asked for more.
Now normally I would have said something like "eat your lunch first and then you can have some."  But I realized that this nutrition-packed hummus was probably even healthier than their actual lunch, so I consented.
And that was the end of my lunch because my two little kids went to town on this, polishing off the whole thing!
The next day I was smarter.
I doubled the batch!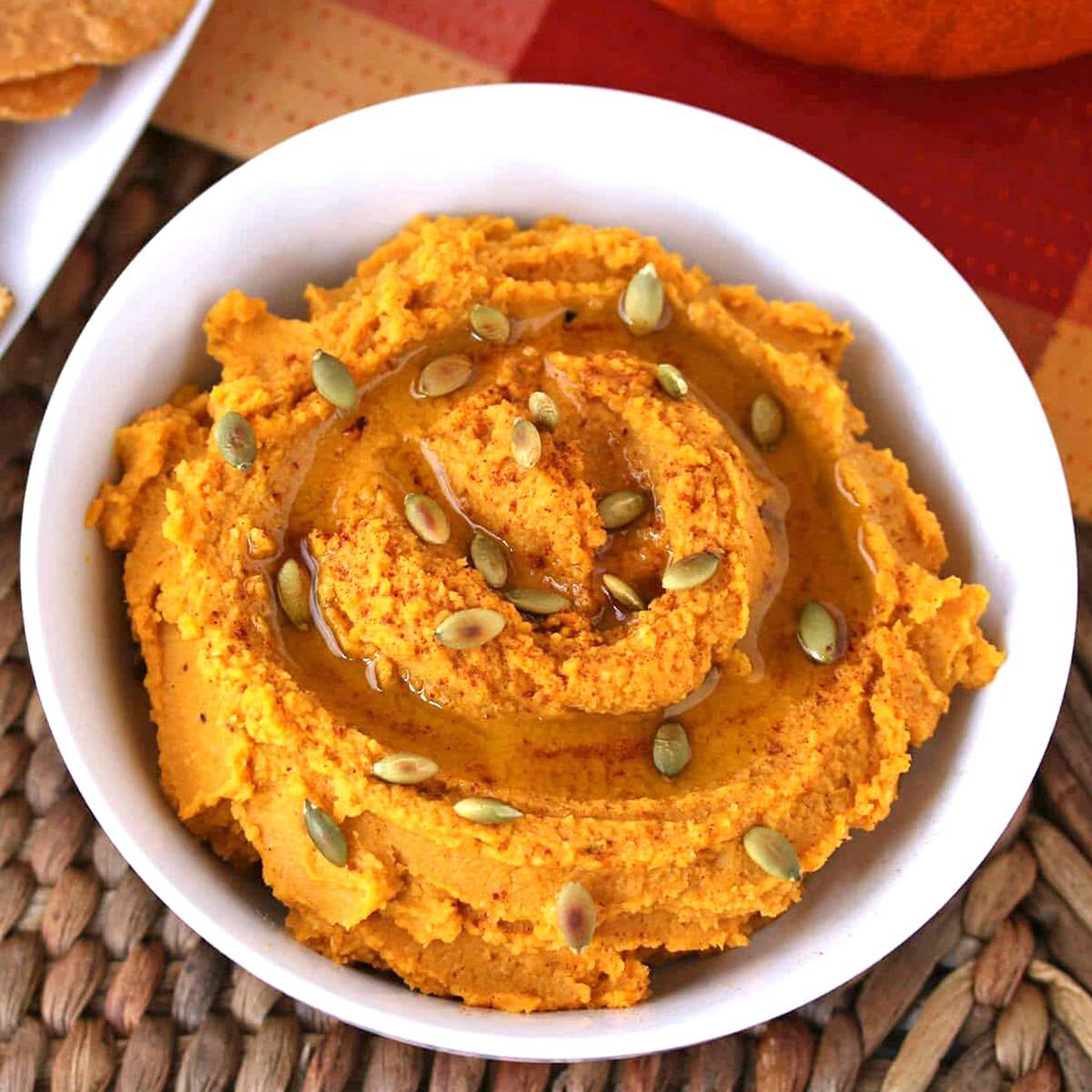 This delicious hummus is packed with nutrition featuring healthy fresh pumpkin that's roasted for a deeper and richer flavor, garbanzo beans, tahini paste, garlic, and olive oil.
Then to finish it off we add a touch a cumin and lace it with just enough maple syrup to add a touch of sweetness.
For this roasted pumpkin hummus recipe we use our homemade tahini paste.  If you've never made your own tahini you've been missing out!  Not only is it SUPER EASY to make, it's also MUCH CHEAPER than store-bought!
Check out our recipe for homemade Tahini!

What Do I Serve with Pumpkin Hummus?
The same things you enjoy with your regular hummus:  Choose your favorite crackers, toasted pita bread, chips or veggies.
This hummus is also delicious as a sandwich spread.
How Long Does Pumpkin Hummus Last?
Store your pumpkin hummus in an airtight container in the fridge.  It will keep for up to a week.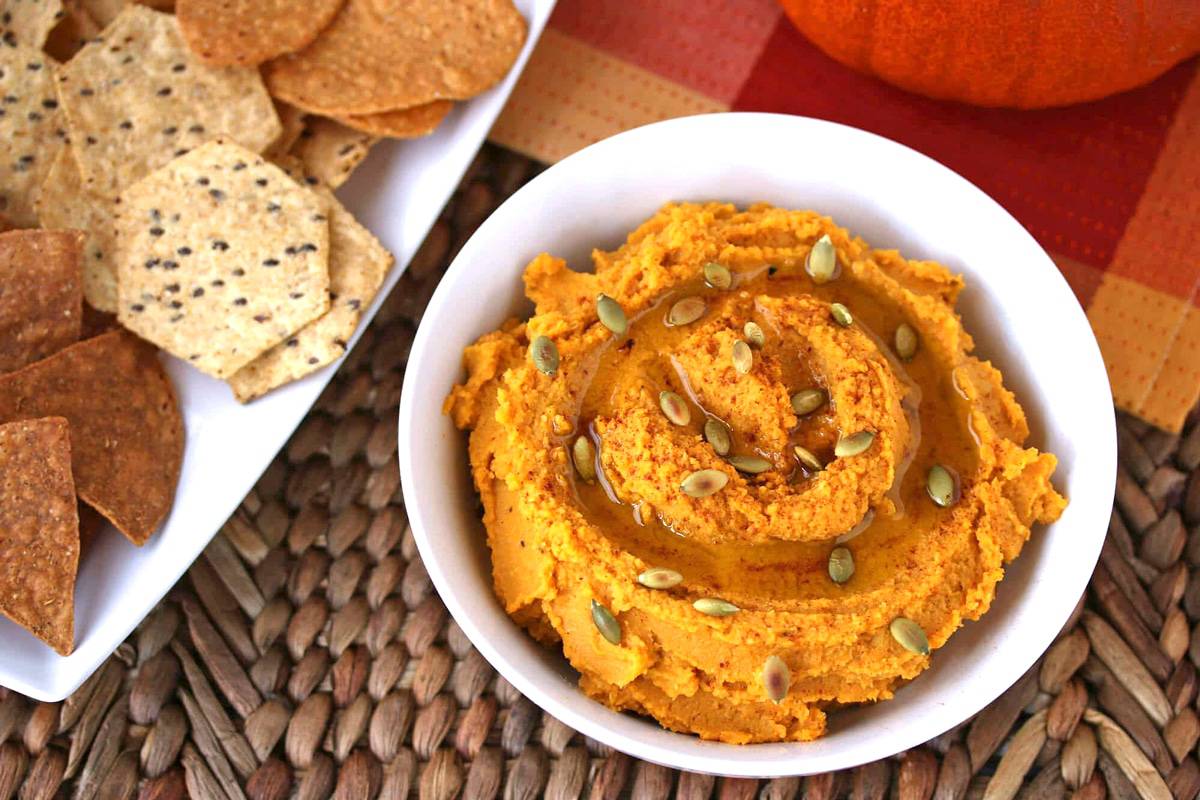 Roasted Pumpkin Hummus Recipe
Pumpkin hummus is easy to make:
On a baking sheet drizzle the pumpkin with olive oil, sprinkle with cumin, and place the garlic on the baking sheet next to the pumpkin.  Roast until done and lightly browned in places and let it cool.  Scoop the pumpkin from the peel and squeeze out the garlic.
Place all of the ingredients in a food processor and mix until smooth.
Scoop into a serving bowl and drizzle with some olive oil and sprinkle with toasted pumpkin seeds and a tiny dash of cinnamon.
Check out our rockin' video on how to make pumpkin hummus!
Enjoy!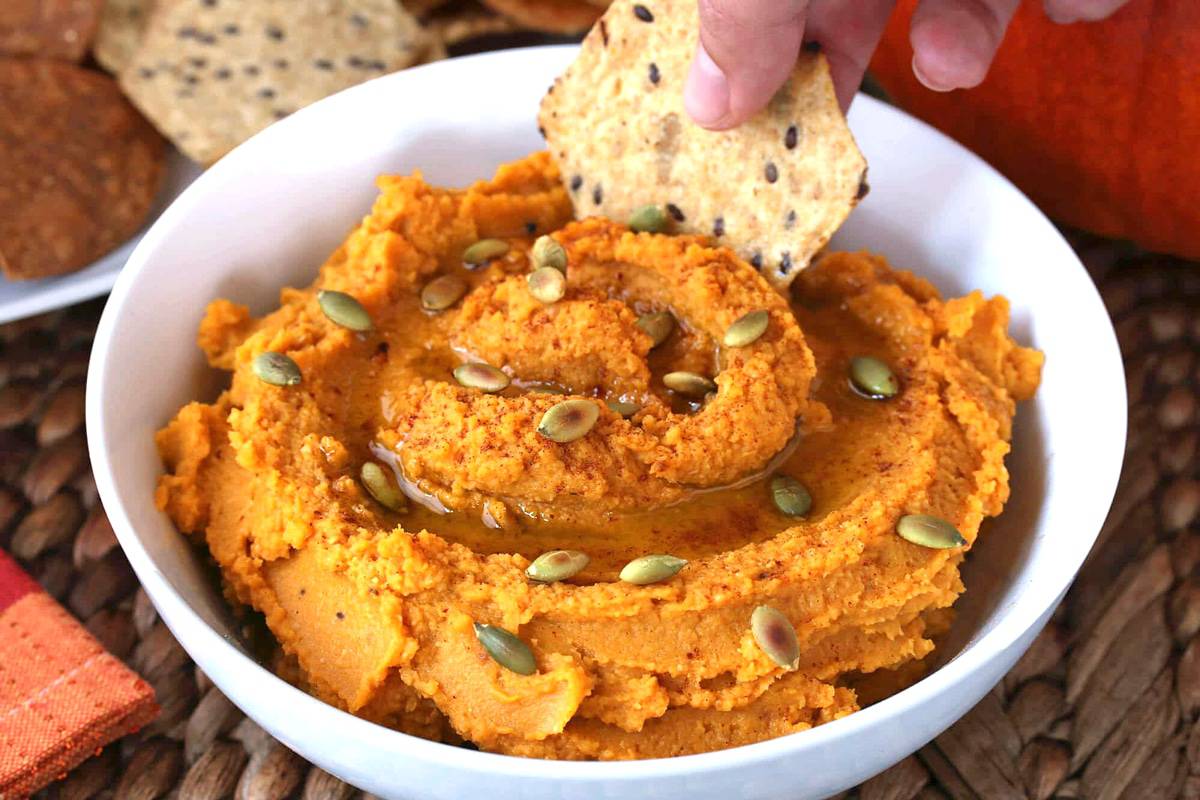 For our classic hummus recipe be sure to check out our: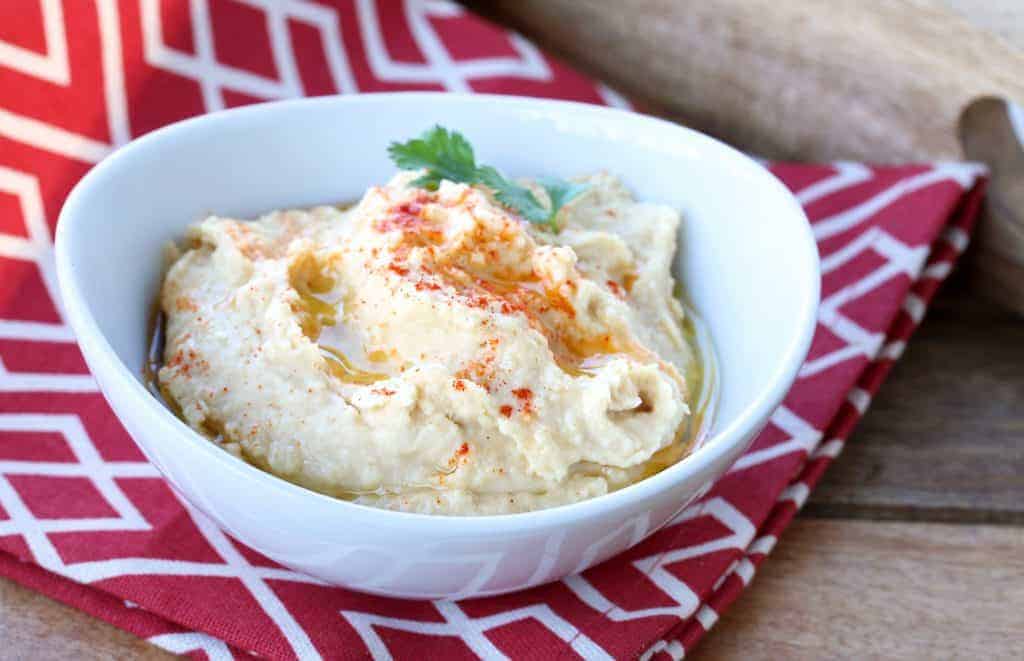 PIN ME!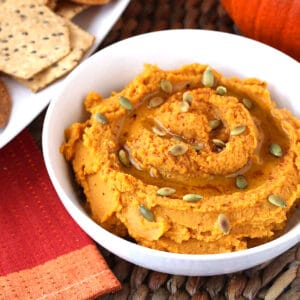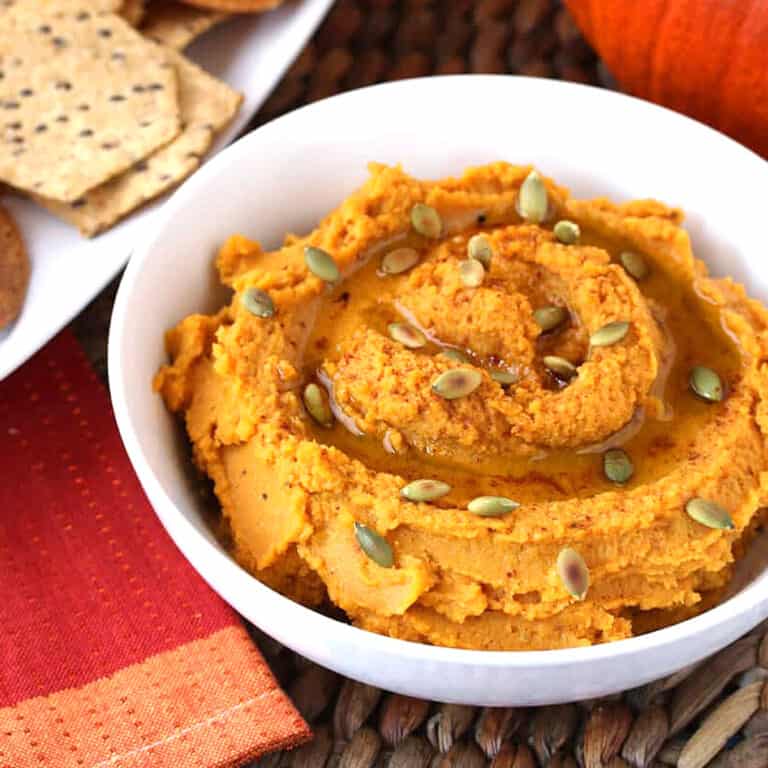 Roasted Pumpkin Hummus
Robustly flavorful and loaded with nutrition, this healthy Roasted Pumpkin Hummus is simply out of this world!
Ingredients
1

pound

diced fresh pumpkin

, peel removed

1

tablespoon

extra virgin olive oil

1

teaspoon

ground cumin

1

head garlic

, the pointy end cut off by about 1/4 inch to expose the cloves

15

ounce

can garbanzo beans

, drained (reserve some liquid) and drained

2-3

tablespoons

homemade tahini

(click link for recipe, it's super EASY and much CHEAPER!)

1

tablespoon

pure maple syrup for just a touch of flavor

(note: artificial maple syrup will simply make the hummus sweeter without adding much maple flavor)

4

tablespoons

extra virgin olive oil

juice of one lemon

1

teaspoon

salt

toasted pumpkin seeds, olive oil and a light sprinkle of cinnamon for serving

olive oil and a sprinkle of cinnamon for serving
Instructions
Preheat the oven to 450 degrees F.

In a bowl, toss together the pumpkin, oil and cumin. Spread the pieces out on a lined cookie sheet and add the head of garlic. Roast for 25-30 minutes or until the edges of the pumpkin and garlic have become a little blackened.

Place the pumpkin, garlic and garbanzo beans in a food processor along with the tahini, olive oil, maple syrup, lemon and salt. Blend until smooth, adding more olive oil as necessary. Add more tahini, maple syrup and salt to taste. If you want it creamier add some of the reserved garbanzo bean liquid and process until incorporated.

Scoop into a serving bowl drizzled with some olive oil and sprinkled with some pumpkin seeds and a touch of cinnamon.

Serve with chips, crackers or toasted pita bread.
First published on The Daring Gourmet November 18, 2015