This post contains affiliate links.
Thank you to Food Should Taste Good for sponsoring this post!
Robust and flavorful and perfectly creamy, this Roasted Pumpkin Hummus is simply out of this world!
Let me tell you, this pumpkin hummus ROCKS!
I didn't get to eat as much of it as I would have liked, but I did try enough to know it's delicious.  Here's what happened:
Yesterday I prepared a healthy lunch for my 3 and 5 year old.  I had also just whipped up this Roasted Pumpkin Hummus and thought I'd have some of that for my lunch.  So we all sat down at the table to eat and as soon as they saw me eating this hummus they asked me what it was and asked if they could have some.  I told them it was a special and delicious chip dip and they each took one bite.  They pushed their plates aside and asked if they could have more.  I thought for a moment.  Normally my response would be something like "eat your lunch first and you can have some."  But I realized that this nutrition-packed hummus was probably even healthier than their actual lunch – so I consented.  And that was the end of my lunch.  My kids eagerly huddled around me and absolutely went to town on this!
It was one of those times when as a mother you pat yourself on the back.
And tomorrow I'm making another batch for them.  But this time I'll be smarter.  I'm doubling it.
One of the highlights of our snacking session were the chips that accompanied the hummus.  Food Should Taste Good's chips have become a family favorite and we were excited to try out three flavors that were new to us:  Harvest Pumpkin, Sweet Potato, and their Brown Rice Crackers.  All three of these paired beautifully with the hummus, including one of our traditional favorites, Multigrain.  FSTG's chips are all-natural, certified gluten-free, vegan and kosher.  No MSG, no GMO's and made with simple, wholesome ingredients.
My kids knew exactly which ones they wanted.    My 5 year old son hoarded the new Pumpkin Harvest chips and my 3 year old daughter opted for her old favorite, Multigrain.  I pulled in a third option, Sweet Potato, and before long we were all sharing the different flavors.  Somehow, amidst the enjoyment of our hummus and chips, the spirit of peace and harmonious sharing descended upon my kids.  I think I may have found the solution: Make and eat hummus all day long.
Yes, below are our personality-rich 3 and 5 year old kids.  My son used to hide from my camera but in recent months he's more than eager to pose. And my daughter has followed suit.  Yeah, they both really like to ham it up for the pics!
But I'm just thrilled that I've found another super healthy snack that they're both willing to eat!
This delicious hummus is packed with nutrition featuring healthy fresh pumpkin, garbanzo beans, garlic and olive oil!  And then it's laced with a few additional flavors to really make it shine!
Let's get started!
Instead of my usual step-by-step photos, I've put together a rockin' video for you!
I'd love your feedback:  Do you prefer my usual step-by-step photos or this video-style format?  Leave a comment!  Thank you!
Enjoy!
This giveaway has now ended!  Congratulations to our two winners, Kristina and Susan!
Be sure to also try our classic PERFECT Homemade Hummus!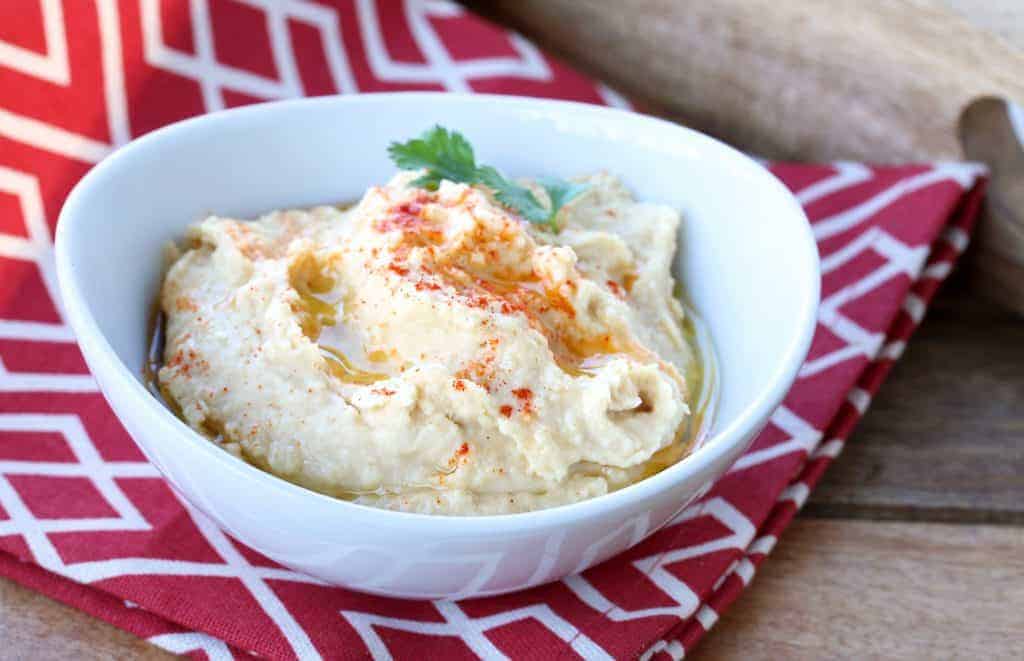 Roasted Pumpkin Hummus
Ingredients
1 pound diced fresh pumpkin, peel removed
1 tablespoon extra virgin olive oil
1 teaspoon ground cumin
1 head garlic, the pointy end cut off by about ¼ inch to expose the cloves
1 (15 ounce) can garbanzo beans, rinsed and drained
2-3 tablespoons homemade tahini paste (it's the best, plus super easy and cheap!)
2 teaspoons pure maple syrup for just a touch of flavor (artificial will make the hummus sweeter and won't add as much maple flavor)
2 tablespoons extra virgin olive oil
Juice of one lemon
1 teaspoon salt
Roasted pumpkin seeds, olive oil and a sprinkle of cinnamon for serving
Food Should Taste Good chips, crackers or toasted pita bread
Instructions
Preheat the oven to 450 degrees F.
In a bowl, toss together the pumpkin, oil and cumin. Spread the pieces out on a lined cookie sheet and add the head of garlic. Roast for 25-30 minutes or until the edges of the pumpkin and garlic have become a little blackened.
Place the pumpkin, garlic and garbanzo beans in a food processor along with the tahini, olive oil, maple syrup, lemon and salt. Blend until smooth, adding more olive oil as necessary. Add more tahini, maple syrup and salt to taste.
Scoop into a serving bowl drizzled with some olive oil and sprinkled with some pumpkin seeds and a touch of cinnamon.
Serve with chips, crackers or toasted pita bread.
A special "thank you" to Food Should Taste Good for sponsoring this post and making the creation of recipes like this possible!  As always, all opinions are 100% my own.