As an Amazon Associate I earn from qualifying purchases.
Thank you to Pollinate Media Group for sponsoring this post.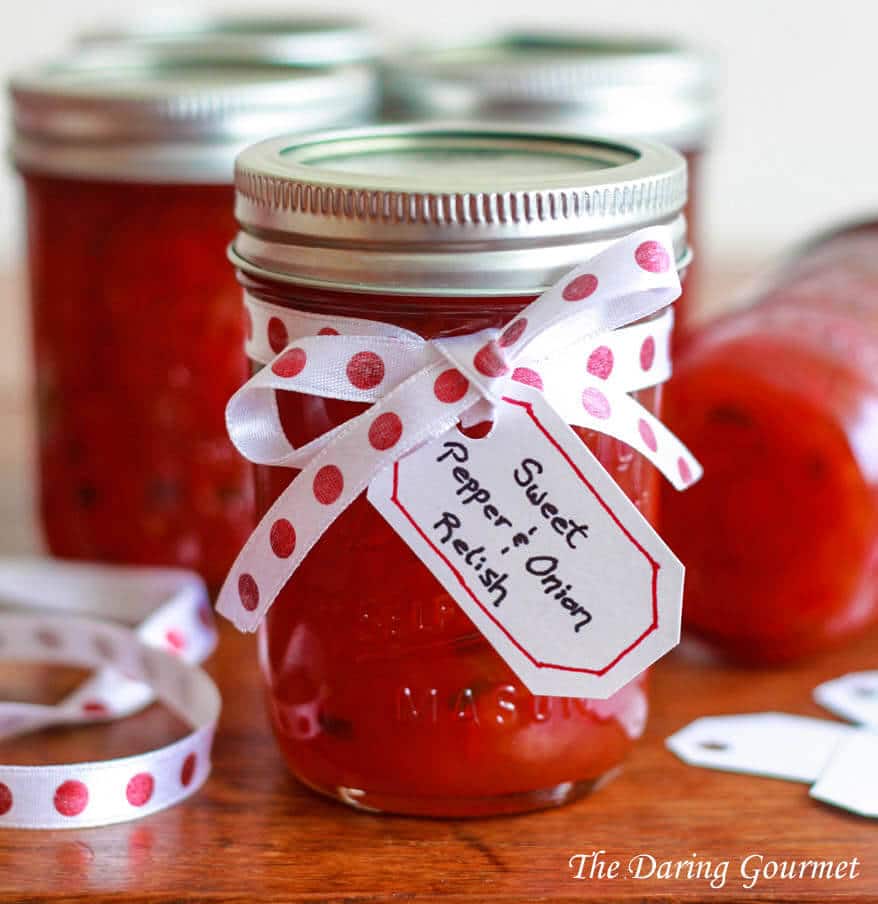 This Sweet Pepper and Onion Relish is my copycat version of Harry & David's popular treat.  It's delightful mixed with cream cheese and spread on crackers or used as a glaze for pork and chicken.
And it makes a fabulous gift!
I always enjoy receiving homemade gifts.  When someone takes the time to make something for you, whether it's a simple plate of cookies or some elaborate craft, it says a lot.  It makes you feel all the more unique, special, appreciated and loved.  Cooking happens to be one of my biggest passions, and so naturally I particularly enjoy making gifts for people that are edible.  Christmas cookies, as always, are on my list this year along with a few other goodies.  And today I'm sharing a special one with you.
I picked up this month's issues of Cooking Light, Real Simple and Sunset at Safeway and once the kids were in bed I enjoyed a luxurious evening thumbing through each issue.  One of the recipes in Cooking Light is for glazed chicken that features red pepper jelly.  The moment I saw that the light bulb came on.  What a great gift idea – homemade red pepper jelly.  As the wheels continued turning I thought about a red pepper and onion relish that I love from Harry & David that's especially popular during the holidays.  It's delicious mixed with cream cheese and spread on crackers, or used as a glaze for pork or chicken.  Those tiny jars of it are pricey for what you get and so I decided to make my own copycat version.
Back to Safeway to buy some more canning jars, pectin, and the ingredients for this relish.  Then back to my kitchen to finish up the experiment.  The end result:  It's fabulous!  You're going to love it and so are the lucky recipients of your gift!  Just add a ribbon and a little tag and your gift is complete!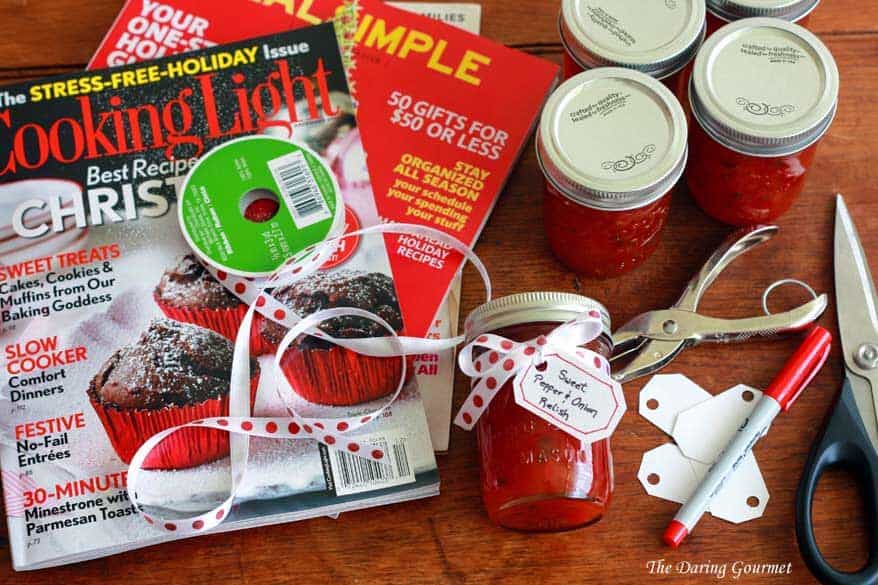 Let's get started!
Combine all the ingredients, except for the pectin, in a large stock pot.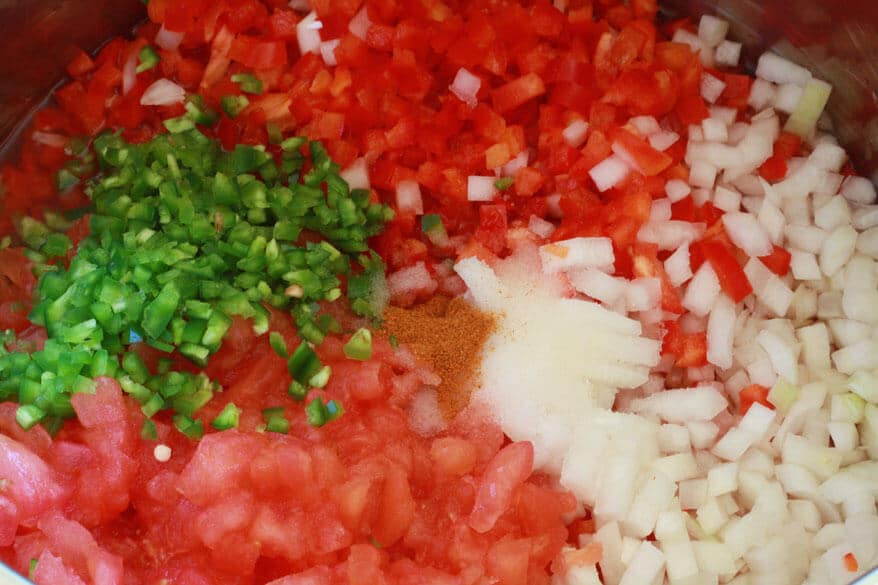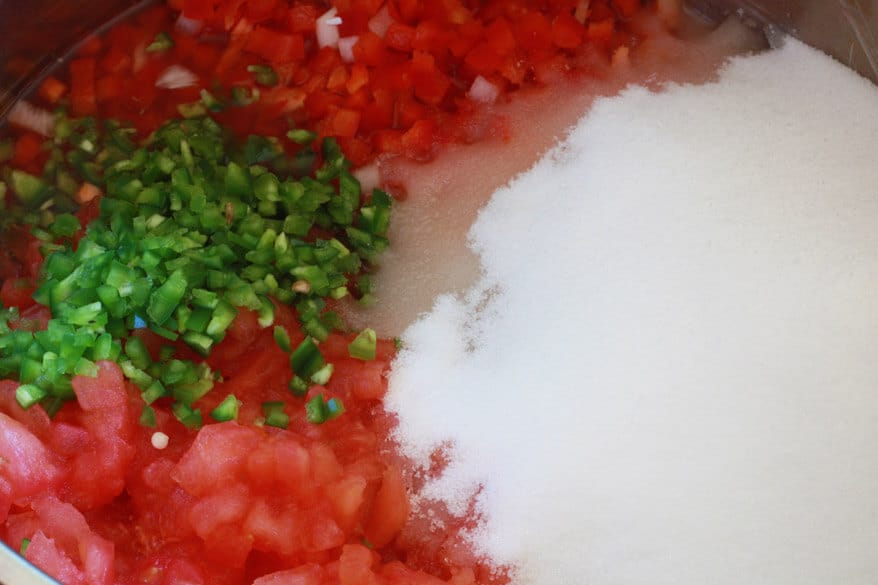 Bring it to a boil, reduce the heat to low, and simmer, uncovered, for 1 1/2 hours, stirring occasionally.  Now it's time to add the pectin.  You won't need much because most of the liquid will have evaporated by now.
Add the pectin (I used and recommend Ball's Realfruit Classic Pectin), bring the mixture to a rapid boil and boil for 1 minute.  Remove from the heat.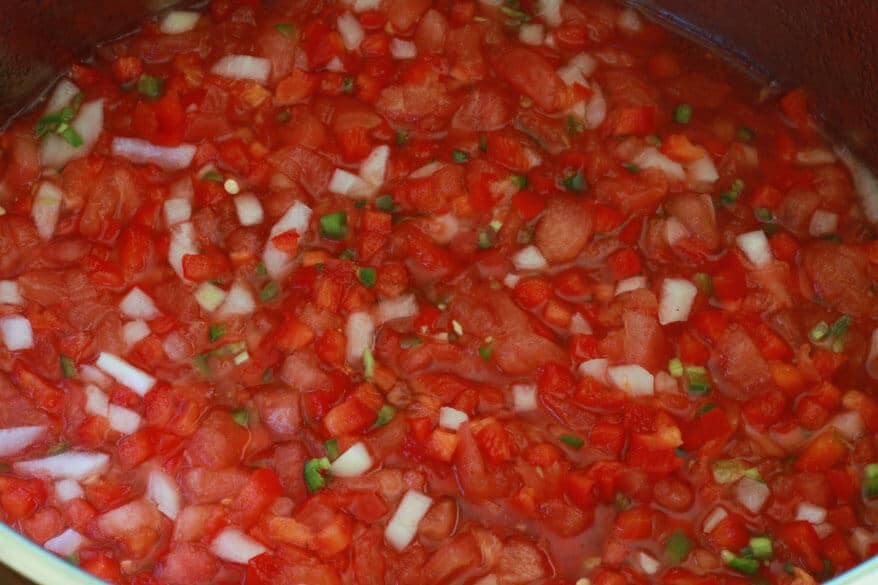 Immediately ladle the hot relish into hot sterilized canning jars with sealable canning lids.  Process in a water bath for 20 minutes.
* A note about the water bath process:  There are specific canners for the job – this is the one I have.  It's deep enough to fully cover the bottles by several inches, it has rack with separate compartments that keeps the bottles separated so they don't break by getting knocked against each other while boiling, and it comes with all the extra equipment you'll  need.  If you don't own a canner and don't want to buy one, just use a large, deep stock pot and place the jars in it with the water covering the top by at least two inches.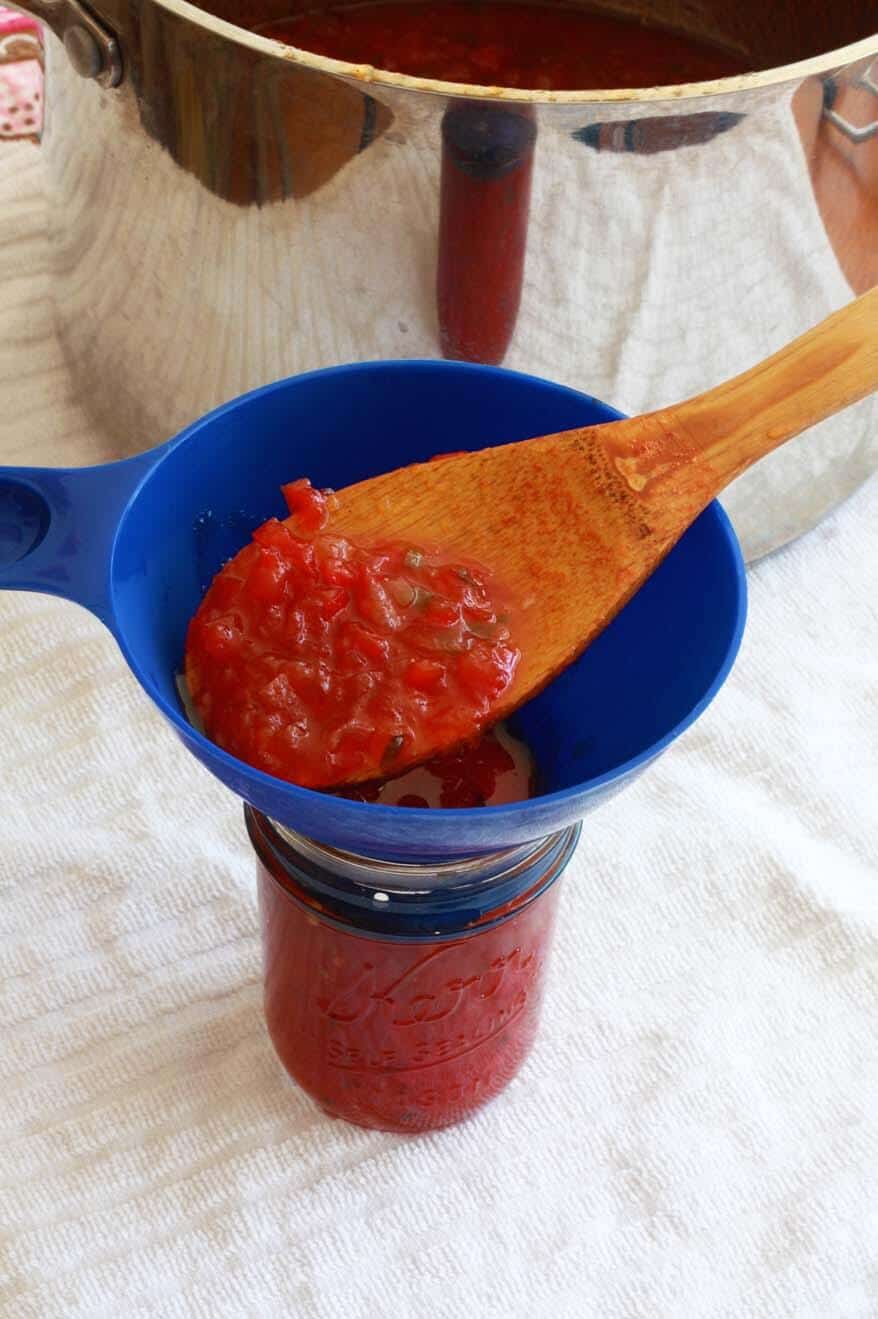 Remove the jars from the canner and let them rest for 24 hours undisturbed before moving.   This Sweet Pepper & Onion Relish will keep up to a year.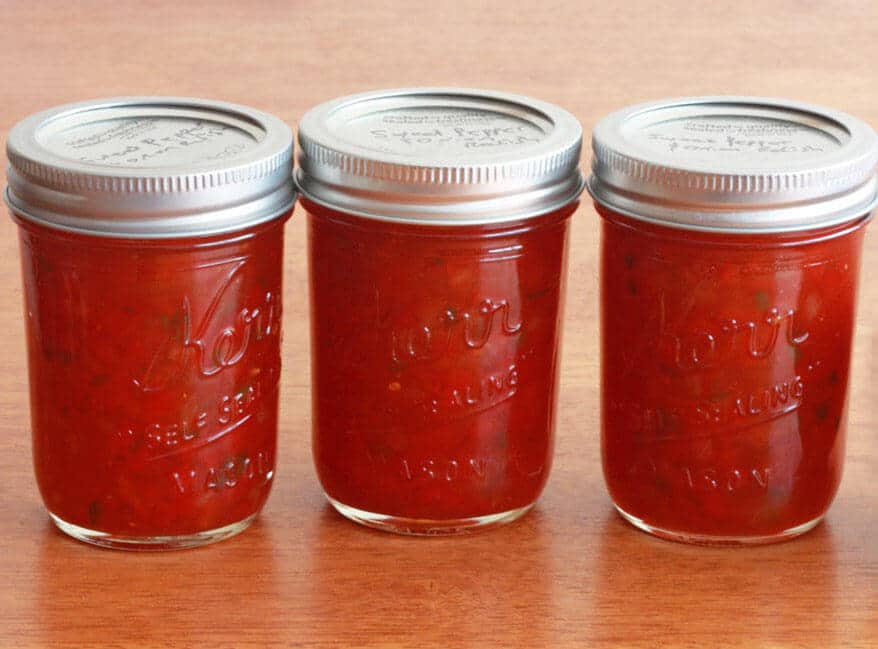 This recipe makes about a dozen 1/2 pint jars.  For the ones you want to give away as gifts, just tie a ribbon around them with a little label.  Are they cute or what?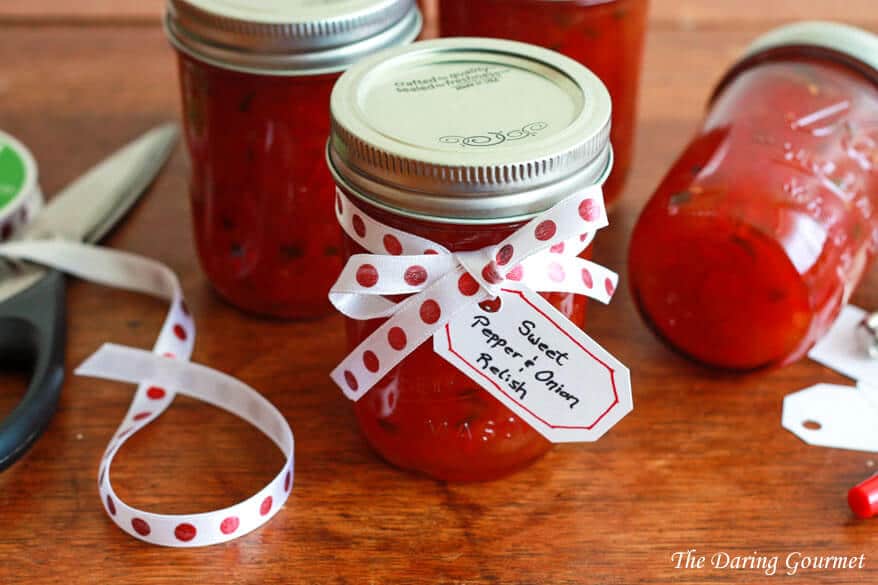 Enjoy this relish mixed with cream cheese and spread on crackers, as a glaze for chicken or pork, or however else your imagination inspires!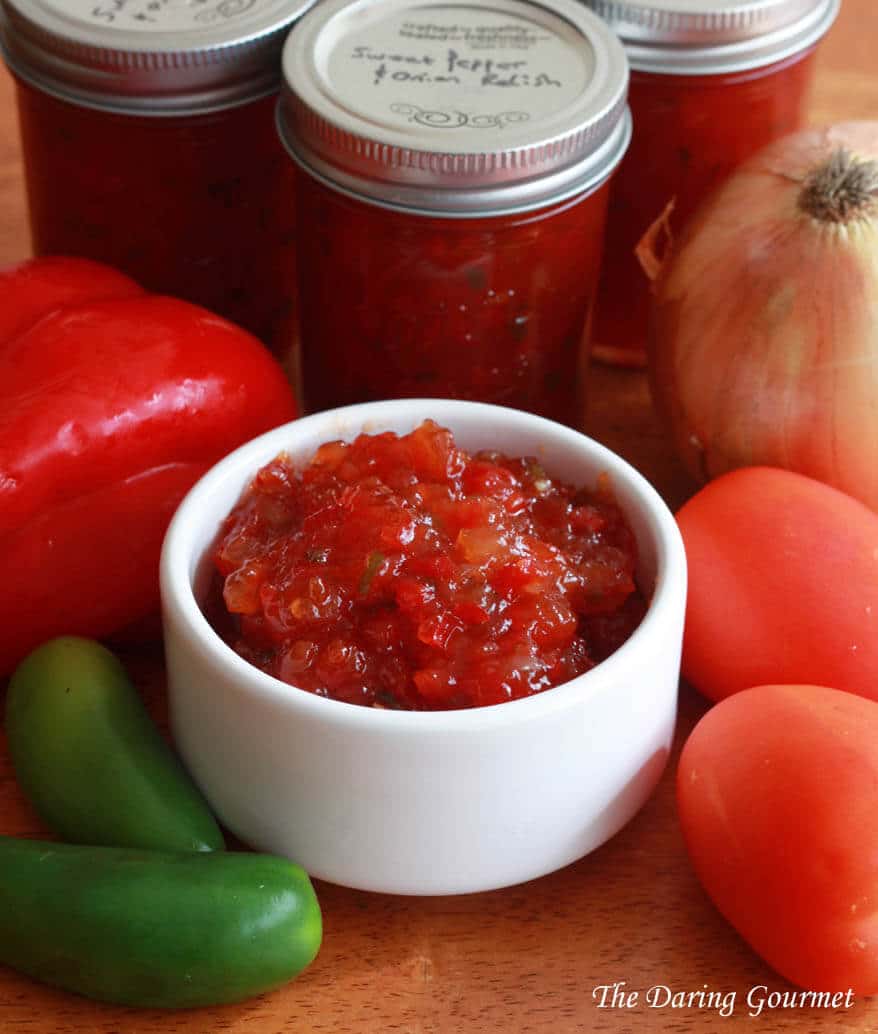 Sweet Pepper & Onion Relish
A copycat recipe of a Harry & David favorite. Deliciousl mixed with cream cheese and spread on crackers or used as a glaze for pork and chicken.
Ingredients
6 cups tomatoes, skinned, seeded and diced (first blanch the tomatoes in boiling water for 30 seconds for easy peeling) (a couple of our readers have reported success with using canned tomatoes - see reader comments below)
6 cups red bell peppers, seeded and diced
4 cups yellow onion, diced
4 jalapenos, seeded and diced
2 cups white vinegar
1½ cups cider vinegar
5 cups granulated sugar
2 tablespoons salt
1 tablespoon cayenne
4 tablespoons pectin (recommended: Ball's Classic Realfruit Pectin)
*See NOTE if relish turns out too runny.
Instructions
Place all the ingredients, except for the pectin, in a large stock pot. Bring the mixture to a boil, reduce the heat to low, and simmer for 1½ hours, uncovered, stirring occasionally. Add more cayenne to taste if desired. Add the pectin and quickly bring to a boil for 1 minute. Remove from heat and ladle the hot mixture into hot, sterilized canning jars.
Process the jars in a canner or large stock pot (see note on canners in post), with the water at least one inch above the jars, for 20 minutes. Remove the jars and let them sit undisturbed for 24 hours. Relish will keep for up to a year.
Makes about a dozen ½ pint jars.
Notes
* Do a quick test before canning the relish: Put a small spoonful on a cool plate and wait a couple of minutes then check for consistency. It shouldn't be running all over the plate, nor should it be firm like jello. If it's too runny for your preference, add a little more pectin and boil for another minute. Repeat as necessary. (Note, it can take a full 24-48 hours for pectin to set properly. Shake one of the jars and see if it's runny. If it is, you can still "rescue" them by opening the jars (you'll need to use new lids but as long as the rims aren't bent you can reuse those), pour everything back into a pot, bring back to a boil and stir in more pectin. Then can again.)