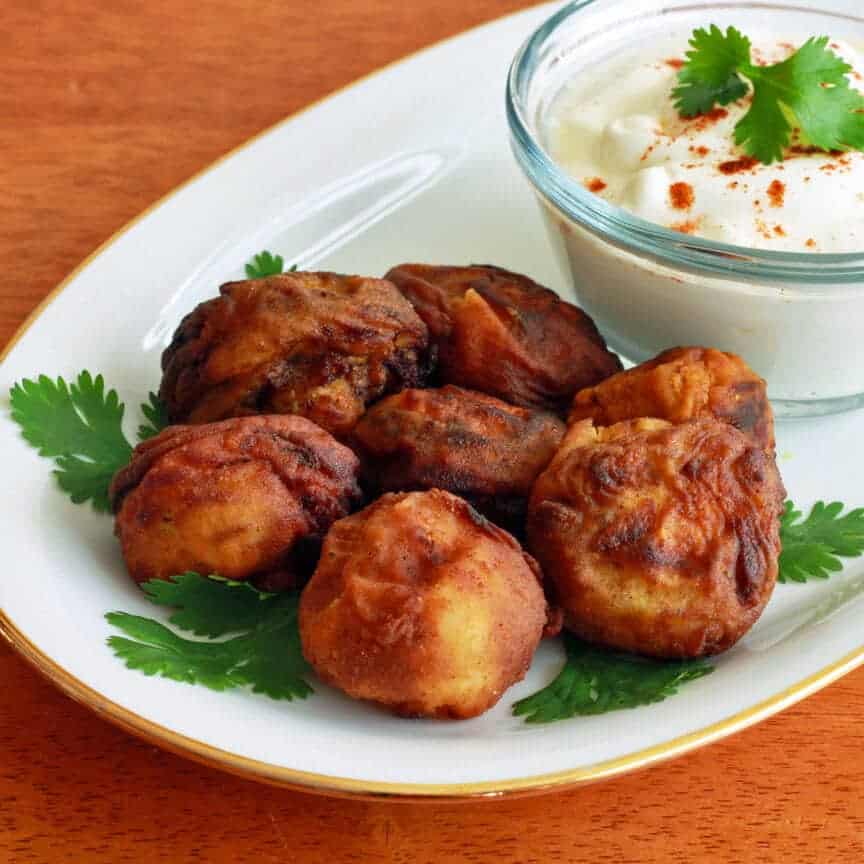 If you love Indian food you've likely tried Tandoori chicken.  The secret to great tandoori lies in the marinade and I cover that in my recipe for tandoori chicken.
But this marinade is deliciously versatile and before we get to our mouthwatering Tandoori Breaded Fried Mushrooms I want to share some other phenomenal ways to put this marinade to use!
Tandoori Tofu
I wanted to experiment with a vegetarian substitute for the chicken and tofu seemed a natural choice – plus I happened to have a package of it already in my fridge, score.  For you vegetarians out there (or those of you who like tofu and want to cut back on meat), you are going to love these!
Cut extra firm tofu into "steaks," about 1/2 inch thick (quantity of steaks according to preference).  Using a fork, make several piercings around each tofu steak.  Generously spread the tofu with Tandoori marinade. Place the tofu steaks in a nonreactive container, cover, and refrigerate for at least 2 hours, preferably 4-6.
Preheat the oven to 500 degrees F.  Lay some foil on a baking sheet, spray with vegetable oil, and spread out the tofu steaks.  Drizzle the tofu steaks with olive oil.  Bake for 15-18 minutes, or until the steaks are lightly charred around the edges.
More Ideas:  Cut the tofu in 1 inch squares and thread on skewers (pre-soak them in water for at least 15 minutes) along with chunks of onion and tomatoes.  Follow the same roasting instructions, but generously brush the onions and tomatoes with oil before putting them in the oven to prevent burning.
Tandoori Roasted Potatoes
These are totally WOW!
Preheat the oven to 425 degrees F.
Peel and cut the potatoes into 1 to 1 1/2 inch chunks (the quantity according to your preference).  Place the potatoes in a nonreactive bowl and coat generously with the tandoori marinade.  Place a sheet of foil on a baking sheet and generously spray with vegetable oil.  Spread the potatoes out on the baking sheet.  Bake for 10 minutes, until the coating is set, and generously spray with vegetable oil to prevent burning.  Bake for another 20-25 minutes or until the potatoes are soft when pierced with a fork.
Pictured below:  Tandoori Tofu (left) and Tandoori Roasted Potatoes (right).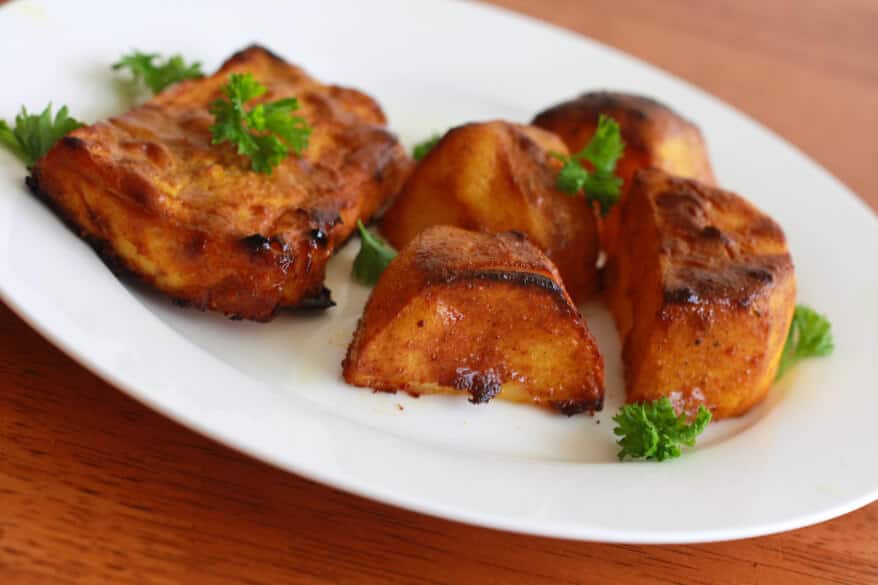 And now for today's featured recipe – these perfectly crispy, flavor-packed Tandoori Breaded Fried Mushrooms with Yogurt Dipping Sauce!
Enjoy!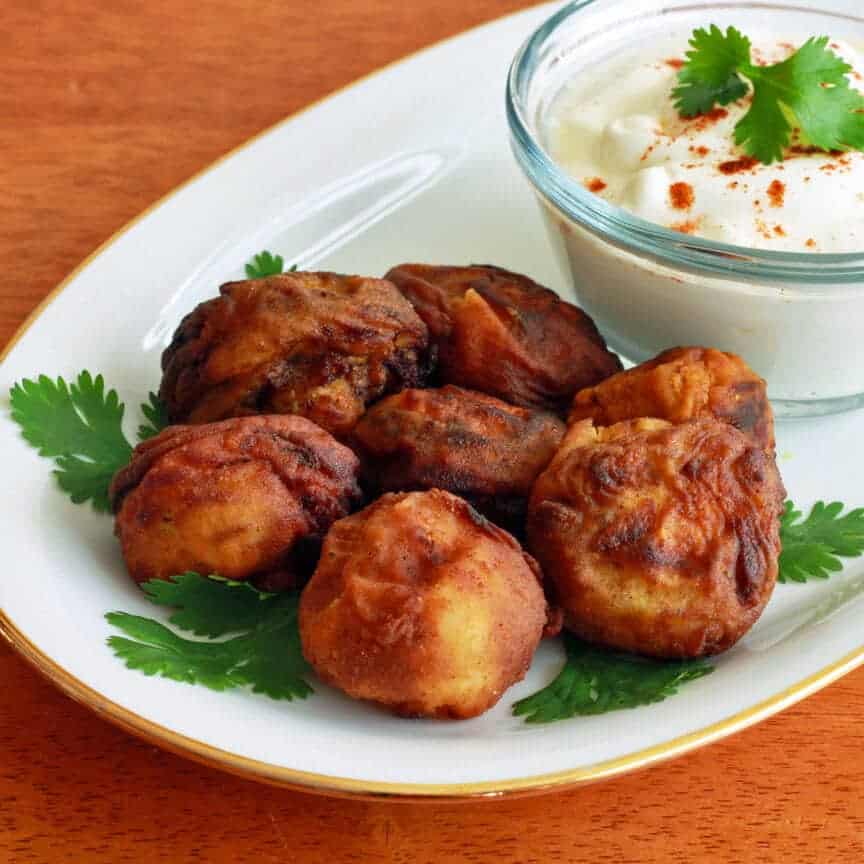 Indian food lovers, don't forget to try this recipe for the BEST homemade Indian Mango Chutney!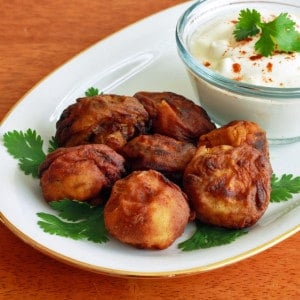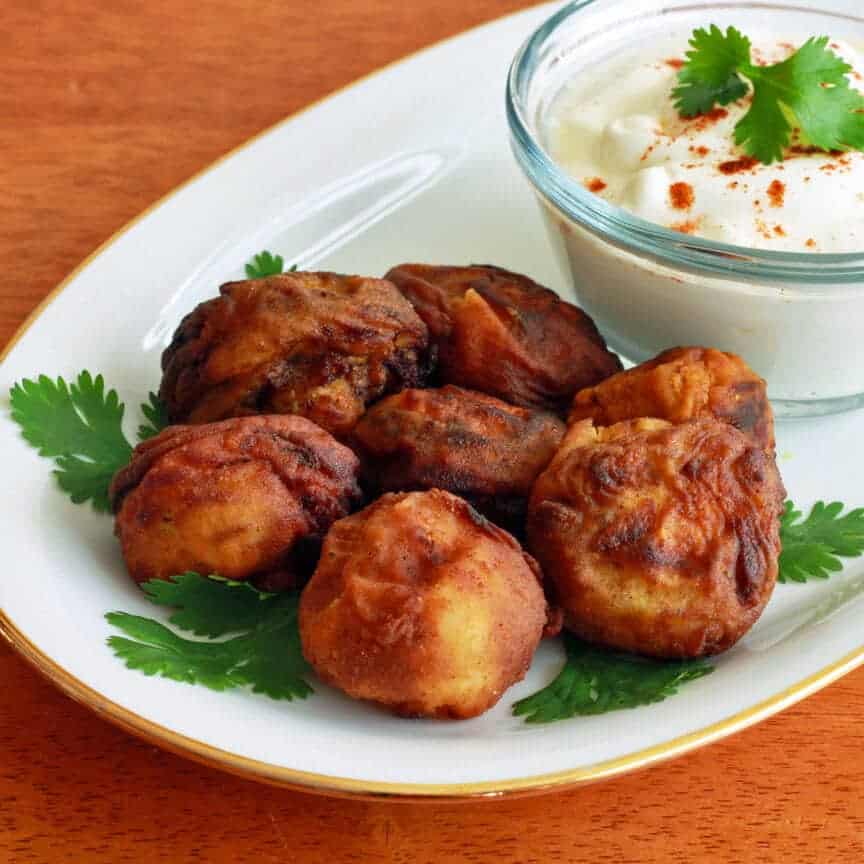 Tandoori Breaded Fried Mushrooms with Yogurt Dipping Sauce
These fried mushrooms are perfectly crispy and thoroughly delicious! Pop 'em in your mouth and enjoy!
Ingredients
1/2

cup

flour

1

teaspoon

baking powder

1/4

cup

water

1/3

cup

tandoori marinade

1/2

cup

plain fine breadcrumbs

8

ounces

small white button mushrooms, brushed clean

For the Yogurt Dipping Sauce:

1/2

cup

plain yogurt (vegans: use vegan yogurt)

1/4

teaspoon

sea salt

1/4

teaspoon

ground cumin

1

tablespoon

finely chopped cilantro

1

teaspoon

lemon juice
Instructions
For the dipping sauce, combine all the ingredients and refrigerate for at least 30 minutes.

For the mushrooms, mix the flour, baking powder, water and tandoori marinade in a small bowl. Place the bread crumbs in another small bowl. Dip the mushrooms, one at a time, into the tandoori mixture, then dip them into the bread crumbs, turning to coat evenly. Set aside on a plate and repeat the process with all the mushrooms.

Heat 2 to 3 inches of oil in a deep fryer or heavy saucepan to 375 degrees. Fry a few mushrooms at a time, 1½ to 2 minutes, or until deep golden brown, turning over several times. Do not exceed 2 minutes or the mushrooms will release too much liquid, preventing your fried mushrooms from being crispy.

Remove mushrooms from the oil and set on paper towels to drain. Serve immediately with the dipping sauce.
Nutrition
Serving:
4
ounces
|
Calories:
286
kcal
|
Carbohydrates:
51
g
|
Protein:
12
g
|
Fat:
4
g
|
Saturated Fat:
1
g
|
Cholesterol:
7
mg
|
Sodium:
526
mg
|
Potassium:
743
mg
|
Fiber:
3
g
|
Sugar:
6
g
|
Vitamin A:
60
IU
|
Vitamin C:
3.4
mg
|
Calcium:
210
mg
|
Iron:
3.7
mg