This post contains affiliate links.
Look no further….This is the ultimate Tandoori Chicken recipe!  I created this recipe through careful trial and experimentation – the ingredients and the cooking method.  If you like tandoori chicken, you are going to love this!  If you've never had it before, prepare to fall in love!  (Just make sure to be open with your spouse about your new love affair.)
AND DON'T SKIP PAST THIS RECIPE BECAUSE YOU THINK THE LIST OF INGREDIENTS IS TOO DAUNTING!  KEEP READING, I'll EXPLAIN…
Before we continue though, let's take a look at the origin of this dish.  Tandoori Chicken (or Tandoori Murgh in India), is named after the cylindrical clay oven in which the dish is traditionally prepared, called a tandoor, which commonly gets up to almost 500 degree F in temperature.  Western chefs have had to modify the cooking method, either grilling or roasting the chicken.  This recipe roasts the chicken in the oven and achieves beautiful results.
Tandoori Chicken is attributed to Kundan Lal Gujral and his partner Kundan Lal Jaggi, who ran a restaurant in present day Pakistan in the 1920's.  They ended up having to flee as Hindu refugees to India.  There, in Delhi, they set up a new restaurant and did something experimental.  Up to that point, tandoors had only been used to bake naan bread.  They started using it to cook this special chicken dish.   Its fame was immediate.  Their "tandoori murgh" so impressed the first Prime Minister of India, Jawaharlal Nehru, that he requested it on a regular basis at his official banquets.  Other visiting dignitaries likewise enjoyed this wonderful dish when they visited, including Presidents Richard Nixon, John F. Kennedy, as well many other nation's leaders throughout the world.
Tandoori Chicken has since become popular throughout the world and is commonly found on most any Indian restaurant menu.
The ULTIMATE tandoori marinade (see recipe box below):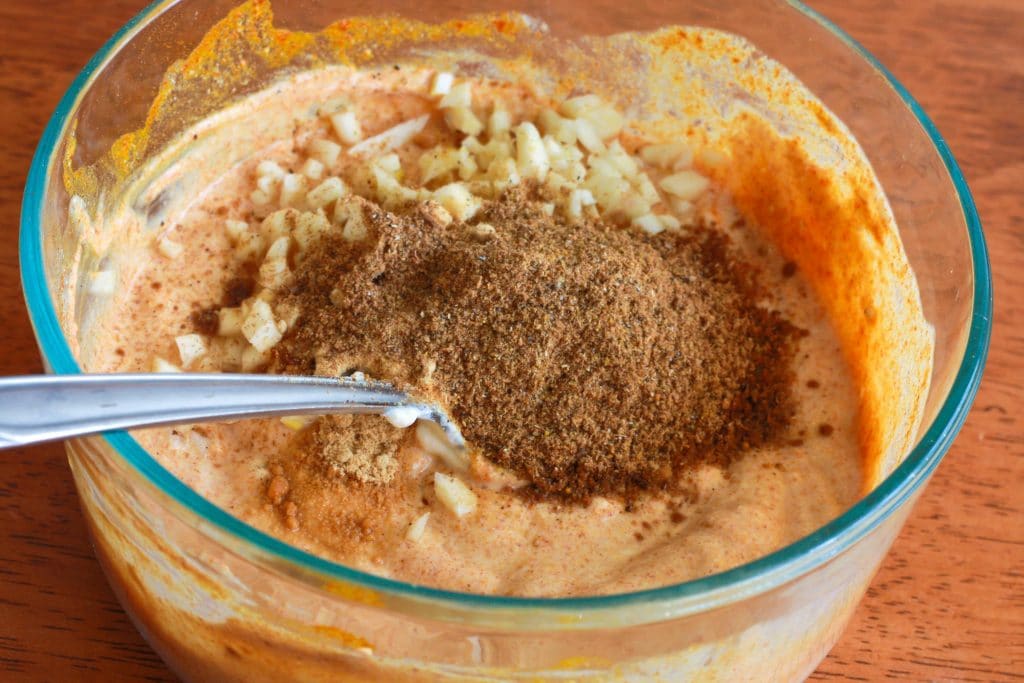 The versions of Tandoori Chicken eaten in India, Bangladesh and Pakistan are usually quite spicy.  Kashmiri chile powder is used to give it heat as well as give it it's reddish hue.  Western versions are more mild, and food coloring is often used to create color, although paprika and turmeric create nice coloring as well.  I don't like food coloring and I didn't use it here.  Instead, I stick to the more traditional methods of using generous amount of paprika and turmeric as well as Kashmiri chile powder (but cayenne pepper can be used instead.
Okay, now as for the daunting list of ingredients.  Don't be intimidated!  They are simply spices, no more difficult to utilize than any other common spice on your spice rack.  The more Indian food you cook, the more familiar these will become to you.
Where do you buy Indian spices?  If you're fortunate enough to have an Indian store where you live, you will find everything you need right there.  But some supermarkets carry many of these as well.  For example, I have a WinCo nearby that has tons of different herbs and spices in bulk that you can just scoop out as needed.  They don't carry all of the spices in this dish, but they carry a few of them.
If not, you can easily find everything online.  Because I cook…a lot…and to avoid shipping charges I buy my spices in bulk, usually 16 oz bags.  They're also a much better value and it works out so much cheaper in the long run.  There are many places to buy bulk spices online.  I've included a few suggested links in the recipe box below.
If you're serious about cooking Indian food, it's worth it to get all of these staple spices because you're going to use them again and again in other Indian dishes as well.  And you can also go in on it together with a friend or two and divide up the loot!
Here's a peek at my spice cabinet:
Yep, and there are even more spices behind some of these jars.  Every jar is a different spice or herb.  Spices used in every type of world cuisine.  Seriously, doesn't just looking at this make you want to cook?  I get excited every time I open it!  The possibilities…the adventures!
Do you need all these spices to cook phenomenal food?  Of course not!  I just like a large variety because remember, I'm heavily into world cuisine.  And I love experimenting and making my own herb and spice seasoning blends, so bulk has its advantages.  Plus, my spice cabinet is my muse!  I open it and – voila! –  the excitement and inspiration kicks in!
Moving on, here are some of the spices used in today's dish:
And some more (ignore the smoked paprika – not used in Indian cooking):
If you go bulk, start saving glass jars (I use old salsa, jam, broth jars, etc), store the herbs in the glass jars (keep the lids screwed tightly shut) and keep them in a dark place.   They will last a looooooooong time!  And yes, they will retain their flavor and aroma if you keep them stored like this.  And whole spices always last significantly longer than ground spices.  I always prefer to use whole spices in Indian cooking because the dry roasting process coaxes more flavor out than the ground versions could ever contribute.  It makes a HUGE difference in the flavor of Indian food.  Plus, you can always grind the whole seeds to a powder, but if you only have ground spices and need whole for something…
So, whether you buy in bulk or simply get the bare minimum quantities available, the point is this:  Once you get these spices and make this dish, you're going to be hooked.  And you're passion for exploring Indian cooking is going to continue.  And I'm going to continue providing you with more Indian recipes as we continue our cooking adventures together!
Trust me on this.  Just get the spices.  Get out of your culinary comfort zone and just try it.  You will be so glad of you did!
And remember:  As long as you have the ingredients you need, this recipe is VERY simple to make!  So, stock up on what may be to some of you new and exciting spices and prepare to absolutely WOW your family and friends!
Some other ways to put this tandoori marinade to use:
Tandoori Roasted Potatoes or Tandoori Roasted Tofu (click link for recipes)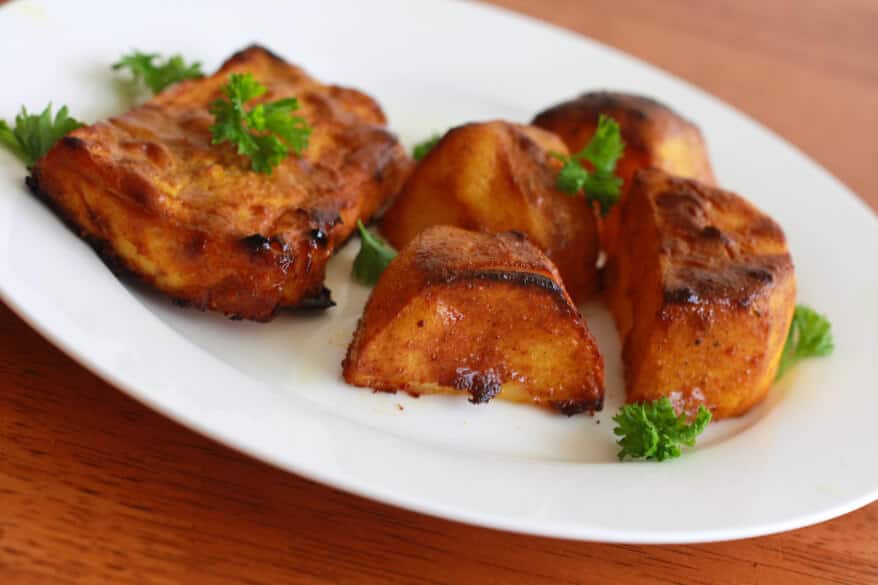 Tandoori Grilled Squash (click link for recipe)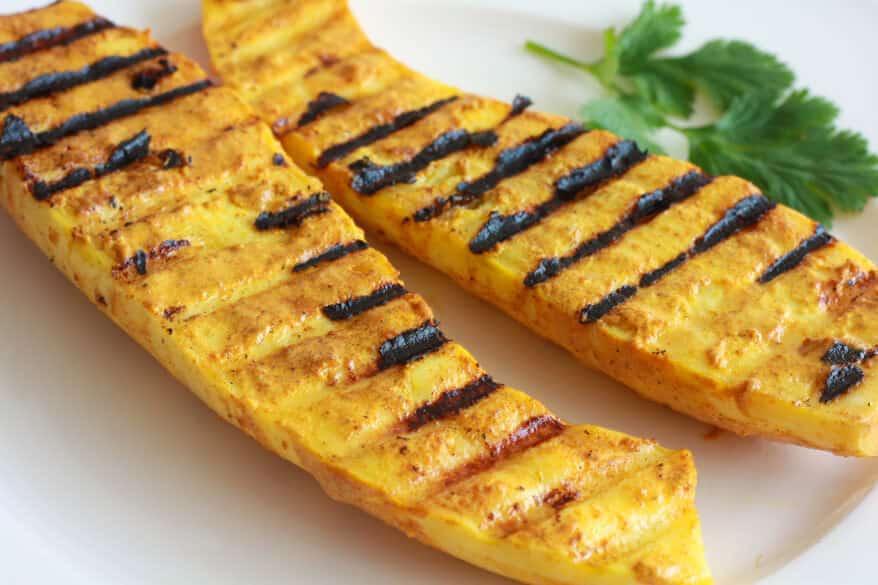 Without further ado, let's get to that Tandoori Chicken!
Indian food lovers, don't forget to check out this recipe for the BEST homemade Indian Mango Chutney!

Tandoori Chicken
:
The Daring Gourmet, www.daringgourmet.com
Instructions
Heat a dry pan with a heavy bottom over medium heat (cast iron is best because it ensures even heat distribution). Add the cloves, cumin seeds, coriander seeds, cardamom seeds, fenugreek, and fennel. Toss the pan regularly to rotate the spices and prevent burning and roast until they emit a very rich aroma, about 3 minutes. Immediately place the seeds in a dish to cool. Once cool, use a coffee or spice grinder to grind the spices to a powder.
Put the yogurt in a medium bowl and add the spice powder along with the remaining marinade ingredients. Stir to thoroughly combine.
Cut deep diagonal slices into the tops of each piece of chicken, about 3 slashes per piece, depending on the size.
Place the chicken pieces in a shallow, nonreactive baking dish and pour the marinade over them. Make sure they are thoroughly coated on all sides, and rub the marinade inside each of the slashes. Cover and refrigerate for at least 4 hours, preferably 6-8. (This allows the marinade to fully penetrate the chicken and optimize flavor.)
Preheat the oven to 500 degrees F.
Place the chicken pieces on the grates of a roasting rack, or cover a baking sheet with aluminum foil and place the chicken on it. Drizzle the vegetable oil over the chicken (this prevents burning). Roast the chicken for 30 minutes, or until the juices of the chicken run clear when a knife is penetrated in the thickest part near the bone.
Serve immediately with rice and/or fresh naan bread.