Authentic and thoroughly delicious, this tandoori chicken recipe is a total showstopper, rivaling your favorite Indian restaurant!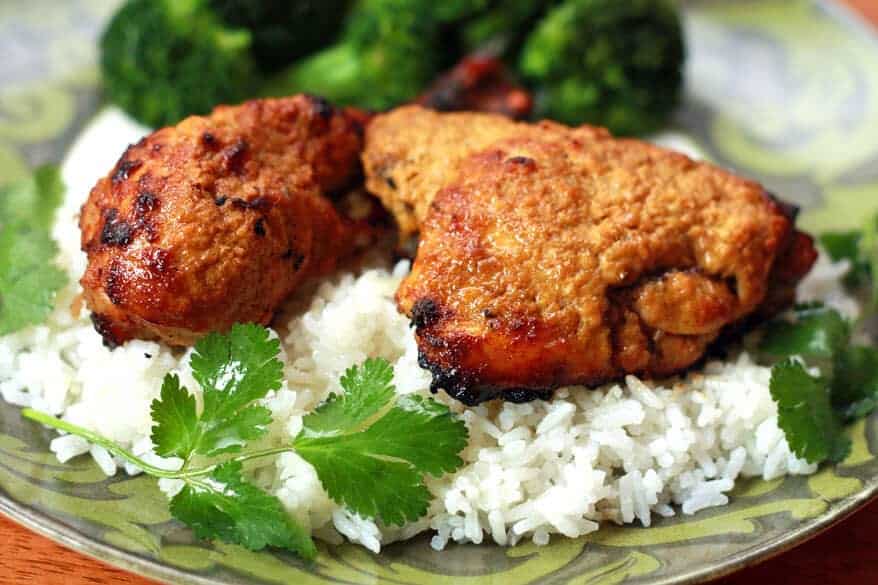 Look no further for the ultimate authentic Tandoori Chicken recipe!
I created this recipe through careful trial and experimentation, both the ingredients, ratios and the cooking method.  If you like tandoori chicken, you are going to love this!  And if you've never had tandoori chicken before, prepare to fall in love!  (Just make sure to be honest with your spouse about your new love affair.)
Where Did Tandoori Chicken Originate?
Before we continue let's take a brief look at the origin of this dish.  Tandoori Chicken (or Tandoori Murgh in India), is named after the cylindrical clay oven in which the dish is traditionally prepared, called a tandoor, which commonly gets up to almost 500 degree F in temperature.  Western chefs have had to modify the cooking method, either grilling or roasting the chicken.  This recipe roasts the chicken in the oven and achieves fabulous results.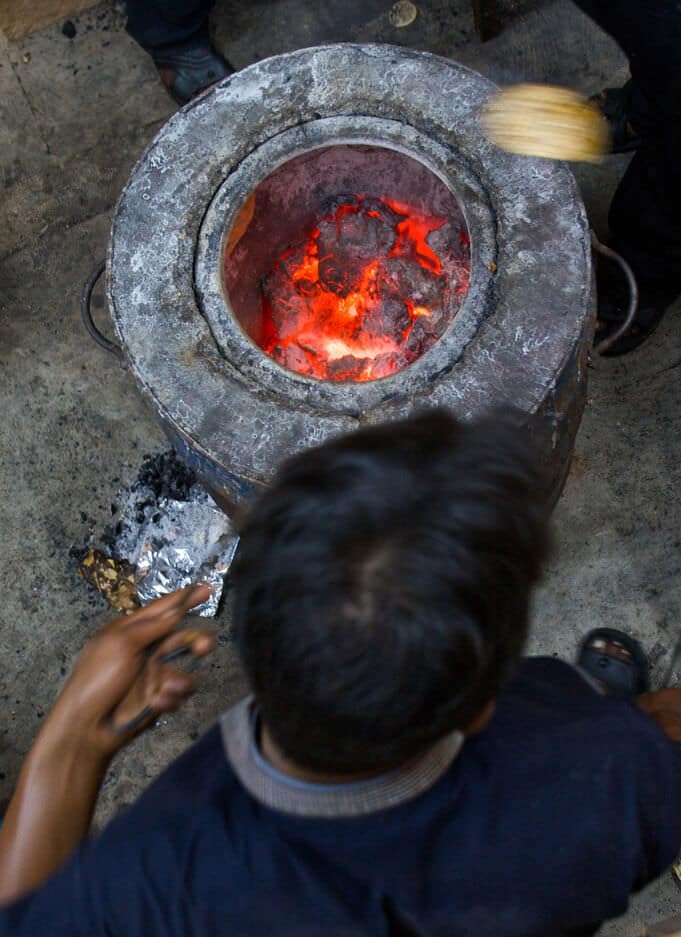 Tandoori Chicken is attributed to Kundan Lal Gujral and his partner Kundan Lal Jaggi, who ran a restaurant in present day Pakistan in the 1920's.  They ended up having to flee as Hindu refugees to India.  There, in Delhi, they set up a new restaurant and did something experimental.  Up to that point, tandoors had only been used to bake naan bread.  They started using it to cook this special chicken dish.   Its fame was immediate.  Their "tandoori murgh" so impressed the first Prime Minister of India, Jawaharlal Nehru, that he requested it on a regular basis at his official banquets.  Other visiting dignitaries likewise enjoyed this wonderful dish when they visited, including Presidents Richard Nixon, John F. Kennedy, as well many other nation's leaders throughout the world.
Tandoori Chicken has since become popular throughout the world and is commonly found on most any Indian restaurant menu.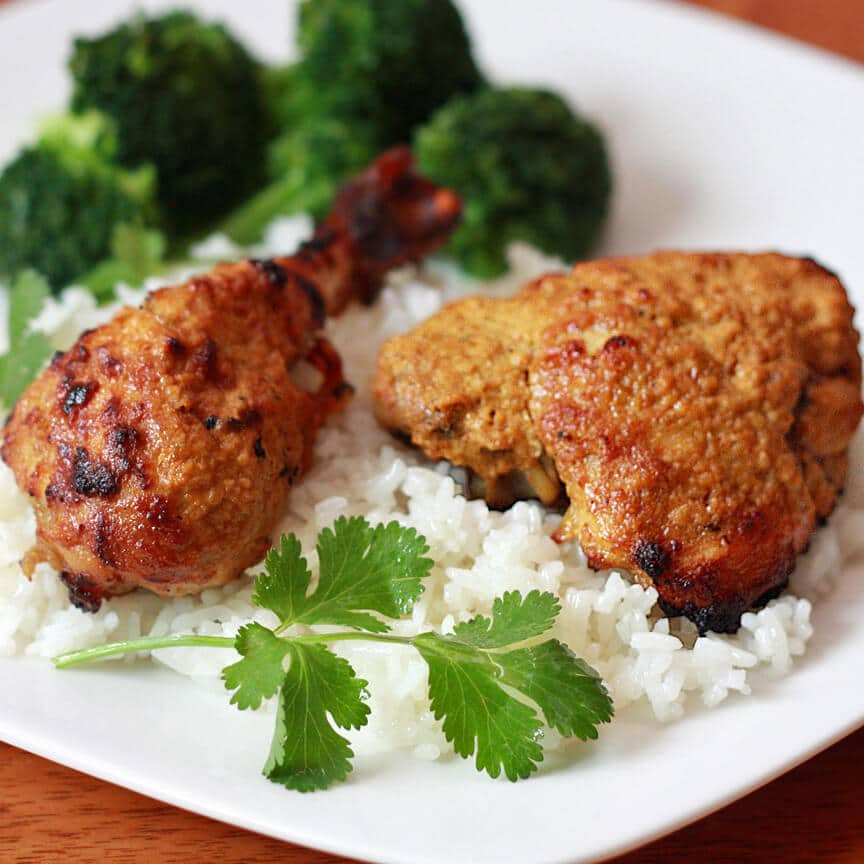 The versions of Tandoori Chicken eaten in India, Bangladesh and Pakistan are usually quite spicy.  Kashmiri chile powder is used to give it heat as well as give it it's reddish hue.  Western versions are more mild, and food coloring is often used to create color, although paprika and turmeric create nice coloring as well.  I don't like food coloring and I didn't use it here.  Instead, I stick to the more traditional methods of using generous amount of paprika and turmeric as well as Kashmiri chile powder (but cayenne pepper can be used instead).
As for the long list of spices in our tandoori chicken marinade, don't feel intimidated!  They are simply spices, no more difficult to utilize than any other common spice on your spice rack.  The more Indian food you cook, the more familiar these will become to you.
Where do you buy Indian spices?  If you're fortunate enough to have an Indian store where you live, you will find everything you need right there.  If not, many grocery stores carry a variety of Indian spices, but you will more than likely need to buy some of them online.  I generally buy my spices in bulk, usually 16 oz bags, because I use them a lot and because buying them in bulk is MUCH cheaper than buying small amounts.  I've made some recommendations in the recipe box below.
I always recommend buying your spices whole and then toasting and grinding them yourself.  It makes a HUGE difference in the intensity and richness of the flavor.  And whole spices also last significantly longer than ground spices.
For our tandoori chicken the secret the amazing marinade.  The flavor of this marinade packs will absolutely WOW your dinner guests!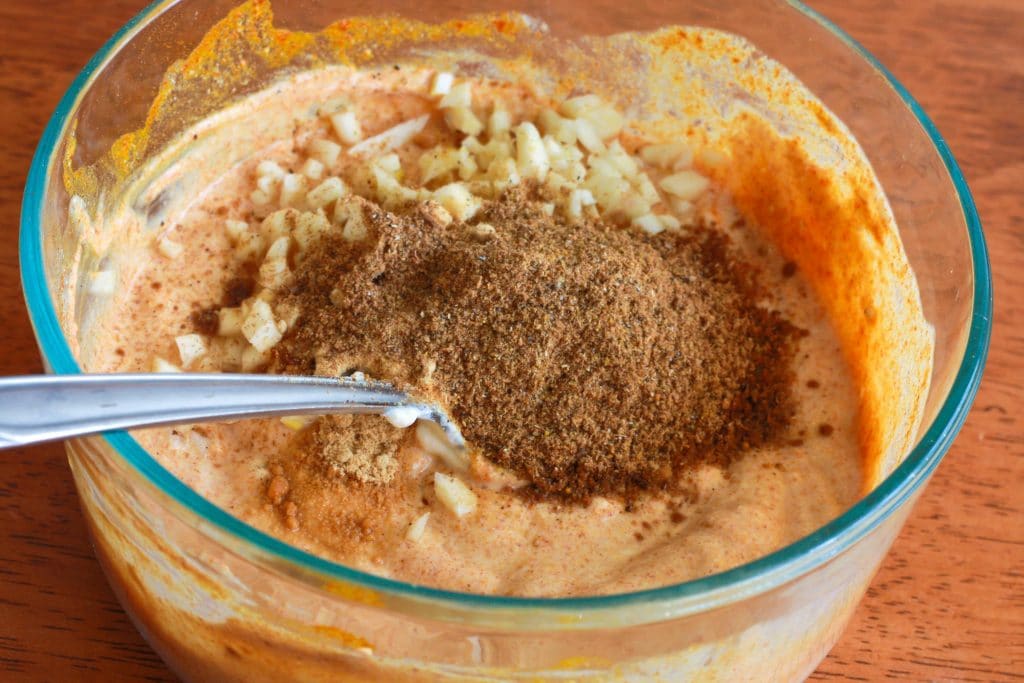 This marinade is also very versatile.
Here are some additional ways I like to put it to use:
Tandoori Roasted Potatoes or Tandoori Roasted Tofu
Tandoori Grilled Squash- simply slather on the marinade, and some salt and pepper, and grill away!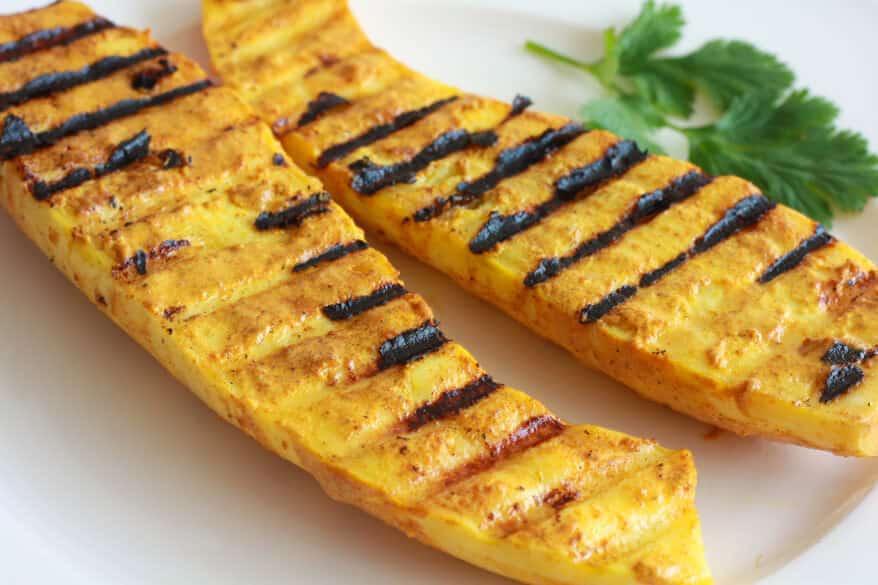 Tandoori Breaded Fried Mushrooms with Yogurt Dipping Sauce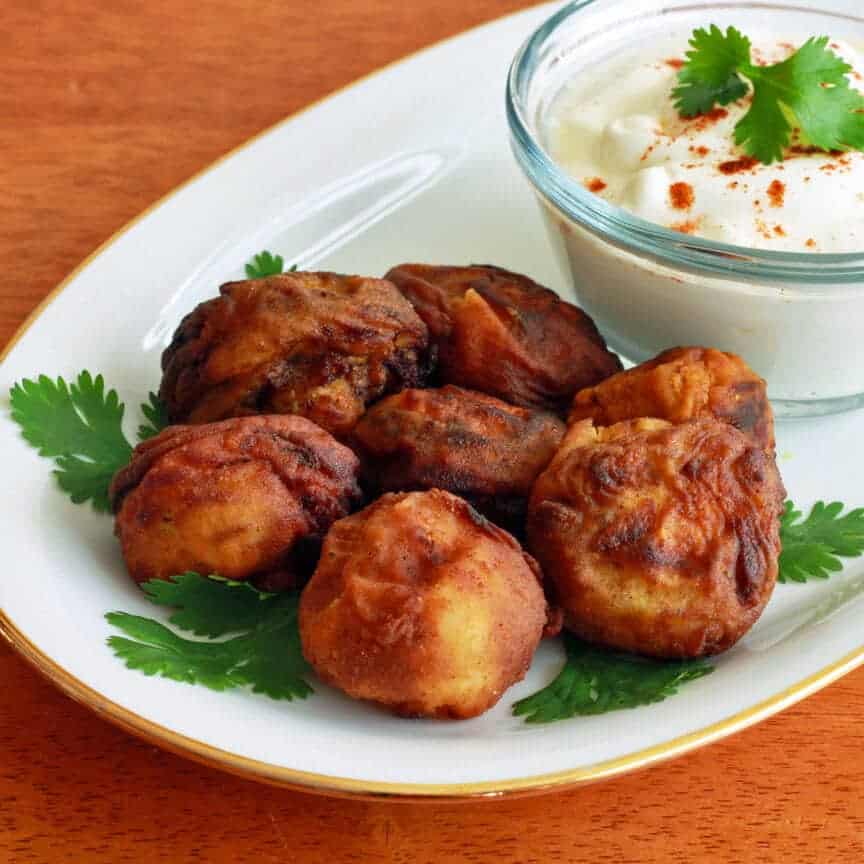 More more delicious Indian food be sure to try our: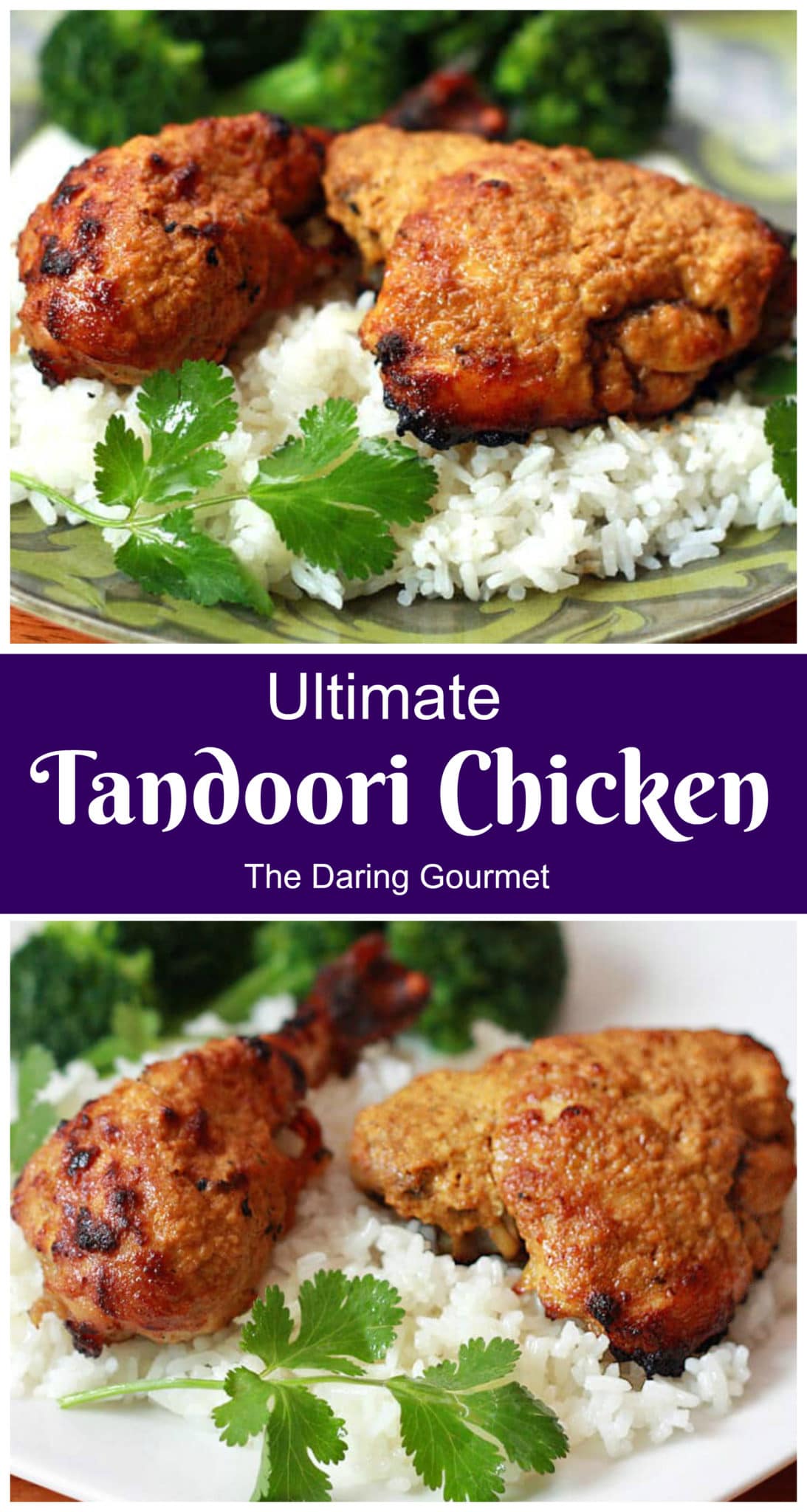 Tandoori Chicken
For the ultimate flavor, look no further than this totally authentic and thoroughly delicious tandoori chicken!
Instructions
Heat a dry pan with a heavy bottom over medium heat (cast iron is best because it ensures even heat distribution). Add the cloves, cumin seeds, coriander seeds, cardamom seeds, fenugreek, and fennel. Toss the pan regularly to rotate the spices and prevent burning and roast until they emit a very rich aroma, about 3 minutes. Immediately place the seeds in a dish to cool. Once cool, use a coffee or spice grinder to grind the spices to a powder.

Put the yogurt in a medium bowl and add the spice powder along with the remaining marinade ingredients. Stir to thoroughly combine.

Cut deep diagonal slices into the tops of each piece of chicken, about 3 slashes per piece, depending on the size.

Place the chicken pieces in a shallow, nonreactive baking dish and pour the marinade over them. Make sure they are thoroughly coated on all sides, and rub the marinade inside each of the slashes. Cover and refrigerate for at least 4 hours, preferably 6-8. (This allows the marinade to fully penetrate the chicken and optimize flavor.)

Preheat the oven to 500 degrees F.

Place the chicken pieces on the grates of a roasting rack, or cover a baking sheet with aluminum foil and place the chicken on it. Drizzle the vegetable oil over the chicken (this prevents burning). Roast the chicken for 30 minutes, or until the juices of the chicken run clear when a knife is penetrated in the thickest part near the bone.
Notes
Some recipes include red food coloring.  I do not but you can add a couple of drops if you wish.
Nutrition
Calories:
234
kcal
|
Carbohydrates:
8
g
|
Protein:
30
g
|
Fat:
8
g
|
Saturated Fat:
2
g
|
Cholesterol:
142
mg
|
Sodium:
1039
mg
|
Potassium:
517
mg
|
Fiber:
1
g
|
Sugar:
4
g
|
Vitamin A:
950
IU
|
Vitamin C:
4.1
mg
|
Calcium:
111
mg
|
Iron:
2.5
mg