This post contains affiliate links.
Masoor Dal is a classic Indian red lentil soup.  Lentils are an everyday staple throughout India, an especially important staple for those regions that enjoy a predominantly vegetarian diet.  Lentils are a great source of protein, fiber, B vitamins, iron and zinc.  Lentils do not require soaking and are quick and easy to prepare.
Bursting with flavor, this dish uses a variety of aromatic and flavorful spices, including a very unique and interesting spice…
Masoor Dal blends a variety of flavors and spices, including one that is very unique to India:  Asafoetida.
Asafoetida is used for its flavor and aroma and also serves a logistical purpose:  It reduces flatulence!  And so it is commonly used in legume and lentil dishes to help alleviate that unfortunate little side effect.
Asafoetida is a fascinating spice.  It is made from the sap of an underground tap root.  In addition to its culinary uses, it also has several medical applications.  It has historically been used to fight the flu, aid digestion, serve as an anti-epileptic, anti-microbial, and is an important spice used in ayurvedic medicine.
It seems history enjoys an either love or hate relationship with asafoetida.  The two extremes are reflected in the various names it goes by:  Besides its other common name, hing, asafoetida is also known as "food of the gods" and "Devil's dung" – two polar opposites!  A 16th century text notes, "If used in cookery, it would ruin every dish because of its dreadful smell."  Asafoetida has also made appearances in movies and novels, including Sinclair Lewis' 1925 classic novel, Arrowsmith, wherein the protagonist had to smell the spice as part of a fraternity initiation.
Nevertheless, despite its bad rap in some circles, it is loved and cherished in others.  I happen to belong to the latter.  Asafoetida is commonly used in cooking throughout India and has a very unique aroma and flavor.  It's a fantastic spice, a little of which goes a long way in adding flavor and aroma.
Note:  You'll definitely want to keep it stored in an airtight container.  If you spill any in your spice cabinet, the aroma will permeate your house!
This lentil soup is fantastic with or without asafoetida, but if you're able to find it, get it!  And then determine for yourself whether you're a lover or a hater ;)   It can be purchased in Indian grocery stores and can be ordered online.
Red lentils are pretty easy to find and can be purchased in virtually any large grocery or health food store.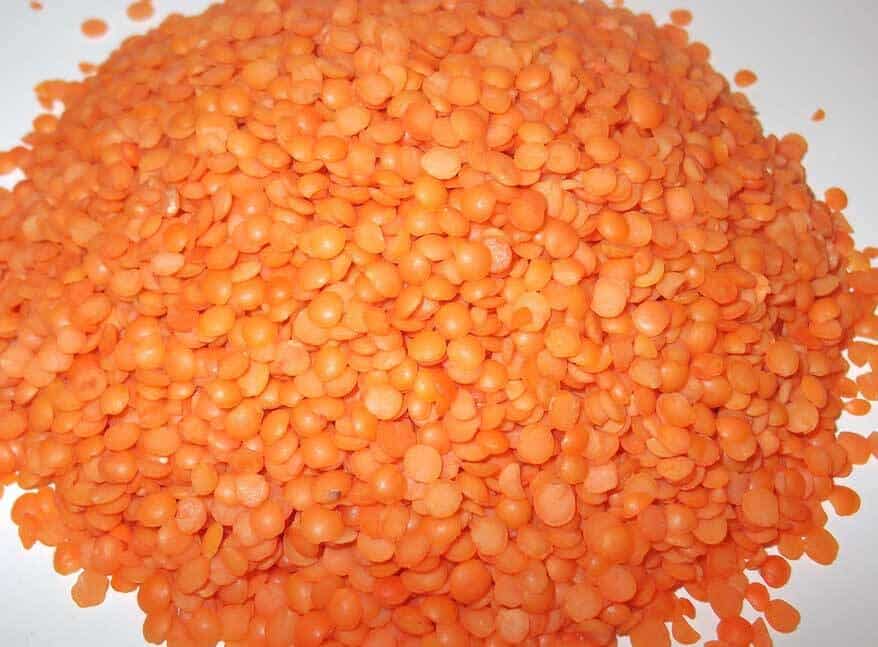 Masoor Dal makes for a satisfying meal with some freshly baked Indian naan bread (see recipe here) and/or a fresh salad.
For a slight variation (same thing, just thicker, but it's so good that it deserved its own separate post), try this Indian Red Lentil Dip!
Okay, let's get started on that fabulous soup!
Dice the tomatoes and mince that garlic and ginger.
Rinse the lentils and place them in a stock pot with the vegetable broth, tomatoes and salt.
Heat the oil over medium-high heat and fry the mustard and cumin seeds until the mustard seeds begin to pop and the spices are fragrant.
Add the garlic and ginger and fry for another minute.  Add the onions (not in picture) and fry until caramelized, about 5-7 minutes.
Add the spice/garlic/ginger mixture to the stock pot.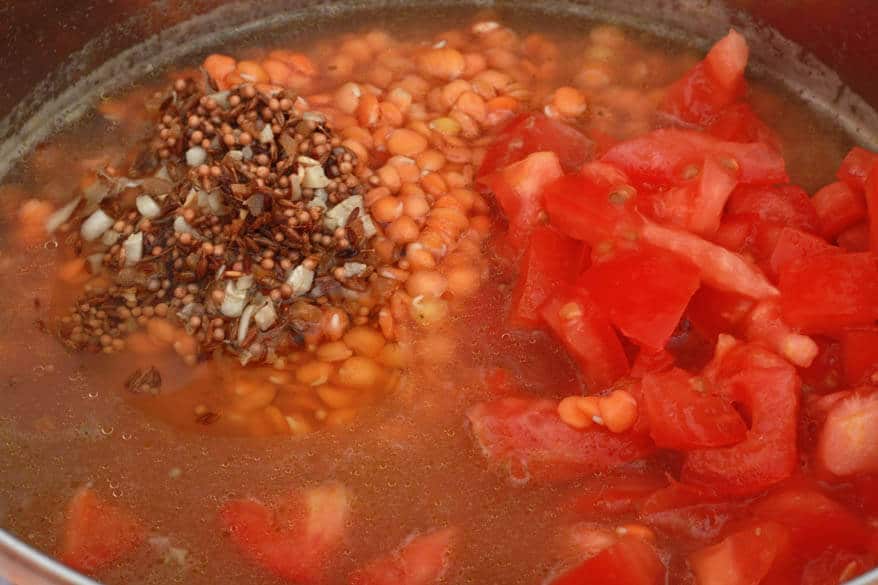 Add the remaining spices.  Stir to combine.  Bring the soup to a boil, reduce the heat to medium-low, cover and simmer for 20 minutes or until the lentils are done.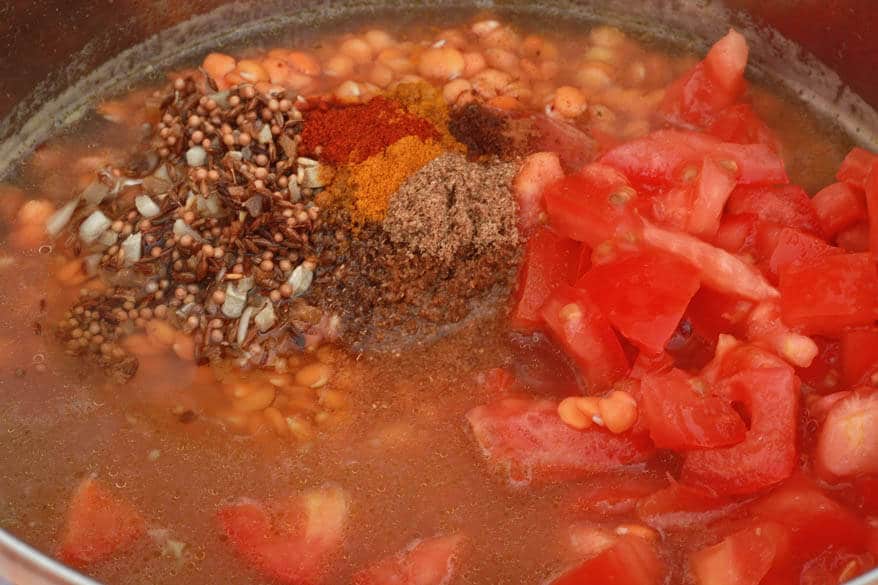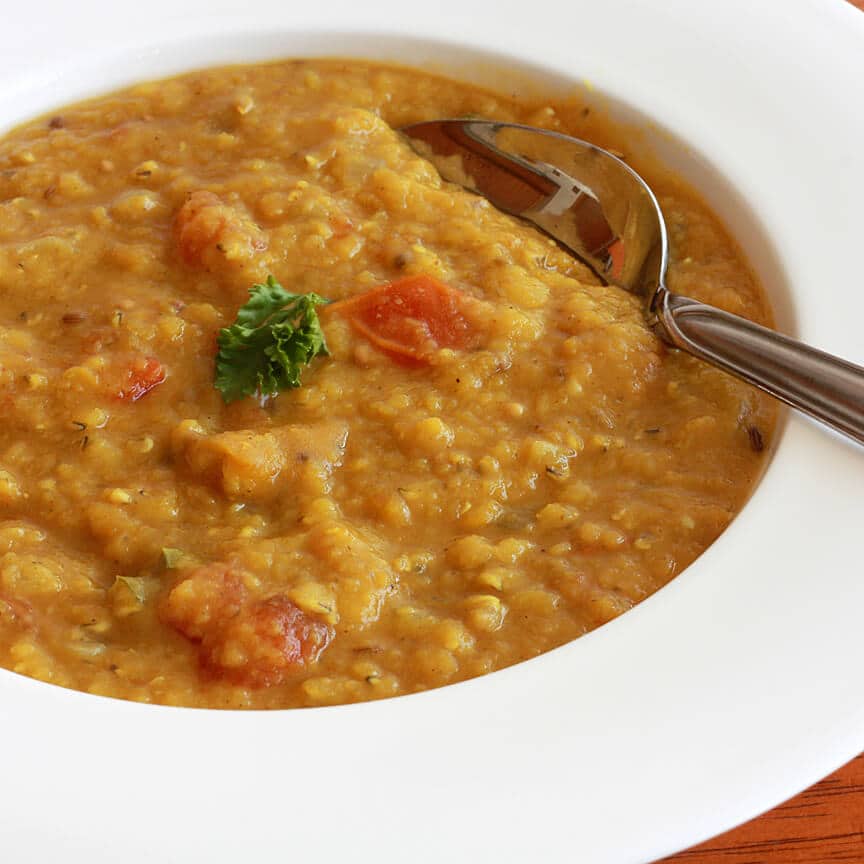 Indian food lovers, don't forget to try this recipe for the BEST Indian Mango Chutney!

Masoor Dal (Indian Lentil Soup)
:
The Daring Gourmet, www.daringgourmet.com
Ingredients
1½ cups red lentils, thoroughly rinsed
4 cups vegetable stock
2 tomatoes, diced
1 teaspoon salt
1 tablespoon extra virgin olive oil
1 teaspoon mustard seeds
1 teaspoon cumin seeds
1-2 green chilies, chopped (use more or less and discard seeds according to heat preference)
1 teaspoon chopped fresh ginger
1 teaspoon chopped fresh garlic
½ cup onion, finely chopped
¼ teaspoon asafoetida (aka hing)
2 teaspoons ground coriander
½ teaspoon turmeric
Pinch of Kashmiri chile powder (or cayenne pepper)
Small pinch of cinnamon
Small pinch of cloves
Juice of one lime
Fresh chopped cilantro for serving
Salt to taste
Instructions
For the Dal: Place the rinsed lentils, vegetable stock, tomatoes, and salt in a stock pot.
For the Chaunk: Heat the oil in a small skillet over high heat and add the mustard and cumin seeds. Fry until the mustard seeds begin to pop, about 10 seconds. Reduce the heat to medium-high and add the chilies, garlic and ginger. Fry for another 20 seconds. Add the onion and fry until soft and a light caramelized brown, about 5-7 minutes. Add the turmeric, chile powder, asaefoetida, coriander, turmeric, chile powder, cinnamon and cloves and stir to combine.
Combine the Dal and Chaunk: Scrape the contents of the skillet into the stock pot. Stir to combine and bring it to a boil. Reduce the heat, cover, and simmer for about 20 minutes, or until the lentils are done the soup is a thick consistency, stirring occasionally.
Before serving, add the lime juice, a little at a time, according to taste. Add more salt as needed. Serve sprinkled with fresh chopped cilantro.
Serve with some fresh naan bread.