We partnered with Bellmont Kitchen Cabinet Co. to bring you this post.
For those of you who are joining us for the first time, we bought our 106-year-old home almost 3 years ago and after spending the first year remodeling a tiny guesthouse on our property (an insanely challenging undertaking we called The Micro-Dwelling Project), we turned out attention to our main kitchen.
Our historic home was in immaculate condition when we bought it and fortunately the kitchen was the only thing that needed updating.  The cabinets were at least 50 years old, the vinyl flooring from the 60's, and even the oven was from the 1940's (and still worked like a charm by the way!  We've hung on to it for a future project).  For a view of the original kitchen and the demolition process, see The 1912 Modern Farmhouse Kitchen Remodel: The Demolition.
We've now come full circle and wanted to feature the most critical part of our kitchen remodel:  The cabinets.
We wanted quality cabinets whose style fit the time period of our home while simultaneously providing a modern farmhouse look.  Our kitchen is a very challenging one because of its layout:  It has a door on three of the four walls and a large window on the fourth.  We needed the space to be designed with maximum efficiency and utility in mind.  Fortunately we had an exceptionally skilled kitchen designer and the full breadth of customizations available through Bellmont Kitchen Co. made our vision possible.
Todd going over our kitchen designs before finalizing our Bellmont cabinets.
In our initial "reveal" post we mentioned that we purchased our cabinets from the Bellmont Cabinet Co.  Based in Sumner, WA, Bellmont is family owned and operated and has been in business for over 30 years, dedicated to product innovation, functionality, and timeless & trend setting styles.  Bellmont has won multiple awards and specializes in the highest quality frameless cabinets on the market, featuring greater interior storage capacity, unobstructed openings, and wider drawers with the clean crisp look of flush-fitting full-overlay doors and drawers.
We had used their 1600 series cabinets in our guesthouse.   For our main kitchen we upgraded to their highest line, the 1900 series, with a plywood construction along with a several other upgrades.  The vast selection of cabinet styles and finishes is almost dizzying but we already knew what we wanted:  We wanted a simple shaker style to fit the original time period of our farmhouse and chose Pasadena.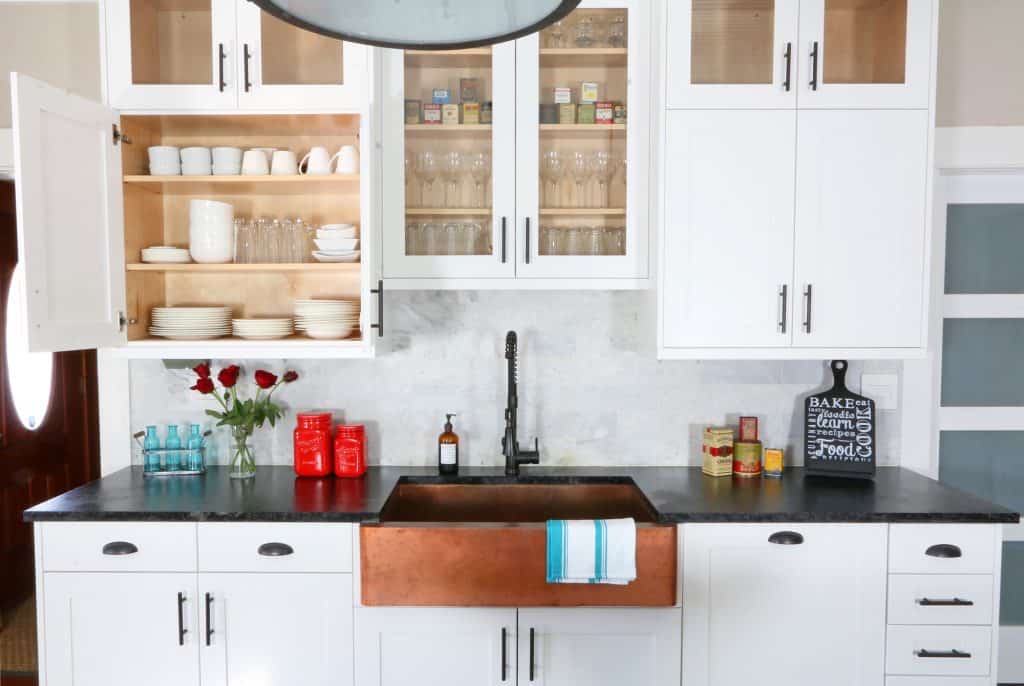 Here is the original kitchen: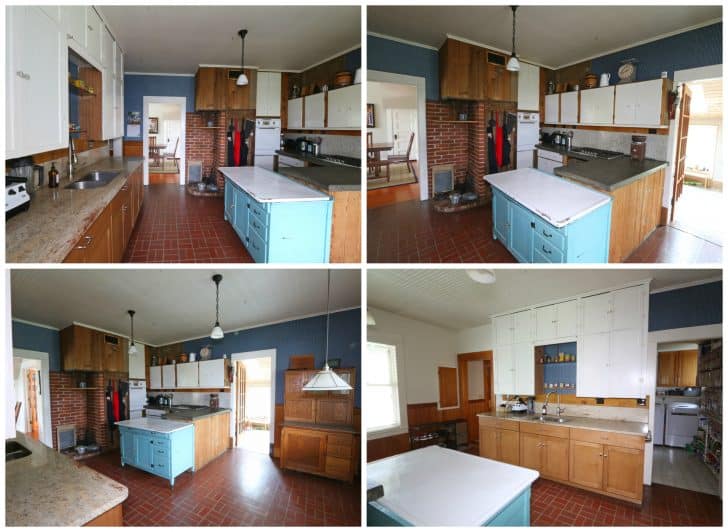 This is what we were left with after the demolition:
(1960's brick vinyl flooring over 1930's linoleum and green paint on the shiplap to match – awesome!)
This was our second experience installing kitchen cabinets by ourselves, the first time having been our guesthouse.  The process was straightforward and everything went pretty smoothly.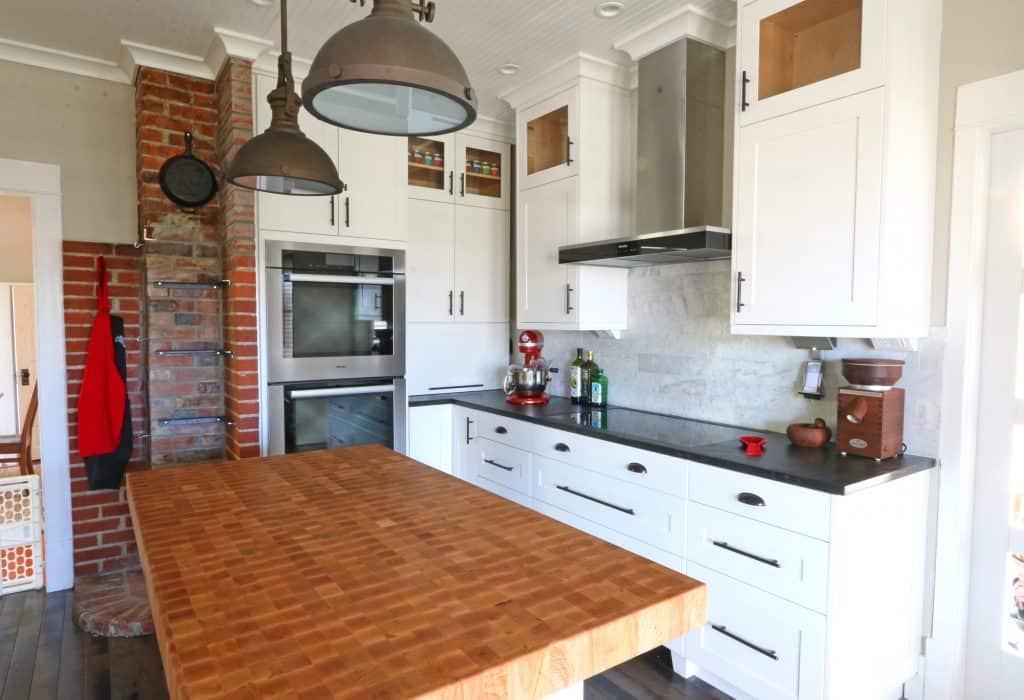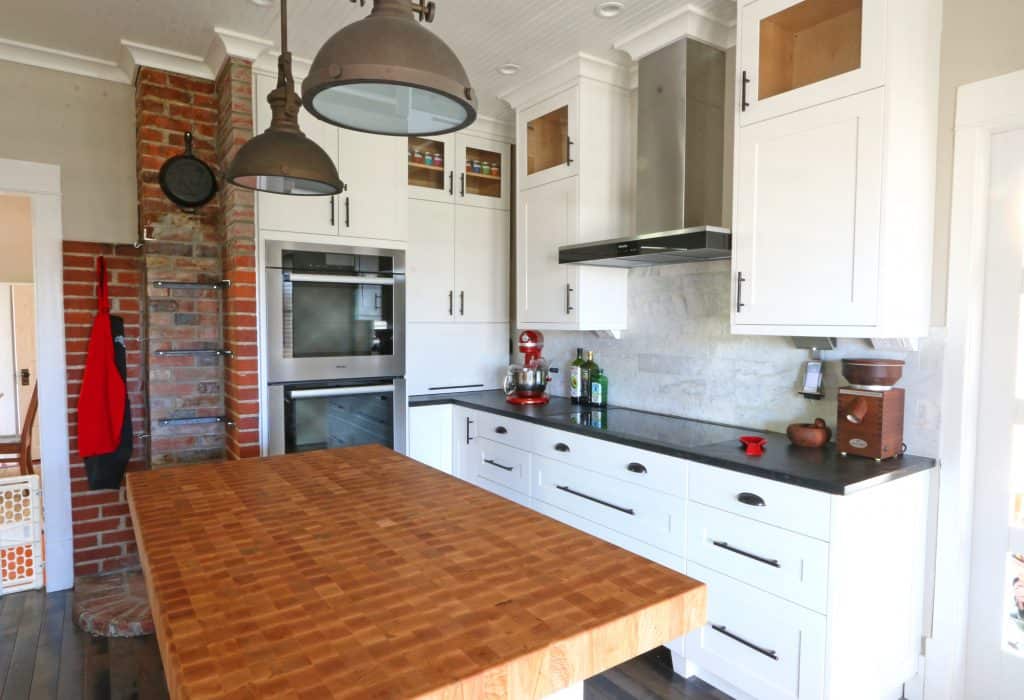 We did the entire remodel ourselves, including installing the hardwood flooring.
We had our Bellmont cabinets made to accommodate an apron copper sink.  We also had Bellmont make a custom cabinet panel for our dishwasher (to the right of the sink).
Our kitchen island was also custom made for us by Bellmont to accommodate our butcher block top.  Sturdily built with strong legs, the cabinet holds over 200 pounds of butcher block!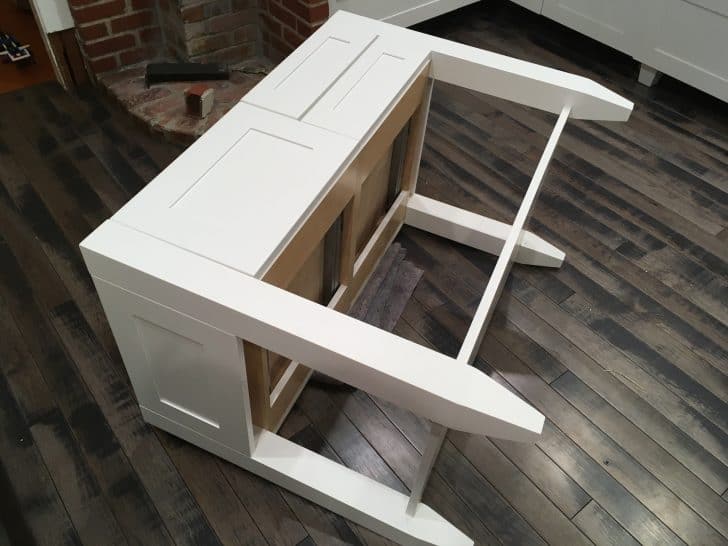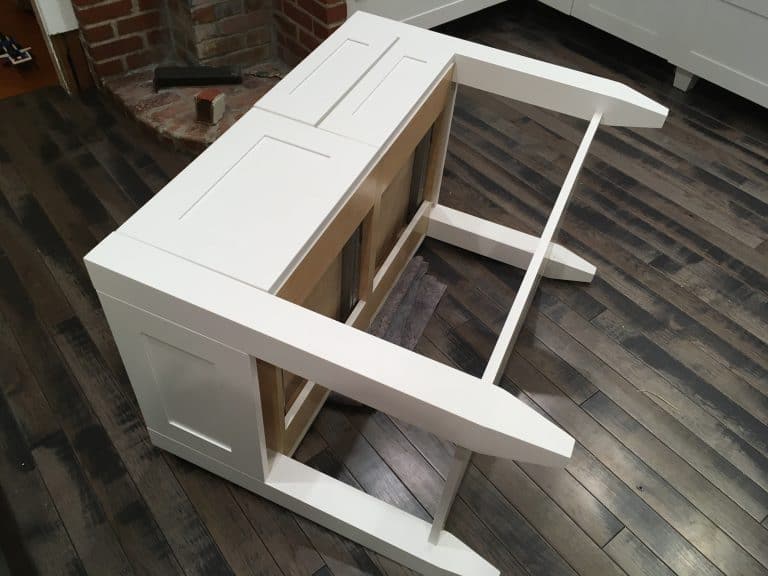 Let's take a look at some more of the details.
Made of plywood construction with dovetailing, the 1900 series is solid and built to last.
We got the bottom cabinets with adjustable legs which made leveling the cabinets a breeze (versus having to use shims).  That was especially helpful in light of the fact that our 106-year-old floors are not perfectly level.
The cabinet hardware is made in Germany and Italy and the upgraded adjusters under the drawers allow you to adjust the drawer faces so they're flush as well as enable the horizontal and vertical alignment to be adjusted.
We opted for as many large and spacious drawers as possible.  They not only create a more modern look to the kitchen but make more efficient use of space.
We also opted for several pull-out drawers which are such a great feature, allowing full and easy access to the full depth of the cabinets.
Our cabinets from Bellmont included a lazy Susan in the corner next to our double ovens which makes what otherwise would largely have been wasted space fully accessible and usable.
On a side note, I recently learned an interesting tidbit:  It was Thomas Jefferson who invented the lazy Susan!
The cabinet above our ovens has dividers for cookie sheets, baking molds and cutting boards.  This is just another example of the many customizations Bellmont offers.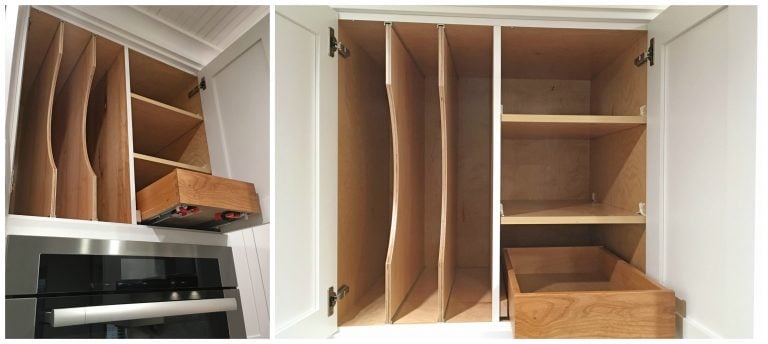 Bellmont has so many cool options, not even a quarter of which we had room in our kitchen to utilize.  One of the options we chose for two of drawers – one by the sink and one by the cooktop – are their flatware and utensil inserts.  On the left you can see that there are two layers, there's a sliding drawer that allows access to top and bottom where we put our casual and formal flatware.  On the right is the drawer next to our cooktop where you can put ladles, spoons, spatulas, knives, etc.  These drawers are awesome!
Another really cool feature is the floor to ceiling pull-out cabinet between the wall and the fridge.  The hardware is made in Germany and the construction is solid.  It's the perfect cabinet for bins and large jars of food and it's also where we keep our (large) stash of vitamins and supplements, canisters of protein powder as well as Huxley's (our coonhound) bags of food.
We also ordered our crown moldings from Bellmont, which Todd cut and installed himself.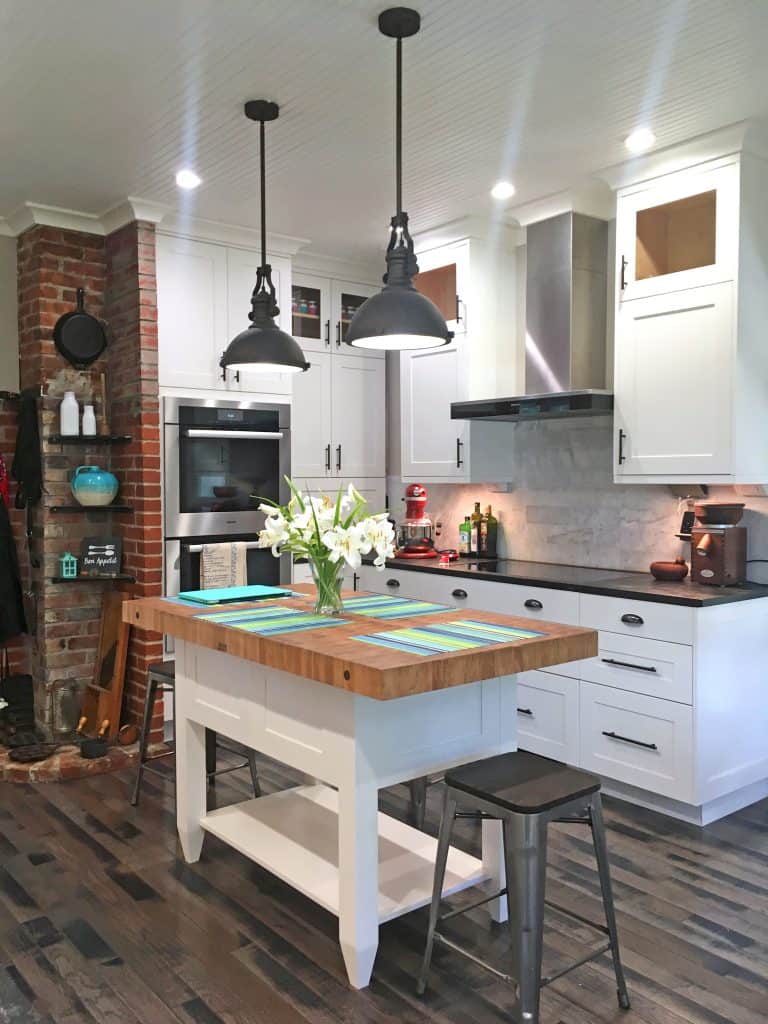 We are very happy with our new kitchen and absolutely love our cabinets from Bellmont!
We've used Bellmont cabinets for two separate projects already and for quality, price, and selection we highly recommend them.
For more information, visit Bellmont Cabinet Co.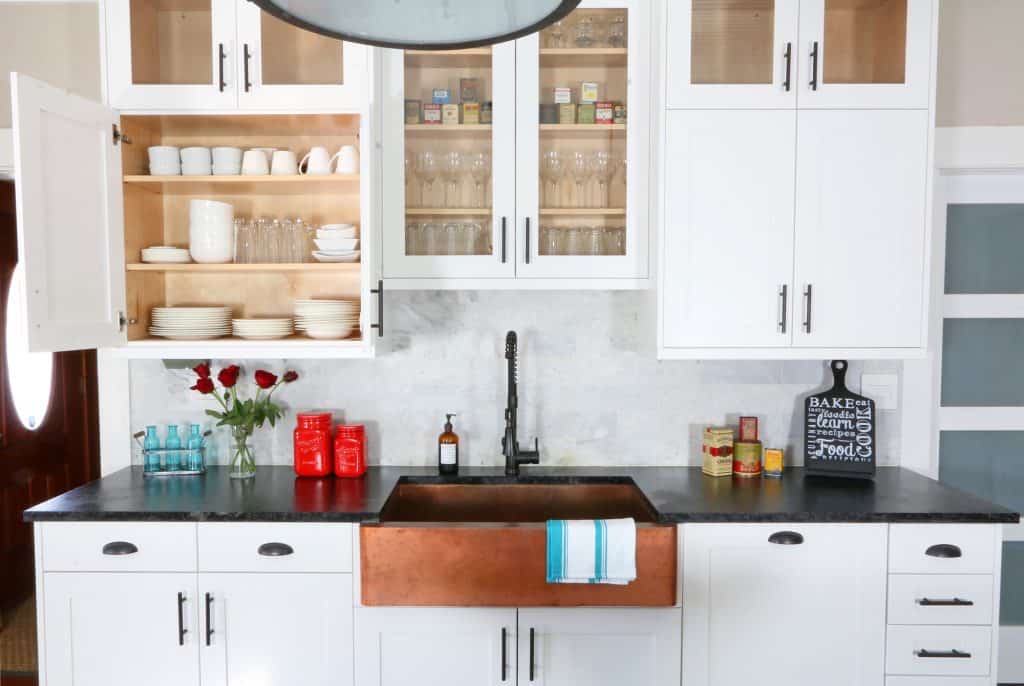 We partnered with Bellmont Kitchen Cabinet Co. to bring you this post.