Cozy up to a bowl of this flavor-packed White Bean Chili with Roasted Corn and Peppers and you'll feel warmed up in no time – both body and soul!  And you can easily swap the chicken broth for vegetable to make this a vegetarian or vegan white bean chili!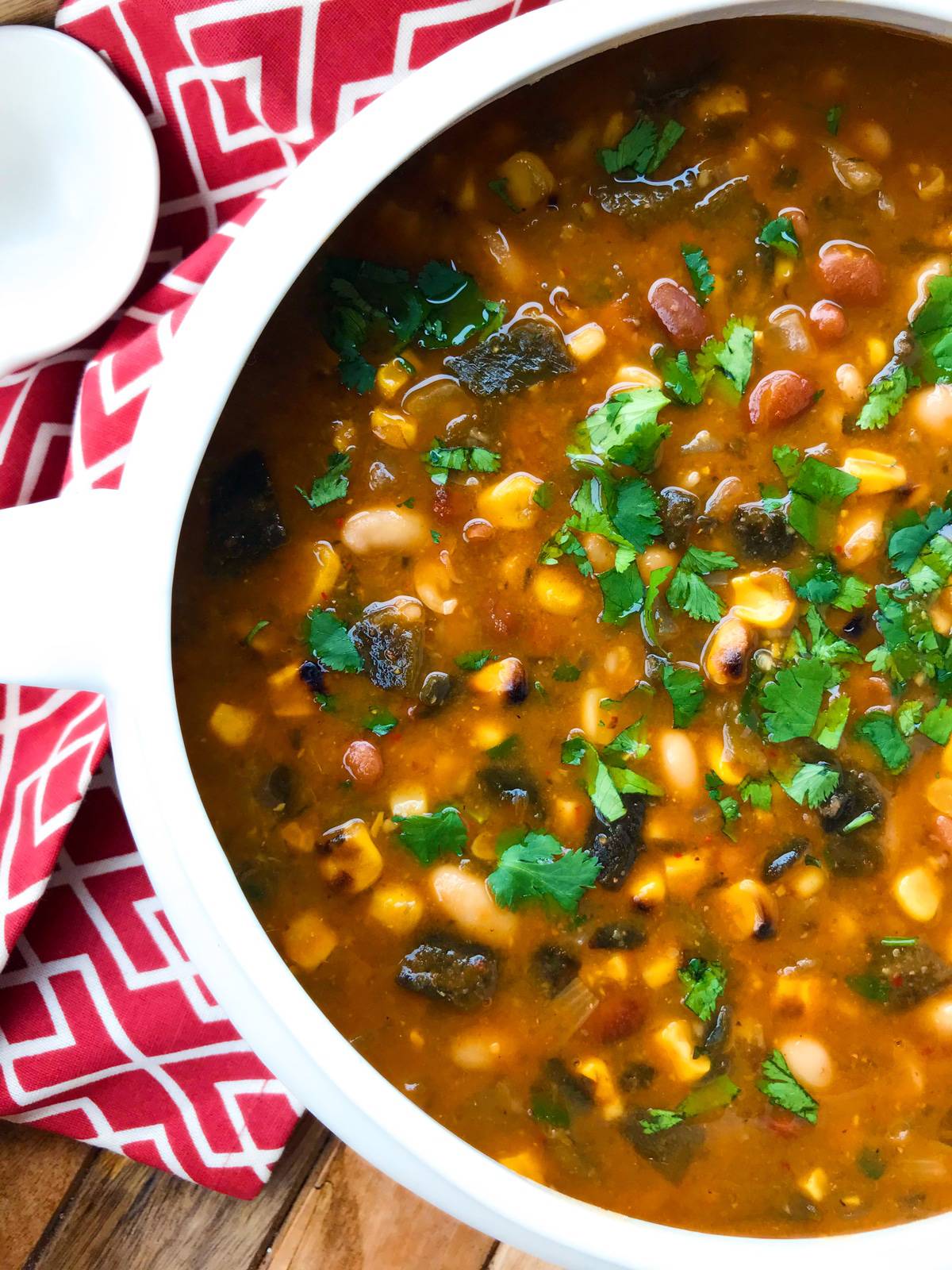 Nothing quite speaks comfort on a chilly evening than a bowl of hot soup.  And for a truly delicious comfort soup this White Bean Chili recipe checks off all the boxes!
This soup is chock full of of healthy veggies and protein-rich legumes in a rich and flavorful broth.  The roasted corn and peppers add a wonderful depth of flavor, so don't be tempted to skip that step.  You can use either fresh or canned corn and to save time you can roast the corn and peppers up to a day in advance.  At that point making the rest of the soup is an absolute breeze.
This white bean chili is one of those soups that benefits from sitting longer to allow the flavors time to develop.  While it's completely delicious straight off the stove, it makes ideal leftovers because the flavor will be even better the next day.
Serve it with some traditional cornbread or some healthier quinoa cornbread and you've got a meal the whole family will look forward to sitting down to!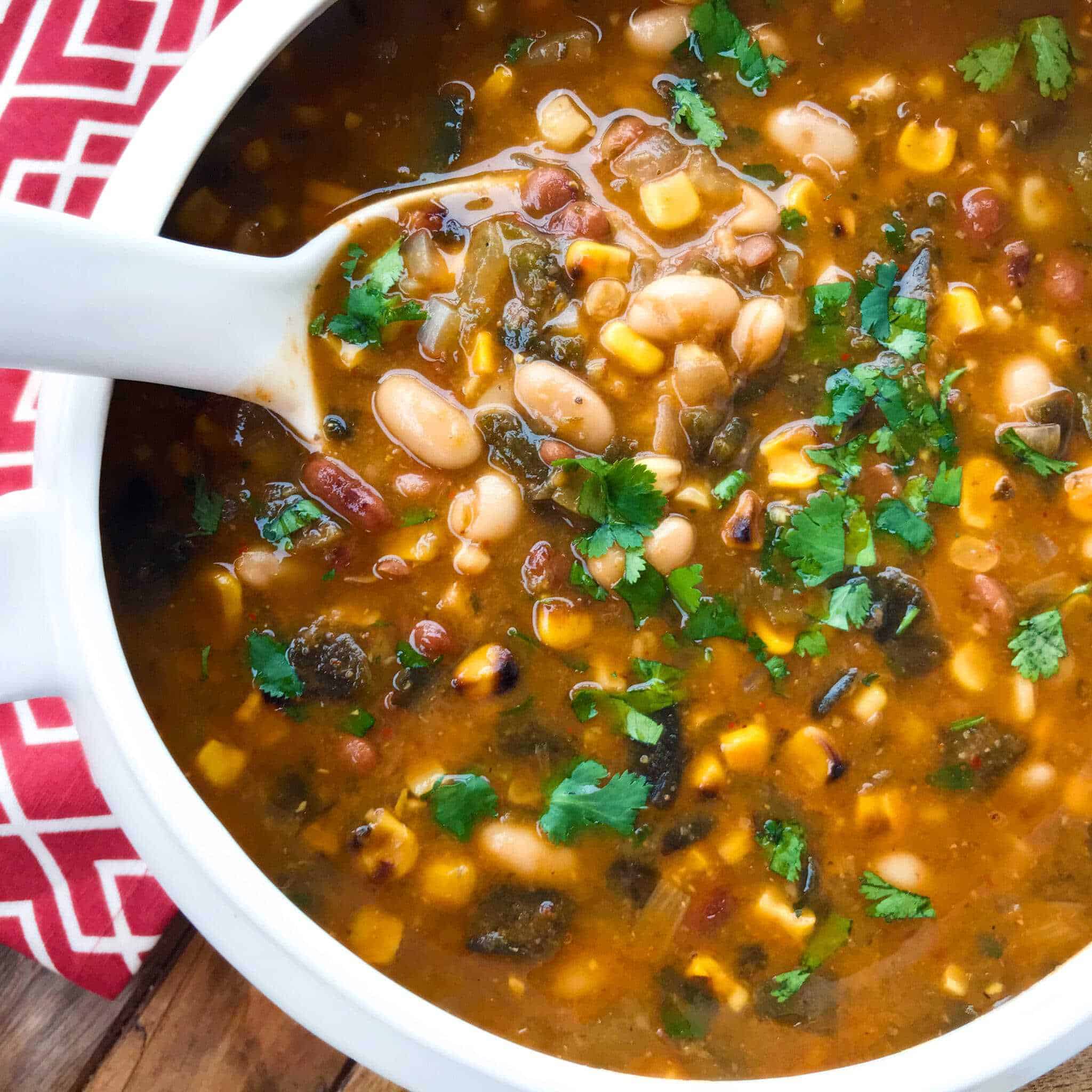 White Bean Chili Recipe
Let's get started!
Cut the peppers in half, toss them with a tablespoon of oil, and place them cut side down on a lined baking sheet.  Heat the oven broiler and place them roughly 6 inches from the broiler element.
Roast the peppers for about 10 minutes or until the skins are blackened and blistery.  Transfer the peppers to a bowl, cover tightly with plastic wrap, and let them sit for about 10 minutes until their skins come off easily.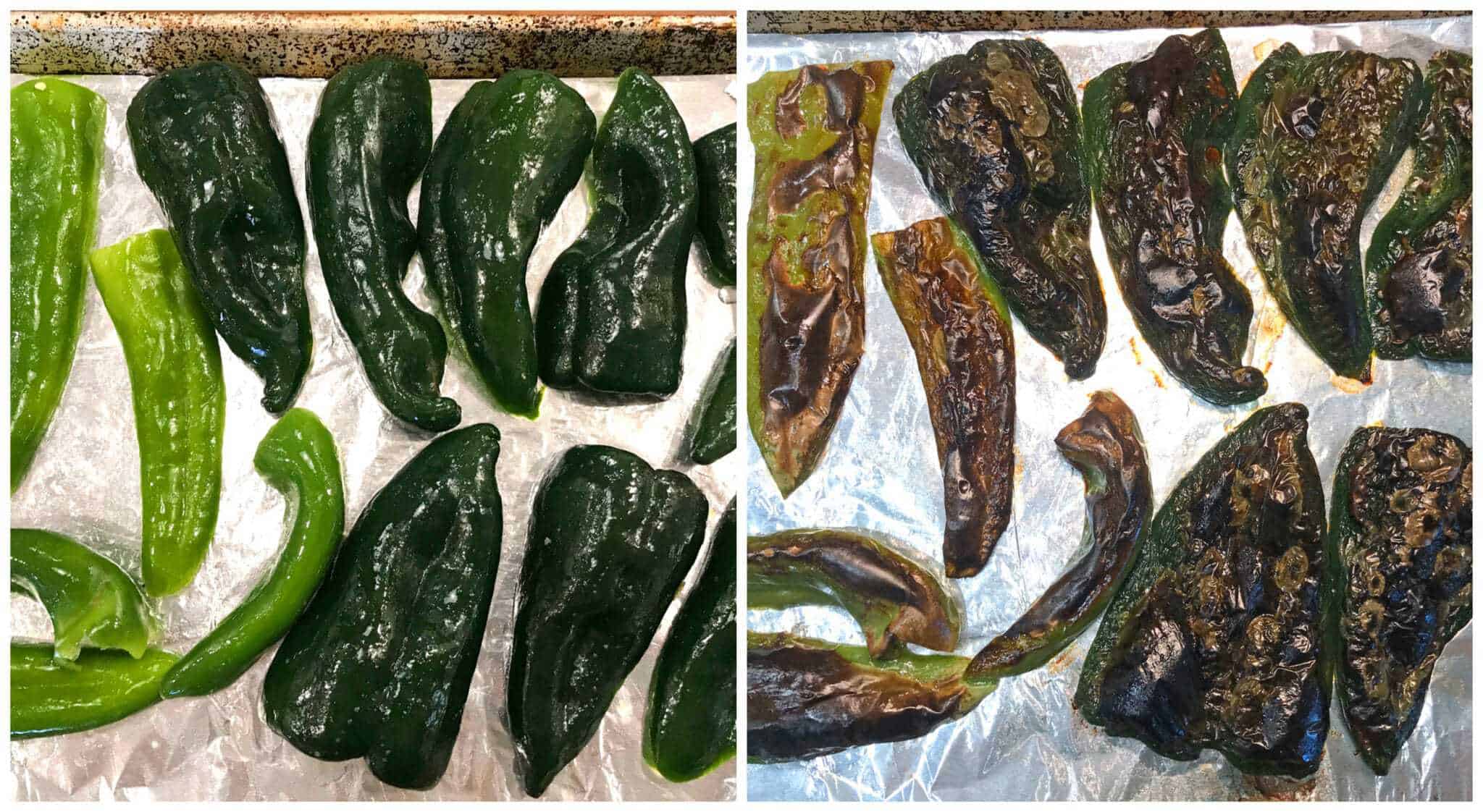 Peel off the skins of the peppers and roughly chop them.
Toss the corn in a tablespoon of oil and spread it out on the baking sheet.  Place it under the broiler and roast for 5-10 minutes, stirring occasionally, until they brown.
Set the roasted peppers and corn aside.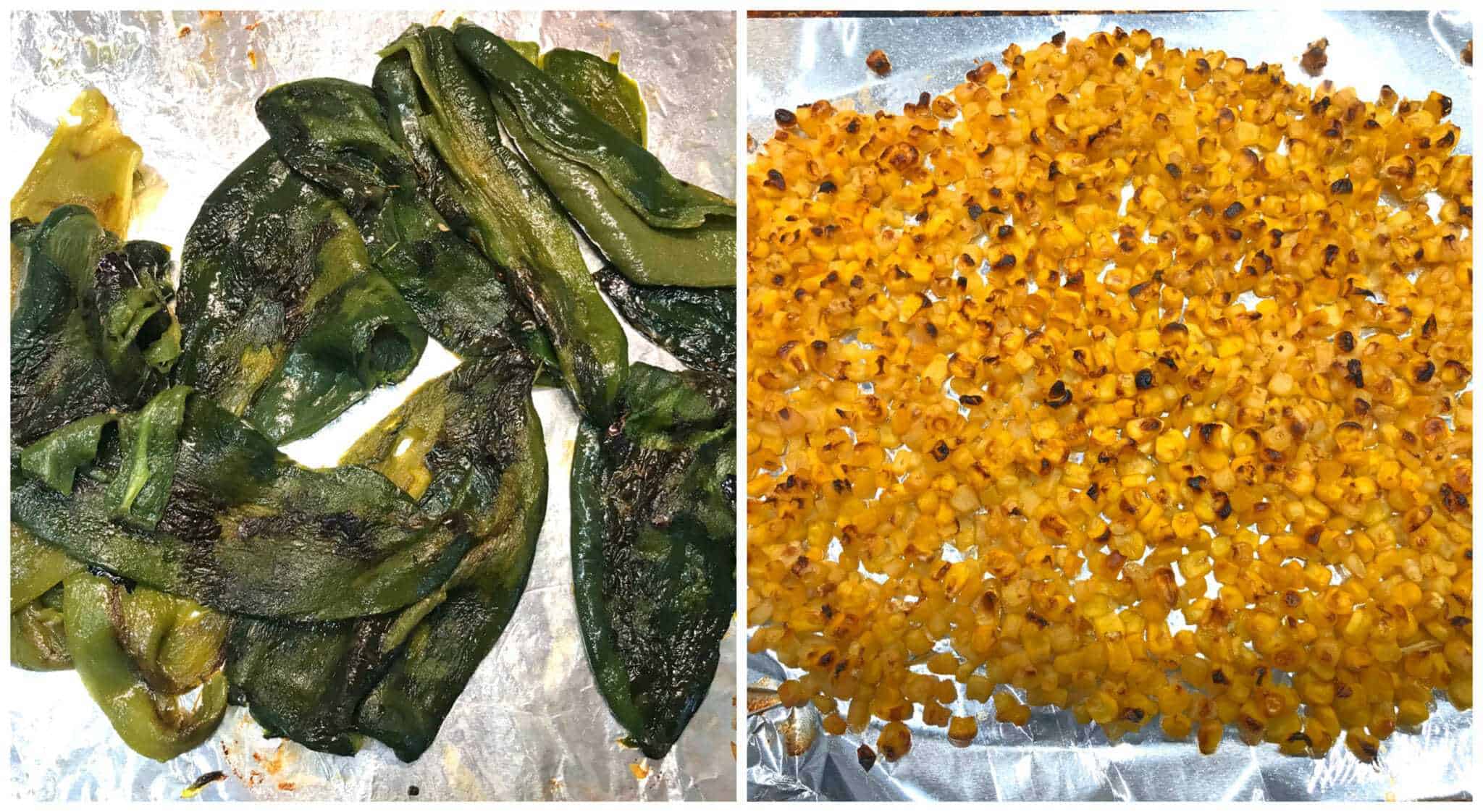 In a soup pot, heat the oil and saute the onions until soft and translucent, 5-7 minutes.  Add the garlic and cook for another minute.
Place all the beans, corn, peppers, and spices in the pot.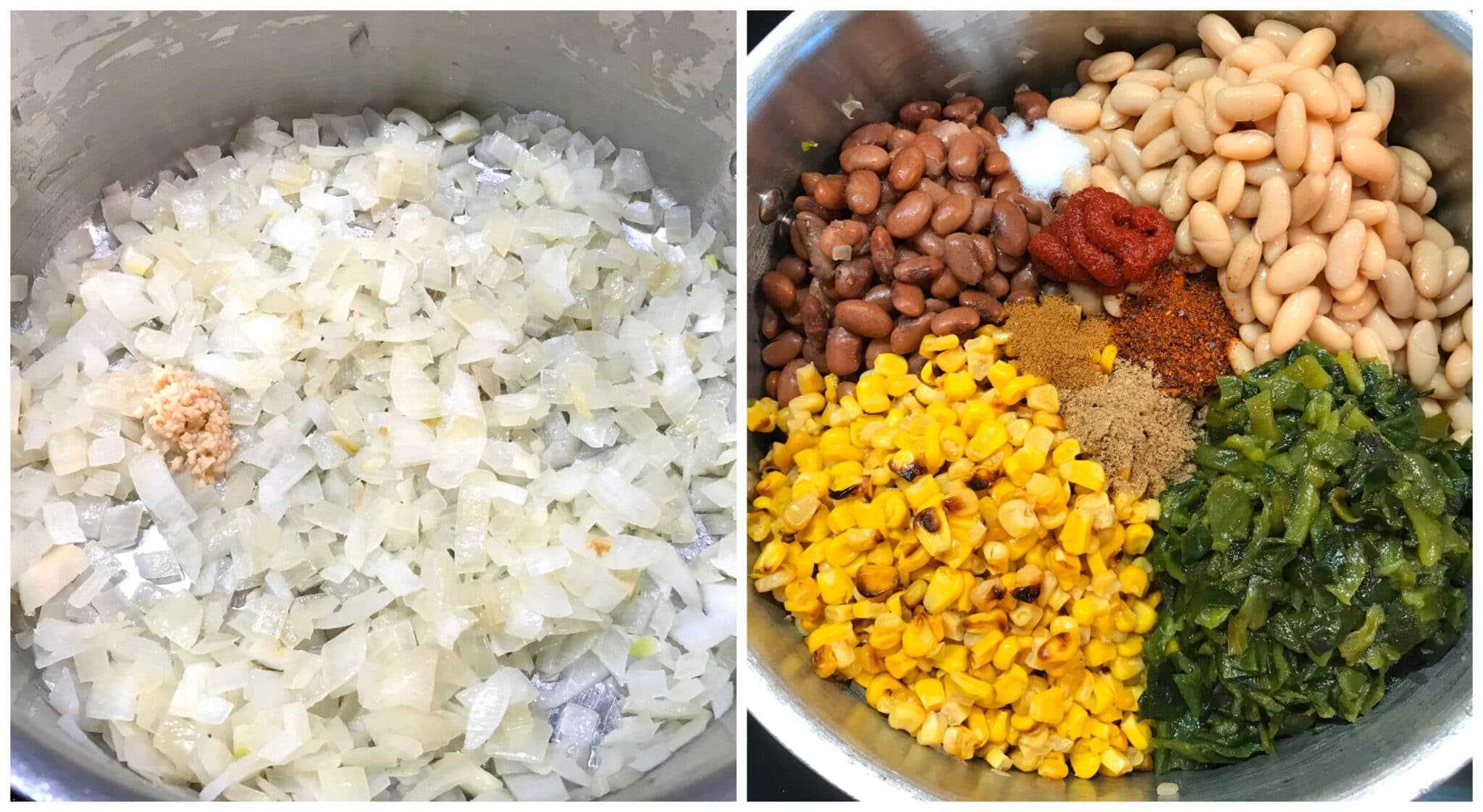 Add the chicken broth.
I use and recommend ANETO's 100% All-Natural chicken broth for this soup.  I have been using Aneto for years and they are truly the world's most exceptional broth makers.  We visited their factory near Barcelona, Spain a few years ago and got to see the entire process from start to finish.  It was such an inspiration to see a company that makes broth the same way we do right at home:  The freshest whole chicken and freshest vegetables going into pots (in Aneto's case very HUGE pots), and left to simmer for at least two hours.  No fillers, no powders, no preservatives, no extracts, no added flavors.  Nothing.  Just pure, wholesome, REAL ingredients.  Check out our virtual tour of Aneto's factory.  You can find Aneto's broths and paella cooking bases at select store locations across the U.S..  Check out this store locator.
Depending on your dietary needs you can easily make this a vegetarian / vegan white bean chili by using vegetable broth.  This soup is delicious either way.
Stir the soup and bring it to a boil.
Reduce to a simmer, cover, and simmer for 30 minutes.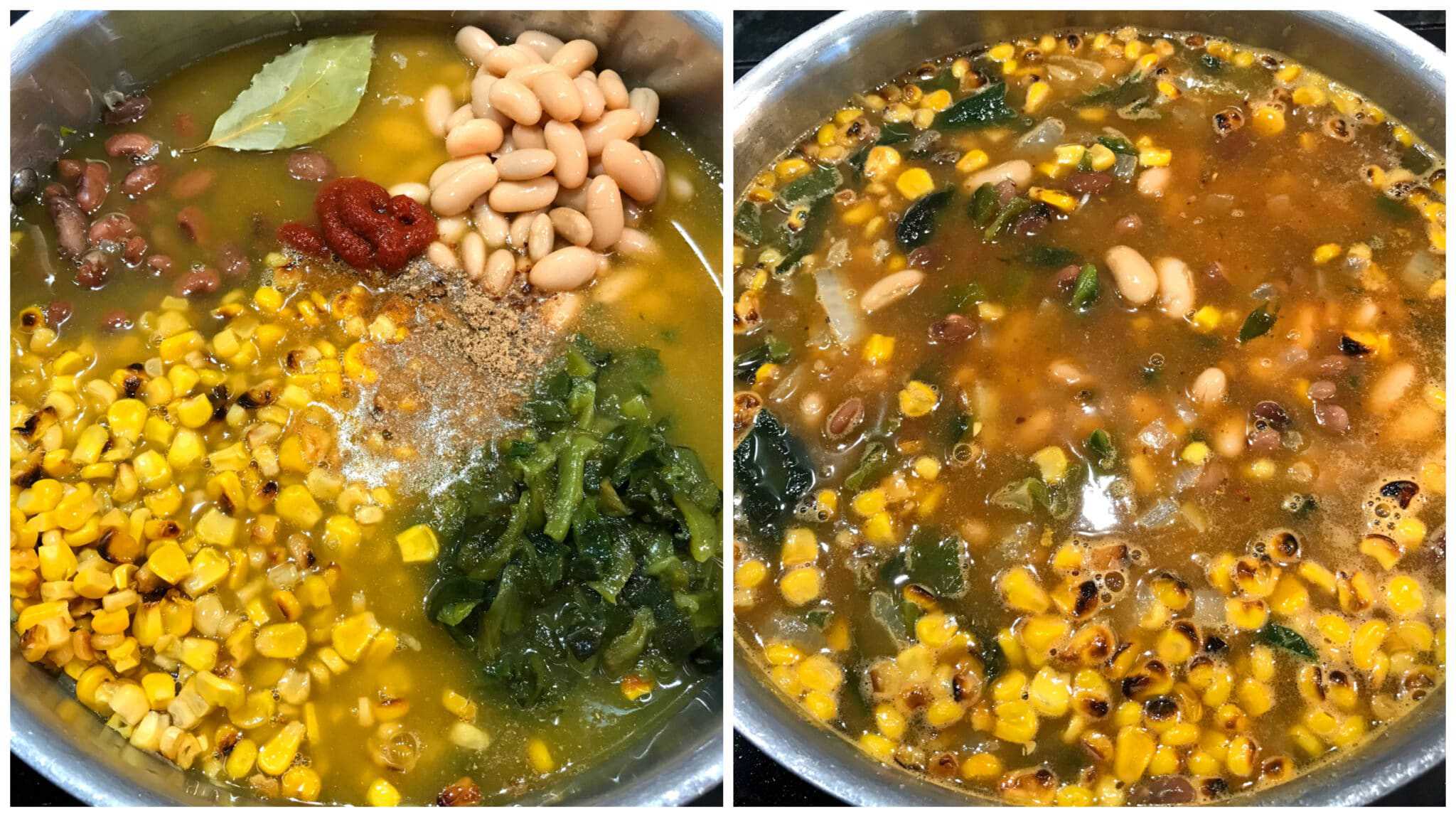 Remove 2 cups of the soup and puree it in a blender until smooth.
Return the pureed soup to the pot.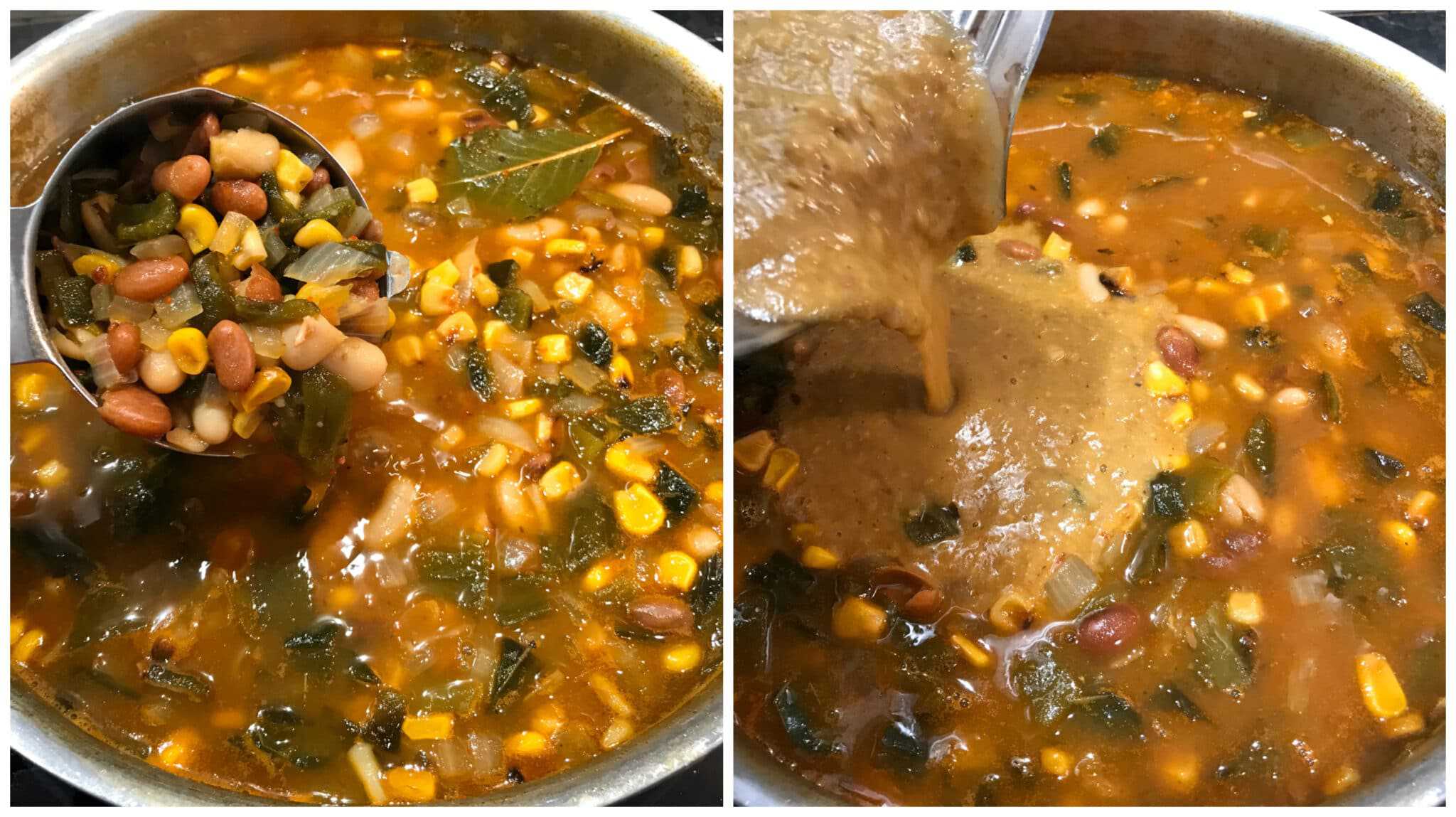 Stir in the lime juice and cilantro.
Add more salt and pepper to taste.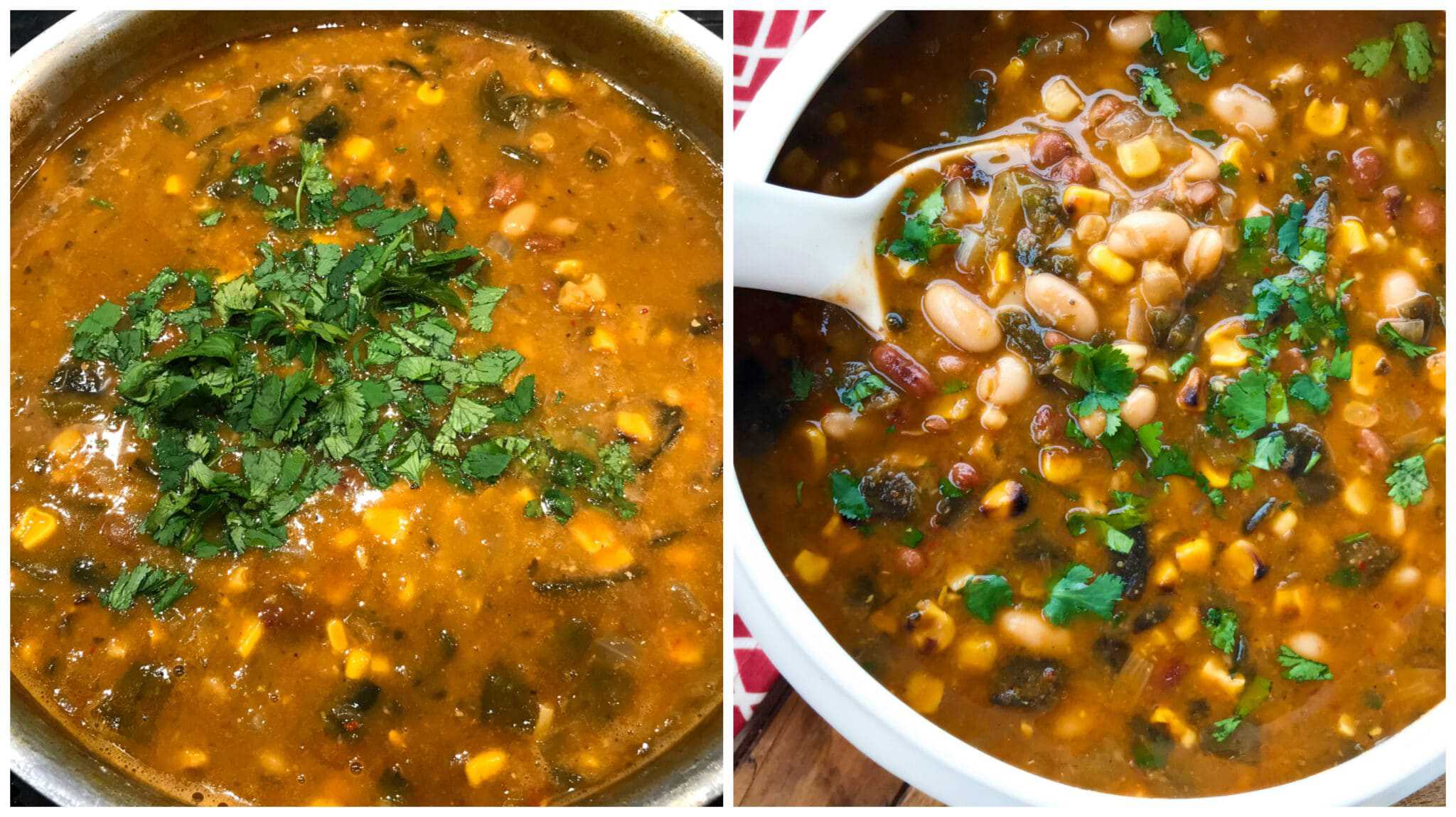 This soup tastes even better the next day after the flavors have had more time to develop.
Enjoy!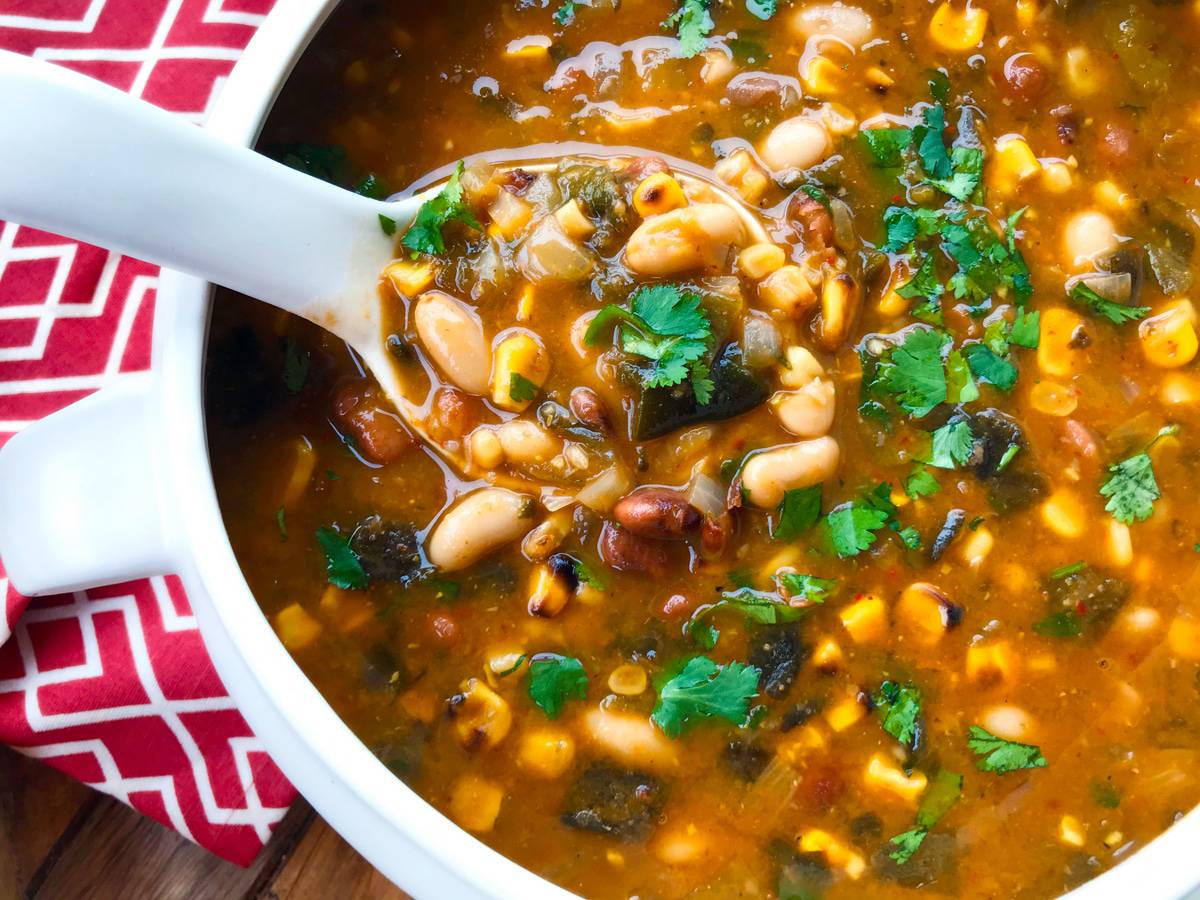 PIN ME!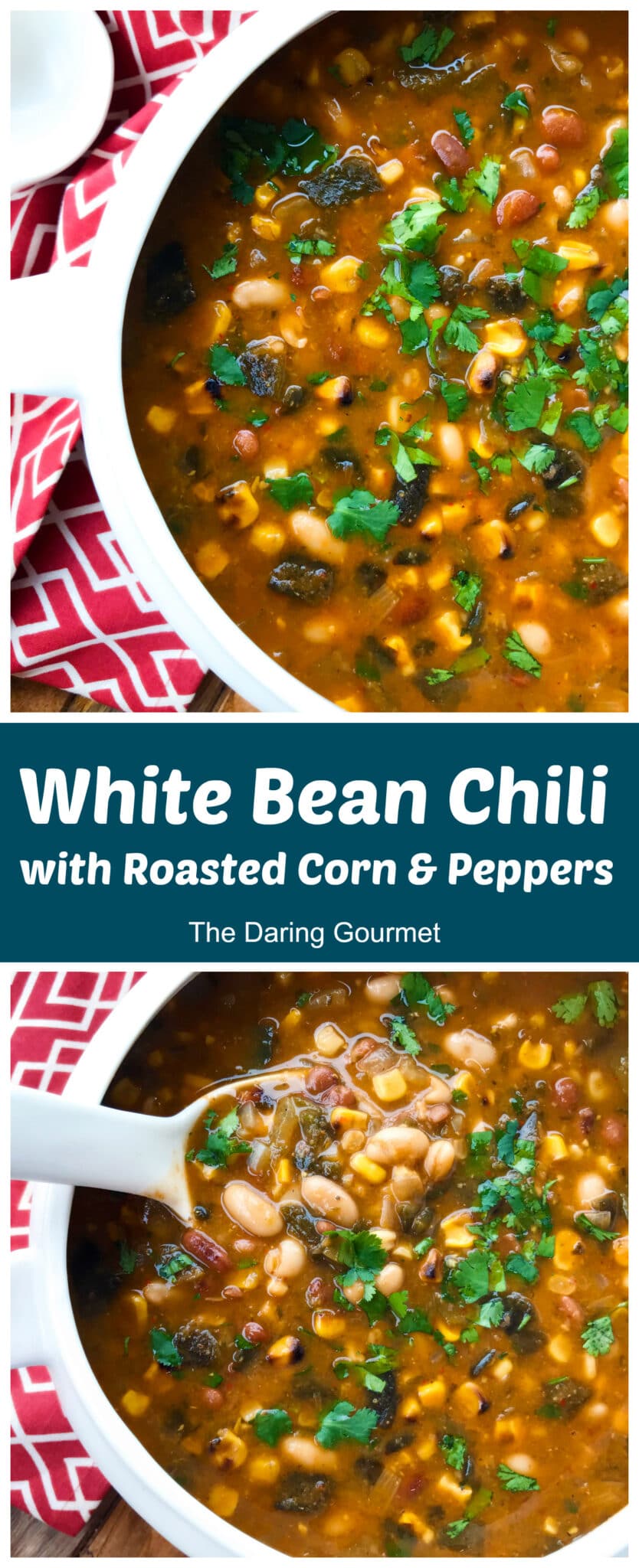 For more phenomenal soups be sure to try our: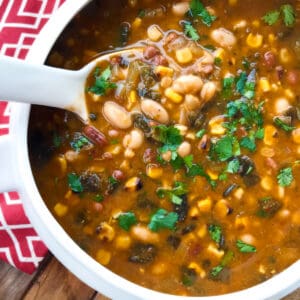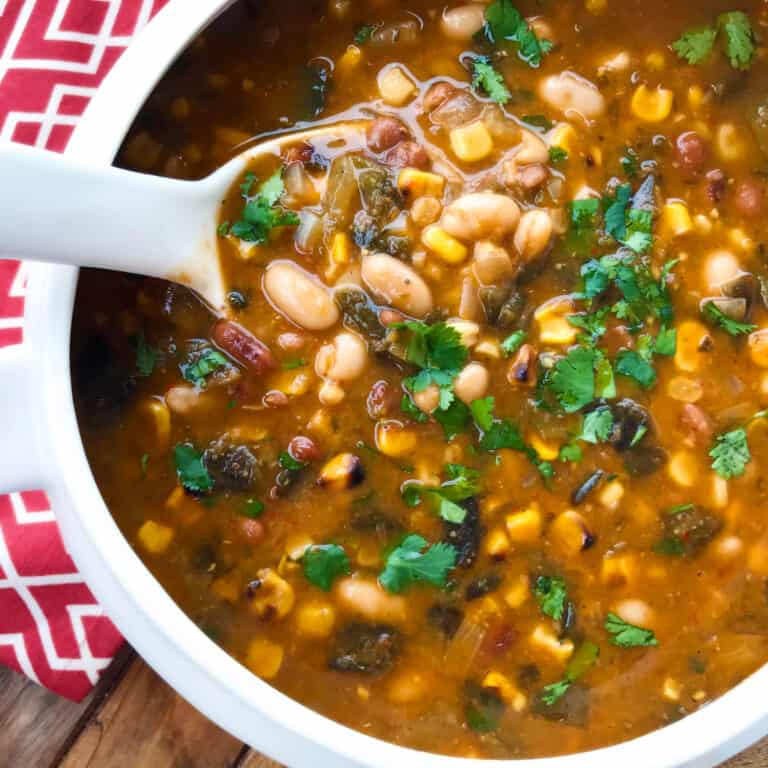 White Bean Chili with Roasted Corn and Peppers
Cozy up to a bowl of this delicious and flavor-packed White Bean Chili and you'll feel warmed up in no time - both body and soul! 
Ingredients
10

whole poblano and Anaheim peppers

(10 peppers total)

3

ears of corn OR 2 cans of corn

, shuck the corn and cut the corn from the cob, or drain the corn if using canned

2

tablespoons

high smoke point oil for roasting

(I use avocado)

1

large yellow onion

, chopped

3

cloves

garlic

, minced

2

tablespoons

olive oil

2

15 ounce

(850 grams) cans cannellini beans

, rinsed and drained

6

cups

(1.42 liters) quality chicken broth

, or vegetable broth if vegetarian/vegan

2

tablespoons

tomato paste

1

tablespoon

homemade chili powder

(click link for recipe)

1

teaspoon

ground cumin

1

teaspoon

ground coriander

1/2

teaspoon

smoked paprika

1 1/2

teaspoons

salt

1/4

teaspoon

freshly ground black pepper

1

bay leaf

1/4

cup

chopped fresh cilantro

1

tablespoon

lime juice
Instructions
Roast the Peppers and Corn:

Heat the oven broiler. Cut the peppers in half, toss them with a tablespoon of oil, and place them cut side down on a lined baking sheet.  Place them roughly 6 inches from the broiler element.

Roast the peppers for about 10 minutes or until the skins are blackened and blistery.  Transfer the peppers to a bowl, cover tightly with plastic wrap, and let them sit for about 10 minutes until their skins come off easily. Peel off the skins of the peppers and roughly chop them.

To roast the corn, toss the corn in a tablespoon of oil and spread it out on the baking sheet.  Place it under the broiler and roast for 5-10 minutes, stirring occasionally, until they brown.

Set the roasted peppers and corn aside.

Make the Soup:

In a soup pot, heat the oil and saute the onions until soft and translucent,5-7 minutes.  Add the garlic and cook for another minute.

Add all the beans, corn, peppers, and spices to the pot along with the broth. Bring to a boil, reduce the heat to medium, cover, and simmer for 30 minutes.

Remove 2 cups of the soup and puree it in a blender until smooth. Return the pureed soup to the pot. Stir in the lime juice and cilantro. Add more salt and pepper to taste.

Note: This soup tastes even better the next day after the flavors have had more time to develop.

Makes 6 smaller servings or 4 large servings
Nutrition
Calories:
220
kcal
|
Carbohydrates:
25
g
|
Protein:
9
g
|
Fat:
12
g
|
Saturated Fat:
2
g
|
Sodium:
731
mg
|
Potassium:
790
mg
|
Fiber:
5
g
|
Sugar:
9
g
|
Vitamin A:
1422
IU
|
Vitamin C:
166
mg
|
Calcium:
46
mg
|
Iron:
2
mg