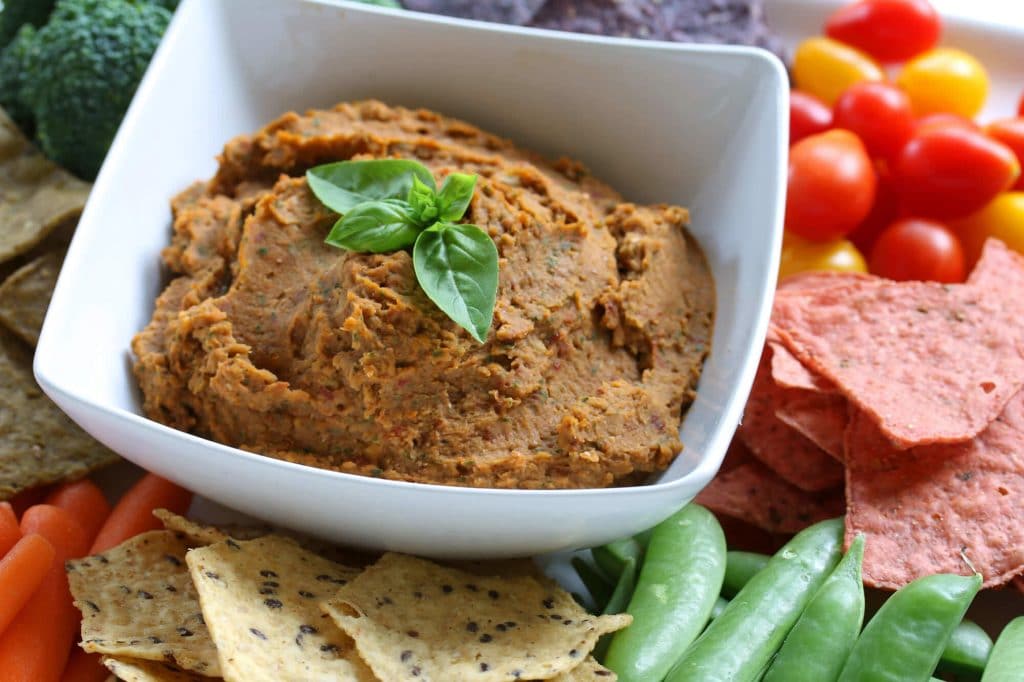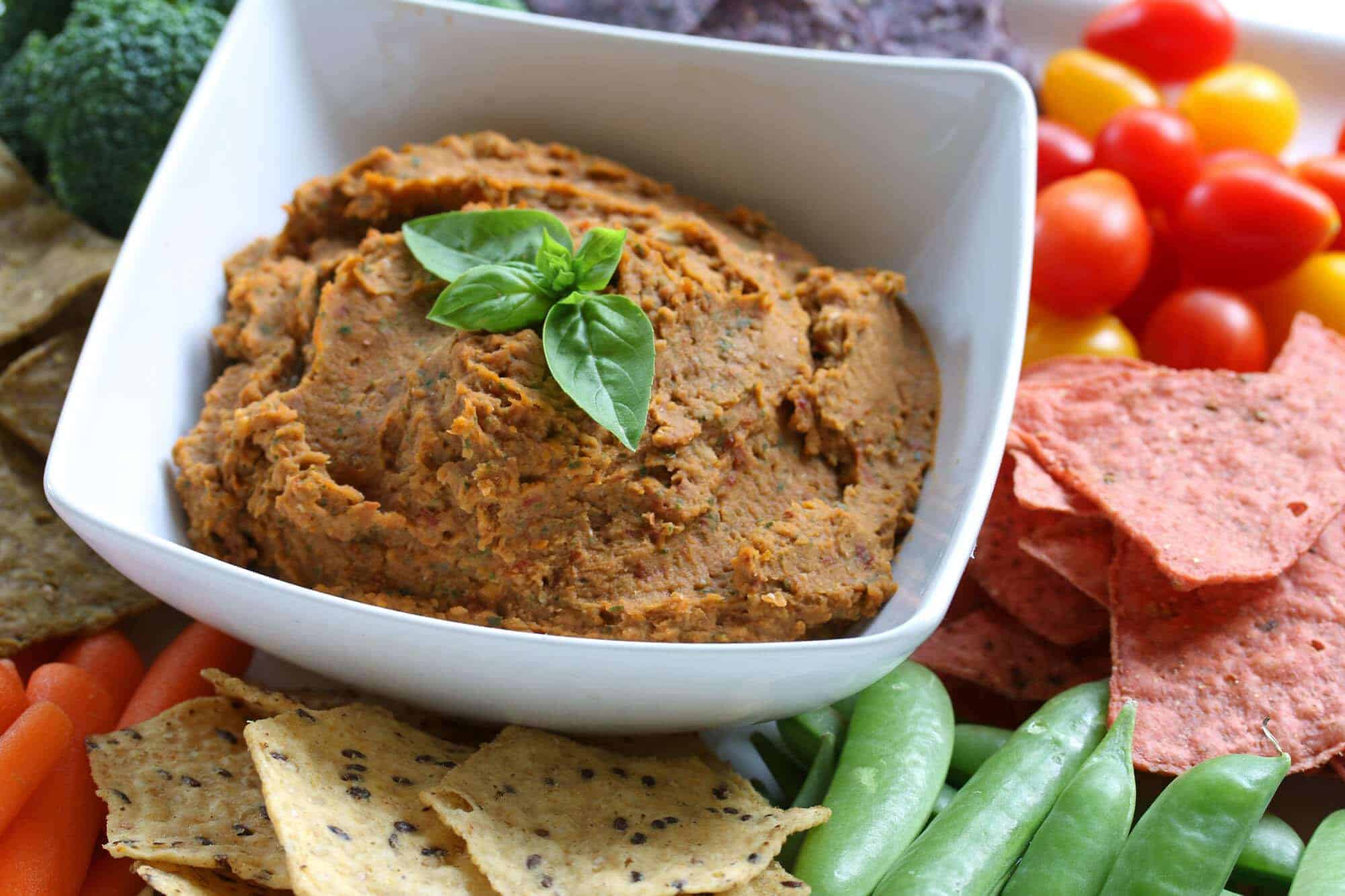 I looooove a good dip.  Growing up I always had my staple favorites:  French onion, sour cream & onion, a variety of cheese dips, and bean dip.  In recent years I've really enjoyed experimenting with a variety of flavors and mediums.  Here is one we really enjoyed and it's a burst of sun-ripened flavor you can enjoy any time of the year!
This dip transforms the humble white bean into the perfect medium for a delicious dip everyone will enjoy.  Beans, sun-ripened tomatoes, basil and olive oil combine to create a creamy texture and delightful flavor.   Whether you prefer a thicker or creamier consistency, simply adjust the amount of olive oil until the desired consistency is reached.
Perfect for at home, entertaining, or as a healthy snack to take to work, this dip can be made well in advance.   In fact, the flavors only get better with time!
This dip pairs perfectly with your choice of chips, veggies, crackers or toasted pieces of crusty bread.  I whipped up a variety platter to go with this dip and let everyone dig in as they pleased.  It was a hit!
I got a variety of veggies and opened a few bags of some of our favorite chips from Food Should Taste Good.  Made with simple, real ingredients, all of their chips are non-GMO, certified Kosher and certified gluten-free.  And they taste fantastic!  I love their flavors and the variety of colors and used a variety for my bean dip platter.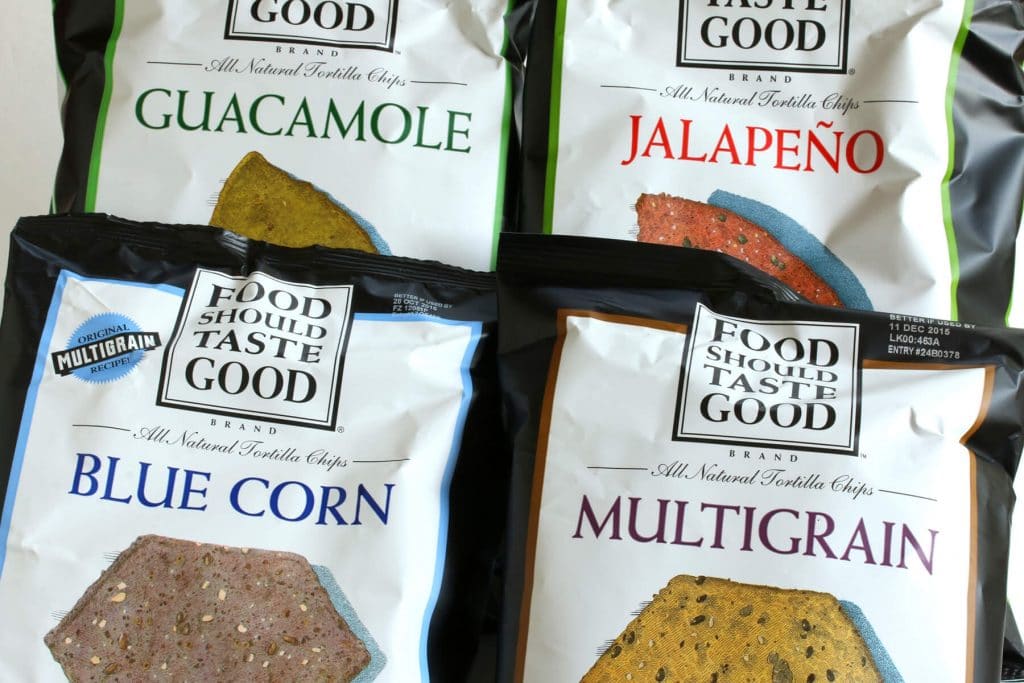 Whatever you choose to serve alongside this dip, you and your guests are sure to love it!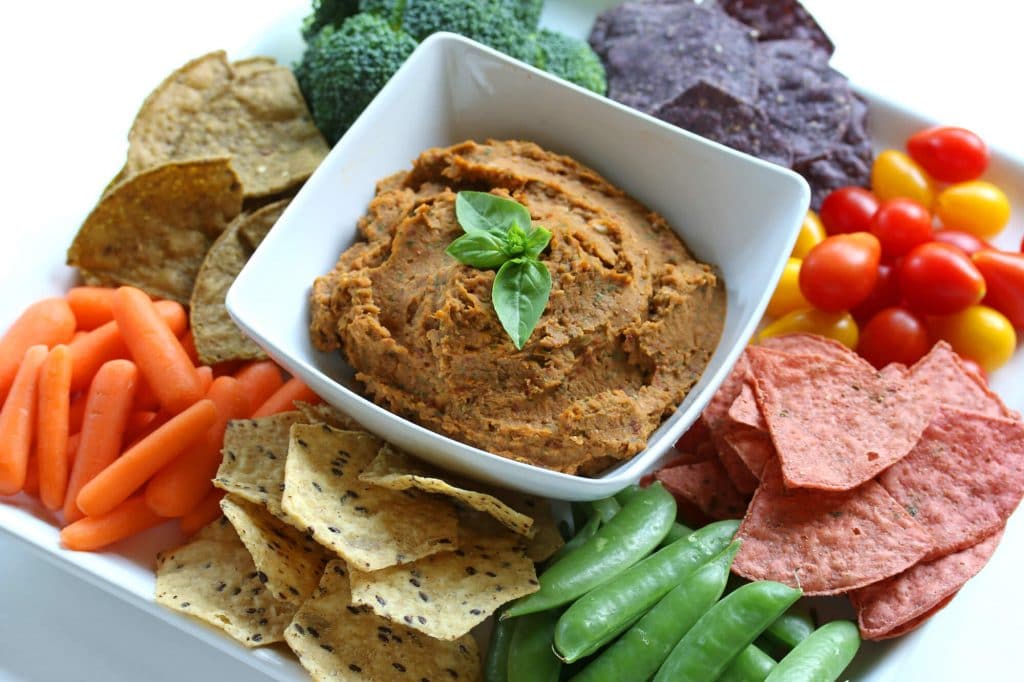 Let's get started!
Simply combine all the ingredients in a food processor.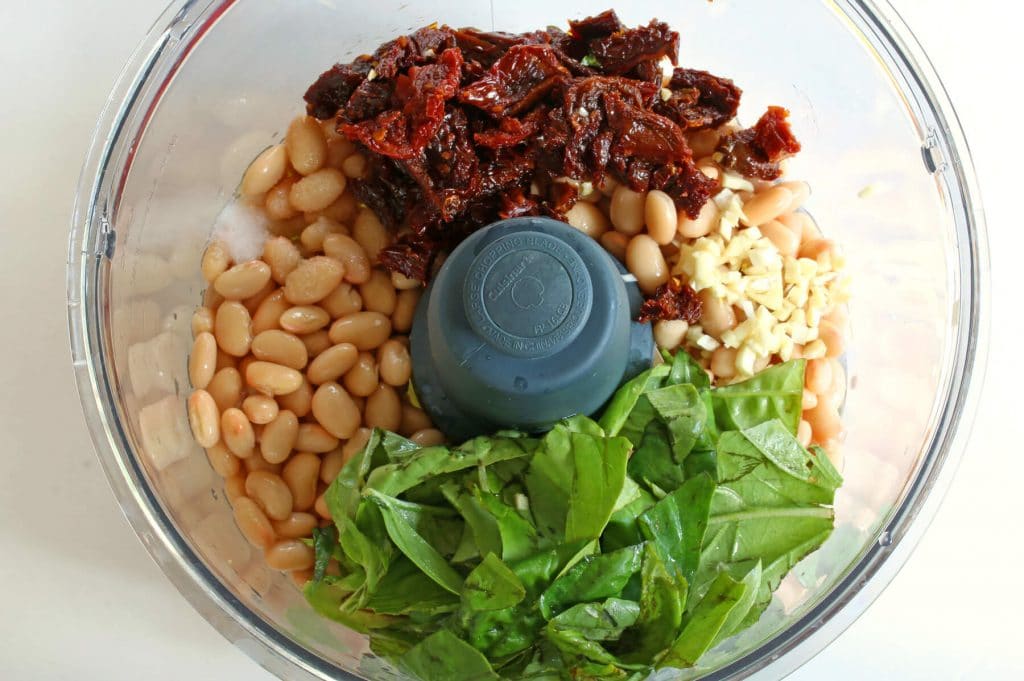 Pulse until the desired consistency is reached, adding more olive oil if necessary.  That's it!  Keep it covered in the refrigerator until ready to serve.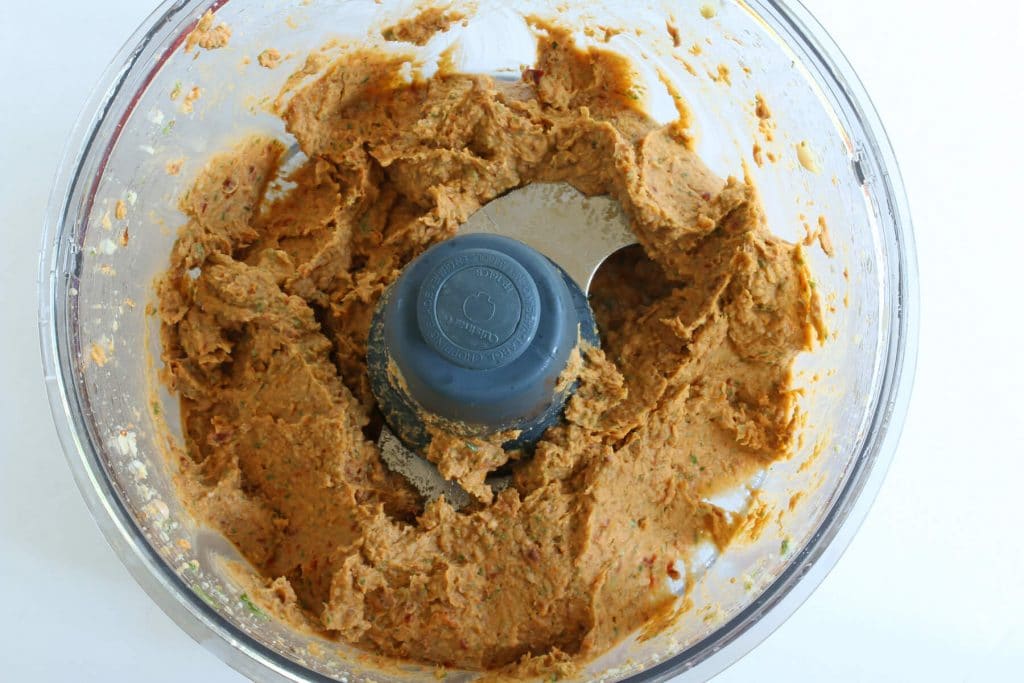 Enjoy!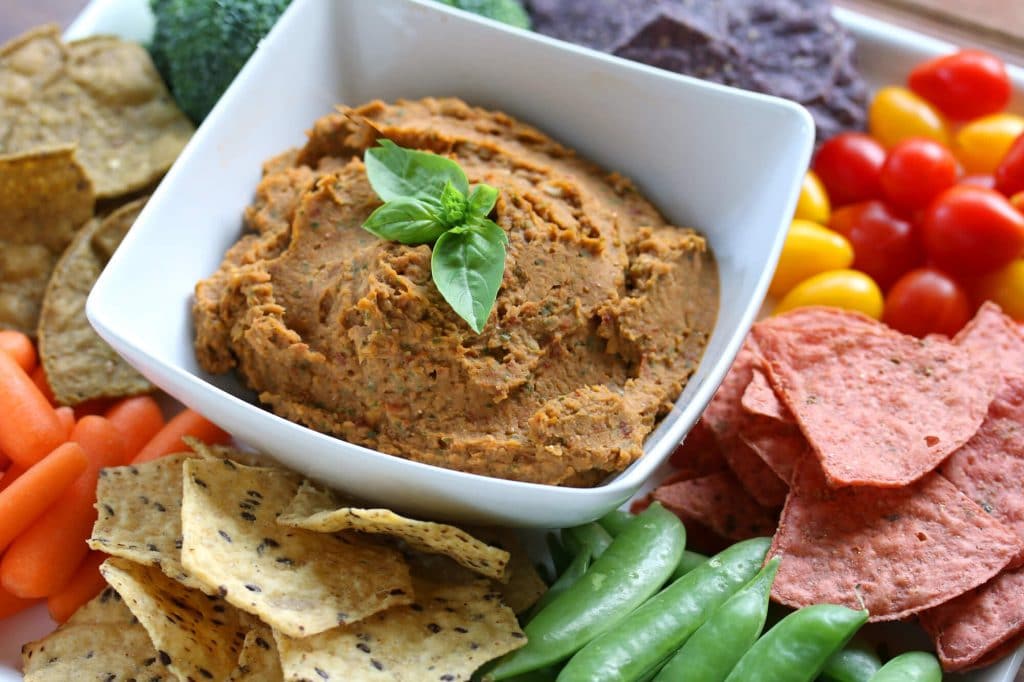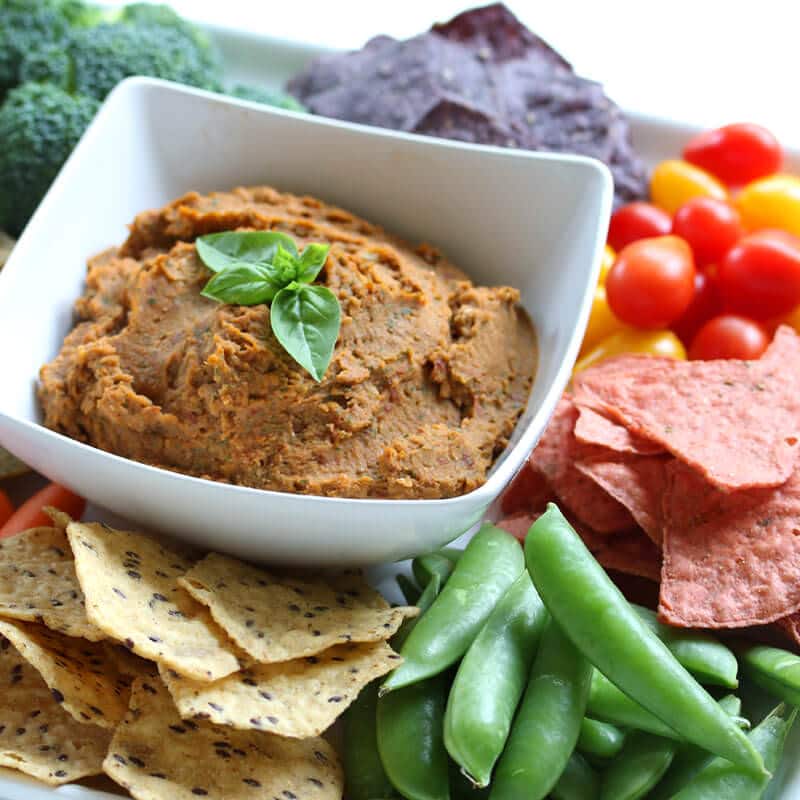 White Bean & Sun-dried Tomato Pesto Dip
:
Kimberly Killebrew, www.daringgourmet.com
Ingredients
1 (15 oz ) can cannellini beans, drained and rinsed
2 cloves garlic, roughly chopped
½ cup loosely packed fresh basil leaves
⅓ cup sun-dried tomatoes in oil, drained and roughly chopped
1 tablespoon freshly squeezed lemon juice
¼ cup quality extra virgin olive oil
½ teaspoon salt
Instructions
Combine all the ingredients in a food processor and pulse until smooth, adding more olive oil if necessary until desired consistency is reached. Store covered in the refrigerator until ready to use.
Serve with Food Should Taste Good Tortilla Chips or chips of your choice, vegetables, crackers or pieces of toasted crusty bread.
A special thank you to Food Should Taste Good for sponsoring this post!  I'm grateful to work with and share brands that I love.  As always, all opinions are entirely my own.