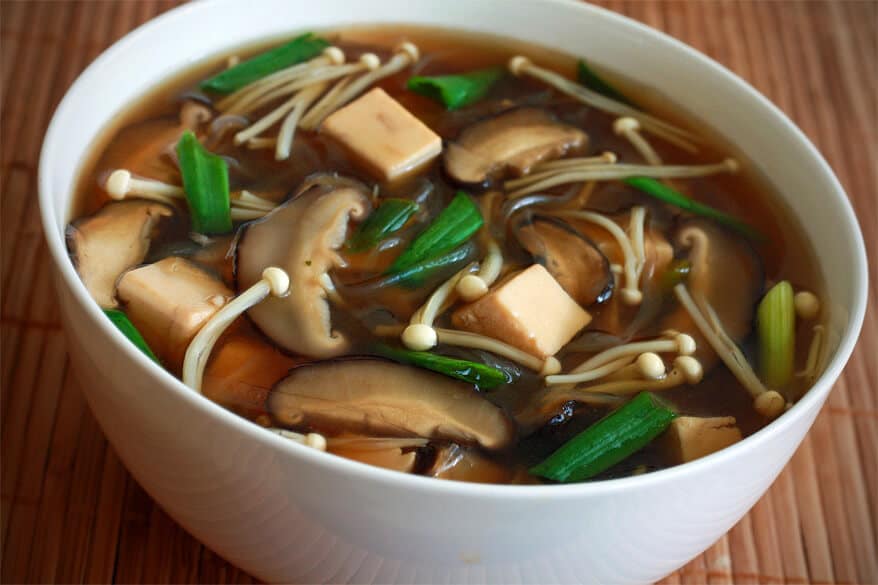 Simple and simply wonderful.  That's the best way to describe this Japanese soup made in just under 10 minutes.  Shiitake mushrooms, soft tofu, and cellophane noodles (also called Chinese vermicelli) form the bulk of this soup along with green onions and delicate enoki mushrooms.  Everything is simmered in a mirin-sake infused broth and served piping hot.
Simple.  Quick.  Elegant.  Delicious.
Enoki mushrooms have got to be the cutest members of the fungi family.  Long, white, tender and thin with delicate little caps.  Ideal for soups and salads.
Enoki mushrooms can be found in the produce section of Asian stores.  Some well-stocked grocery stores carrying specialty items may also have them.  They come in little plastic packages as seen below and generally sell for less than $1 per pack.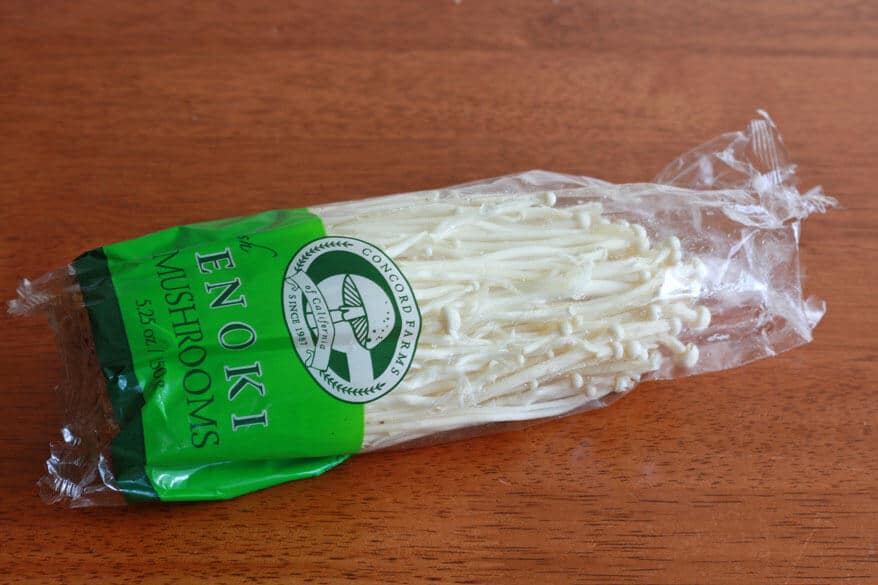 Carefully clean the shiitake mushrooms and discard the stems.  Thinly slice them.  Cut about 1 inch off the bottom stems of the enoki mushrooms and discard.  Cut the remaining stack in half so you're left with approximately 1 1/2 inch length stems.  Drain the tofu and cut into 1/2 inch cubes.
Cellophane noodles, also called Chinese Vermicelli, are used in this soup.  They expand considerably so you only need a little over an ounce.  They can be purchased at any Asian store.
To prepare the base broth, bring the chicken stock to a simmer along with the soy sauce, miso paste, mirin and sake.  If you don't have either of the latter here are a couple of quick substitutes.  For the mirin:  Use sherry and a dash of sugar.  For the sake:  Use white wine and a dash of rice vinegar.  Simmer for a couple of minutes.
Add the shiitake and enoki mushrooms, the tofu and vermicelli, and simmer for another 5-6 minutes.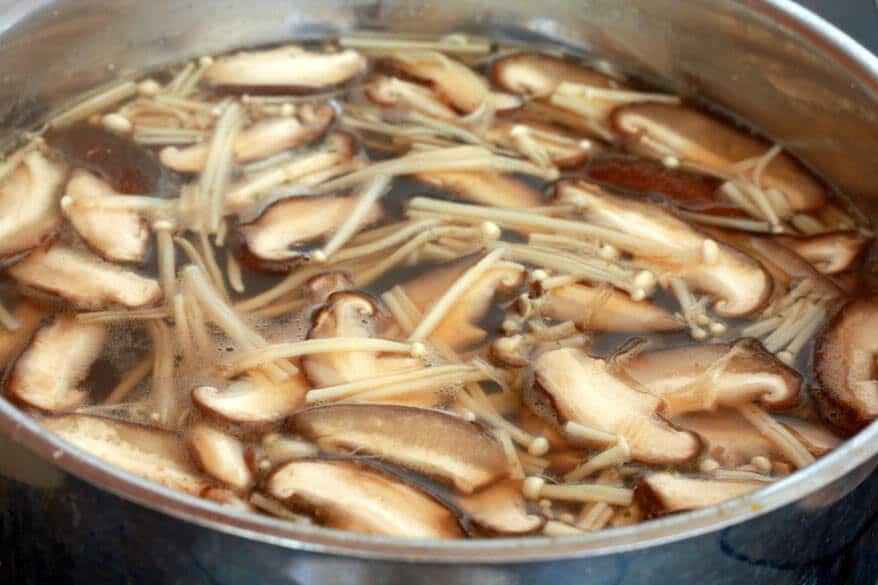 Add the green onions and simmer for another 2 minutes.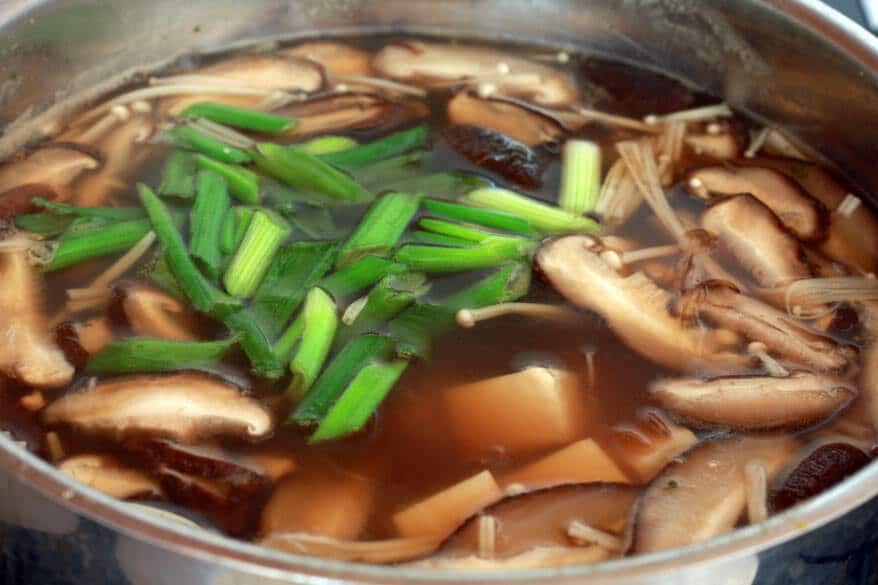 That's it.  You're done.  Told you.  Ultra fast and simple, but oh so yummy!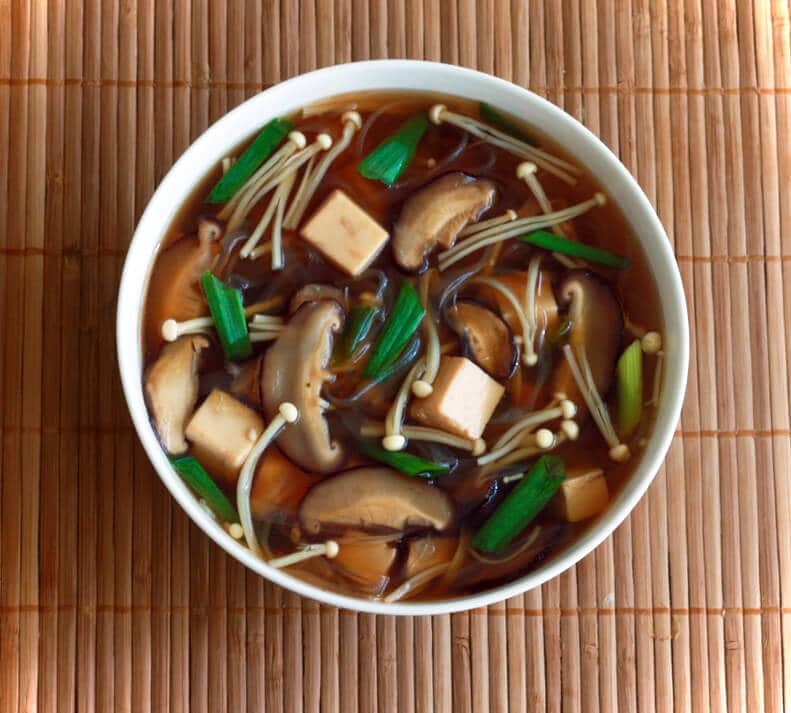 Japanese Mushroom, Tofu and Vermicelli Soup
While simple and quick to prepare, this soup is as tasty as it is elegant.
:
The Daring Gourmet, www.daringgourmet.com
Ingredients
4 cups chicken stock (vegetarian/vegan: use vegetable broth)
2 tablespoons soy sauce
1 tablespoon miso paste
1 tablespoon mirin (can substitute sherry and a dash of sugar)
1 tablespoon sake (can substitute white wine and a dash of rice vinegar)
4 oz. tofu, cut into ½ inch cubes
3 oz shiitake mushrooms, thinly sliced, stems discarded
2 oz enoki mushrooms
2 oz vermicelli noodles
3 green onions, sliced diagonally
Extra enoki mushrooms and green onions for garnish
Instructions
Add the chicken stock, soy sauce, miso paste, mirin and sake to a medium saucepan and bring to a boil. Reduce heat and simmer for 2 minutes. Add the tofu, mushrooms, and vermicelli, return to a boil, reduce heat, and simmer for 6 minutes. Add the green onions and simmer for another 2 minutes.
Serve immediately.